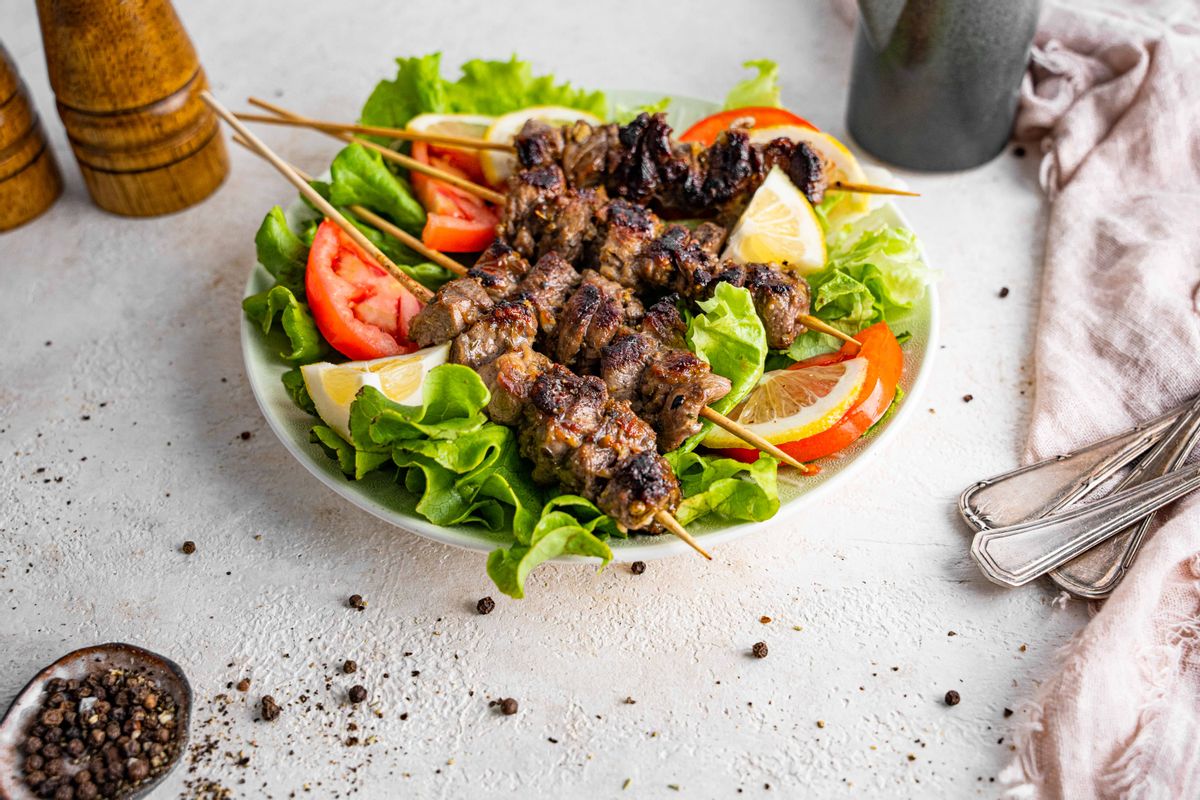 2 h 10 min

15 min

2 h 25 min
Keto Souvlaki Lamb Kebabs
Keto souvlaki lamb kebabs are a delicious and easy-to-make dish perfect for summer. Made with just a few simple ingredients, these kebabs are a perfect addition to your Keto summer recipes. The succulent and tender texture of the lamb, combined with the Greek-inspired marinade, creates a mouthwatering flavor that is sure to impress.
How can I customize this recipe?
One way to customize these kebabs is to change up the marinade. While the traditional Greek souvlaki marinade is absolutely delicious, you can try different herbs and spices like cumin and paprika to create a unique and flavorful twist. You can also add low-carb vegetables to the skewers, such as cherry tomatoes, onions, zucchini, and bell peppers, to add some color and nutrition to the dish. Finally, serve with dipping sauces like tzatziki, hummus, or harissa to add extra flavor to the kebabs.
How do I store these Keto souvlaki lamb kebabs?
Once cooked, store the kebabs in an airtight container in the refrigerator for up to 4 days. To store uncooked kebabs, assemble the kebabs on skewers, then wrap them tightly in plastic wrap and store them in an airtight container in the refrigerator for up to 2 days. To freeze the kebabs, place them on a baking sheet lined with parchment paper and freeze until they are firm. Then, transfer them to a freezer-safe bag or container and store them in the freezer for up to 1 month. When ready to enjoy, simply thaw them in the refrigerator overnight and cook on a skillet or grill.
What can I serve with these Keto souvlaki lamb kebabs?
One classic way to serve these kebabs is with a side of Greek salad and tzatziki sauce. Alternatively, wrap the kebabs in a low-carb pita bread or lettuce leaf for a delicious and portable meal. Another option is to serve the kebabs with some grilled vegetables, like zucchini or eggplant, and cauliflower rice. You can also serve them on a platter with some dipping sauces and a variety of vegetables, and low-carb crackers.
Net Carbs

1.1 g

Fiber

0.2 g

Total Carbs

1.3 g

Protein

30.2 g

Fats

29.5 g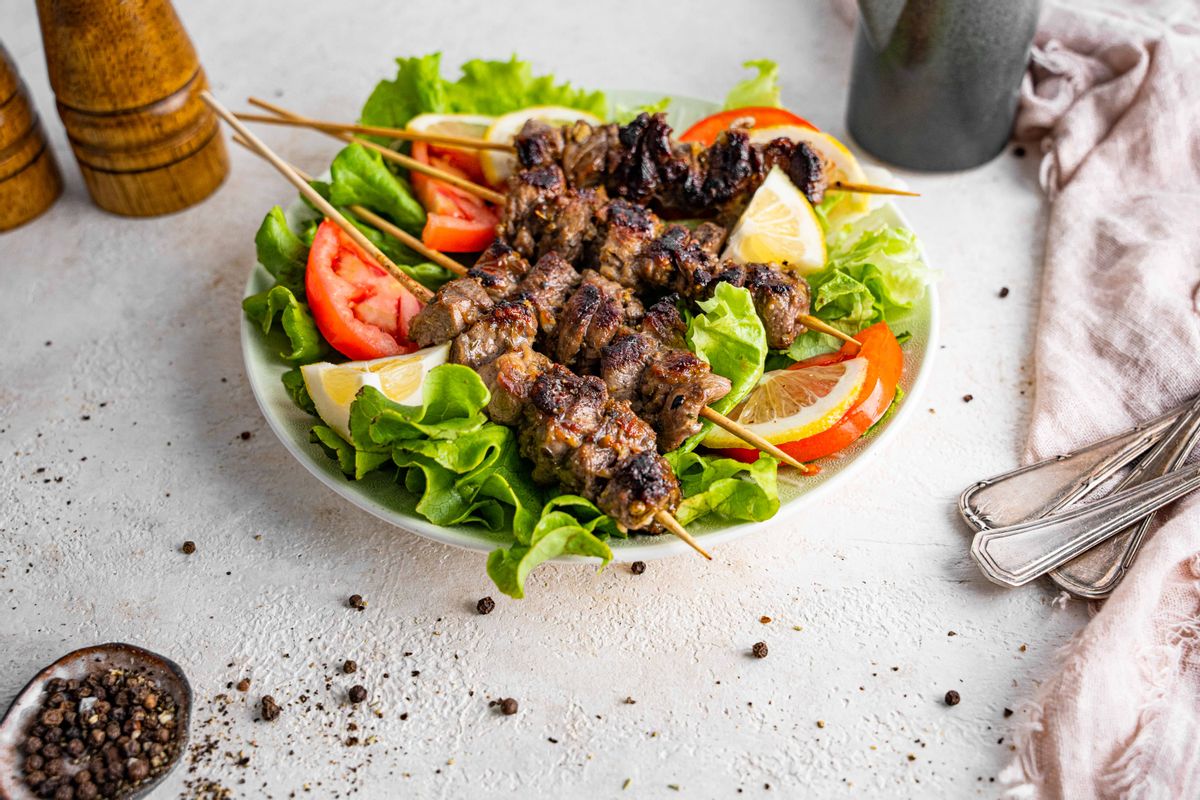 Ingredients
Lemon Peel Or Zest Raw

0.5 tsp

Extra virgin olive oil

2 tbsp
Cut the lamb into 2-inch cubes and mince the garlic. To a medium-sized bowl, add the lamb pieces, minced garlic, salt, dried oregano, black pepper, lemon zest, lemon juice, and olive oil. Mix to evenly coat the lamb with the spices and cover with plastic wrap.

Transfer the bowl to the refrigerator and marinate for at least 2 hours. Assemble the lamb pieces onto skewers of about 4 pieces each and brush the remaining marinade on top. Preheat a cast iron skillet.

Cook the lamb kebabs on the cast iron skillet until thoroughly cooked and dark brown on the outside. To check if the kebabs are cooked through, cut into one of the pieces of lamb. It should not be pink, and any juices should be clear.

Serve with Keto pita bread, tzatziki sauce, or a fresh salad. Store any leftover cooked kebabs in an airtight container in the fridge for up to 4 days. Reheat on the skillet or in the microwave before serving.