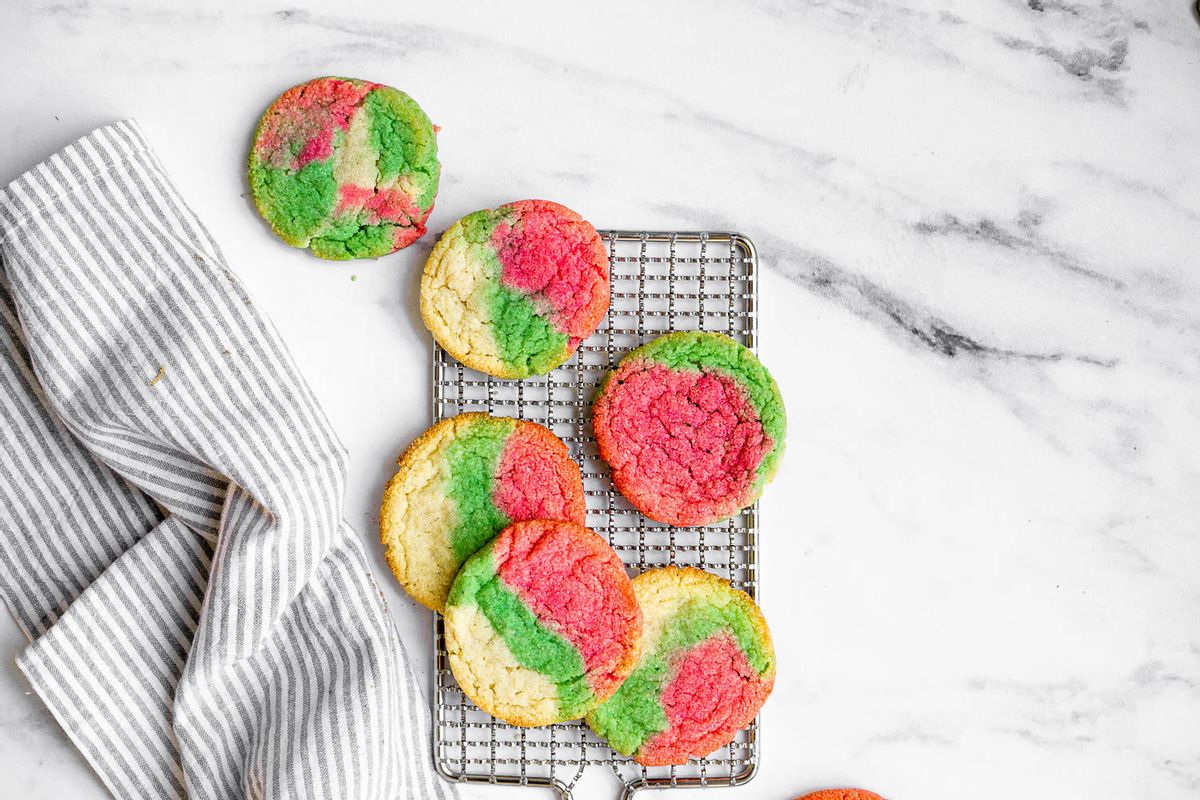 #1 Low Carb & Keto Diet App Since 2010
Track macros, calories, and access top Keto recipes.
25 min

16 min

41 min
Keto Peppermint Swirl Cookies
One of my favorite things about the holidays is Christmas cookies! You will not need to feel left out of the fun with this low carb cookie recipe. Sweet, tender sugar cookie dough is flavored with bright peppermint extract. Part of the cookie dough is colored red and green and then blended into a neutral colored dough to give a peppermint swirl look to the cookie. The colors are swirled together into a log and then cut and rolled into a ball. The cookie dough balls are placed onto a cookie sheet and flattened out with the bottom of a cup coated with granulated sweetener. The result is a crispy, tender, peppermint cookie just right for Christmas time.
Do I need to chill this dough?
If the dough becomes too difficult to handle, you will need to place it in the freezer for several minutes to allow the dough to firm up. This will help it be easier to handle, cut, and roll into a ball. You will want the cookie dough slightly chilled when you are flattening them out on the baking sheet as well.
Do I have to use traditional food coloring?
No, the food coloring is optional, but it gives it a lovely festive, peppermint look. You can opt for natural food colors if you would like. This recipe uses gel food coloring, which has less water than traditional food colorings. The gel food coloring will help the dough from becoming loose. You can use traditional food colorings but only add a few drops at a time.
How do I know the cookies are done baking?
These cookies will not need to bake very long in the oven as you do not want them to develop much browning on the edges - this will allow the peppermint swirl colors to stay bright. Allow the cookies to cool completely on the baking sheet (they will continue cooking on the hot baking sheet) and set. Then remove them to a cooling rack.
Serving suggestion
These delicious peppermint cookies would be great with this Peppermint Mocha Keto Coffee! https://www.carbmanager.com/recipe/peppermint-mocha-keto-coffee.
*Note - The food color is not listing in the ingredient list, but you will need a red and green food color.
Net Carbs

1.7 g

Fiber

1.7 g

Total Carbs

13.4 g

Protein

3.5 g

Fats

14.3 g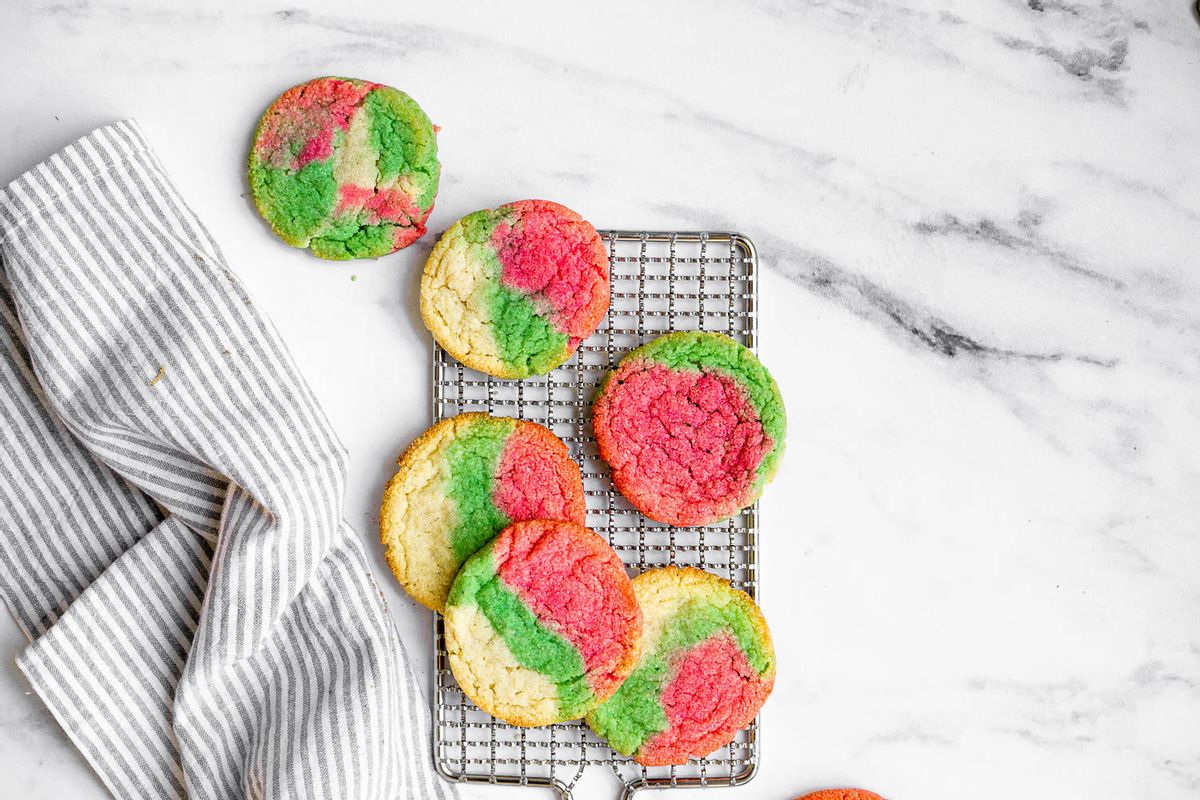 #1 Low Carb & Keto Diet App Since 2010
Track macros, calories, and access top Keto recipes.
Ingredients
The Ultimate Icing Sugar Replacement by Swerve

⅔ cup

Baking Powder

1 tablespoon

Coarse Kosher Salt by Morton

¼ tsp

Peppermint Extract

2 teaspoon

The Ultimate Sugar Replacement Granular by Swerve

⅓ cup
Preheat an oven to 350 F. Begin with room temperature butter and cream cheese. Cream the butter and cream cheese together in the bowl of a stand mixer fitted with a paddle attachment, for 1-2 minutes.

Next, add the sweetener, almond flour, baking powder, kosher salt and peppermint extract. Beat again until well blended for about 1 minute.

Divide the dough into three parts and place them into separate bowls. Color one bowl with a few drops of green food coloring and another bowl with a few drops of red food coloring. Start with a little at time and add more as desired.

Place each dough side by side on a piece of parchment paper into a rough log shape. Freeze for 5 minutes until chilled. The dough should not be hardened, just firmer and easier to handle.

Remove the log from the freezer. Pick it up and slap it down gently. Repeat this process turning it on all sides to form a log shape that is roughly 12" long. Cut the log into 16 equal pieces. Roll each into a ball and then place them on a baking sheet several inches apart.

Use a measuring cup or a cup with a flat bottom to press each ball into a round cookie that is about ¼" thick. Press the bottom of the measuring cup or flat cup into some granulated sweetener and then press the cookie. This will help the cookie from sticking and give the cookie a nice crispiness after baking.

Bake for 8 minutes or until the cookies are set with barely any browning on the outside edges. Allow them to cool completely before removing them from the baking sheet to a cooling rack. Store in an airtight container.