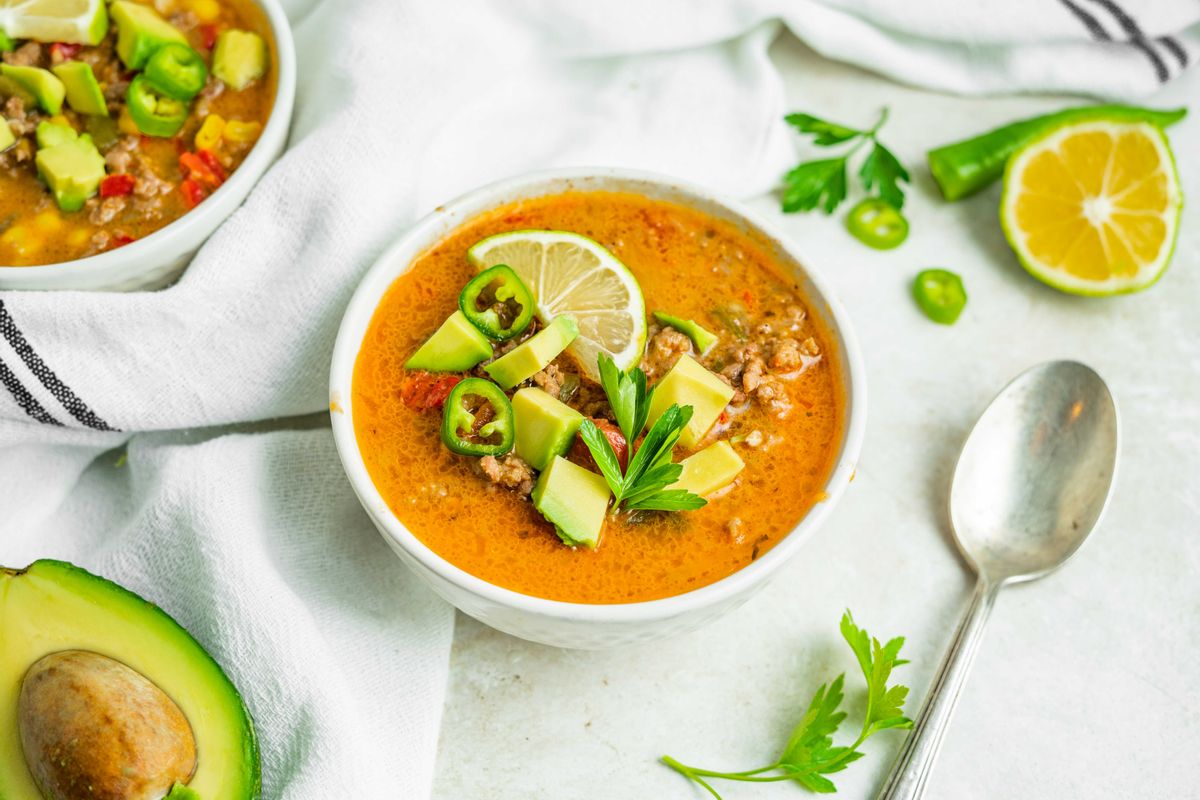 #1 Low Carb & Keto Diet App Since 2010
Track macros, calories, and access top Keto recipes.
5 min

4 h 10 min

4 h 15 min
Slow Cooker Keto Taco Soup
There is nothing more comforting than a saucy and rich beef Keto taco soup. This low-carb meal is prepared in a slow cooker, which results in a thick and flavorful soup. It is filled with magnificent flavors and textures that make you want to go for seconds. The best thing about this recipe is that you can effortlessly double or triple it, prep some of it, and freeze the rest.
Is taco soup Keto?
Traditional taco soup is not Keto-friendly because it contains corn, beans, and tortillas, all very high in carbs. This beef soup, however, has none of these ingredients. Moreover, the quantities of seasoning and vegetables are moderate to keep this meal Keto-friendly.
Is this recipe freezer-friendly?
Yes, it is! Keto soup recipes that are freezer-friendly are perfect for busy nights or emergency dinners. You can make a double batch and freeze as many portions as you'd like. To thaw, place the Keto soup container in the fridge overnight or in the microwave on the lowest power for a couple of minutes.
Do you have to use a slow cooker?
Keto taco soup slow cooker recipes are perfect for busy people. This recipe needs 15 minutes of active cooking time, and then you just let the slow cooker do its thing. While the soup is cooking, you can run errands, finish some home chores, or create more meals for your Keto meal prep. If you don't own a slow cooker, you can use an instant pot or cook it in a Dutch oven on the lowest heat for 2-3 hours.
Is browning the beef essential?
Browning the beef adds a deeper flavor and a layer of texture. If you are in a hurry, you can skip this step and add the ground beef raw with the other ingredients.
Net Carbs

4.6 g

Fiber

1.9 g

Total Carbs

6.6 g

Protein

38.3 g

Fats

32.2 g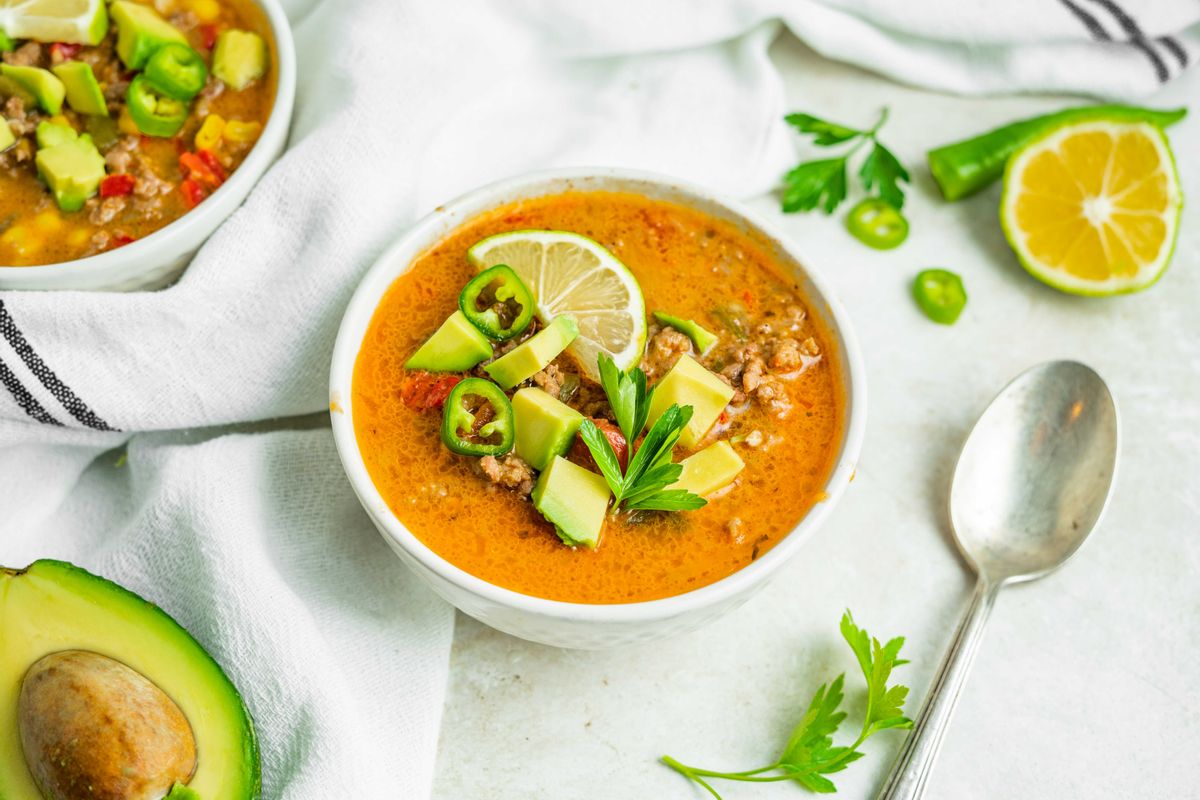 #1 Low Carb & Keto Diet App Since 2010
Track macros, calories, and access top Keto recipes.
Ingredients
Extra virgin olive oil

2 tbsp

Tomato

0.5 small - 2 2/5" diameter

Lime

2 slice - 1/8 of 2" diameter

Jalapeno peppers, raw

4 slice
To a medium saucepan over medium heat, add the olive oil. Finely chop the onion and the garlic, and add them to the saucepan along with the ground beef. Cook for 4-5 minutes, or until the beef is browned.

Transfer the cooked beef to the slow cooker. Finely chop the green pepper, red pepper, and tomato and add them to the beef. Add the paprika, cumin, oregano, black pepper, garlic powder, beef stock, and cream cheese.

Stir everything together. Turn your slow cooker on. Cook the beef taco soup for 2-3 hours on high or 4-5 hours on low.

Divide the soup into 4 bowls. Cut the avocado into squares and add them to the surface of the soup. Garnish with fresh cilantro, jalapeno pepper, and lime wedges. Serve immediately.