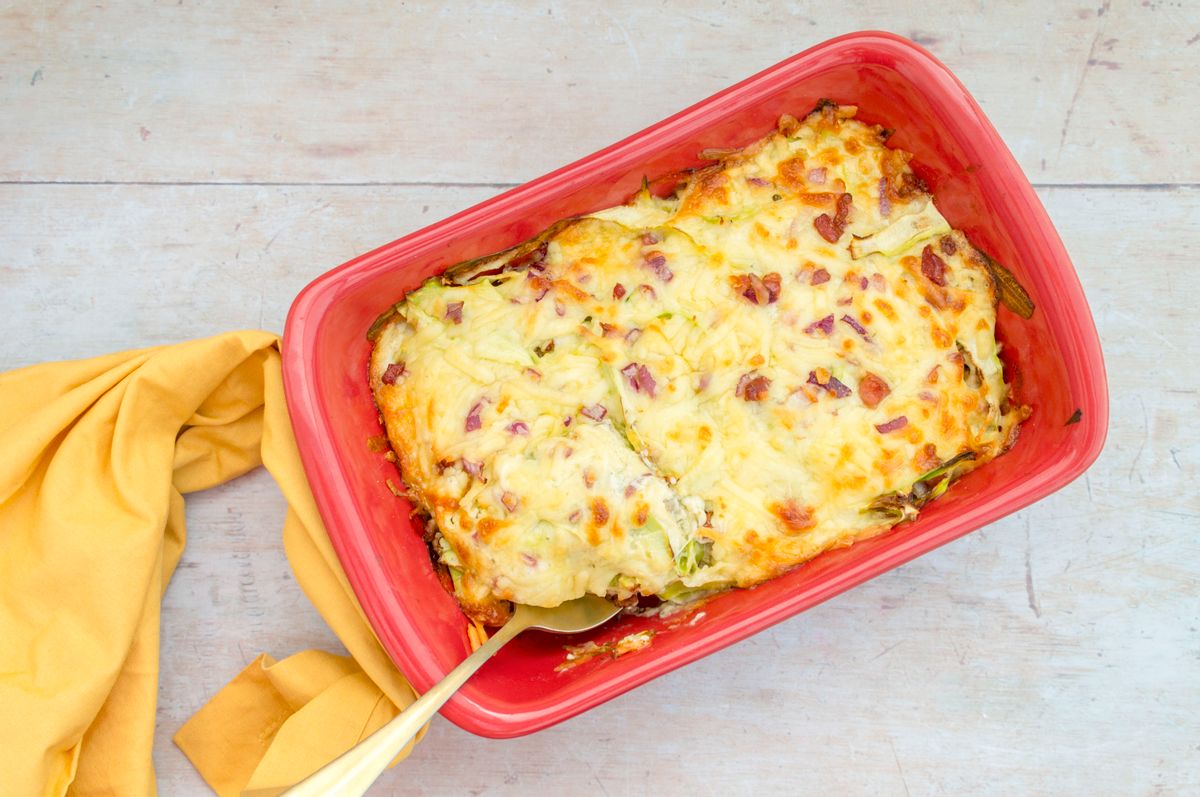 #1 Low Carb & Keto Diet App Since 2010
Track macros, calories, and access top Keto recipes.
20 min

47 min

1 h 7 min
Keto Cheese And Bacon Summer Pot Luck Casserole
This deliciously rich Keto summer pot luck recipe is an all-round crowd pleaser! Loaded with flavor from four cheeses, ground turkey, crispy pancetta and Keto vegetable spaghetti. This is a great dish for sharing, perfect for family and friends.
Keto Summer Pot Luck Ingredients
This Keto pot luck casserole contains multiple layers of rich and flavorsome ingredients. Ground turkey is topped with strips of zucchini noodles and a cream cheese, garlic and parmesan sauce. This is then layered with oozy mozzarella, tangy cheddar, diced pancetta and sweet red onion. The ingredient layering process is then repeated before baking in the oven until golden and bubbling.
Serving Suggestions
This is an indulgent casserole loaded with dairy so we recommend serving with something light. This is perfect served at summer gatherings with a hearty garden salad. It also makes an excellent family dinner with a side of steamed green vegetables.
Net Carbs

5.2 g

Fiber

1.1 g

Total Carbs

6.5 g

Protein

44.4 g

Fats

49.1 g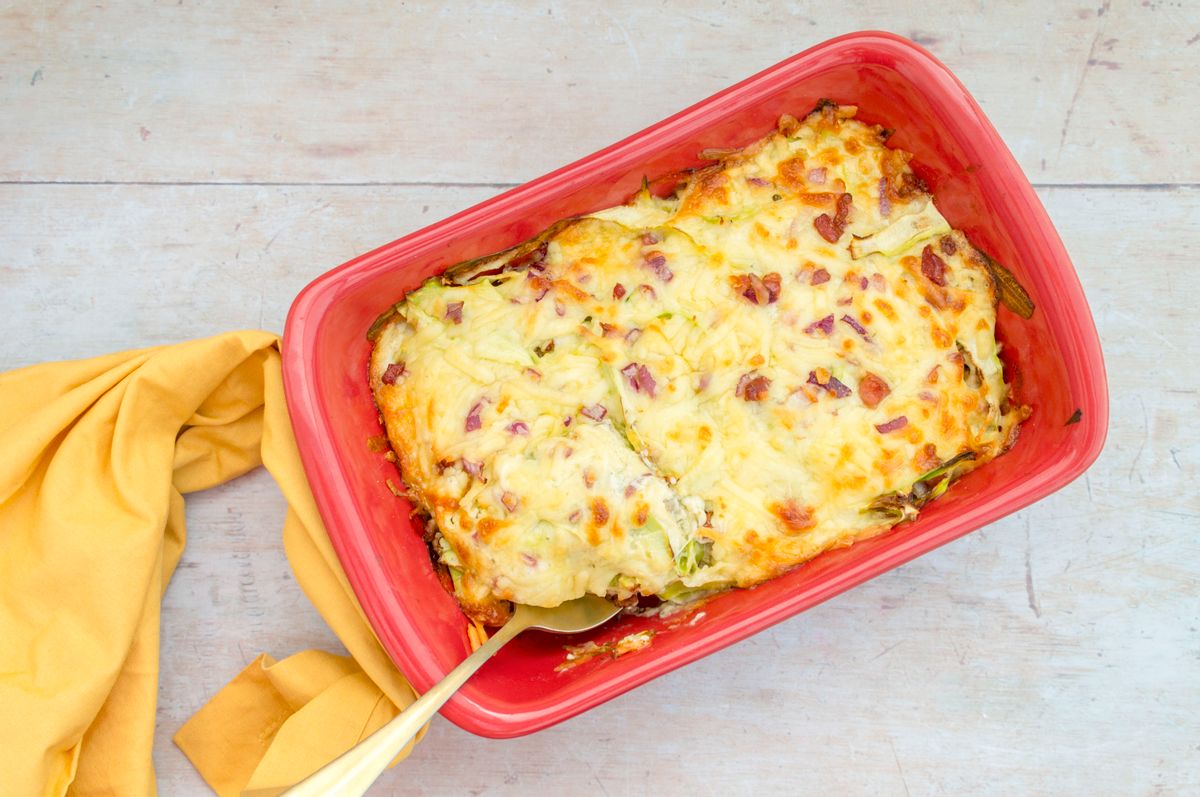 #1 Low Carb & Keto Diet App Since 2010
Track macros, calories, and access top Keto recipes.
Ingredients
Pancetta by Daniele

2 ounce

Cream Cheese Spread

2 tablespoon

Parmesan Cheese

2 tablespoon, grated

Mozzarella Cheese

1 cup, grated

Cheddar Cheese

1 cup, grated

Oregano, Dried

1 teaspoon

Salt, Sea Salt

1 teaspoon

Butter, Unsalted

1 tablespoon

Chicken Broth, Bouillon Or Consomme, Ready-to-serve Can

½ cup
Slice the ends from the zucchini, peel away the outer skin and discard. Peel the zucchini into wide strips using a vegetable peeler to create to create pasta style ribbons. Add to a large bowl and sprinkle with half a teaspoon of salt. Toss to combine. Set to one side for 15 minutes to extract any excess moisture, then squeeze the zucchini to drain away any liquid.

Heat the olive oil in a skillet over a medium/ high heat. Add the pancetta and cook through until crisp and golden. Remove from the skillet with a slotted spoon and set to one side.

Add the ground turkey to the same skillet. Cook through until browned all over. Set to one side.

Melt the butter in a small saucepan over a low/medium heat. Add the cream cheese, parmesan, garlic powder; oregano, remaining salt and pepper. Stir to combine, cooking until the cheeses have melted.

Add the chicken stock to the saucepan. Stir well to combine with the melted dairy. Simmer gently for a few minutes to heat through and thicken to a creamy sauce consistency.

Whilst the sauce is cooking you can prepare the cheese and pancetta layer. Finely dice the onion and add to a mixing bowl along with the mozzarella, cheddar and cooked pancetta. Mix together well to combine.

Preheat the oven to 400 degrees Fahrenheit. Spoon half the ground turkey into the base of a medium oven proof dish. Ensure that you have created an even layer.

Now to create the 'pasta' layer. Take half of the zucchini noodles and layer them over the ground turkey. Again, ensure that this is even.

Now to add the sauce. Spoon half the cream cheese sauce over the top of the zucchini noodles. Ensure that you cover the zucchini and turkey evenly in the sauce.

Now for the cheese layer. Scatter half the grated cheese, onion and pancetta mixture over the sauce, zucchini and turkey. Again, ensure that this is in an even layer.

Next repeat the above layering processes with the remaining ingredients. Add a layer of turkey, zucchini, sauce and cheese. Ensure that everything is level so that the casserole cooks through evenly.

Cover the casserole in foil and transfer to the oven. Bake for 15 minutes. After this time, remove the foil and bake for a further 10-12 minutes. The casserole should be hot through, bubbling and golden on top.