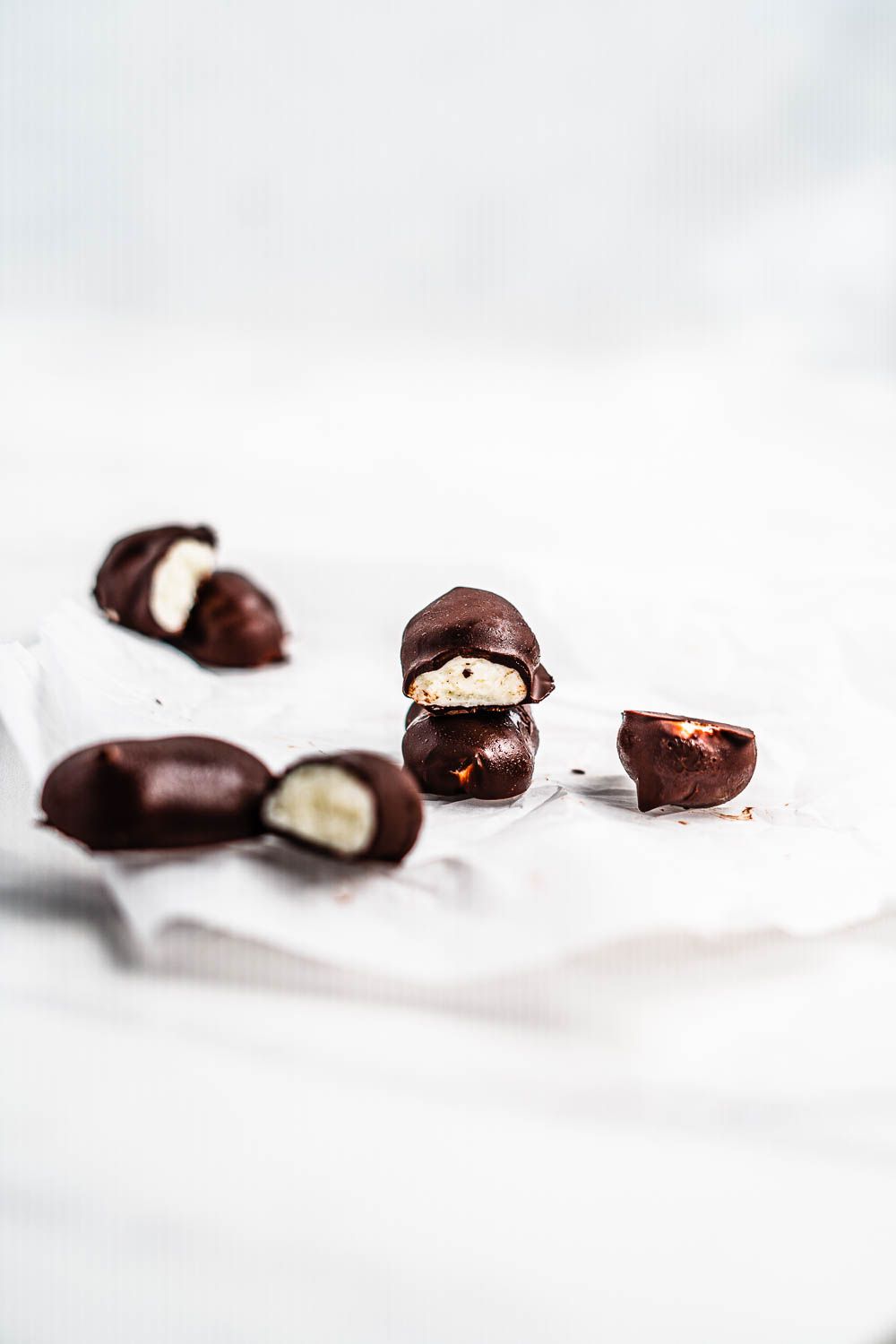 #1 Low Carb & Keto Diet App Since 2010
Track macros, calories, and access top Keto recipes.
25 min

0 min

25 min
Keto Chocolate Covered Buttercream
These are the ultimate Keto dessert recipe! Salted butter and sweetener are blended until light and fluffy to make the most luscious Keto buttercream. The buttercream is then piped onto a baking sheet and frozen. After freezing, the buttercream dots are enrobed in dark chocolate. The finished chocolate covered buttercreams can be left in the freezer for an extra cold treat or in the fridge. Either way, these are a delicious way to add healthy fats to your diet, especially when you have a sweet craving.
What kind of butter should I use?
Please use salted butter that has come to room temperature. You must use room temperature butter for the butter to be as elastic as possible. Room temperature butter will whip and hold the most air.
Why do the buttercream pieces need to be frozen?
They need to be frozen so they can be solid to be dipped into warm chocolate.
Can I add flavors to the buttercream?
Yes! Feel free to add any extract you would like to the buttercream filling like mint, banana, rum, and so forth.
What kind of chocolate should I use?
Feel free to use a 90% dark chocolate; if that is too dark for you in flavor, add some sweetener to taste. Another option would be to use stevia-sweetened dark chocolate.
Serving suggestions
Please serve these Keto Chocolate Covered Buttercreams after a delicious Low Carb recipe like Keto Prosciutto Scrambled Eggs. https://www.carbmanager.com/recipe/keto-prosciutto-scrambled-eggs.
Net Carbs

1.4 g

Fiber

0.4 g

Total Carbs

9.5 g

Protein

0.3 g

Fats

5.6 g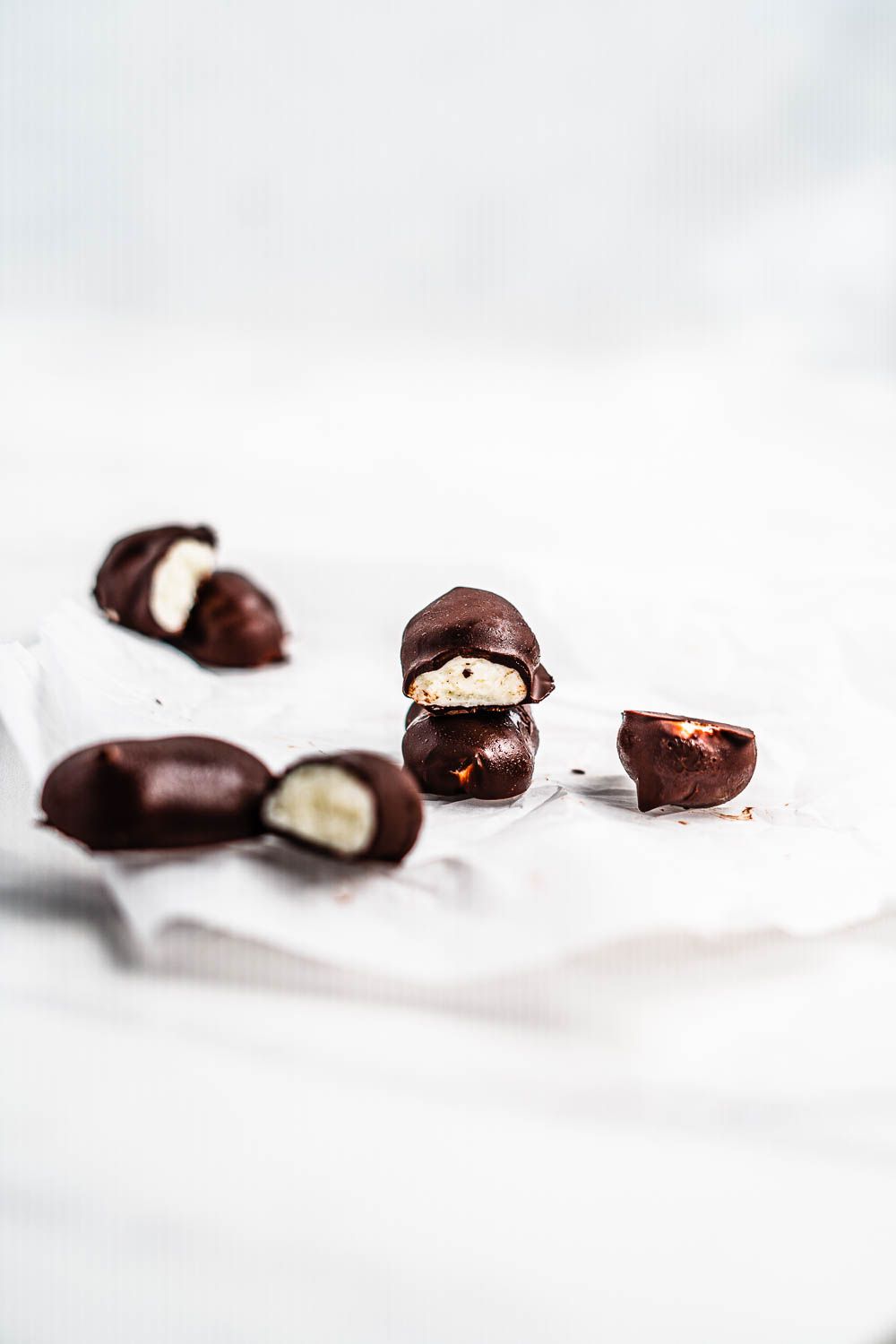 #1 Low Carb & Keto Diet App Since 2010
Track macros, calories, and access top Keto recipes.
Ingredients
Monk Fruit Erythritol Blend

1 cup
Start with room temperature butter. Place the butter in the bowl of a stand mixer fitted with a paddle attachment. Add the powdered sweetener and blend on medium-high speed until light and fluffy. The creaming process will take several minutes, at least 4-5 minutes. Scrape down the bowl a couple of times to ensure the entire mixture is getting incorporated.

Place the whipped buttercream in a medium-sized piping bag fitted with a round piping tip. Pipe 25 evenly spaced round dots of buttercream onto a parchment piece that is lining a baking sheet.

Place the baking sheet in the freezer and chill until firm, preferably overnight or several hours. Once they are firm enough to pick up with your fingers, they can be dipped in chocolate. Keep them in the freezer until the chocolate is ready to go.

Break the chocolate into smaller pieces and place in a small microwave-safe bowl. Add the coconut oil—microwave on high for one minute. Stir the chocolate. Melt in the microwave for another 30 seconds or so until the chocolate is fully melted. If using very dark chocolate, feel free to add sweetener at this point and taste it to make sure it is sweet enough for your taste. Allow the chocolate to cool before dipping the frozen buttercream into it, but do not allow it to cool so much it hardens again.

Dip each buttercream dot into the melted chocolate using a fork, tap each off, allowing the chocolate to drip through the fork, and place it back onto the baking sheet. Once they are all dipped, place them all back in the freezer until solid.