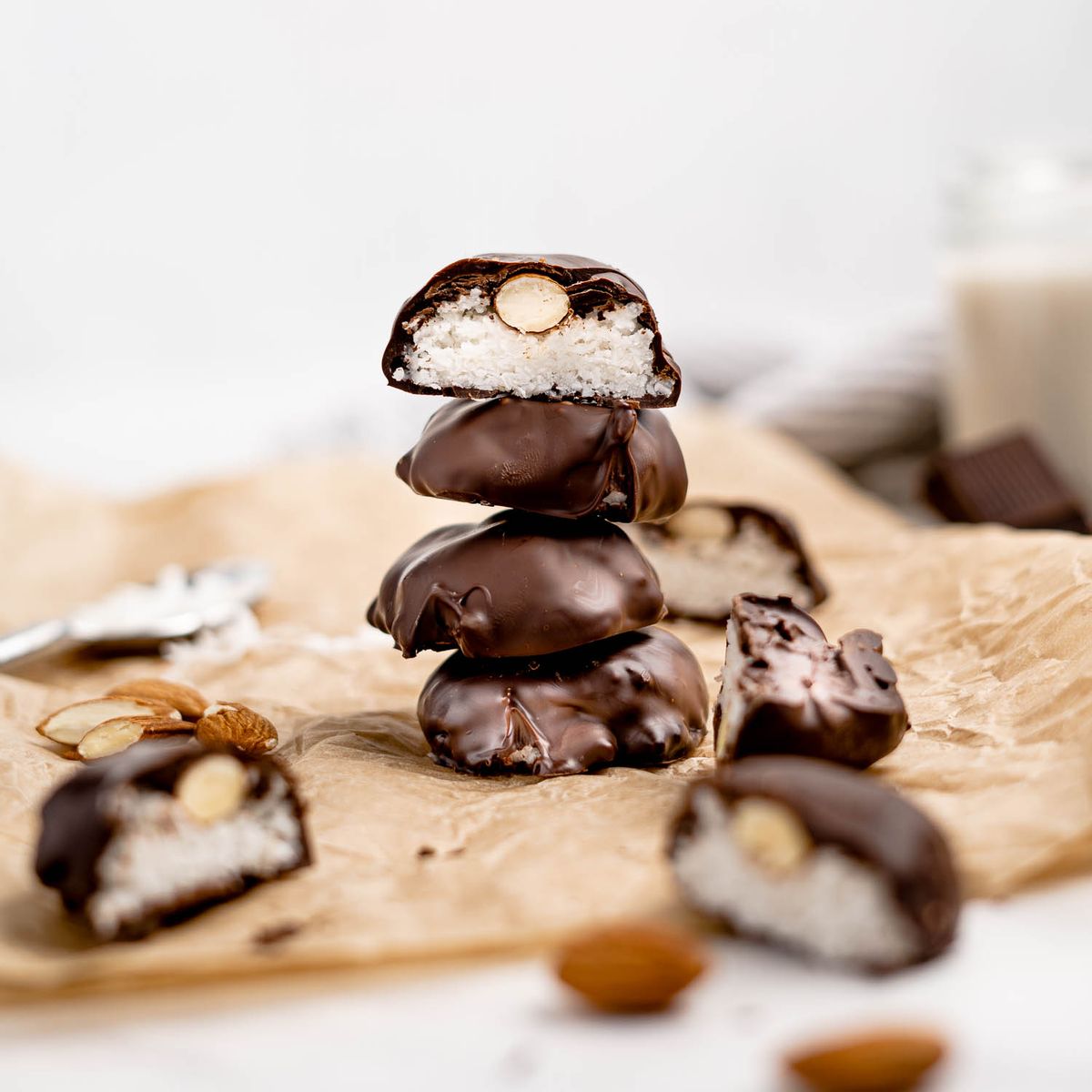 #1 Low Carb & Keto Diet App Since 2010
Track macros, calories, and access top Keto recipes.
20 min

5 min

25 min
Keto Almond Joys
Almond joys are everyone's favorite candy bar, but here it is made into a Low Carb and Keto-friendly form. Unsweetened coconut flakes are blended with sugar-free vanilla syrup and almond extract until it forms a sticky mixture. Toasted almonds are pressed into the center of each coconut mound and then chilled until firm. Delicious dark chocolate is warmed until melted and used to enrobe the almond coconut mounds. The flavor of the bittersweet dark chocolate, sweet coconut, and toasted almonds is sure to please.
How do I store leftover almond joys?
Please store them in an airtight container at room temperature. If you plan not to eat the almond joys quickly, please keep them in the fridge or even the freezer.
What kind of chocolate should I use?
Please look for an unsweetened chocolate, a very dark chocolate (90%), or stevia-sweetened chocolate for this recipe.
What kind of vanilla syrup should I use?
Please use a Keto-friendly vanilla syrup made from monk fruit. You must use a sugar-free syrup that is thick, not runny, to help hold the coconut flakes together.
Net Carbs

1.6 g

Fiber

5.2 g

Total Carbs

13.7 g

Protein

1.4 g

Fats

10.5 g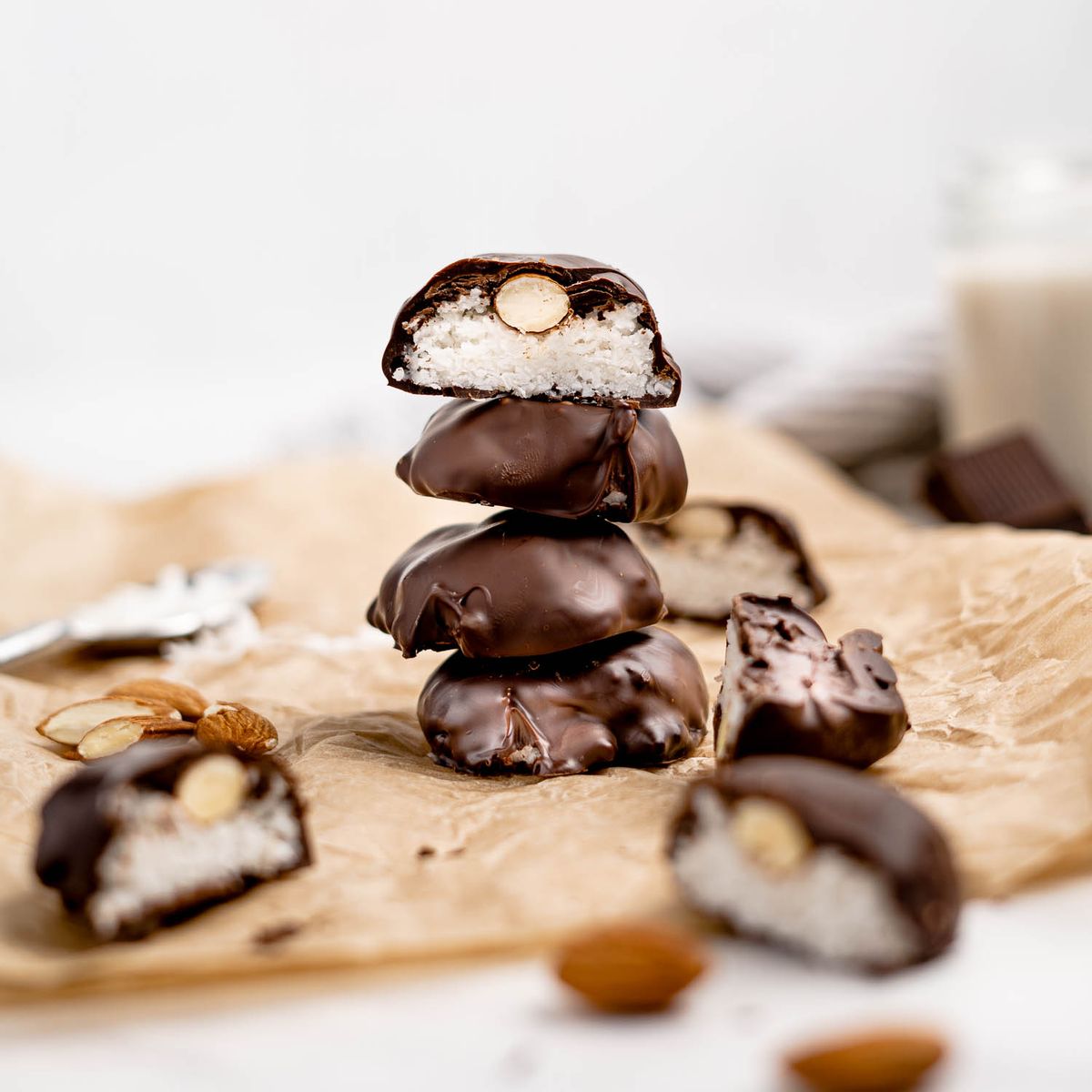 #1 Low Carb & Keto Diet App Since 2010
Track macros, calories, and access top Keto recipes.
Ingredients
Coconut, dried, shredded or flaked, unsweetened

2 cup

Sugar Free Syrup Vanilla

4 tbsp

Almond extract

1 teaspoon

Monk Fruit Erythritol Blend

2 tbsp

Dark chocolate bar, sugar free

9 oz
In the bowl of a large food processor, combine the coconut flakes, Keto-friendly vanilla syrup, almond extract, and kosher salt until the mixture is clumpy and sticky.

Use a teaspoon-sized cookie scoop and portion the mix into 20 balls onto a baking sheet lined with parchment paper.

Toast the almonds in an air fryer at 350 F for 3 minutes. If you do not have an air fryer, use an oven set at 350 F and cook for 4-5 minutes. Remove the almonds from the oven and allow them to cool until you can touch them.

Press one almond into the center of each coconut mound. Chill the mounds in the freezer until firm, about 1 hour.

Chop the chocolate and place it into a microwave-safe bowl—heat on high for one minute. Stir the chocolate. There should be a few solid pieces of chocolate in the mixture, which you want. Leaving a few pieces of solid chocolate will help to temper the chocolate. When the coconut mounds are coated in tempered chocolate, they will firm quickly and can safely be left at room temperature without the chocolate staying sticky.

Dip each chilled almond coconut mound into the melted chocolate. Place on a parchment-lined baking sheet.

Store in an airtight container at room temp or in the fridge or freezer if you will not eat them quickly.