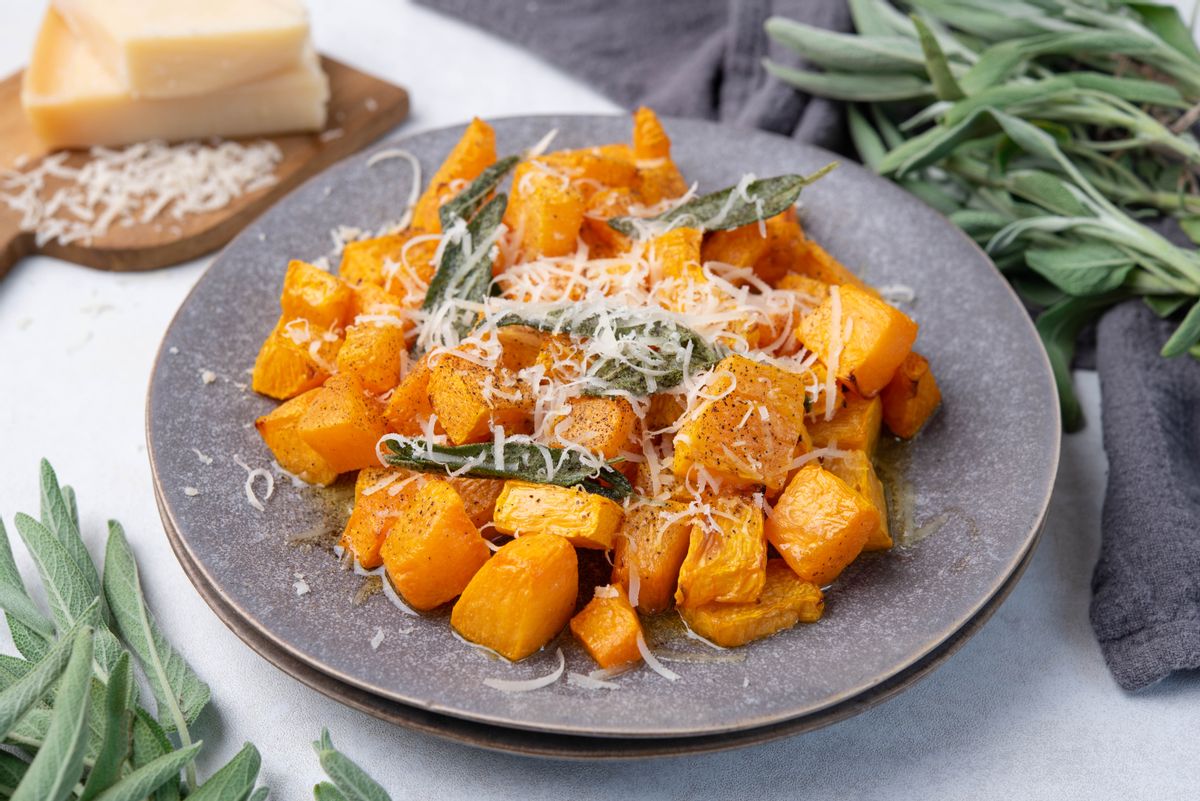 #1 Low Carb & Keto Diet App Since 2010
Track macros, calories, and access top Keto recipes.
10 min

20 min

30 min
Low-Carb Mediterranean Air Fryer Butternut Squash with Sage and Parmesan
This lovely air fryer butternut squash is an excellent addition to your low-carb Mediterranean recipes. Tender squash bites are coated with sage-flavored butter for a lovely Mediterranean side dish you can serve with your favorite low-carb or Keto recipes. This fantastic recipe takes about 30 minutes to prepare and just a few ingredients you can easily get in a local store. The recipe yields 2 servings, but you can double or triple the ingredients to feed more. Depending on the size of your air fryer, you might need to cook the squash in batches (don't overcrowd your air fryer, or the squash won't cook evenly). You can also add more or less sage, depending on your taste. Season with some salt and black pepper before serving, and top with shredded parmesan. Enjoy!
Is butternut squash high in carbs?
100g of butternut squash contains 9.7g of net carbs, making it a perfectly acceptable low-carb addition to your favorite meals as long as you serve it in moderation and count the carbs. Furthermore, butternut squash is rich in potassium and may help manage blood pressure and reduce the risk of heart disease.
Can I prepare this recipe in the oven?
Absolutely! This is a fantastic recipe to prepare in your oven. Arrange the butternut squash in a single layer over a baking sheet and bake for 20 minutes at 200°C (400°F).
How do you customize this recipe?
If you don't like the flavor of sage, you can easily replace it with some other Mediterranean herbs, such as fresh rosemary or thyme. Adjust the amount according to your taste. You can also omit the parmesan for a dairy-free version of this fantastic low-carb Mediterranean side dish.
Net Carbs

10.3 g

Fiber

4.4 g

Total Carbs

14.7 g

Protein

3.8 g

Fats

11 g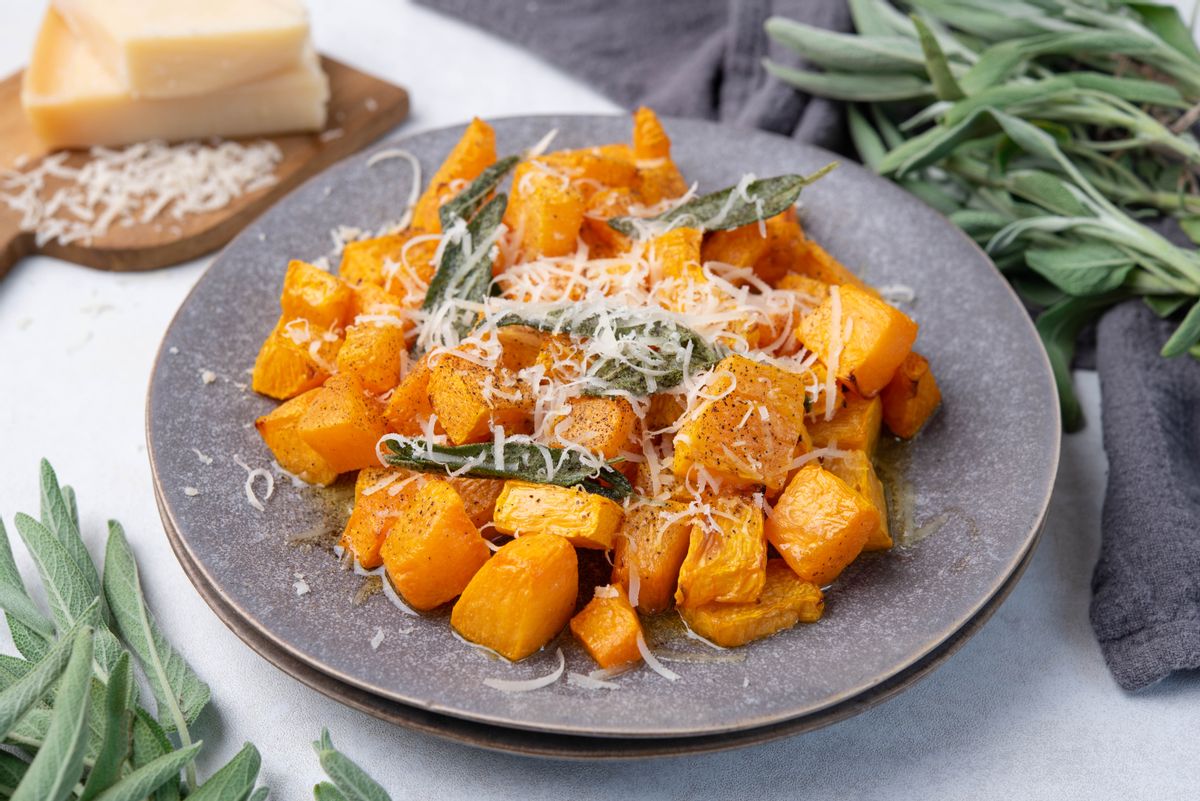 #1 Low Carb & Keto Diet App Since 2010
Track macros, calories, and access top Keto recipes.
Ingredients
Extra virgin olive oil

1 tbsp

Parmesan cheese, fresh (hard)

0.25 cup, shredded
Peel and cut the squash into approximately 1.27-2.5cm (½-1 inch) cubes. Spray the bottom of your air fryer basket with cooking spray and add the prepared squash. Air fry for 10 minutes at 180°C (355°F).

After the 10 minutes is up, remove the basket and shake the squash. Lightly brush with olive oil and sprinkle with salt. Cook for another 10 minutes.

Meanwhile, melt the butter in a small saucepan. Add the sage leaves and cook for 3-4 minutes, stirring constantly. Make sure not to overcook the sage leaves, or the butter might become bitter.

Transfer the prepared squash to serving plates. Pour the prepared butter over the squash and garnish with sage leaves. Sprinkle with black pepper.

Shred the parmesan cheese. Sprinkle the squash with shredded parmesan. Taste and optionally add more salt. Serve immediately.