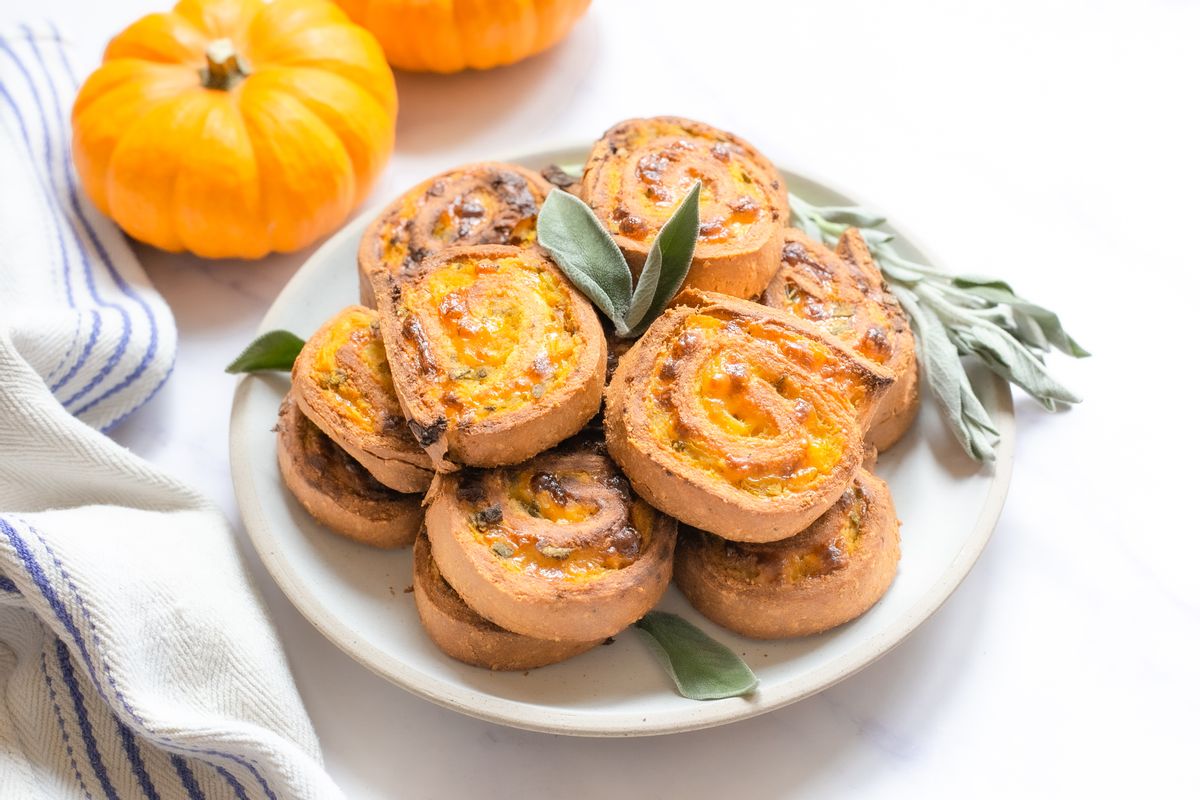 #1 Low Carb & Keto Diet App Since 2010
Track macros, calories, and access top Keto recipes.
20 min

40 min

1 h 0 min
Best Keto Pumpkin and Sage Rolls
A deliciously balanced pumpkin and sage filling is packed into Keto 'fathead' dough to make these savory Keto Fall appetizers. They're the ideal seasonal party snack, enjoyed by the whole family whether following a Keto diet or not. Easy to make and every bit delicious. This recipe answers your carb cravings, so you never again miss out on your favorite Fall flavors!
What is 'fathead' dough? Fathead dough is a Keto, low-carb, and gluten-free dough made with a low-carb flour like almond or coconut flour, or a mixture of both. Mozzarella is the key ingredient that gives this dough elasticity and structure, while cream cheese and egg help to bind the ingredients and give rise. It is a real staple for a Keto diet plan and easy to make.
Is pumpkin Keto-friendly? Pumpkins are a type of winter squash commonly considered a vegetable, but they are technically a low-carb fruit. They typically contain 12g of net carbs per cup, so they can be safe to incorporate and eat on a Keto low-carb diet; you just need to watch the portion size.
Pumpkins are loaded with various nutrients, including fiber, vitamins, and minerals, and are particularly high in beta-carotene, a powerful antioxidant. Beta-carotene is the red-orange pigment that gives plants and fruits their color. The human body then converts this antioxidant into vitamin A, which helps with immunity, eye health, and healthy skin.
What type of pumpkin do I choose? The typical Halloween carving pumpkins are ok, but they do lack flavor. Source a smaller and dense pumpkin with rich orange flesh. There are many varieties, but some specific names are 'Delica,' 'Crown Prince,' 'Baby Pam,' 'Autumn Gold,' and butternut squash. They may also be labeled 'sugar pumpkins' or 'pie pumpkins'.
Can I adapt the recipe for different diets? This recipe is naturally gluten-free and can be made vegan by substituting the dairy mozzarella with a vegan mozzarella substitute. Omit the egg and replace it with 1 tablespoon psyllium husk mixed with 2 tablespoons water to form a gel.
What can I serve these Keto rolls with? Serve with a side salad for a main meal, or alongside other nibbles to complete a buffet board.
Net Carbs

1.7 g

Fiber

1.3 g

Total Carbs

3 g

Protein

3.7 g

Fats

7 g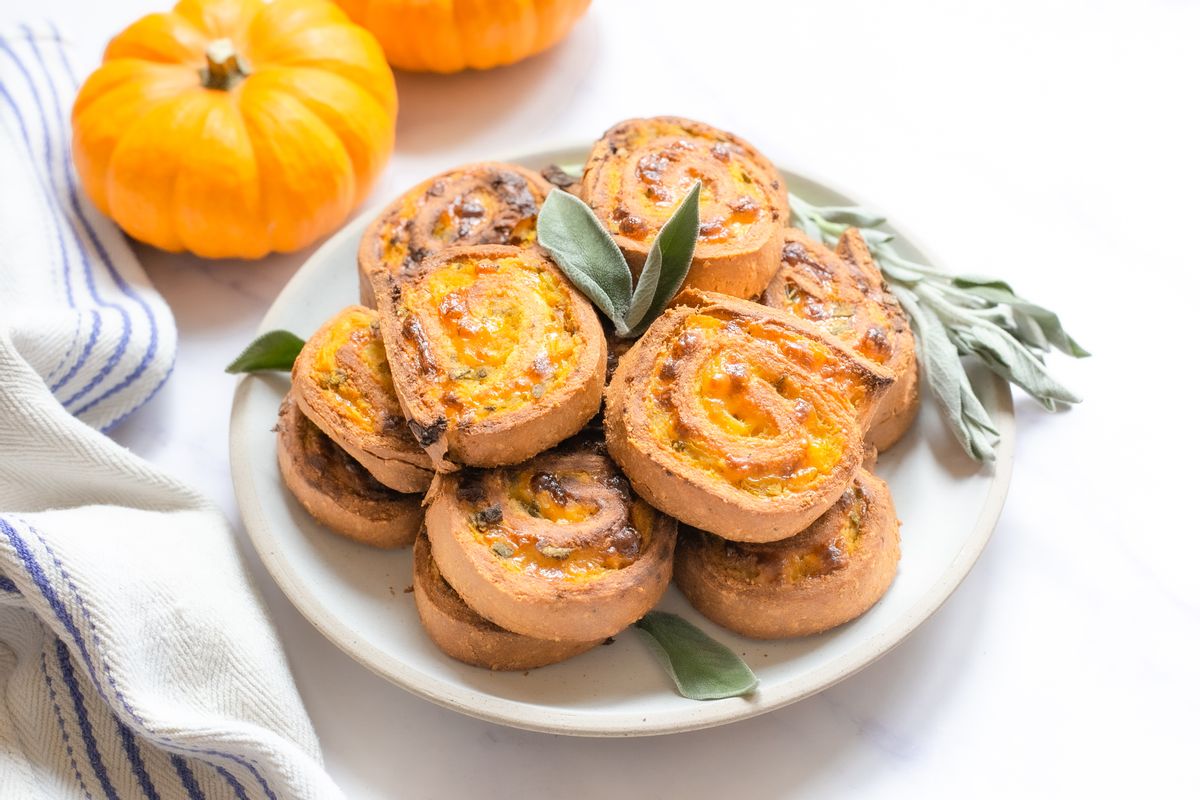 #1 Low Carb & Keto Diet App Since 2010
Track macros, calories, and access top Keto recipes.
Ingredients
Pumpkin, cooked from fresh

150 g

Mozzarella Cheese (Shredded/ Grated)

1 cup

Cream cheese, brick

2 tbsp
Prepare a baking tray with baking paper. Preheat the oven to 200C/400F. Peel the pumpkin. Dice in half and discard the seeds. Slice into cubes or slices and transfer to the baking tray. Drizzle with 2 tablespoons olive oil, a pinch of salt, and a good grind of pepper. Roast in the center of the oven for 25 minutes until soft. Transfer 150g of pumpkin to a large bowl and reserve the rest for another dish or freeze for later use. Finely chop the sage and mince the garlic. Add them to the bowl and use the back of a fork to combine. Set aside to cool slightly.

Reduce the oven to 350°F/ 180°C and line a baking tray with baking paper. In a large bowl, add the almond flour, coconut flour, baking soda, garlic powder, sea salt, and a good grind of black pepper. Use a whisk to mix the dry ingredients together. Set aside.

Add 1 cup shredded mozzarella cheese and the cream cheese to another heatproof bowl. Microwave the cheese on high at 30-second bursts to make sure the cheese doesn't burn. Give it a stir, then heat again for another 30 seconds until completely melted.

Make a well in the center of the dry ingredients. Crack in the egg. Scrape in the melted cheese mixture. Use your hands to knead together and gather the ingredients to form a dough ball.

Transfer the dough between 2 sheets of baking paper. Use a rolling pin to roll out the dough to a rectangular shape approximately 1/6-inch/ 4mm thickness. Peel back and remove the top layer.

Spread the pumpkin and sage filling over the base. Sprinkle the remaining 1/3 cup shredded mozzarella.

Start from the short edge of the rectangle. Roll it over itself, tucking back in any ingredients that may have fallen out.

Use a very sharp knife to slice 16 equal rolls. First, cut the roll in half, then cut each of those pieces in half again until you have 16 pieces. Place each roll on a baking tray. Ensure to leave a gap between the rolls to prevent sticking.

Bake in the centre of the oven for 12-15 minutes or until the dough is golden and the cheese has melted. Transfer to a serving dish and garnish with fresh sage for presentation.