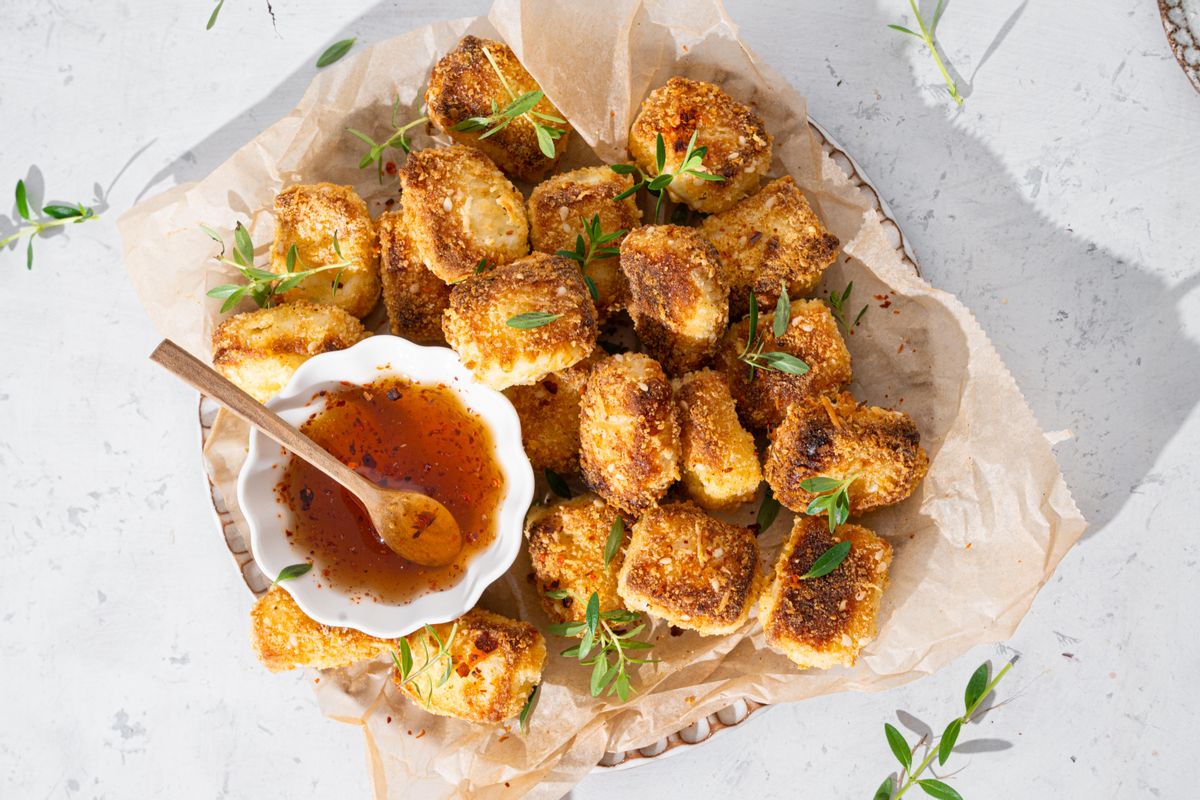 #1 Low Carb & Keto Diet App Since 2010
Track macros, calories, and access top Keto recipes.
10 min

15 min

25 min
Keto Crispy Halloumi Bites with Spicy Honey
When it comes to Keto Christmas appetizers, the Keto crispy halloumi bites with spicy honey are a revelation—bringing a delightful crunch and bold flavors to your holiday table. Halloumi, a cheese with a unique ability to retain its shape when heated, takes center stage in this recipe, offering a Keto-friendly alternative that's both delicious and satisfying.
Is halloumi Keto-friendly?
Absolutely! Halloumi, a semi-hard cheese made from a blend of sheep's and goat's milk, is an excellent choice for a Keto diet. With its high fat content and low carbohydrates, halloumi fits seamlessly into a Keto lifestyle. The unique feature of halloumi is its ability to be grilled or baked without losing its form, making it a perfect candidate for creating these crispy and flavorful bites.
How to customize this recipe?
Customization is the secret ingredient to elevate these halloumi bites. Experiment with the coating mixture by adding your favorite herbs and spices. Whether it's a pinch of rosemary for a fragrant twist or a dash of cayenne for an extra kick, the almond flour, parmesan, and sesame seed coating provide a versatile canvas for your creative touch.
What other cheeses can you use for this recipe?
While halloumi steals the spotlight, this recipe welcomes experimentation with other Keto-friendly cheeses. Try substituting halloumi with firm varieties like paneer, panela, queso fresco, or even cubes of aged cheddar. The key is to choose cheeses that can hold their shape during baking or frying, providing that satisfying crunch in every bite. Personalize your selection to create a diverse cheese platter of crispy delights.
Net Carbs

2.2 g

Fiber

15.1 g

Total Carbs

17.3 g

Protein

19.8 g

Fats

24.7 g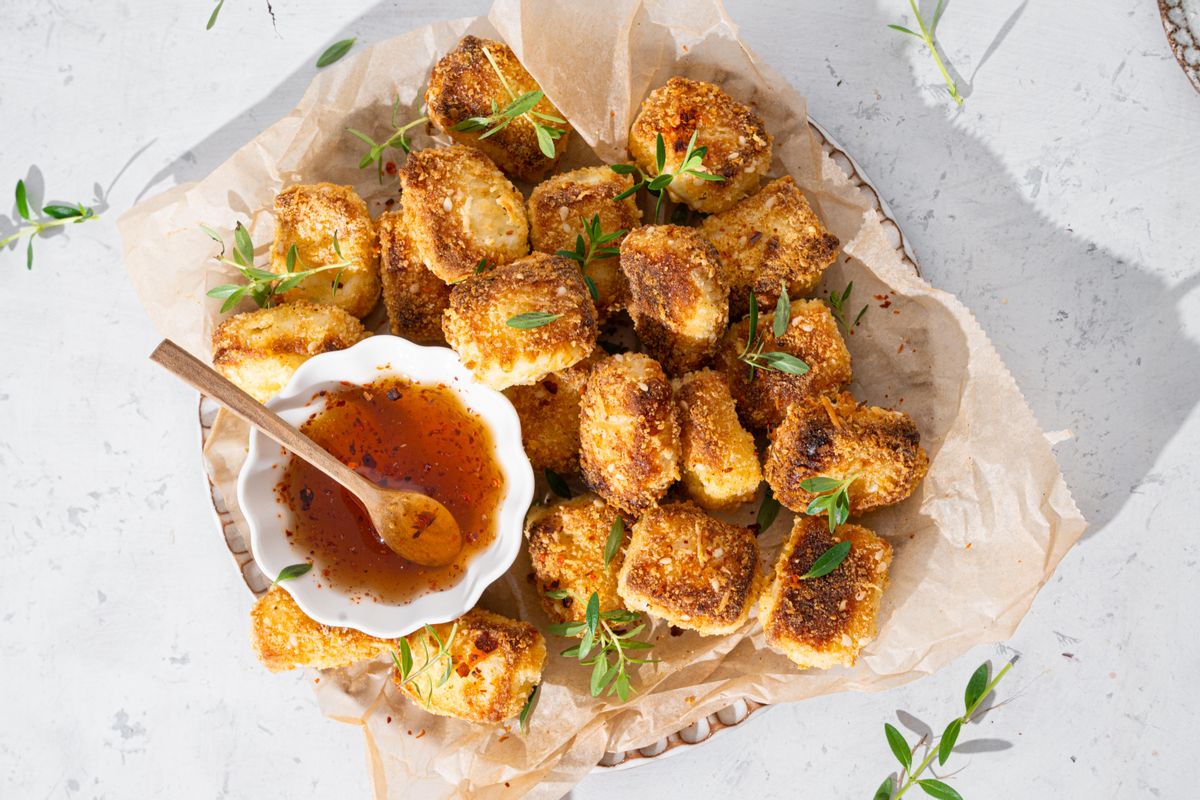 #1 Low Carb & Keto Diet App Since 2010
Track macros, calories, and access top Keto recipes.
Ingredients
Parmesan cheese

0.25 cup, shredded

Honey Substitute - Sugar Free - Vegan

3 tbsp

Crushed Red Pepper Flakes

0.25 tsp
Preheat your oven to 425F/210C and line a baking sheet with parchment paper. Cut the halloumi block into 24 pieces. Add the egg to a bowl and whisk it.

To another bowl, add the almond flour, parmesan cheese, paprika, sesame seeds, and black pepper. Add the halloumi bites to the bowl with the egg and toss to coat. Remove each piece of halloumi from the eggs, and dredge through the almond flour mixture, tossing to coat.

Transfer the coated halloumi bites to the lined baking sheet. Repeat until all the halloumi has been used. Transfer to the oven.

While the halloumi is baking, add the honey to a small bowl. Mix in the pepper flakes and set aside.

Bake for 10-12 minutes. Flip and bake for another 10 minutes until golden and crisp. Take the baking sheet out of the oven and set aside.

Transfer the halloumi bites to a serving plate. Serve with the hot honey. Enjoy!