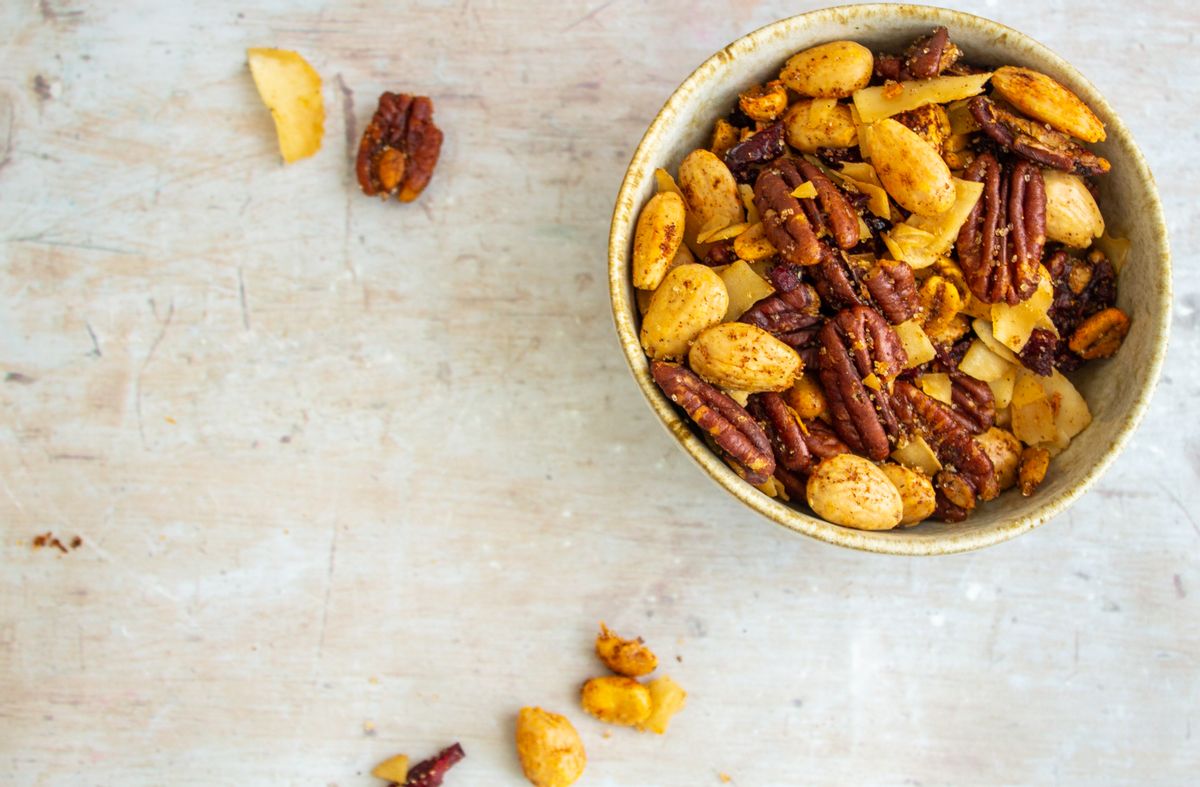 #1 Low Carb & Keto Diet App Since 2010
Track macros, calories, and access top Keto recipes.
15 min

15 min

30 min
Keto Sweet and Spicy Trail Mix
This Keto trail mix is rich in healthy fats, warming spices, and a little sweetness. Our low carb trail mix is prepared with raw almonds, peanuts, pecan halves, smoky paprika, spicy cayenne pepper, a hint of garlic powder, low carb sweetener, toasted coconut flakes, and sweet dried cranberries. This makes a great low carb snack to have on hand, perfect for busy days and when you are on the go.
Are Peanuts Keto?
Despite technically being a legume, peanuts may be enjoyed in moderation as part of a healthy and balanced Keto diet. For this recipe, we have used just a 1/4 cup of peanuts so that you can enjoy the fats and flavor while keeping the carbs as low as possible. If you would rather not use peanuts, you can simply swap these for an alternative low carb nut. Walnuts or macadamia nuts would make a great substitution.
Are Cranberries Keto?
Dried fruit is generally considered a Keto no-no as it can be high in carbs and sugars. Dried cranberries however, are an exception and may be enjoyed occasionally on a low carb diet. Look for reduced sugar dried cranberries, unsweetened cranberries, or cranberries sweetened with natural fruit juices. The recipe calls for just a tablespoon of cranberries to provide the trail mix with a contrast of flavor and texture. You can omit the cranberries however, if you would rather avoid dried fruits. You may substitute with extra coconut flakes if desired. Please be sure to adjust your macros to account for any changes made to the recipe.
The recipe will provide 1 and 1/3 cups of trail mix. A serving is 1/3 of a cup.
Net Carbs

5.9 g

Fiber

5.4 g

Total Carbs

11.3 g

Protein

7.6 g

Fats

29.1 g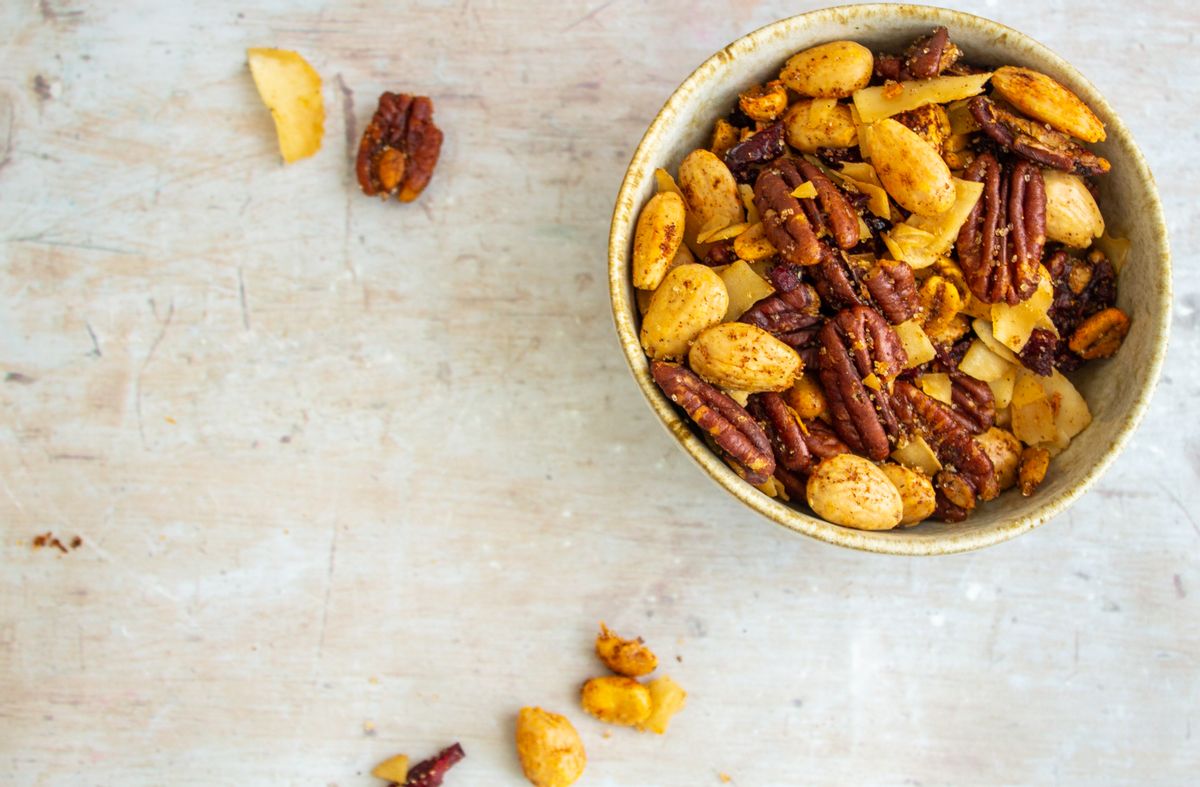 #1 Low Carb & Keto Diet App Since 2010
Track macros, calories, and access top Keto recipes.
Ingredients
Extra virgin olive oil

2 teaspoon

Reduced Sugar Craisin Dried Cranberries

1 tbsp

Almonds, blanched

0.5 cup

Unsweetened Toasted Coconut Flakes

0.5 cup

Gourmet Collection Smoked Paprika

0.5 tsp

Garlic powder

0.25 teaspoon

Salt, sea salt

0.5 teaspoon

Black pepper

0.13 teaspoon
Preheat the oven to 350 degrees Fahrenheit. Add the almonds, pecans, and peanuts to a mixing bowl. Add the paprika, cayenne pepper, garlic powder, salt and pepper. Add the olive oil and erythritol. Mix everything together well, coating all the nuts in the seasonings and oil. You may add more or fewer spices and sweetener as desired.

Line a shallow oven tray with baking paper. Arrange the coated nuts in an even layer across the lined baking tray. Transfer to the oven and bake for 12-15 minutes or until lightly toasted. Remove from the oven and set aside to cool completely.

While the nuts are toasting, roughly chop the cranberries. Return the toasted and cooled nuts to a mixing bowl. Add the chopped cranberries and toasted coconut flakes. Stir well to combine. Store in an airtight container until ready to serve.