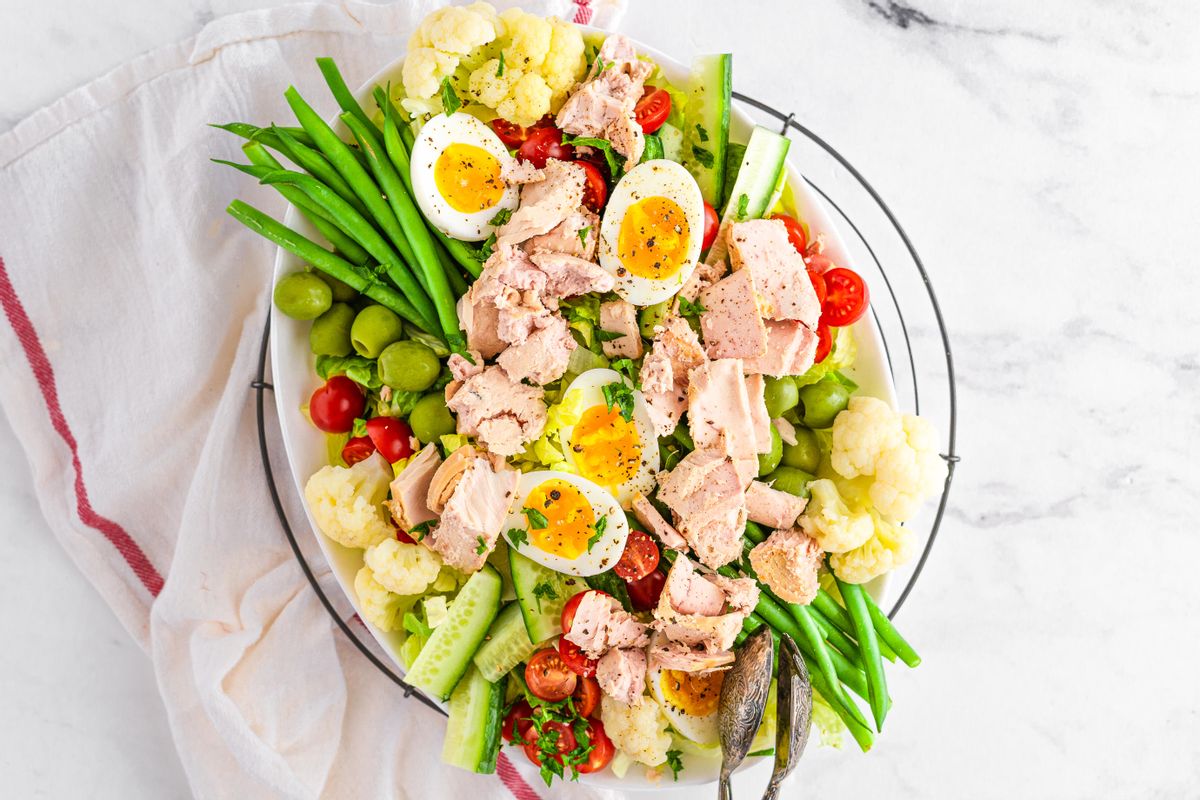 #1 Low Carb & Keto Diet App Since 2010
Track macros, calories, and access top Keto recipes.
25 min

15 min

40 min
Keto Tuna Nicoise Salad
Keto springtime recipes should be light and healthy yet easy to prepare! This beautiful tuna salad is a fantastic Keto springtime dinner option for the entire family. It's a wonderfully filling meal you can serve on its own or pair with your favorite toasted Keto bread. This lovely salad can be prepared in advance and stored in the fridge for a few days. Optionally, adjust the amount of seasoning according to your taste and enjoy!
Are green beans Keto?
Green beans are low in carbs but high in nutrients, making them a fantastic addition to your Keto menu. One cup of green beans has 4.3 grams of net carbs, which is fairly low when consumed in moderation.
What type of tuna to use?
We used canned wild-caught tuna for this recipe, but you can use any other type of canned tuna you have on hand.
What are herbs de Provence?
Traditionally, herbs de Provence are a blend of classic Mediterranean dried herbs such as thyme, rosemary, marjoram, oregano, basil, and bay leaf. This herb blend is most commonly used in French cuisine but also in so many other Mediterranean dishes. You can use a store-bought herb blend or make your own blend of herbs by adding together equal amounts of the previously mentioned herbs or adjusting the ratios according to your taste.
Net Carbs

4.4 g

Fiber

3.6 g

Total Carbs

8.1 g

Protein

19.6 g

Fats

22.1 g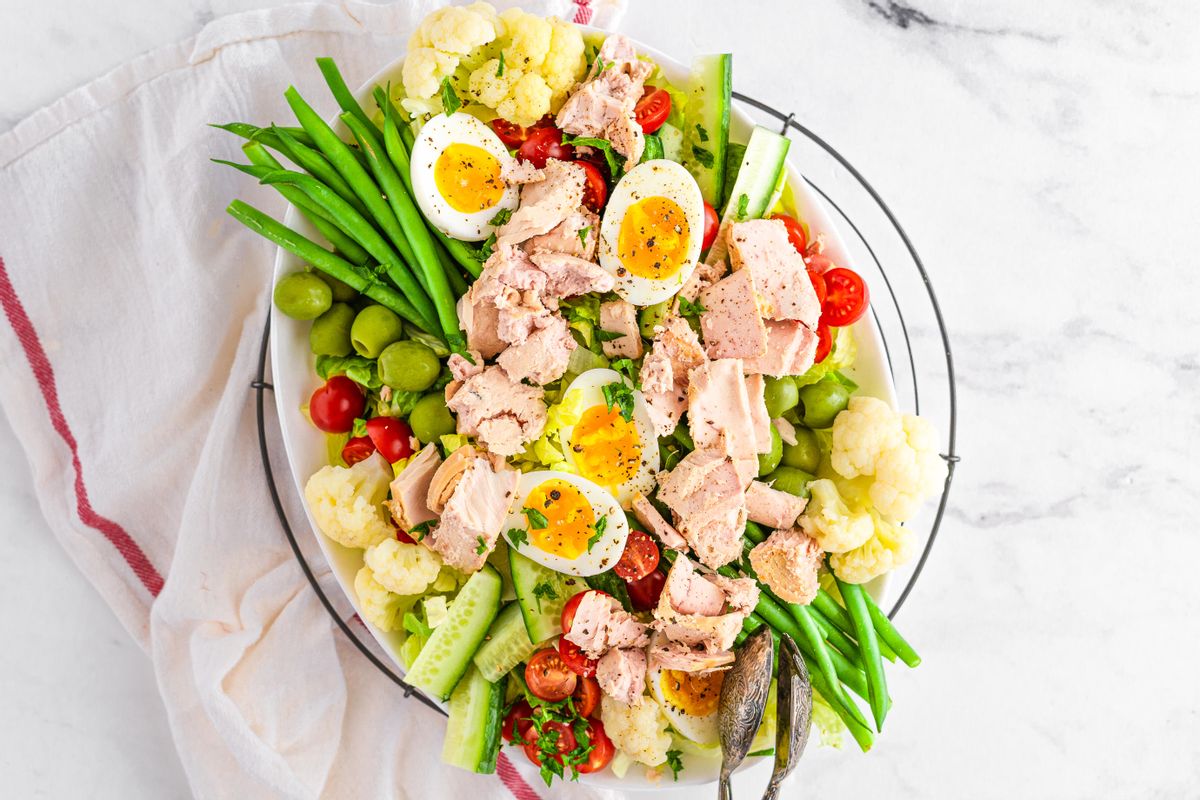 #1 Low Carb & Keto Diet App Since 2010
Track macros, calories, and access top Keto recipes.
Ingredients
Coarse Kosher Salt

0.25 tsp

Red Wine Vinegar

0.25 cup

Extra virgin olive oil

0.25 cup

Herbs De Provence

0.25 tsp
Trim the ends from the romaine lettuce. Slice the lettuce into thin strips. Place the lettuce into a bowl and rinse it well with water. Place the lettuce in a salad spinner and spin the lettuce dry. Place the lettuce on an oval platter.

Bring two small saucepans of water to a boil (one for the hard-boiled eggs and one for the green beans). Once the water is boiling, gently lower the eggs. Set a timer for 7 minutes. This length of time will yield hard-boiled eggs with jammy centers. If you like more cooked yolks, cook for 8-9 minutes.

Once the time has passed, drain out the boiling water and add in ice. Fill the pot to the top with cold water. Allow the eggs to cool in the ice water until chilled. This will help the shells come off easily. Set aside for now.

Place the green beans in the other pot of boiling water. Cook for 2 minutes. Shock them in ice water in the same way you did the eggs; just don't allow them to sit in the water for longer than they need, or they will absorb water and lose flavor.

Remove the green beans from the pot with a slotted spoon and place them in opposite corners on the platter on top of the shredded lettuce. The photo shows an example of how plating should look.

Boil the cauliflower florets in the same pot as the green beans. Cook them for two minutes. Shock them in ice water, just like the green beans. Place them on the salad next to the green beans.

Slice the cherry tomatoes in half. Slice the green olives in half as well. Place the sliced tomatoes and green olives next to the cauliflower florets.

Drain the cans of wild tuna and place them on top of the salad. Peel the hardboiled eggs under cool water. Slice them in half and place them on top of the salad next to the tuna.

Mix together the vinaigrette ingredients, including the red wine vinegar, olive oil, grated garlic, dijon mustard, herbs de Provence, 1 teaspoon of sea salt, and ⅛ teaspoon of black pepper.

Sprinkle the entire salad with freshly chopped parsley. Serve chilled with the vinaigrette. Enjoy!