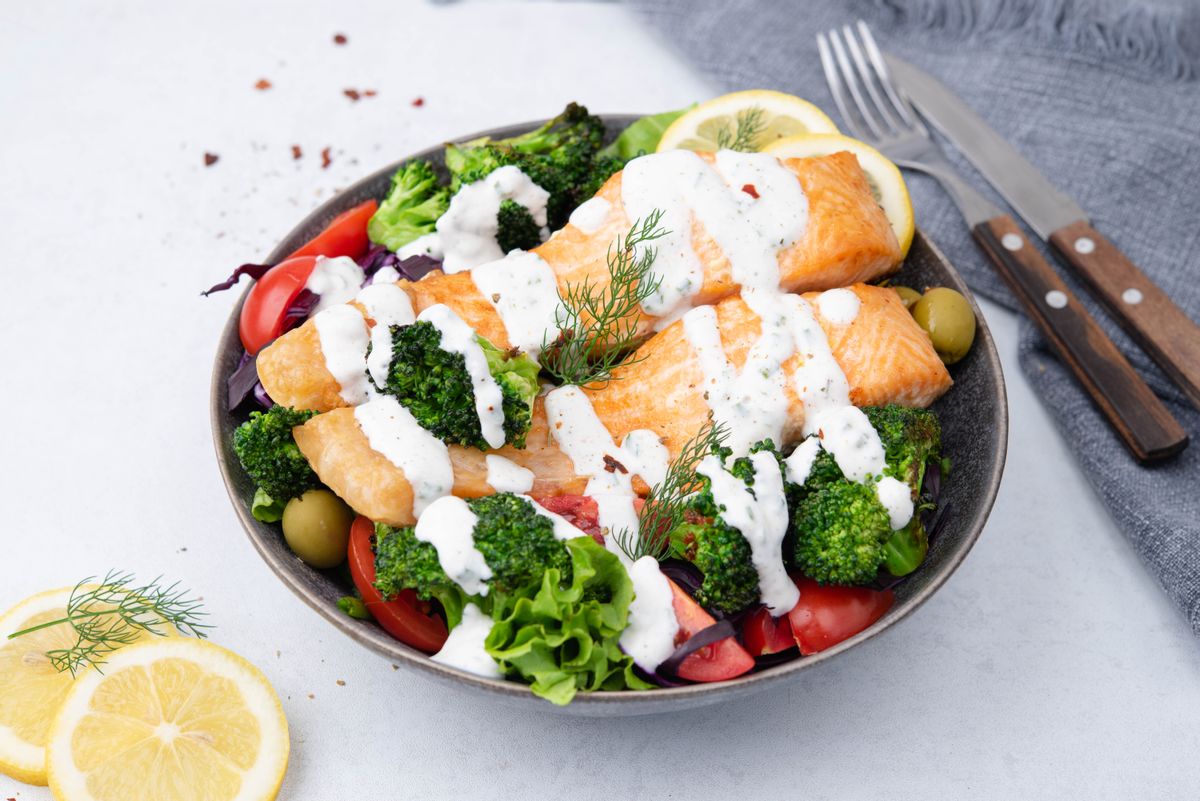 #1 Low Carb & Keto Diet App Since 2010
Track macros, calories, and access top Keto recipes.
15 min

50 min

1 h 5 min
Keto Mediterranean Salmon Bowl
This colorful Keto salmon recipe is a fantastic lunch or dinner idea for the entire family. This Mediterranean-style salmon bowl is a healthy and delicious way to add important nutrients to your daily menu. This lovely meal is packed with satisfying protein, healthy fats, and fiber and will keep you full for hours. We have decided to serve everything with deliciously creamy garlic sauce made with Greek yogurt and herbs. Please feel free to adjust the amount of garlic and herbs according to taste. We recommend adding fresh chives or dill to the sauce for a delicious twist. Serve your Keto Mediterranean salmon bowl immediately while fresh!
Can I prepare this bowl in advance?
Absolutely! You can prepare this delicious Keto salmon recipe in advance and store it in the fridge for a few days. Make sure to store the salad and dressing separately in air-tight containers.
Is this recipe freezer-friendly?
We don't recommend freezing this Keto Mediterranean salmon bowl.
Net Carbs

5.4 g

Fiber

3 g

Total Carbs

8.4 g

Protein

22.8 g

Fats

18.2 g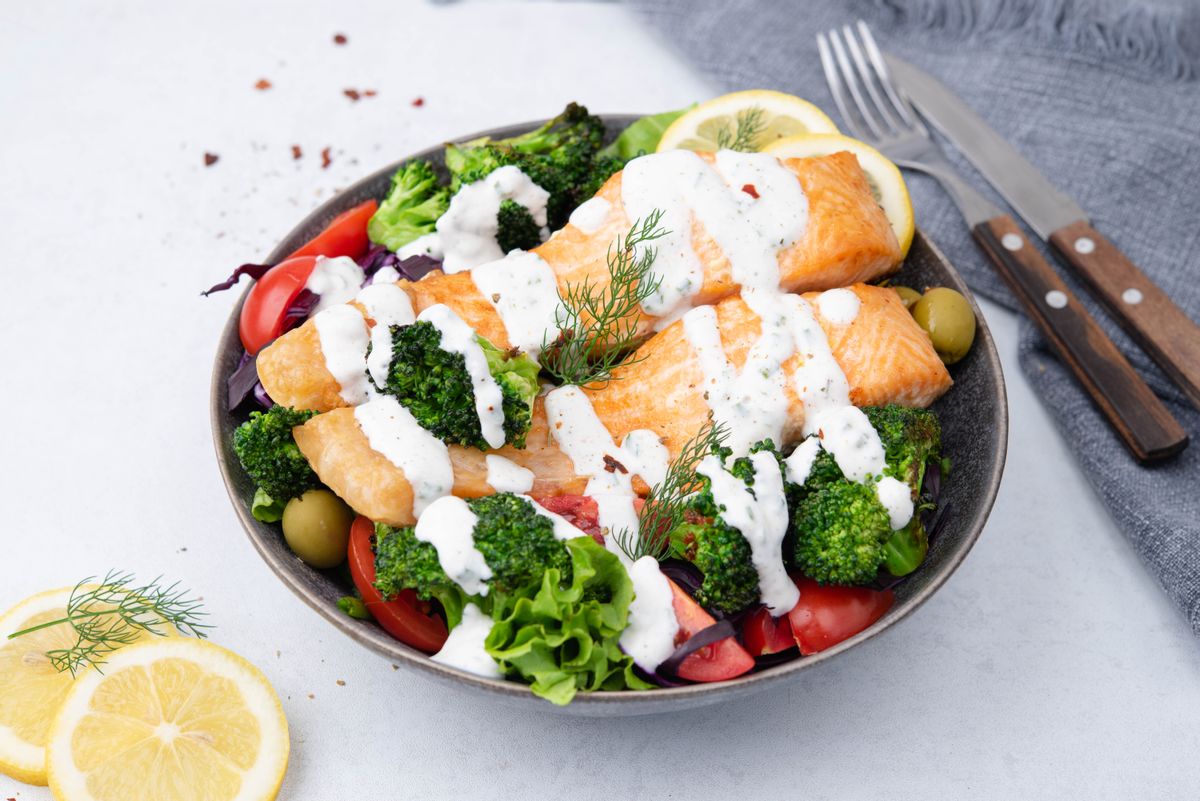 #1 Low Carb & Keto Diet App Since 2010
Track macros, calories, and access top Keto recipes.
Ingredients
Broccoli, cooked from fresh

150 g

Onions Green Spring Or Scallions Raw

1 small (3" long)

Greek yogurt, plain, nonfat

0.75 cup
Cut the broccoli into smaller florets. Heat one tablespoon of olive oil in a large frying pan over medium heat. Add the chopped broccoli and season with salt. Cook for 12-15 minutes, turning occasionally. The broccoli should be fully cooked through and tender. Remove from the heat and set aside.

Preheat the oven to 400°F (200°C). Line a small baking dish with parchment paper and set aside. Pat dry the salmon fillets and rub with the remaining one tablespoon of olive oil. Season with ½ teaspoon of salt and place in the prepared baking dish. Bake for 35 minutes.

Meanwhile, slice the cabbage. Roughly chop the lettuce and slice the cherry tomatoes and spring onions. Set aside.

Add the Greek yogurt, garlic powder, chives, ¼ tsp of salt, black pepper, and lemon juice to a bowl. Mix well to combine. Taste and adjust the seasoning if necessary.

Divide the prepared vegetables between serving bowls. Add the olives and toss to combine. Top everything with the prepared salmon and serve with the garlic dressing. Enjoy!