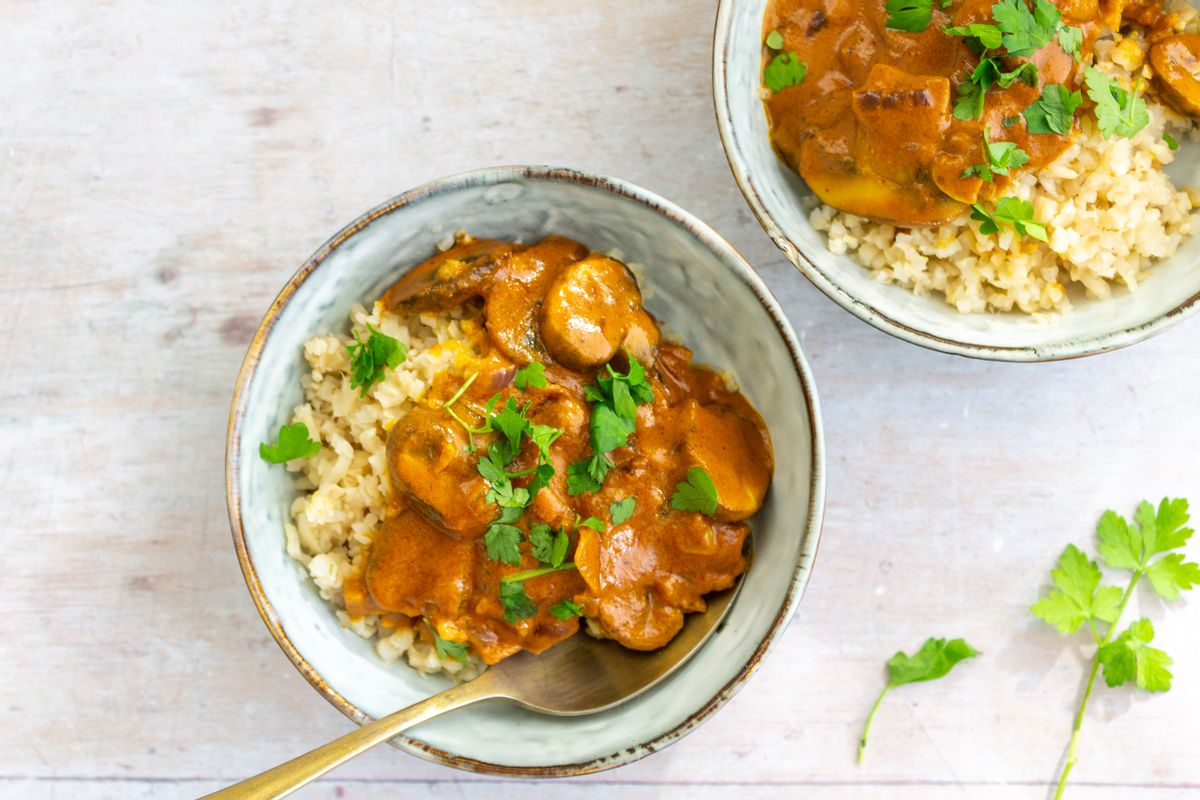 #1 Low Carb & Keto Diet App Since 2010
Track macros, calories, and access top Keto recipes.
10 min

20 min

30 min
Keto Vegan Mushroom Curry
This easy Keto curry is rich with fragrant spices and a generous helping of healthy fats. Our low carb vegan curry is prepared with tender cremini mushrooms, warming curry powder, ground turmeric, aromatic onion, and garlic and simmered in a rich and creamy coconut and tomato gravy. The curry is simply served over a bed of cauliflower rice and topped with cooling fresh cilantro to serve.
What Mushrooms Can I Use?
We have used sliced cremini mushrooms for our vegan Keto curry. If preferred, you may swap these for an alternative type of mushroom, such as white button mushrooms or baby portobello mushrooms. Simply prep and slice the mushrooms and cook as directed. Please be sure to adjust your macros to account for any changes made to the recipe.
Serving Suggestions
We have paired our easy Keto curry with a simple side of cauliflower rice. If you would like additional sides to accompany your Keto curry, we recommend our Keto Indian avocado salsa or our Keto coconut flour Indian flatbreads. You will find these recipes and many more low carb options in our sides section.
Net Carbs

5.1 g

Fiber

3.9 g

Total Carbs

9.3 g

Protein

3.2 g

Fats

9.9 g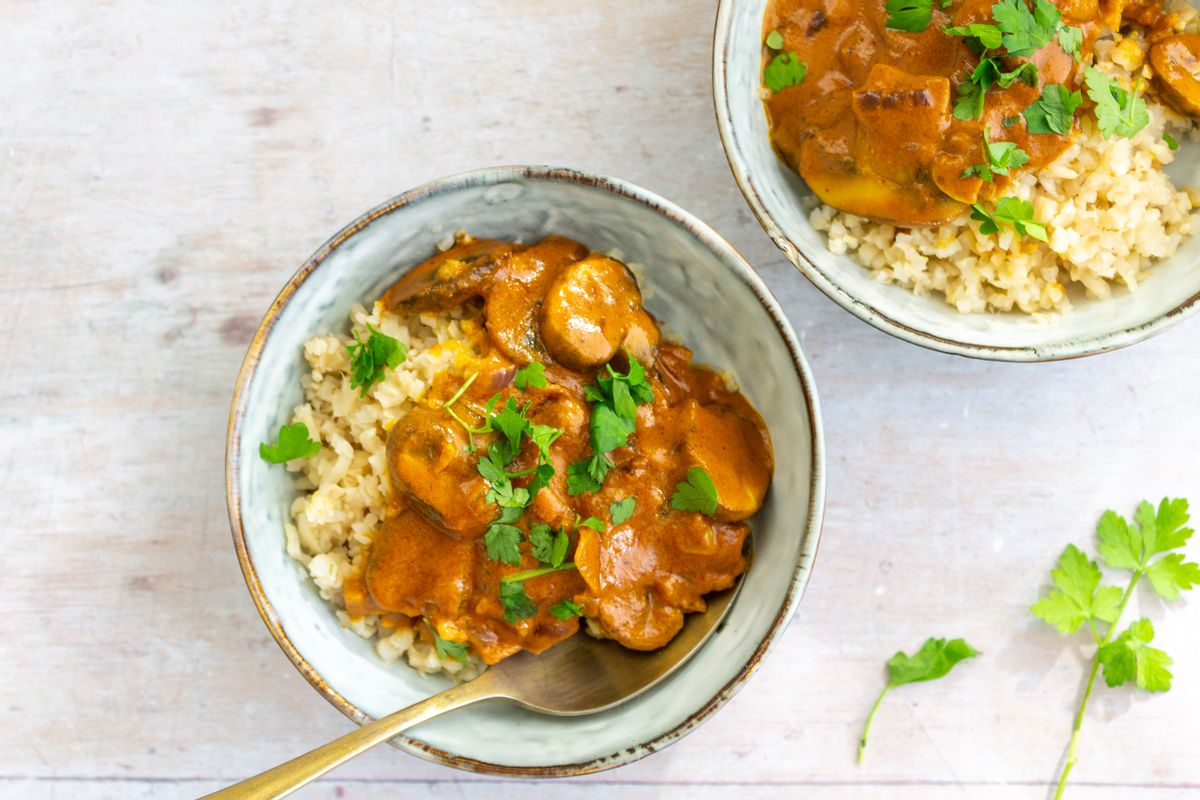 #1 Low Carb & Keto Diet App Since 2010
Track macros, calories, and access top Keto recipes.
Ingredients
Cilantro Or Coriander Leaves Fresh Or Raw Herb

1 tablespoon

Tomato Paste

1 tablespoon

Curry Powder

1 tablespoon

Brown Mushrooms (Italian Or Crimini Mushrooms), Raw

¾ cup

Coconut Cream, Canned

½ Cup

Turmeric, Ground

½ teaspoon

Vegetable Broth, Bouillon Or Consomme

⅓ cup

Salt, Sea Salt

½ teaspoon
Melt a generous tablespoon of coconut oil in a medium saucepan over a low/medium heat. Finely dice the onion and thinly slice the garlic. Add the onion and garlic to the saucepan with the melted oil. Sweat gently for 2-3 minutes until tender and fragrant.

Wipe the mushrooms clean and thinly slice them. Add the mushrooms to the saucepan and stir to combine. Pan fry until browned all over.

Add the curry powder, turmeric, salt, pepper and tomato paste to the saucepan. Stir well to combine. Cook gently for a minute to heat the spices through.

Add the coconut cream and vegetable stock to the saucepan. Stir well to combine, melting the coconut cream. Simmer the sauce for 6-7 minutes until piping hot through, thick and creamy.

While the sauce is cooking, you can prepare the rice. Add the cauliflower rice to a small saucepan with a tablespoon of water. Season with a pinch of salt and pepper. Stir fry the rice over a medium heat for 2-3 minutes or until piping hot through.

Divide the rice between 2 serving bowls. Spoon the mushroom curry over the rice. Roughly chop the cilantro and scatter over the curry to serve.