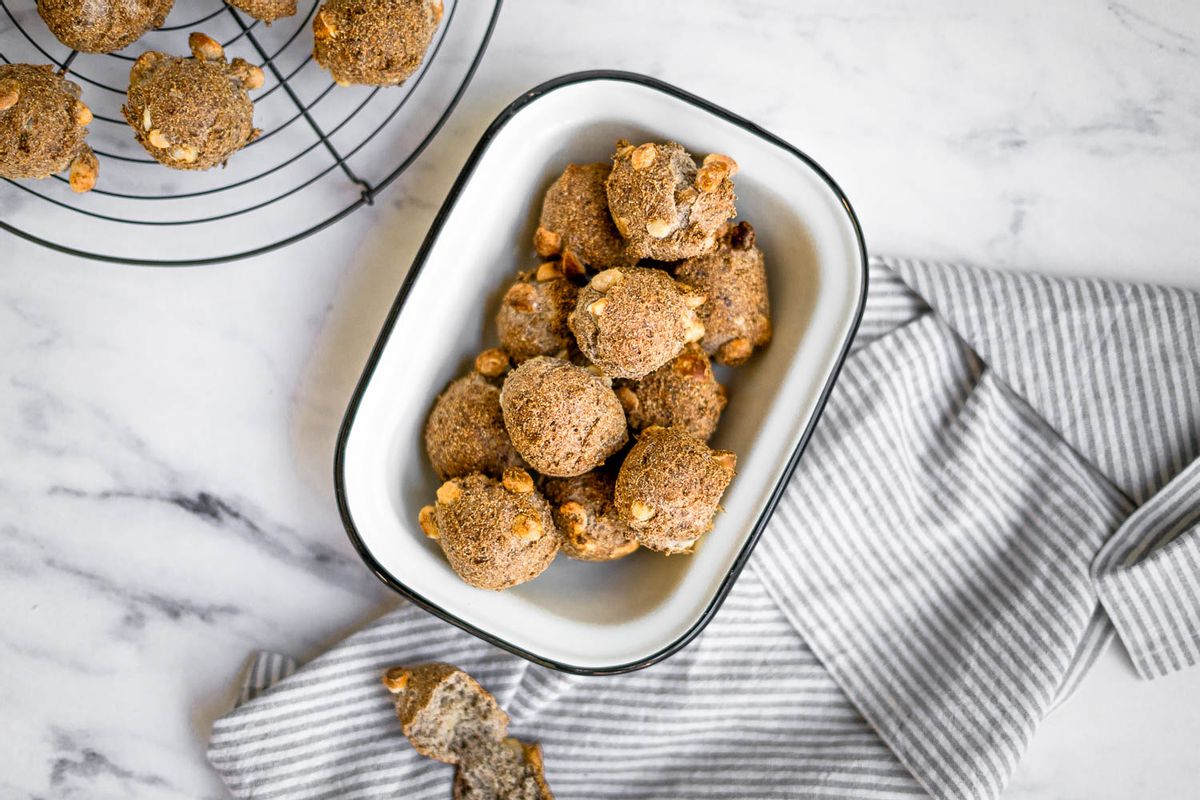 #1 Low Carb & Keto Diet App Since 2010
Track macros, calories, and access top Keto recipes.
15 min

50 min

1 h 5 min
Keto Macadamia Nut Bread Rolls
You will love this macadamia nut bread Keto recipe! A perfect blank canvas to spread your favorite healthy fats from butter, peanut butter to almond butter. These are great for a mid-afternoon snack or as a part of a meal. My favorite time to enjoy these is during breakfast, as the fiber helps to keep me full until lunchtime (great if you are limiting yourself to an eating window). The macadamia nuts are a great addition to this low carb bread recipe as the crunch is lovely, and the healthy fats are satiating.
Do I need to roast the macadamia nuts before putting them into the dough?
Yes, you should roast them lightly in the oven. This should be easy to do as the oven will already be waiting for the bread rolls to go into it. So while you are preparing the bread rolls, you can be roasting the nuts in the oven for a few minutes.
How long should the roast bake?
Gluten-free, Paleo, and Keto bread take a longer time in the oven due to the high moisture content of the dough and the absence of gluten. Be sure to bake these for the full time listed in the recipe. Any amount of bake time less than this could result in the bread rolls collapsing. If they do collapse, they are underbaked. To save them, place them back into the oven for ten more minutes and allow them to puff up again. Other than that, you will love how easy these rolls come together! They freeze and store very well too.
How do I store finished rolls?
Having low carb options on hand at any time is helpful to stay on track. You can easily store these rolls in a freezer bag in the freezer. They will keep this way for up to one month or longer. When you are ready to enjoy one, place it in the microwave for 15-20 seconds until hot. You can also reheat a batch of rolls in the oven at 350 F for 5-8 minutes until hot. They will also store in the fridge for up to one week. Do not keep them at room temperature for more than three days as the high moisture content of Keto bread tends to mold quickly.
Serving suggestion
Serve these rolls with salted butter, almond butter, peanut butter, or compound butter. The healthy fats and fiber together will leave you feeling satisfied.
Net Carbs

1.4 g

Fiber

3.6 g

Total Carbs

5 g

Protein

2 g

Fats

6.1 g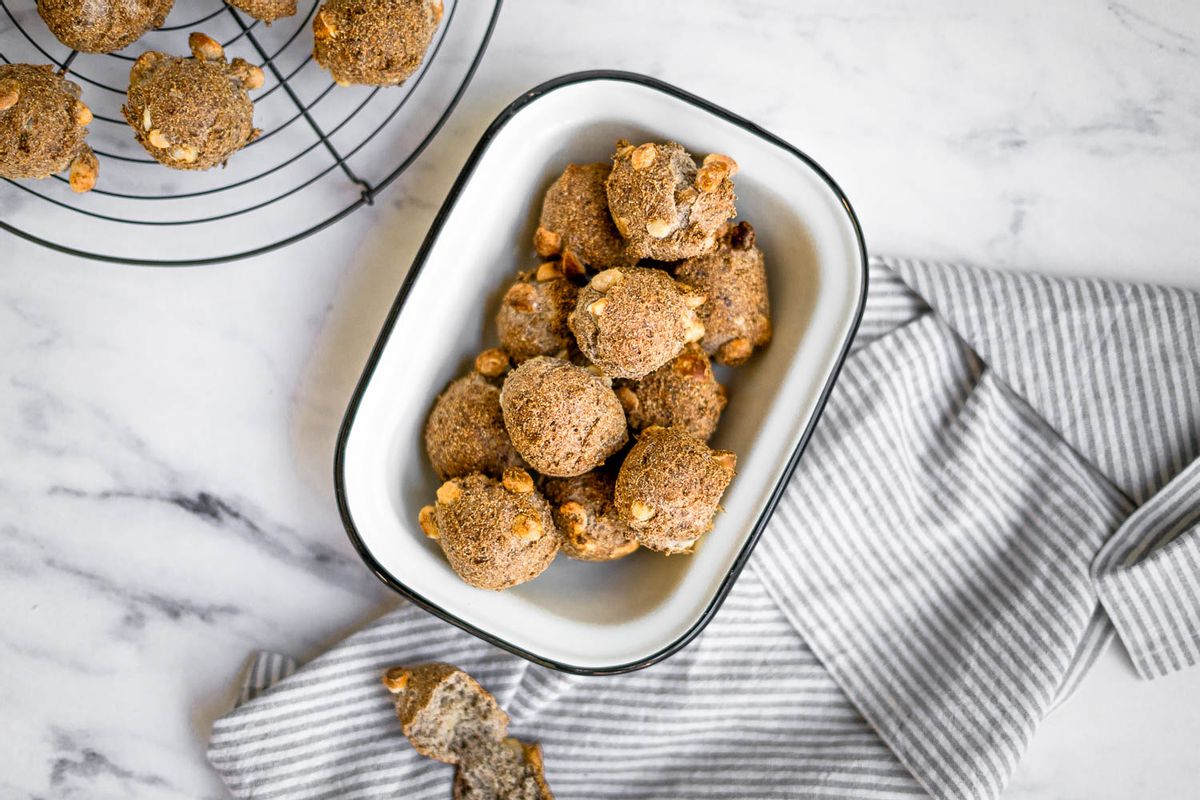 #1 Low Carb & Keto Diet App Since 2010
Track macros, calories, and access top Keto recipes.
Ingredients
Psyllium Husk Powder Soluble Fiber by Now

5 tbsp

Coarse Kosher Salt by Morton

1 tsp

Apple Cider Vinegar

2 teaspoon

Macadamia Nuts, Raw

4 ounce
Preheat the oven to 350 F. Place the macadamia nuts on a baking sheet in an even layer. Once the oven is heated, place nuts in the oven for 3-4 minutes to achieve a light roast. You want a light roast because they will bake again with the bread rolls and you do not want them burnt! In the bowl of a stand mixer, combine the coconut flour, psyllium husk powder, kosher salt and baking powder together with a paddle attachment. It does not need to be perfectly mixed at this point.

Heat water until it is boiling and then measure out 1 ¼ of boiling water. Add the apple cider vinegar to it. Slowly pour the hot water in the flour mixture and mix with the paddle attachment until thickened and there is no visible water left.

Add the eggs and mix the dough for 2-3 minutes until all the eggs are incorporated.

Add the lightly toasted macadamia nuts and mix well until incorporated.

Use a cookie scoop to portion the rolls into 18 pieces. Wet your hands and roll each into a nice ball shape.

Bake in the oven for 50 minutes or until they are nicely browned and light. If they begin to deflate as they exit the oven, immediately place them back into the oven for 10 more minutes and allow them to puff up again and set. Allow them to cool on the baking sheet for a few minutes before removing them to a cooling rack. Allow rolls to cool completely before storing them in the freezer.