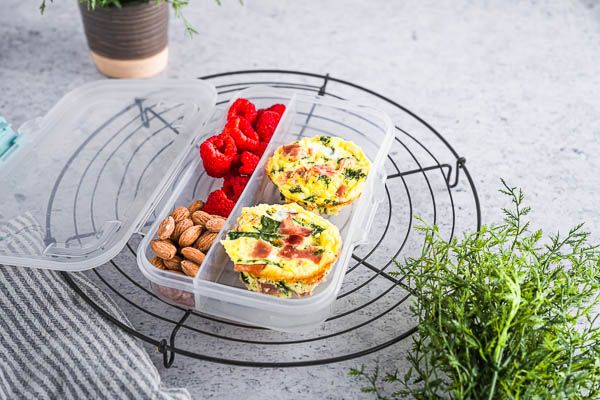 #1 Low Carb & Keto Diet App Since 2010
Track macros, calories, and access top Keto recipes.
25 min

15 min

40 min
Low Carb Mini Quiche Breakfast Meal Prep
Here is a quick and easy Keto meal prep that is perfect for breakfast! Mini quiches are made using fresh eggs, chopped deli ham, and nutritious kale. The mixture is cooked in a cupcake pan to create individual portions that are easy to divide into meal prep containers. The mini quiches are accompanied by fresh berries and salted, roasted almonds for extra fat. If you need more calories than this for breakfast, add in extra quiches to hit protein macros or olives for fat. You will love how easy this meal is to make (not to mention paleo too!), making it the best! Feel free to swap the raspberries for other berries like strawberries or blueberries.
What kind of eggs should I use?
Please use pasture-raised eggs as they are higher in Vitamin E and Omega-3 fats.
Can I reheat this meal together?
No, the quiche should be removed from the container and reheated separately from the almonds and berries.
How long does this meal last in the fridge?
Prepped breakfast meals will last for up to five days in the fridge, so only make as much as you can consume within that time.
Serving suggestions
Use the cooking method from these Chili and Vinegar Almonds to make salted, roasted almonds for this Keto meal prep:
https://www.carbmanager.com/recipe-detail/ug:d4244314c40040e7b3db57b3c95742f8/keto-air-fryer-chili-salt-and-vinegar-almonds
Net Carbs

6 g

Fiber

6.3 g

Total Carbs

12.5 g

Protein

29.8 g

Fats

34.5 g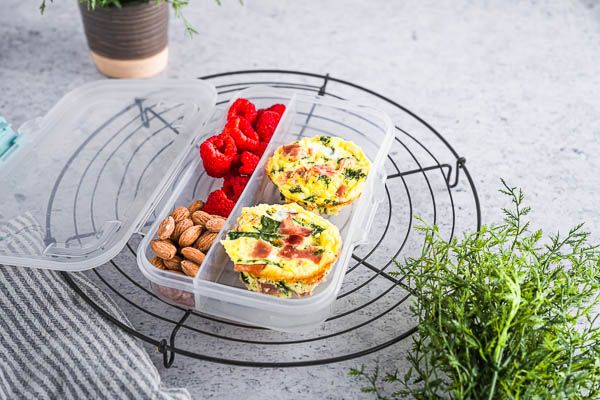 #1 Low Carb & Keto Diet App Since 2010
Track macros, calories, and access top Keto recipes.
Ingredients
Raspberries

1 cup, whole pieces

Almonds, oil roasted, lightly salted

1 cup
Preheat the oven to 350 F. Combine fresh eggs in a mixing bowl and whisk together.

Add in washed, stemmed, and sliced kale as well as the chopped ham and salt. Whisk well to combine.

Grease 8 cavities in a cupcake pan with plenty of butter or cooking spray. Use a cookie scoop to divide the batter between the cups.

Bake the quiche for 12-13 minutes or until puffed and cooked through. Once cool enough to handle, run a paring knife around the outside edges of the quiche and remove them.

Add two quiche to each meal prep container.

To each container add ¼ cup of raspberries and ¼ cup salted almonds. Meals will last up to five days in the fridge.