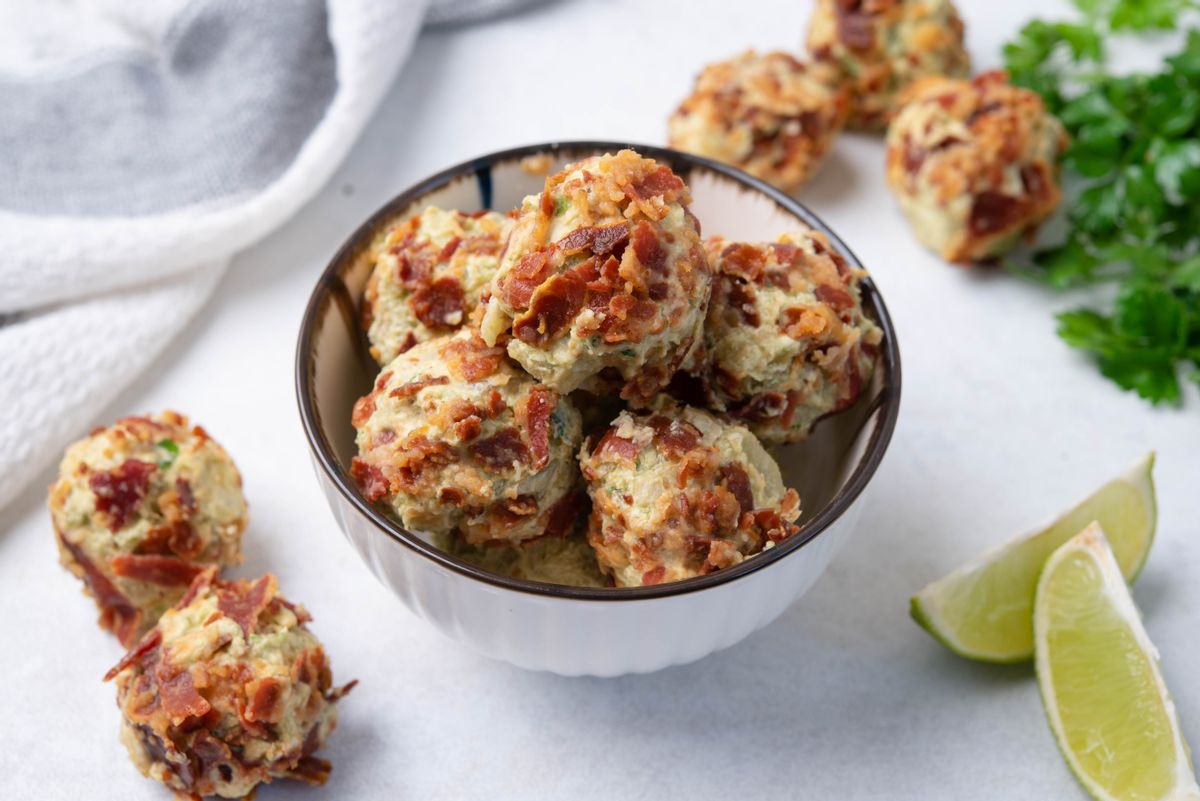 #1 Low Carb & Keto Diet App Since 2010
Track macros, calories, and access top Keto recipes.
15 min

10 min

25 min
Best Keto Bacon Guacamole Fat Bombs
These lovely bacon and guacamole fat bombs are an excellent Keto snack recipe you can prepare in under 30 minutes. They are a fantastic combination of avocado, bacon, lime juice, herbs, and spices and an excellent addition to your Keto recipes. These delicious fat bombs are a quick snack you can just grab from the fridge. The recipe yields 14 fat bombs but double or triple the amount of ingredients to feed more, making them an excellent party snack. Adjust the amount of garlic and cayenne according to your taste, and enjoy!
How do you customize this recipe?
You can easily customize this recipe by adding your favorite herbs and spices. You can substitute cayenne with finely diced chili or omit it completely.
How do you store these fat bombs?
Store these Keto bacon and guacamole fat bombs in airtight containers and refrigerate for a few days. Avocado tends to brown, and although the lime juice will slow down the browning, you shouldn't keep them in the fridge for more than 2-3 days.
What kind of mayonnaise to use?
You can use any type of your preferred low-carb mayonnaise. If you're sensitive to eggs, choose egg-free brands. You can also omit the mayonnaise altogether and replace it with the same amount of butter.
Net Carbs

0.7 g

Fiber

0.7 g

Total Carbs

1.4 g

Protein

2.3 g

Fats

8.6 g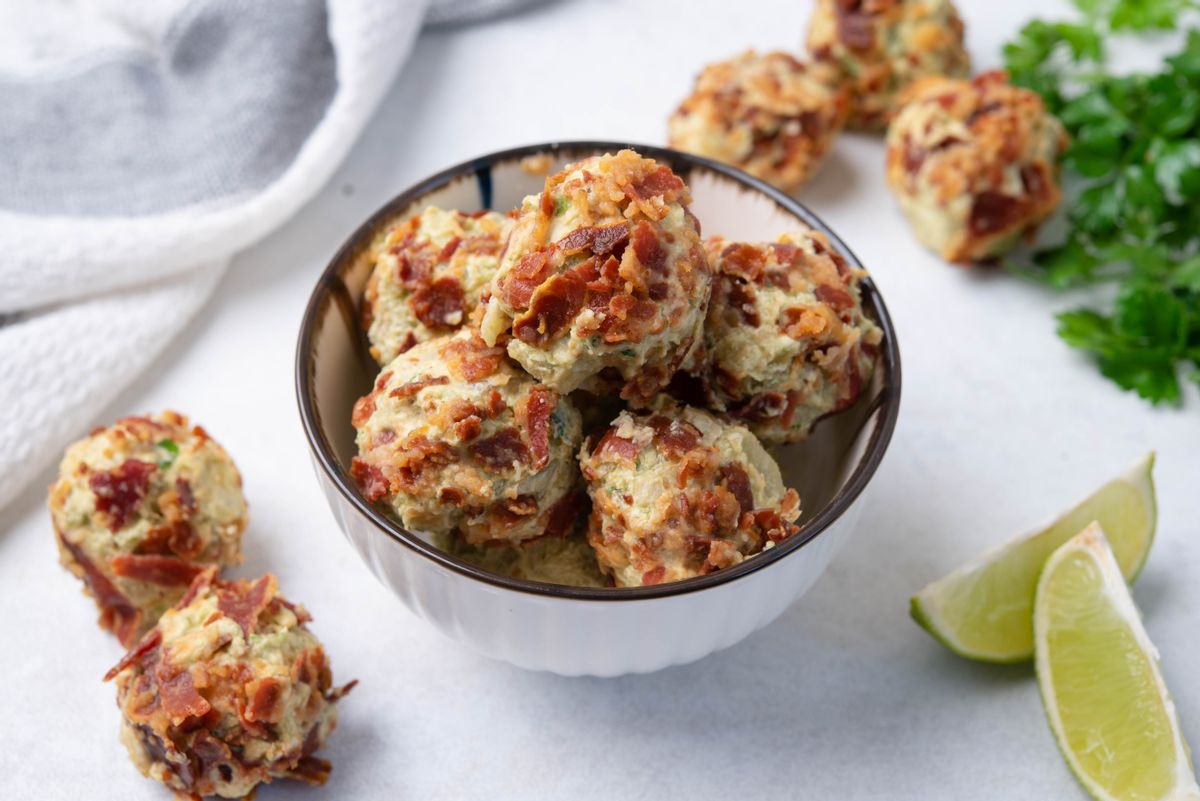 #1 Low Carb & Keto Diet App Since 2010
Track macros, calories, and access top Keto recipes.
Ingredients
Lime juice, canned, bottled or boxed

2 tbsp
Preheat the oven to 200°C (400°F). Line a large baking tray with parchment paper. Lay the bacon strips out flat on the prepared baking tray.

Cook the bacon for about 10 minutes or until golden brown. The exact cooking time will depend on the thickness of the bacon slices. Remove from the oven and set it aside to cool.

Peel the avocado. Finely chop the parsley. Peel and finely chop the onion. Add the avocado, garlic powder, cayenne, lime juice, salt, parsley, onion, mayonnaise, and butter to a bowl.

Mash well using a potato masher or a fork. The mixture should be thoroughly combined. Taste and optionally add more salt or cayenne.

Optionally, pour in the bacon grease from the tray and mix well. Refrigerate for about 30 minutes. Once the mixture has chilled thoroughly, create 14 equal balls (you can use a spoon or an ice cream scooper).

Crumble the bacon and place on a plate. Roll each ball in the bacon crumbles and place on a separate plate or a tray. Refrigerate until ready to serve.

Serve as a snack or a quick meal. These Keto bacon and guacamole fat bombs can stay in the fridge for up to 2-3 days. Enjoy!