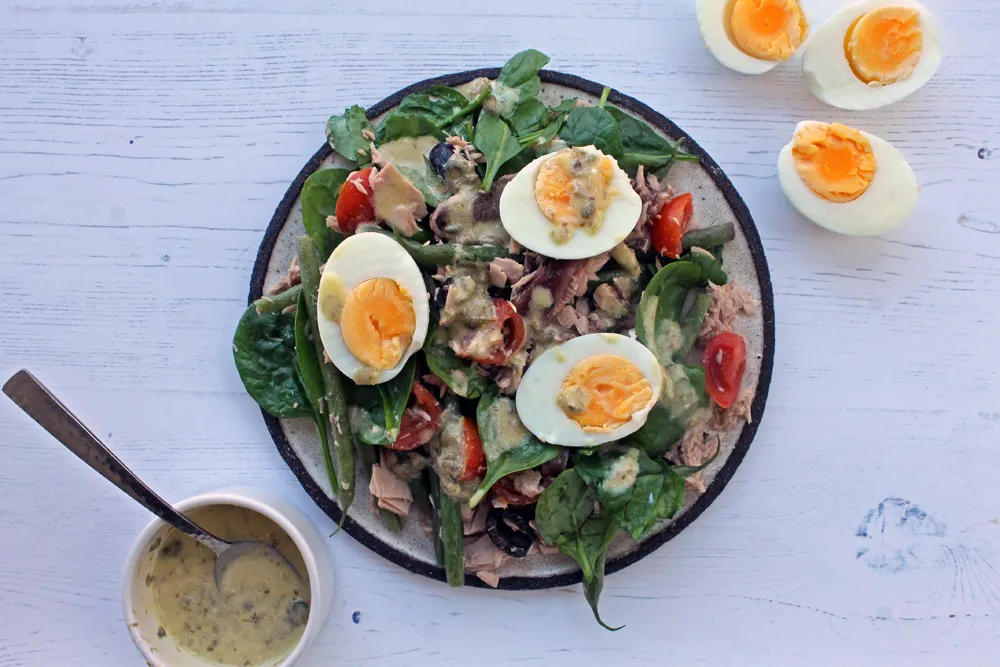 #1 Low Carb & Keto Diet App Since 2010
Track macros, calories, and access top Keto recipes.
22 min

14 min

36 min
Keto Tuna Nicoise
This low carb take on a classic salad nicoise omits the starchy potatoes commonly found in this dish and replaces them with full flavored low carb veg and healthy fats.
The recipe is prepared with tinned tuna but you could make this with freshly grilled tuna if you prefer or even substitute for flaked salmon.
Net Carbs

4 g

Fiber

2.4 g

Total Carbs

6.4 g

Protein

26.5 g

Fats

17.2 g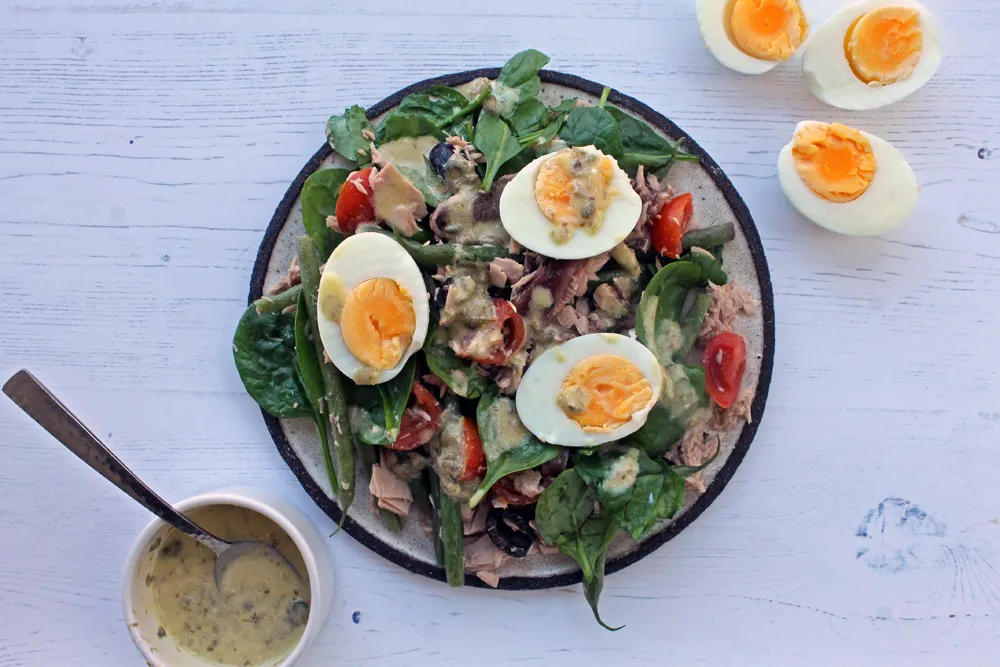 #1 Low Carb & Keto Diet App Since 2010
Track macros, calories, and access top Keto recipes.
Ingredients
Tuna Fish Canned In Water

1 can, drained

Lemon Juice Raw

½ tablespoon
Add the eggs to a small saucepan and cover with cold water. Bring the pan to the boil, then reduce to a simmer for 7 minutes.

Whilst you are simmering the eggs you can cook the green beans. Trim the tough ends from the beans and add to a pan of boiling salted water. Boil for 3-4 minutes until tender. Drain and set aside.

Drain the hot water from the eggs and rinse immediately under cold water. Once cool enough to handle, peel the eggs, slice in half and set aside.

Add the cooked and cooled beans to a large bowl with the baby spinach.

Quarter the tomatoes, halve the olives, removing any stones and finely slice the scallions. Add to the mixing bowl with the spinach and green beans.

Flake the tuna into the mixing bowl and chop the anchovies into small bite sized chunks. Toss the salad to combine all the ingredients.

Transfer the salad to a large serving dish or individual plates and top with the sliced eggs.

To make the dressing, finely chop the capers and add to a small mixing bowl. Add the lemon juice, olive oil, mustard and mayonnaise. Stir well to combine.

Drizzle the dressing over the salad to serve.