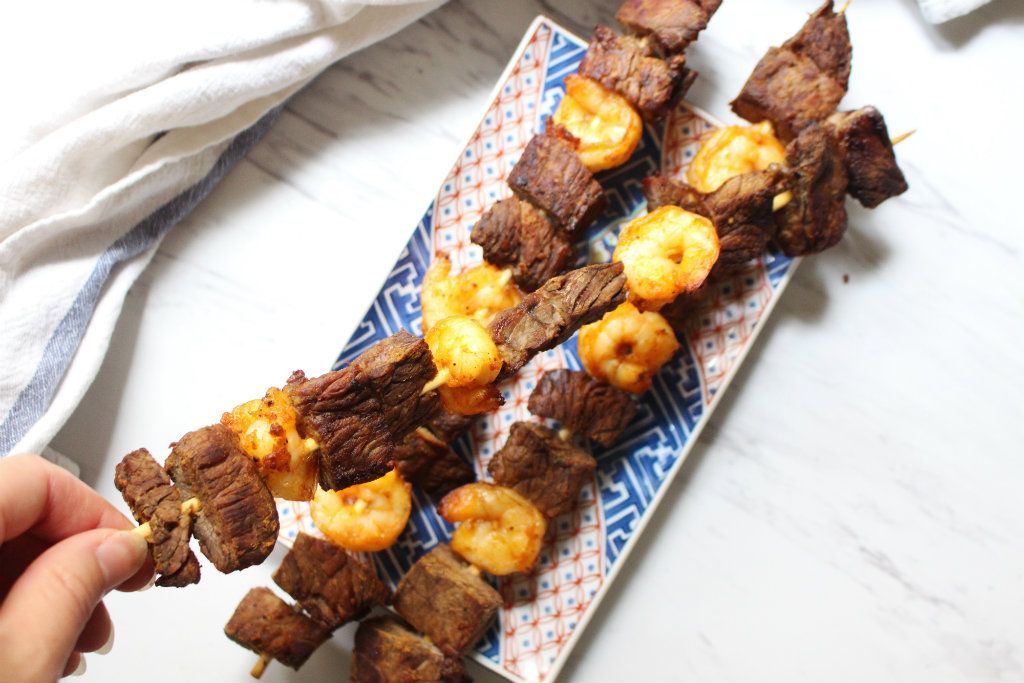 #1 Low Carb & Keto Diet App Since 2010
Track macros, calories, and access top Keto recipes.
20 min

30 min

50 min
Keto Surf 'N' Turf Skewers
Who doesn't love Surf'n'Turf? Pairing steak and shrimp on skewers is not only delicious, but a convenient way to eat your meal as well. Although this recipe is heavy on the protein, there is plenty of healthy fat from the olive oil. If you would like to add more fat to your meal, you may like to pair this meal with Carb Manager's Pan Grilled Avocado side.
Jessica L.
Net Carbs

1.3 g

Fiber

0.6 g

Total Carbs

1.9 g

Protein

26.2 g

Fats

19.3 g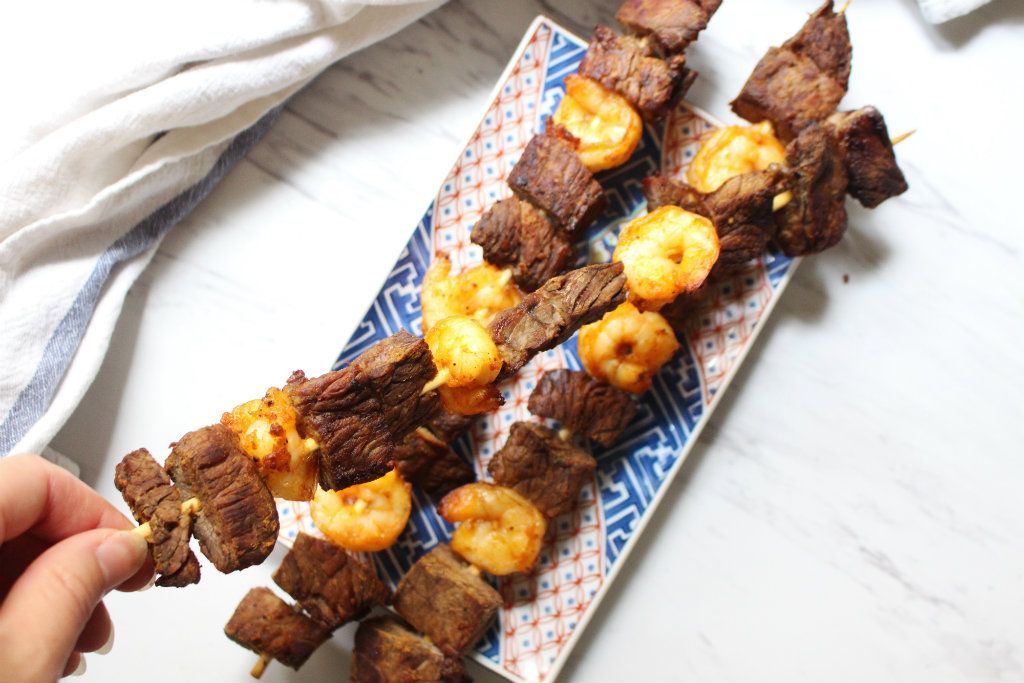 #1 Low Carb & Keto Diet App Since 2010
Track macros, calories, and access top Keto recipes.
Ingredients
Beef Top Sirloin Steak Lean And Fat Trimmed To 1/8" Raw

0.75 lb
Combine all the seasonings in a bowl. Set this aside for use throughout the recipe. Peel and devein your shrimp if necessary. In a new bowl, combine the shrimp, first amount of olive oil, and approximately ⅓ of the seasoning mix.

Heat a large skillet on medium heat. Place the shrimp in the hot skillet and pour any oil and seasonings from the mixing bowl over the shrimp. Cover the shrimp with a lid, and cook them for 3-4 minutes until they are just cooked through and slightly golden.

Set the shrimp aside to cool slightly. Clean out your skillet and return it to the stove for round two. Set the sirloin on a clean, flat surface. Sprinkle the remaining seasoning mix over the exposed side of the steak.

Pour the second amount of olive oil in the skillet and bring it to a medium high heat. Place the steak, seasoned side down, in the oil. You may want to slice the steak in half for an easier cooking process.

Cook the steak on high heat for about 2 minutes. Then, reduce the heat to medium low. Cover the skillet with a lid, and cook both sides of the steak to your preferred level of doneness. For reference, the steak in this recipe was cooked about 4-5 minutes per side to medium well. It is suggested you slightly undercook your steak, since there will be more cooking later in this recipe.

Once the steak has cooked, set it aside to rest. In the meantime, preheat the oven to 400 degrees. If you have a broiler setting, turn this on as well. Soak three long skewers in warm water. Next, prepare a baking rack over a sheet tray to catch any drippings in the oven. After preparing these items, slice the steak into cubes.

Prepare your skewers by filling them with the steak and shrimp. An alteration of 2 pieces of steak followed by a shrimp will work. Each skewer should hold 3 pieces of shrimp and 7-8 cubes of steak. Set the skewers on the baking rack.

Set the rack of skewers in your oven. Bake for approx. 12 minutes, or until the steak gets a charred, darker exterior and the shrimp has golden brown edges. If you have a broiler on, this will take less time. Check frequently to avoid burning.

Enjoy with your favorite side dish!