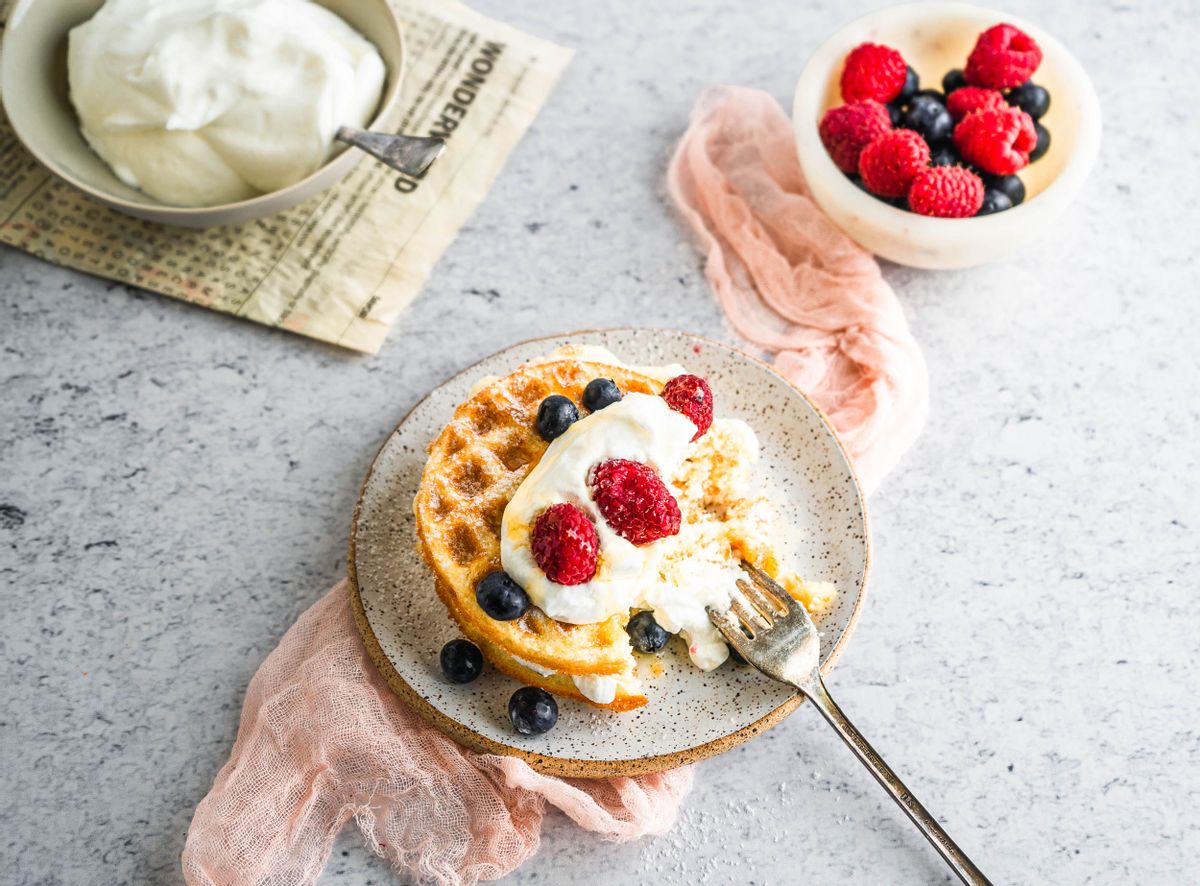 #1 Low Carb & Keto Diet App Since 2010
Track macros, calories, and access top Keto recipes.
15 min

50 min

1 h 5 min
Keto Waffles with Almond Flour
Are you looking for great Keto waffles made with almond flour? Your search has ended here! These delicious waffles taste like a million bucks but utilize simple Low Carb ingredients. Almond flour is blended with sweetener, baking powder, salt, fresh eggs, almond milk, and almond extract. The batter is scooped into mini waffle iron and cooked until golden brown and delicious on both sides. These waffles are the perfect blank canvas for a multitude of toppings! Optional, but feel free to dush the waffles with some powdered sweetener before serving!
What are some ideas for topping the waffles?
You can top the waffles with a classic smear of softened butter and Keto maple syrup. Alternatively, you can spread mixed nut butter on top with sugar-free jam. To make them decadent, feel free to top with lightly sweetened whipped cream and fresh raspberries and blueberries like we did in this recipe.
How can I save leftover waffles?
The waffles hold up wonderfully to being frozen. Simply place them into a freezer zip lock bag and then into the freezer. Once ready to reheat, put them in a toaster on a defrost setting to crisp them.
Are these waffles dairy-free?
Yes! These waffles are made dairy-free using unsweetened almond milk in the batter and ghee for greasing the waffle iron. Feel free to use coconut oil or avocado oil for greasing the waffle iron too. Of course, the whipping cream in the recipe is not, so feel free to substitute it with coconut cream instead.
Why does this recipe use a small waffle iron?
We found that the small or mini-sized waffle irons work the best on gluten-free, Keto Low Carb batters.
Serving suggestions
If you need more calories in your breakfast, pair waffles with this Low Carb Hot Coconut Breakfast Porridge:
https://www.carbmanager.com/recipe-detail/ug:4f5f184a-1215-287f-7a6c-1340f84dc8b2/low-carb-hot-coconut-breakfast-porridge
Net Carbs

4 g

Fiber

3.5 g

Total Carbs

17.2 g

Protein

7.7 g

Fats

21.1 g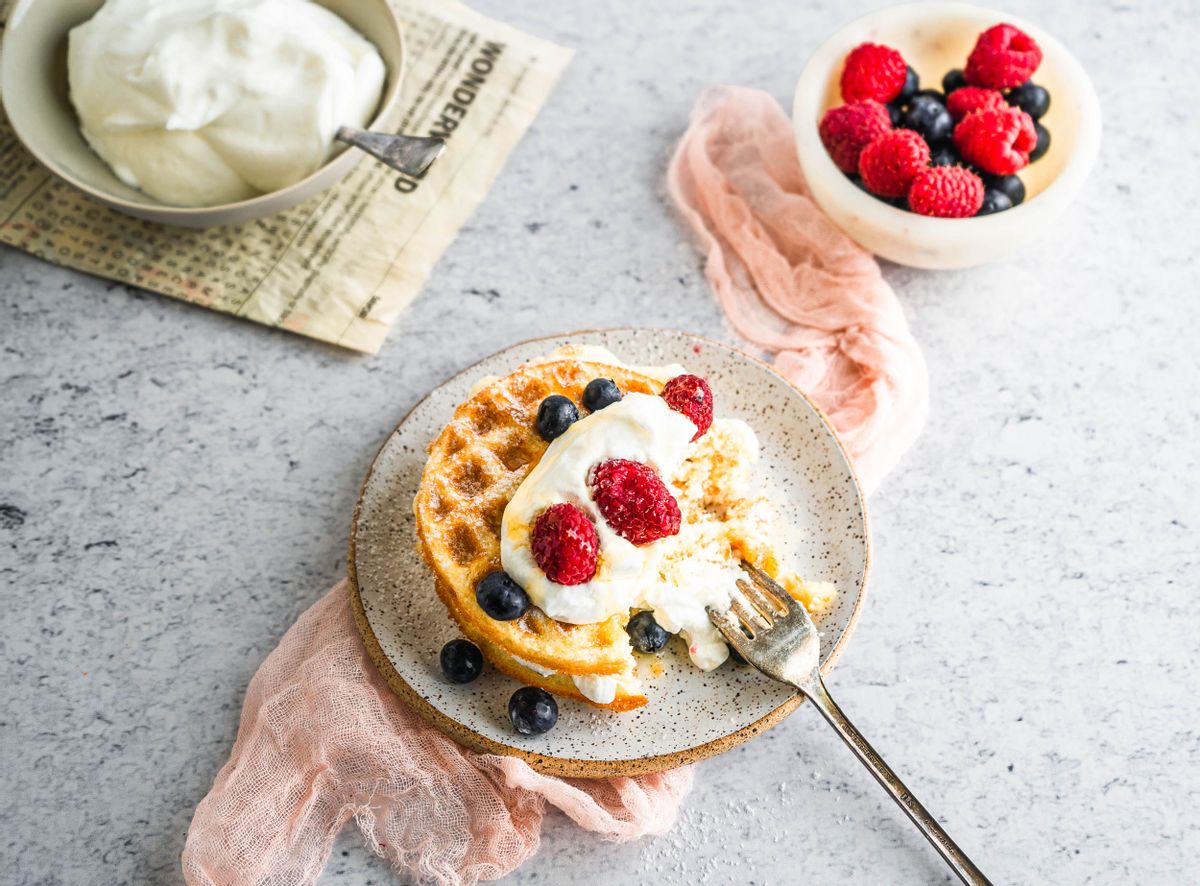 #1 Low Carb & Keto Diet App Since 2010
Track macros, calories, and access top Keto recipes.
Ingredients
Monk Fruit Erythritol Blend

0.25 cup

Coarse Kosher Salt

0.25 tsp

Unsweet almond milk

1.5 cup

Whipping cream, extra heavy/gourmet, not whipped

0.5 cup

Monk Fruit Erythritol Blend

0.25 cup
Combine the dry ingredients, including the almond flour, granulated sweetener of choice, baking powder, and kosher salt.

Next, combine the liquid ingredients, including the eggs, almond milk, and almond extract.

Pour the liquid ingredients into the dry ingredients and whisk well to combine.

In the meantime, preheat small waffle iron. Brush the iron with melted ghee using a silicone brush.

Pour enough batter to cover the bottom of the iron barely. Cook waffles for 4-5 minutes, erroring on the side for more time. If the waffles will not come out of the iron easily, give them another minute.

Remove the waffle from the iron by using a rubber spatula. Gently lift the waffle from the iron and directly pull the waffle up. This method will help the waffle not to break.

Set the waffle aside on a plate and repeat with the remaining batter. The batch should make 10 waffles.

While the waffles are cooking, whip the cream and 2 tbsp of sweetener until stiff peaks form.

Top each waffle with some whipped cream and berries. Serve immediately.