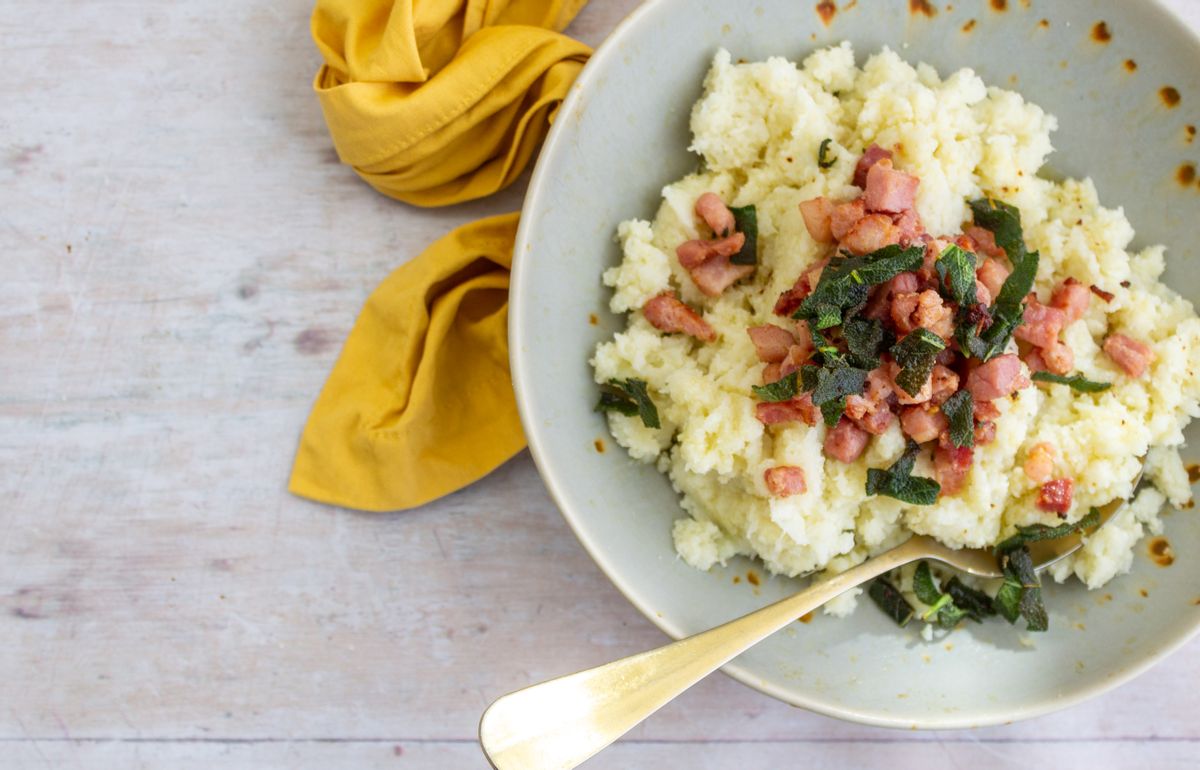 #1 Low Carb & Keto Diet App Since 2010
Track macros, calories, and access top Keto recipes.
20 min

20 min

40 min
Keto Cauliflower Mash with Pancetta and Crispy Sage
This delicious Keto side makes a rich and decadent alternative to carb-heavy mashed potatoes. Our low carb recipe is prepared with tender cauliflower, aromatic garlic, creamy butter, tangy parmesan cheese, diced pancetta, and crispy pan-fried sage leaves. This makes a flavorsome side; perfect served with roasted or grilled meats.
What Kind of Cauliflower Can I Use?
We have used fresh cauliflower diced into florets for our creamy Keto mash. The recipe calls for one medium cauliflower, which provides roughly 3 cups of florets. If you have frozen cauliflower to hand, this can also be used. Simply boil the frozen cauliflower until soft enough to mash, drain and follow the recipe as directed.
Serving Suggestions
This rich and flavorful recipe makes a delicious side dish and is perfect for adding extra fats and flavor to your meals. Our low carb mash is great served with grilled or roasted meats and would make a tasty addition to Sunday lunch. Ideal served with a whole chicken or slow-cooked pork. Please be sure to adjust your macros to account for any changes or additions made to the recipe.
Net Carbs

3.3 g

Fiber

3.4 g

Total Carbs

6.7 g

Protein

7.4 g

Fats

14.9 g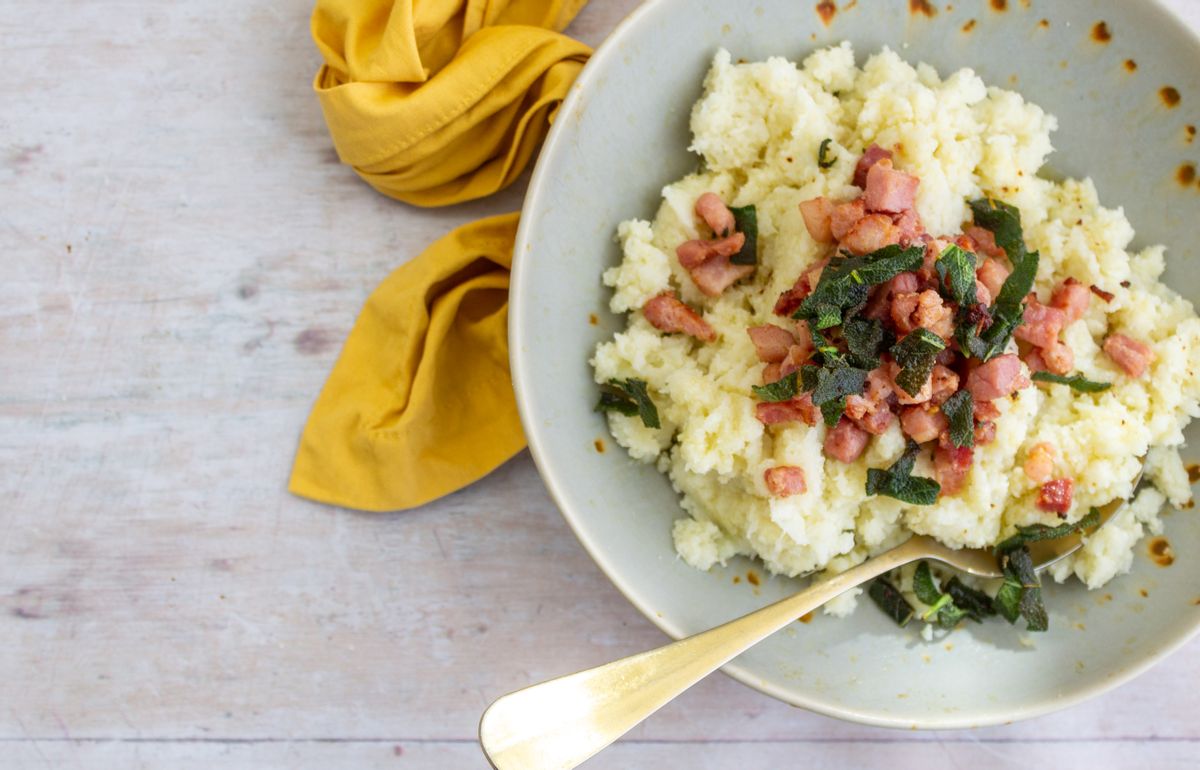 #1 Low Carb & Keto Diet App Since 2010
Track macros, calories, and access top Keto recipes.
Ingredients
Parmesan cheese, dry (grated)

2 tbsp, grated

Extra virgin olive oil

1 tbsp

Cauliflower

1 medium - head - 5" to 6" diameter
Dice the cauliflower into florets and peel the garlic. Add the florets and garlic to a large saucepan of boiling water. Reduce to a simmer. Cook for 8-10 minutes or until the cauliflower is tender and soft enough to mash.

While the cauliflower is cooking, heat the olive oil in a skillet over a medium/high heat. Add the diced pancetta. Cook the pancetta for 4-5 minutes or until crisp and golden. Remove from the skillet with a slotted spoon and set to one side, reserving the fat in the pan.

Drain the cauliflower completely and set aside to steam dry. Add the butter and parmesan to the saucepan with the hot cauliflower and garlic. Season with salt and pepper, adding more or less as desired. Mash the cauliflower until smooth. If preferred, you may blend the mash to get a puree consistency.

Roughly chop the sage leaves. Add the chopped sage leaves to the skillet used to cook the pancetta. Cook for just a minute or two in the pancetta fat until the leaves are crisp. Remove from the skillet once crisp, so they do not overcook and burn.

Transfer the cauliflower mash to a serving dish. Top the mash with the crispy diced pancetta and crispy sage pieces. Drizzle over any pan juices for extra fats and flavor. Serve hot.