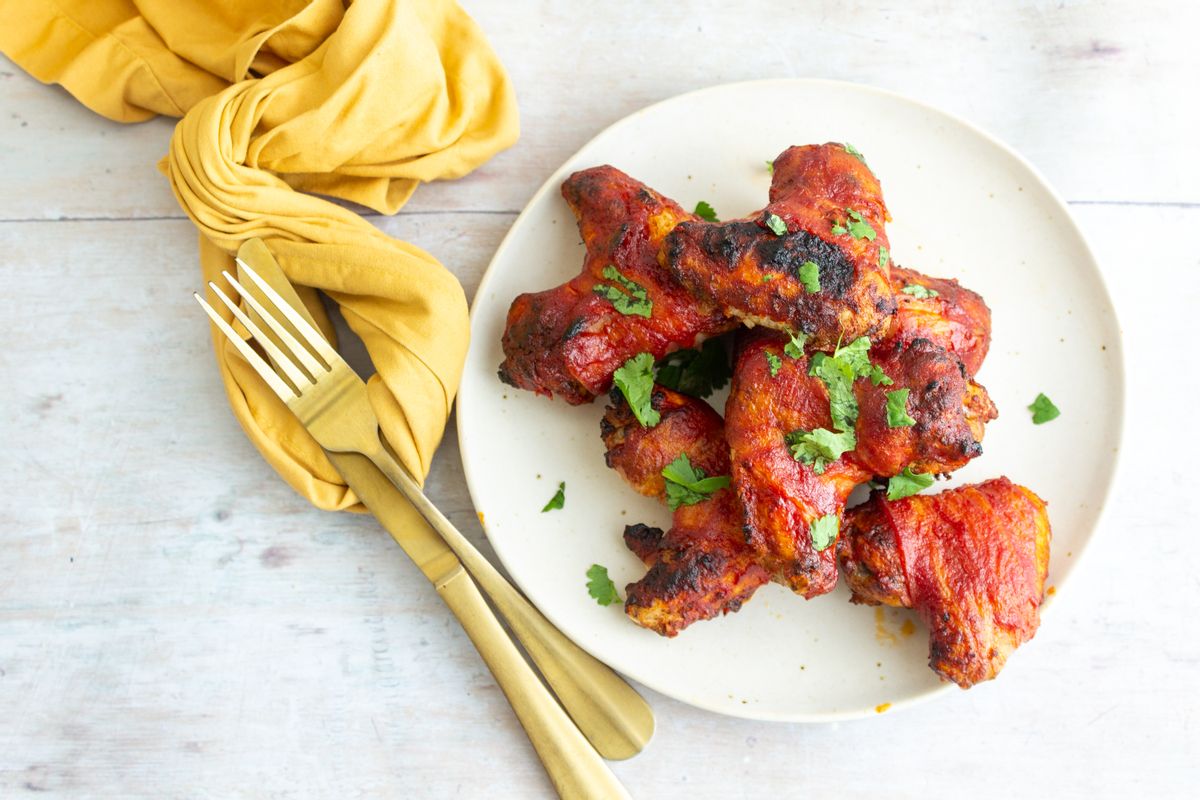 #1 Low Carb & Keto Diet App Since 2010
Track macros, calories, and access top Keto recipes.
12 min

32 min

44 min
Keto BBQ Bacon Chicken Wings
These deliciously flavored Keto chicken wings are coated in aromatic spices, bacon, and a low carb BBQ style sauce. The wings are dusted with paprika, cumin, and a hint of garlic powder, then wrapped with bacon before being part-baked. The part-baked wings are then brushed with a blend of tomato paste, tamari sauce, maple-flavored syrup, mustard powder, and a hint of garlic. The wings then finish baking until well browned and caramelized.
Can I Cook These in An Air Fryer
We have baked our Keto chicken recipe in the oven until perfectly golden. However, if preferred, you could cook these in the basket of an air fryer. We would recommend cooking in two batches to ensure the wings are not crowded and cook in a single layer. The wings will need to cook at 400 degrees Fahrenheit for around 20 minutes, basting with the marinade halfway through. Check the wings are entirely cooked through and cook longer as needed.
Serving Suggestions
These BBQ bacon wings make a great Keto lunch or dinner option. Perfect served with a hearty low carb salad, slaw or Keto fries. These low carb wings would also make a great addition to the BBQ grill, served with your favorite Keto BBQ sides and sauces.
Net Carbs

1.2 g

Fiber

1.4 g

Total Carbs

5.7 g

Protein

9.8 g

Fats

8.8 g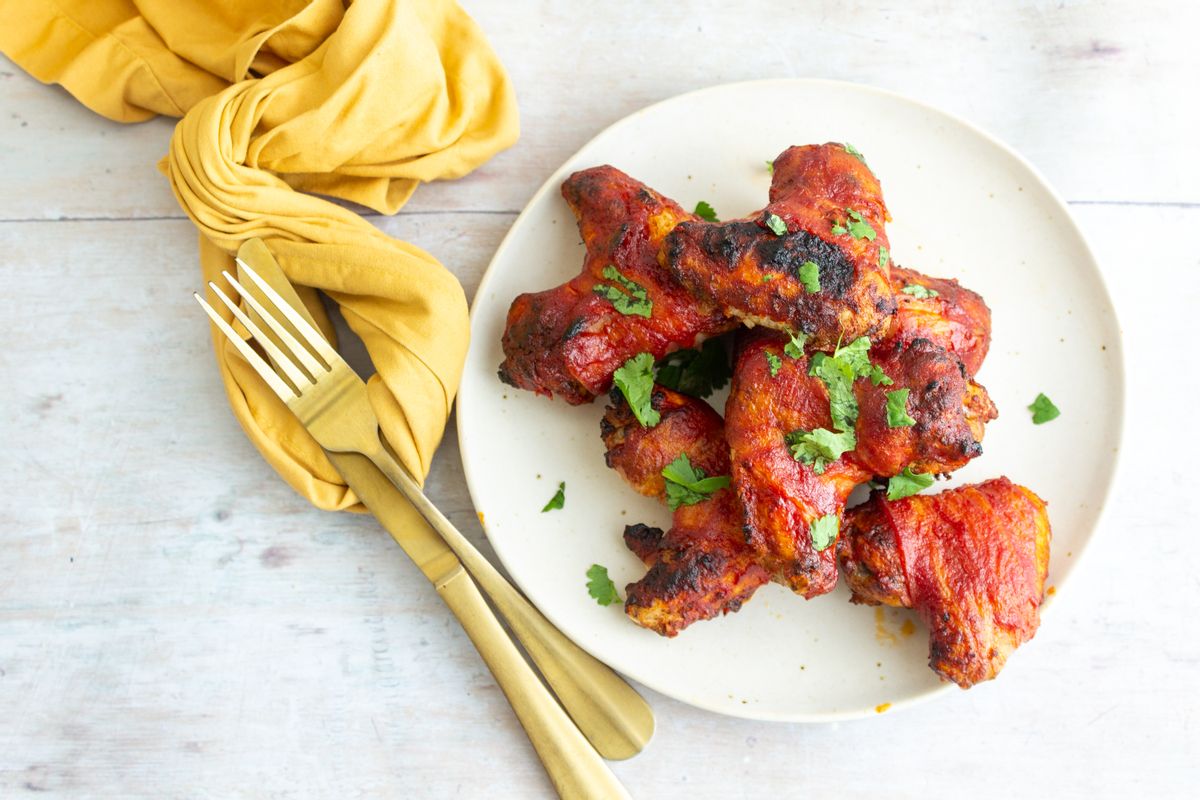 #1 Low Carb & Keto Diet App Since 2010
Track macros, calories, and access top Keto recipes.
Ingredients
Chicken wing, skin eaten

8 oz

Maple Flavored Syrup by Lakanto

2 teaspoon

Gourmet Collection Smoked Paprika by Mccormick

1 tsp

Garlic, Powder

½ teaspoon

Salt, Sea Salt

½ teaspoon

Mustard Powder

½ teaspoon
Add the chicken wings to a large bowl. Sprinkle over the paprika, cumin, half the garlic powder, and half the salt. Use your hands to rub the seasoning and spices all over the wings.

Preheat the oven to 400 degrees Fahrenheit. Arrange the seasoned chicken wings across a shallow oven tray. Wrap a slice of bacon tightly around each wing. Transfer to the oven and bake for 20 minutes.

While the wings are baking, you can prepare the glaze. Add the tomato paste, tamari sauce, lakanto syrup, olive oil, remaining garlic powder, remaining salt, and mustard powder to a small bowl. Whisk together to combine. Add the water and stir to create a smooth sauce. Taste and adjust seasonings and spices as desired.

Remove the wings from the oven. Dividing the marinade evenly, brush each bacon-wrapped wing in the bbq sauce until well coated. Return to the oven and bake for a further 10-12 minutes or until completely cooked through, golden, and caramelized.