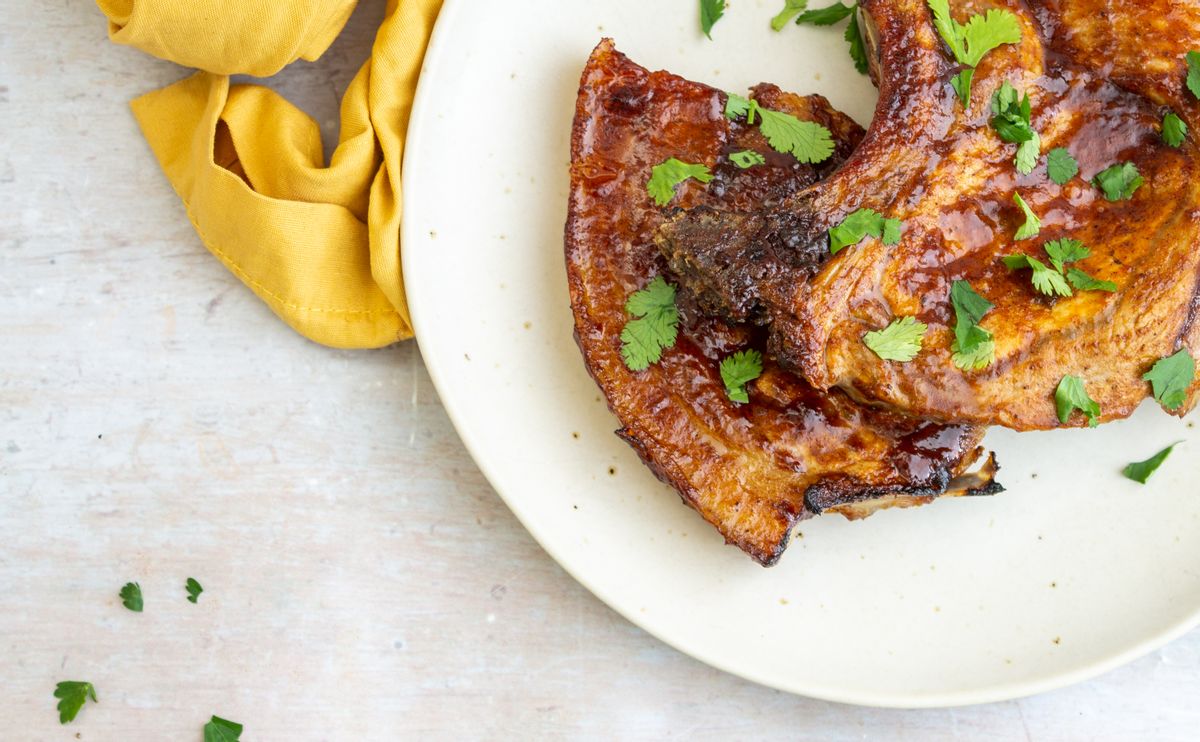 #1 Low Carb & Keto Diet App Since 2010
Track macros, calories, and access top Keto recipes.
10 min

20 min

30 min
Low Carb Spiced Rum Pork Chops
This Keto recipe makes a delicious protein option packed with fats and flavor and smothered in a sweet and sticky glaze. Our low carb recipe is prepared with pork chops, rum, a low carb maple-flavored syrup, tomato paste, aromatic allspice, tangy tamari sauce, olive oil and a touch of xanthan gum. Perfect served with some cauliflower rice or a spicy low carb slaw.
Is Rum Keto?
Spirits such as rum can be a great alcohol option to be enjoyed on occasion when following a Ketogenic diet. Rum is a zero carb beverage that can be enjoyed not only as a drink but also to add flavor to your Keto bakes, desserts, and savory dishes. We have used just 2.5 tablespoons of rum for this recipe - just enough to provide a hint of flavor and warmth to our low carb marinade.
Do I Have to Use Xanthan Gum?
We have added just a touch of xanthan gum to our Keto pork chop marinade. Xanthan gum is an excellent low carb, gluten free thickener that can transform a simple sauce into a glossy glaze. The gum helps to thicken the liquid, taking it from a thin sauce to a smooth marinade, perfect for basting. If you do not wish to use the xanthan gum you can omit this, however your sauce will be thin and not coat or adhere to the chops quite so well.
Net Carbs

6.6 g

Fiber

8.4 g

Total Carbs

33.6 g

Protein

47.1 g

Fats

29.6 g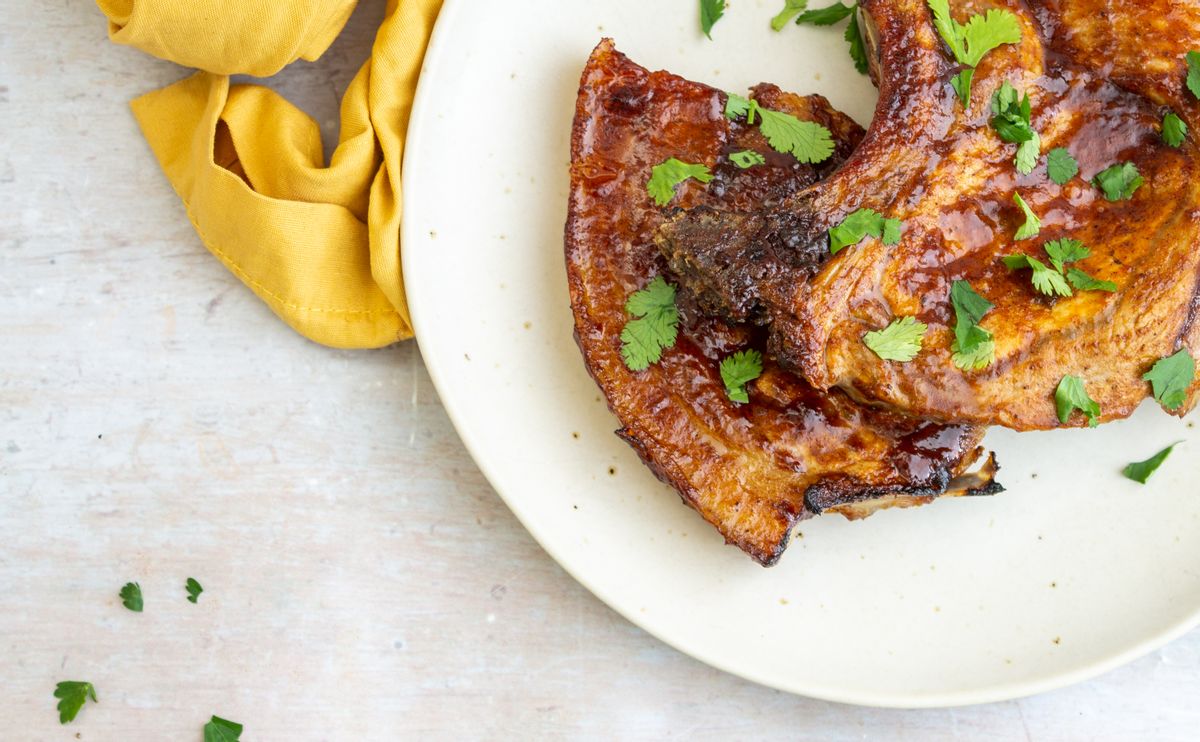 #1 Low Carb & Keto Diet App Since 2010
Track macros, calories, and access top Keto recipes.
Ingredients
Tamari sauce

2 tablespoon

Extra virgin olive oil

2 tablespoon

Maple Flavored Syrup

1 tbsp

Tomato paste

1 tablespoon

Allspice, ground

1 teaspoon

Garlic powder

0.5 teaspoon

Salt, sea salt

0.5 teaspoon

Black pepper

0.13 teaspoon
Preheat the oven to 400 degrees Fahrenheit. Add the rum, maple-flavored syrup, tomato paste, allspice, garlic powder, tamari sauce, a tablespoon of olive oil and a pinch of salt and pepper to a small saucepan. Set over a low heat and mix well to combine. Heat through until gently simmering. Sprinkle over the xanthan gum and whisk into the sauce until slightly thickened and you have a glossy glaze.

Heat a tablespoon of olive oil in an ovenproof skillet over a medium heat. Season the pork chops on both sides with salt and pepper. Place the pork chops in the skillet and cook for 2 minutes on each side to brown.

Brush the rum glaze evenly over the browned pork chops, liberally coating them on both sides. Transfer to the oven and bake for 10 minutes or until the chops are entirely cooked through. Serve hot with your preferred Keto sides.