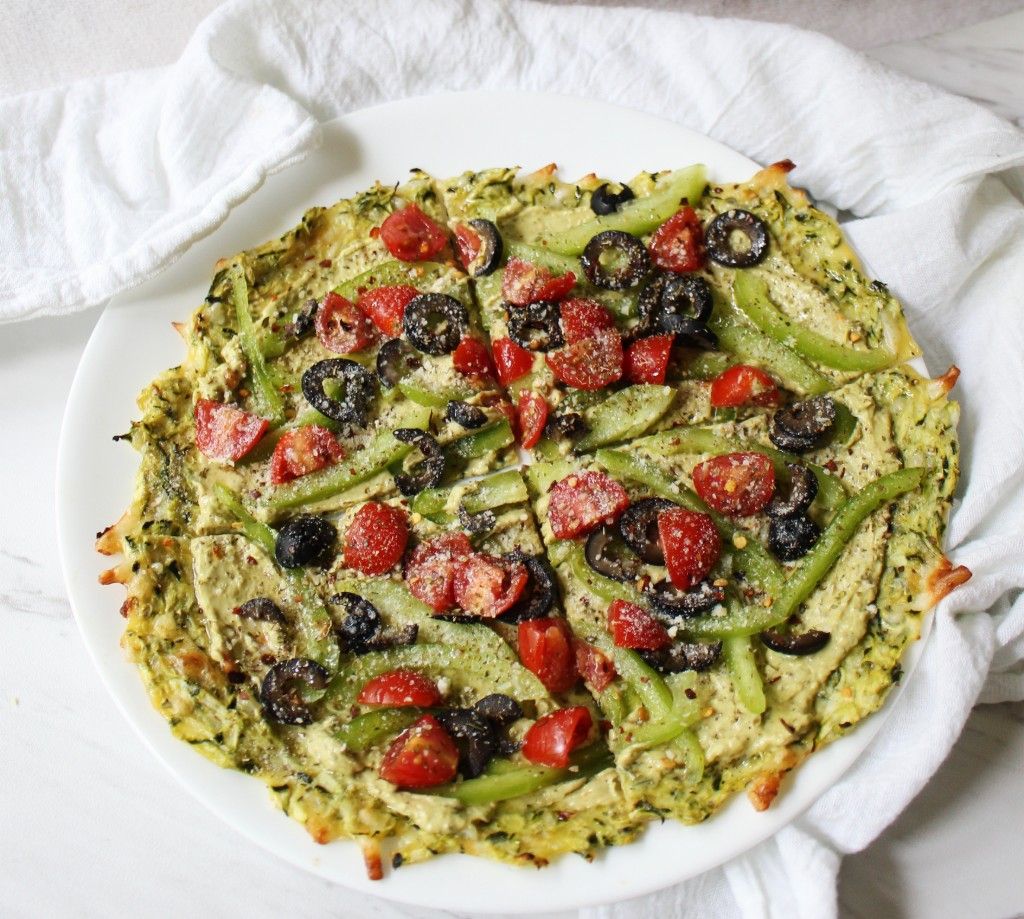 #1 Low Carb & Keto Diet App Since 2010
Track macros, calories, and access top Keto recipes.
1 h 15 min

55 min

2 h 10 min
Keto Cold Veggie Leftover Pizza
Some would argue that pizza tastes even better when cold! This vegetarian recipe makes a delicious lunch or snack. Enjoy 2 slices of leftover pizza for lunch or enjoy 1 slice as a mid-day snack. To make the Keto pizza crust, give yourself extra time for it to cool completely. Either make the crust earlier in the day so it has time to cool by lunch or make it the night before for a fast assembly the next day. Then, all you have to do is blend your creamy pesto sauce and chop some veggies before enjoying! You can keep this cold leftover pizza store in your refrigerator assembled for 1-2 days, or you can keep the bare crust wrapped in your refrigerator for up to 5 days before assembling.
Other Leftover Pizza Toppings
If you're a vegetarian, you can create some other unique vegetable toppings on top of your Keto pizza crust. Try one combination of thin-sliced mushrooms, olives, and spinach tossed with olive oil, vinegar, and Italian seasoning. Arrange the marinated vegetables on your pizza for a stronger herb-infused flavor. For a lighter vegetarian combo, use thin-sliced heirloom tomatoes and fresh arugula and basil. You can even add fresh mozzarella pearls on top. If you're not a vegetarian but love the taste of leftover pizza, you can use chopped pepperoni with your veggie toppings. Diced bacon would also add low protein and plenty of flavor to your Keto pizza.
I Don't Like Zucchini Crust
If you don't like the zucchini crust idea, don't fear! Carb Manager has many different types of Keto pizza crust recipes that you can chill before adding cold toppings. Another vegetable-based pizza crust would be the Carb Manager Low Carb Thick Broccoli Pizza Crust. This crust is made entirely from broccoli and has a thicker, fluffier texture than a zucchini crust pizza. Another option is the Carb Manager Low Carb Fathead Dough. You can bake the dough ahead of time into a crispy, denser pizza crust before choosing cold toppings. The Fathead Dough will be capable of holding more weight, so this is especially good for anyone that does want to include cold meat on their leftover pizza.
Jessica L.
Net Carbs

4.1 g

Fiber

1.1 g

Total Carbs

5.2 g

Protein

14 g

Fats

19.4 g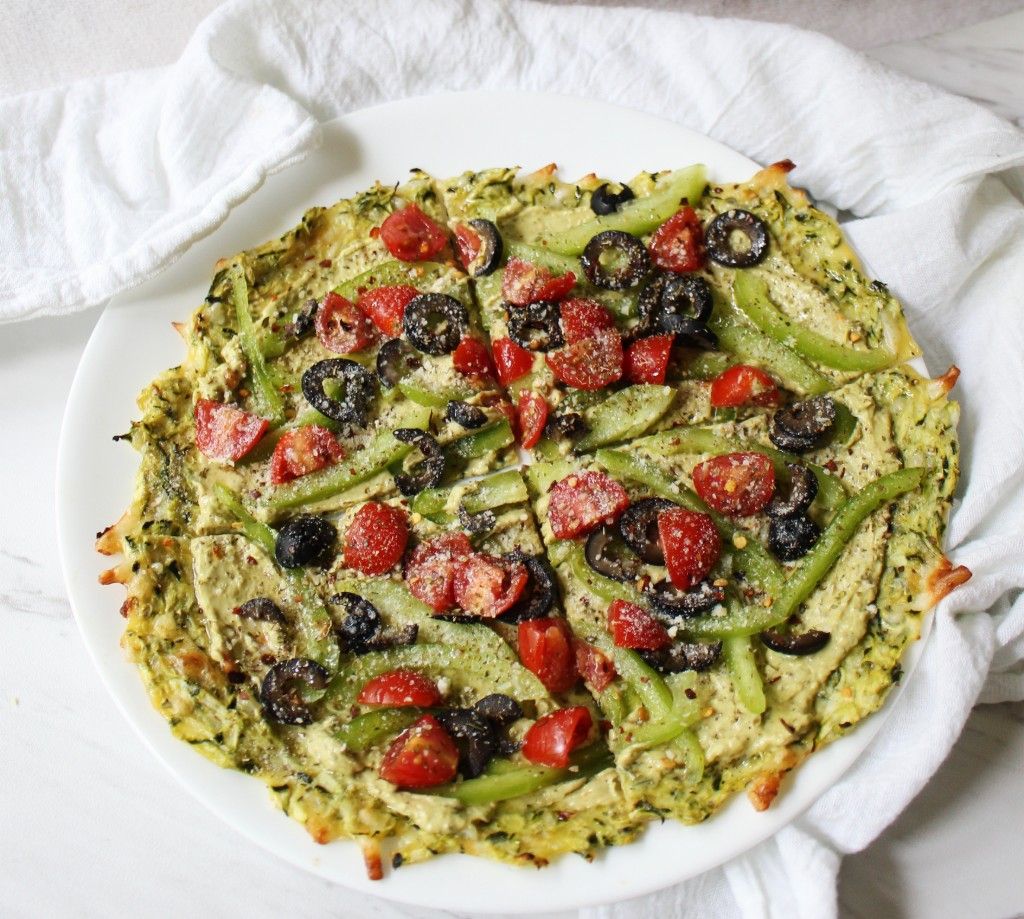 #1 Low Carb & Keto Diet App Since 2010
Track macros, calories, and access top Keto recipes.
Ingredients
Parmesan Cheese

½ cup, shredded

Green Bell Pepper

½ ounce

Tomato Raw (includes Cherry, Grape, Roma)

1-½ ounce

Oregano, Dried

¼ teaspoon

Crushed Red Pepper by Simply Organic

⅛ tsp

Parmesan Cheese

½ cup, shredded
Preheat an oven to 300 degrees. Use a vegetable grater to shred a large zucchini into thick shreds. The shredded zucchini should equal the weight listed in the ingredients. Spread the zucchini shreds across a sheet tray lined with parchment paper. Cook the tray in your oven for 30 minutes. You can toss the shreds on the tray after 20 minutes to ensure even cooking.

After 30 minutes in the oven, the zucchini shreds should be only slightly moist and some will be lightly golden brown. Let the zucchini cool for 5 minutes until it is cool enough to handle. Toss the zucchini shreds in a mixing bowl with the egg, salt, pepper, and shredded parmesan. Use a spatula to fold the ingredients over until you have a consistent zucchini mixture. Then, turn your oven's temperature up to 350 degrees.

Line your sheet tray with a new piece of parchment paper. Use your spatula to arrange the zucchini mixture on the sheet tray into a circle. The original recipe here should make a 10" thin-crust pizza. Bake the zucchini crust for 22-25 minutes, until the crust has a golden brown edge and you can see the egg and parmesan completely cooked through. Allow the crust to cool completely before proceeding to Step 4. Do this by letting the crust cool naturally at room temperature and then refrigerating for at least 30 minutes. If you're making this crust a day ahead, you can wrap the cooled crust and store in your refrigerator overnight.

When you're ready to assemble the cold leftover pizza, make the pesto sauce base. Mix your cream cheese in a stand mixer with a whip attachment until it is soft and lump-free. You may want to bring the cream cheese out to soften on your countertop at room temperature for an easier mixing process. Once the cream cheese has been whipped, mix in the pesto sauce. Leave this creamy pesto sauce out at room temperature so you can easily spread it on the zucchini crust.

Finely slice your bell peppers. Quarter the black olives and grape tomatoes. Use the back of a spoon or a spatula to spread the pesto cream cheese base across the zucchini pizza crust. Leave at least 1-inch of space around the pizza to serve as a crust. On top of the pesto cream cheese sauce, arrange the bell peppers, olives, and tomatoes. Sprinkle the oregano and red pepper flakes over the pizza. Then, drizzle the olive oil. Finally, sprinkle parmesan cheese over the pizza before slicing and enjoying cold. The suggested serving is 1 or 2 slices per person.