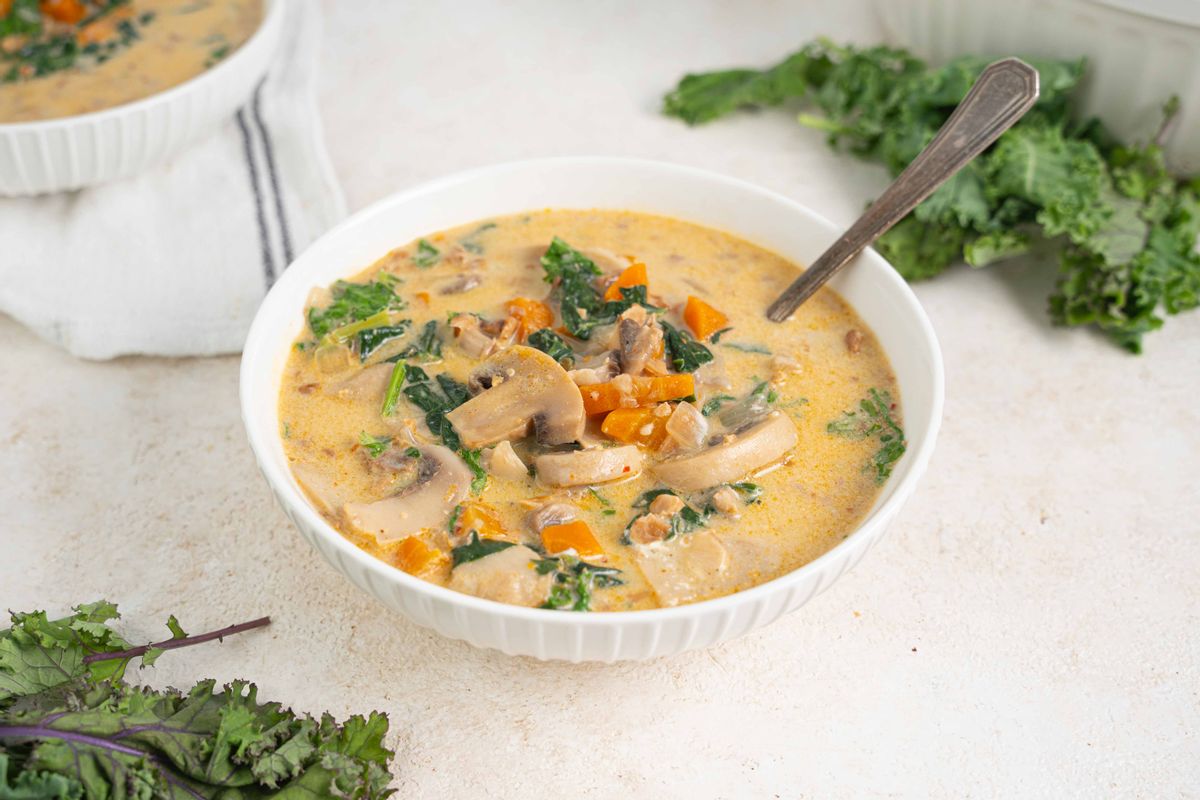 #1 Low Carb & Keto Diet App Since 2010
Track macros, calories, and access top Keto recipes.
10 min

40 min

50 min
Low Carb Autumn Wild "Rice" and Mushroom Soup
When the autumn chill sets in, there's nothing quite as comforting as a steaming bowl of soup. Our Low-carb autumn wild "rice" and mushroom soup is not only a hearty and satisfying choice but also a stellar addition to your collection of Low-Carb autumn recipes. Bursting with earthy flavors and wholesome ingredients, this soup embraces the essence of the season. Let's explore the unique qualities of this autumn vegetable soup and how you can make it your own.
What is special about an autumn vegetable soup?
An autumn vegetable soup captures the essence of the season by showcasing the bountiful harvest of fall. What makes it special are the hearty and earthy ingredients that come together in a symphony of flavors. In our Keto soup, the pumpkin, mushrooms, and kale lend their rich, earthy notes, while the walnuts offer a delightful crunch reminiscent of traditional wild rice. This soup embodies the warmth and comfort of autumn, making it a standout among Low-Carb fall vegetable soup recipes.
How to customize this recipe?
Customization is where you can truly make this Low-Carb autumn soup your own. You have the flexibility to experiment with various autumn vegetables depending on what's in season or your personal preferences. Butternut squash, sweet potatoes, or even cauliflower can be delightful additions or substitutions. The walnuts can also be replaced with other nuts like almonds or pecans for a different texture. Play with the seasonings by adjusting the amount of paprika, crushed red pepper, or black pepper to match your heat preference. Additionally, consider adding a sprinkle of your favorite fresh herbs, such as thyme or rosemary, to enhance the soup's aromatic profile. Customize this recipe to create a soup that resonates with your taste buds while staying true to its Low-Carb roots.
Net Carbs

6 g

Fiber

3.1 g

Total Carbs

9.6 g

Protein

8 g

Fats

25.3 g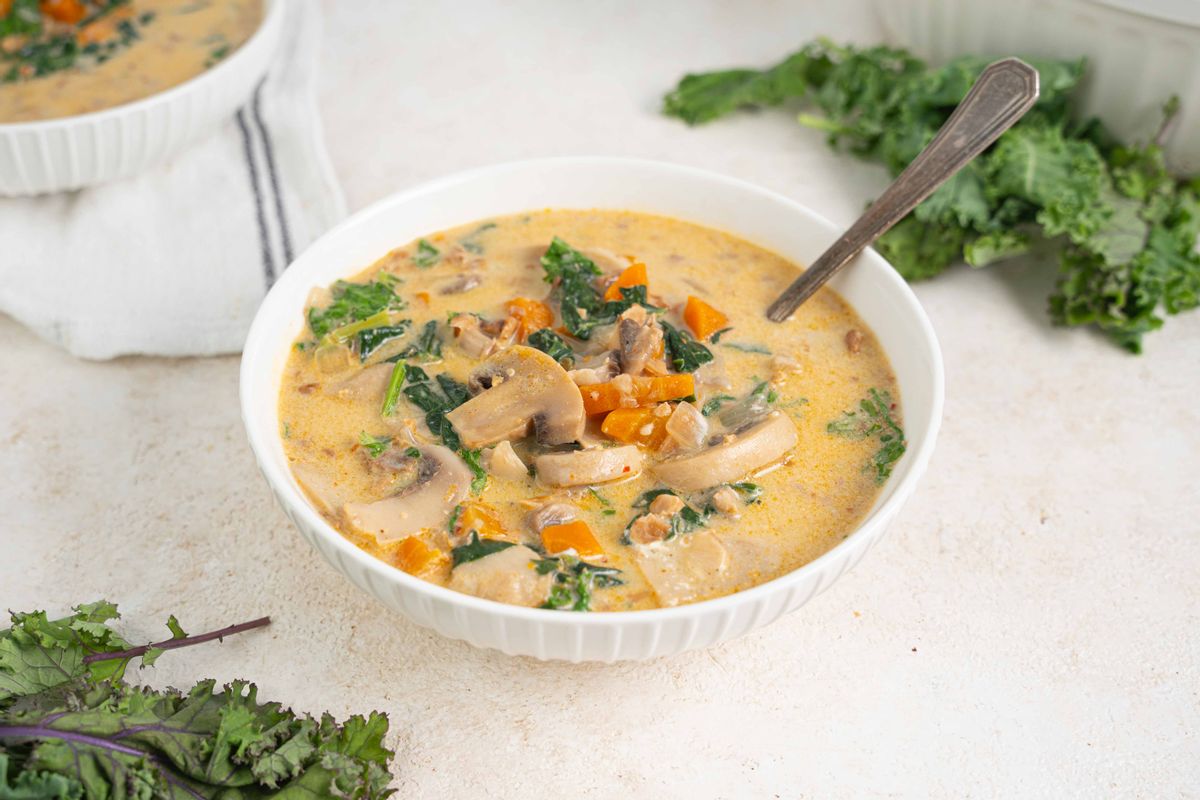 #1 Low Carb & Keto Diet App Since 2010
Track macros, calories, and access top Keto recipes.
Ingredients
Extra virgin olive oil

1 tbsp

Onion

0.5 medium - 2 1/2" diameter

Carrots, raw

2 small - 5 3/4" long or less

Celery

1 medium - stalk - 7 1/2" to 8" long

Crushed Red Pepper Flakes

0.5 tsp
Line a baking sheet with parchment paper and add the walnuts. Broil in the oven for 5 minutes until slightly darker in color and fragrant, then set aside. Finely dice the onion and celery, slice the mushrooms, cut the carrot into ½ discs, cube the pumpkin, and mince the garlic.

Add the olive oil and butter to a stockpot over medium heat. Add the onions, carrots, and celery and saute for 3-5 minutes. Add the garlic and cook for 1 more minute.

Add the mushrooms and saute for 5 minutes. Add the pumpkin, bay leaf, paprika, crushed red pepper, black pepper, and chicken broth. Stir and bring to a simmer.

Reduce the heat to medium-low, cover and simmer for 10 minutes. Meanwhile, chop the walnuts until they become the size of rice. You can also pulse in a food processor; just ensure you don't blend until too fine.

Add the walnuts to the pot and cook for 5-10 more minutes until the pumpkin is soft. Add the kale and heavy cream. Taste and season if needed.

Ladle the soup into bowls. Garnish with fresh herbs and serve!