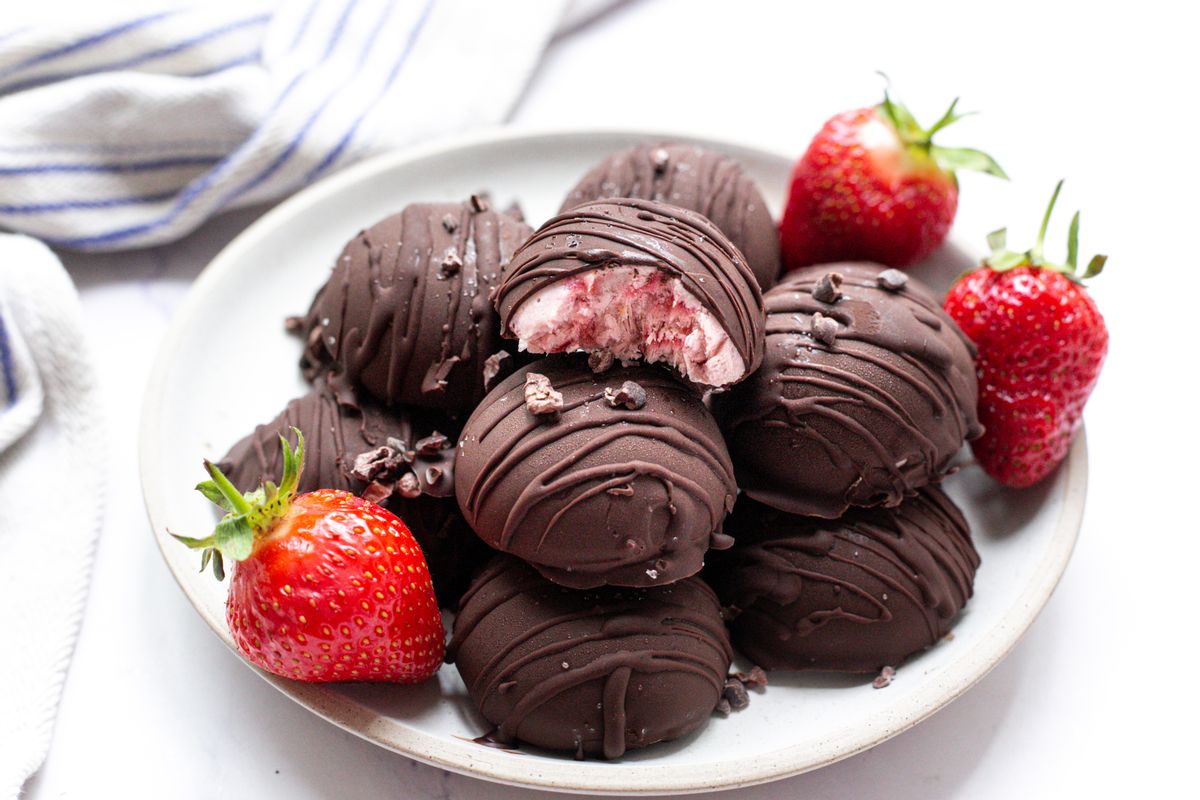 #1 Low Carb & Keto Diet App Since 2010
Track macros, calories, and access top Keto recipes.
30 min

10 min

40 min
Best Keto Chocolate Coated Strawberry Yogurt Cluster Dessert
Make this easy Keto summer recipe for a healthier sweet treat during the warmer months. Kid-friendly and great for gatherings, or even mid-week treats, these Keto summer desserts are easy to make and come together in a few simple steps.
Can I substitute ingredients? This recipe is very versatile, and the strawberries can be swapped out for other berries like raspberries or blueberries. The cashew butter can be replaced with any nut butter of choice.
What chocolate can I use? Use dark chocolate sweetened with stevia or 100% cacao and sweeten with a Keto-friendly sweetener to taste.
Do I need any special equipment? This recipe calls for silicone molds for ease of making, and you can also use silicone ice cube trays. If you don't have either, you can still make this recipe without them by simply lining a tray with baking paper, spooning the mixture into portions, and freezing them on the tray. They will look more rustic but will taste equally delicious!
Can I adapt the recipe for different diets? This chocolate-coated yogurt treat is naturally gluten-free and can be made dairy-free and vegan by using a plant-based yogurt like full-fat coconut yogurt. Also, opt for vegan dark chocolate that is dairy-free. With these slight modifications, you can enjoy these Keto strawberry clusters guilt-free.
How to store and serve these chocolate-coated yogurt clusters? Since these clusters are made with yogurt and fresh berries, it is best to store them in the freezer to preserve their textures and flavor. These clusters can be stored in an airtight freezer-safe container or Ziploc bag in the freezer for up to 2 months. Whether you are planning ahead for a special occasion or simply looking to have a stash of guilt-free indulgence on hand, the freezer is the perfect storage for these delightful Keto strawberry yogurt clusters. When ready to eat, allow it to sit at room temperature for 5-10 minutes before serving.
Net Carbs

2.6 g

Fiber

1.4 g

Total Carbs

10.5 g

Protein

2.5 g

Fats

7.5 g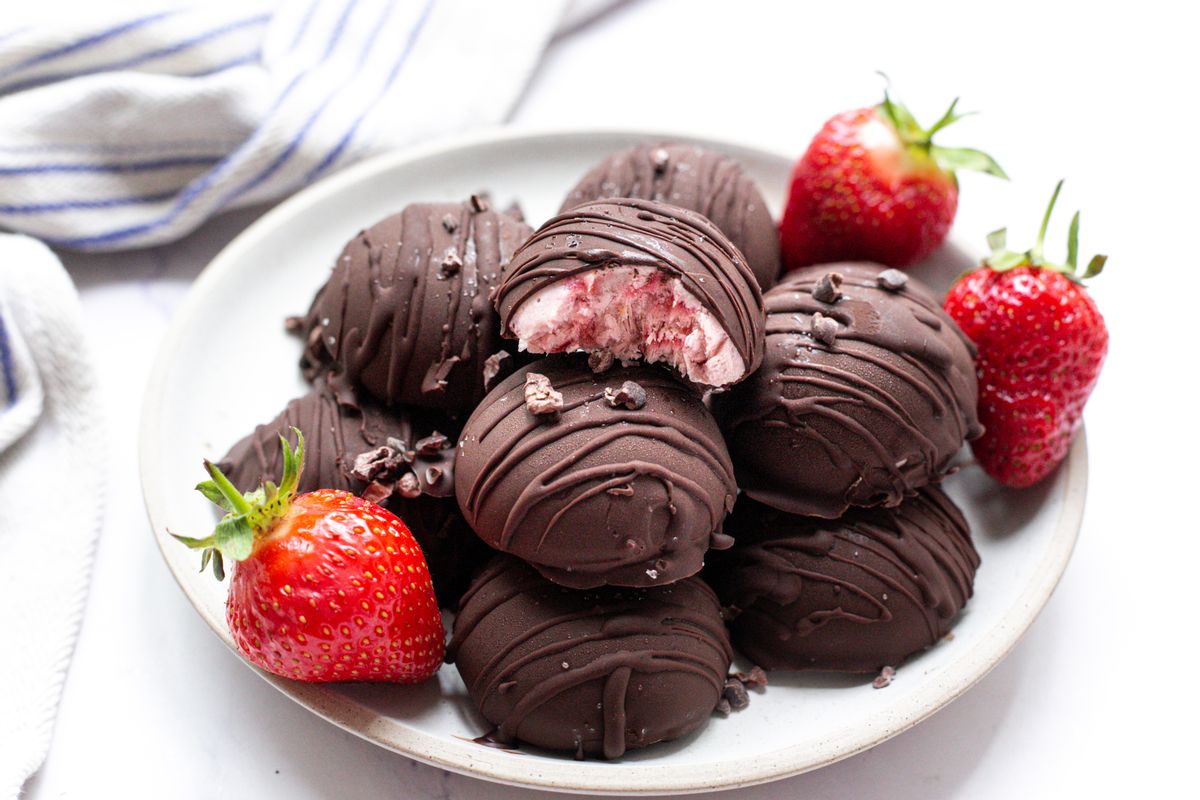 #1 Low Carb & Keto Diet App Since 2010
Track macros, calories, and access top Keto recipes.
Ingredients
Cashew butter, unsalted

2 tbsp

Strawberries, fresh

150 g

Lemon Peel Or Zest Raw

2 tsp

Dark chocolate bar, sugar free

175 g
Finely chop the strawberries and discard the stalks. Finely grate the lemon zest with the small side of a box grater. Add the strawberries, lemon zest, cashew butter, and yogurt to a large bowl and stir to combine.

If you have silicone mold trays, spoon in the filling and scrape the tops flat. Freeze for at least 1 hour, depending on the size and depth of your molds, until set. If you do not have molds, either use ice cube trays or spoon out portions onto a tray lined with baking paper.

Break up the dark chocolate into small pieces. Place the dark chocolate and coconut oil in a glass or metal bowl over a saucepan with 1 inch of water (use a bain-marie or double boiler). Take care not to let water touch the bottom of the bowl, as this will burn the chocolate. Bring the water to a simmer over medium heat and let the chocolate melt to a silky smooth consistency, stirring occasionally. Remove from the heat.

Line a baking tray with baking paper and have it ready near the chocolate. Pop the frozen yogurt pieces out of their molds.

One at a time, drop a yogurt cluster into the melted chocolate. Use 2 spoons to turn the cluster and quickly place it onto the tray. The chocolate will set very quickly. Repeat until all the yogurt pieces are covered. Drizzle any remaining chocolate over the tops for presentation points!

Return to the freezer for 10 minutes to set fully. Enjoy whenever you want a treat!