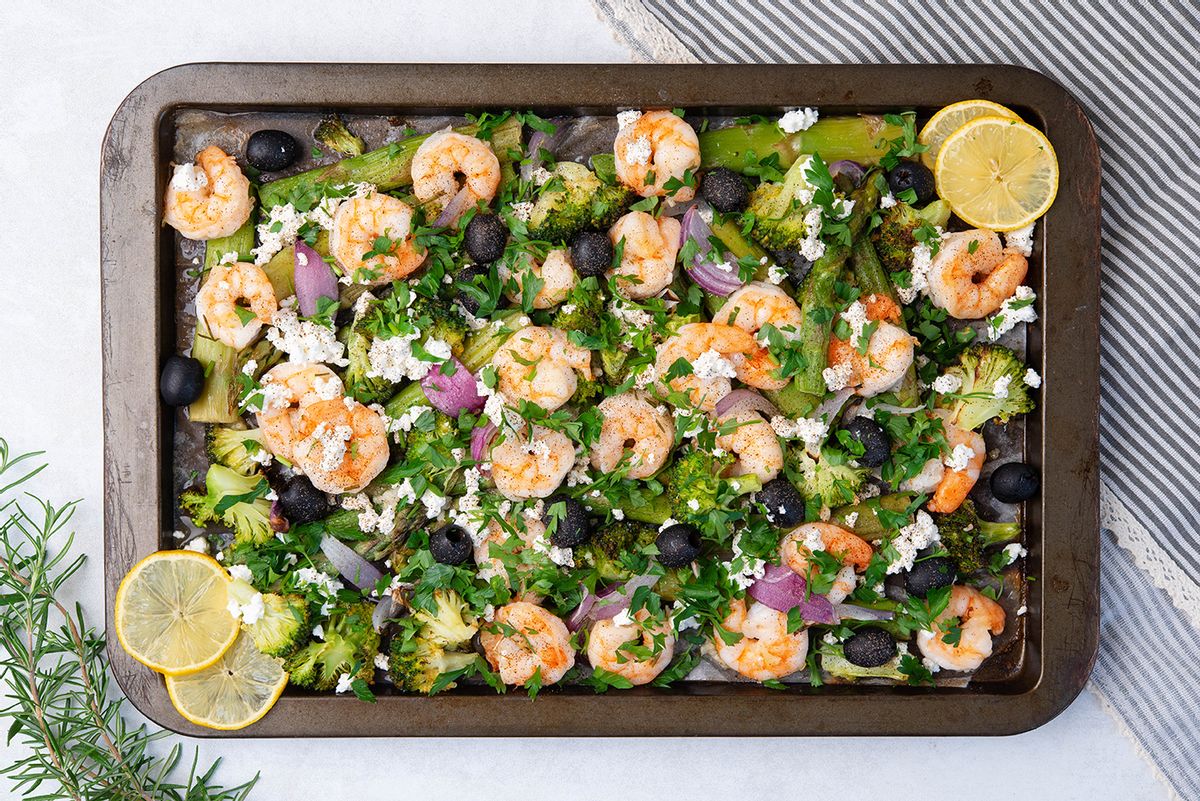 #1 Low Carb & Keto Diet App Since 2010
Track macros, calories, and access top Keto recipes.
10 min

20 min

30 min
Low-Carb Sheet Pan Mediterranean Shrimp
This fantastic low-carb Mediterranean shrimp recipe is healthy, easy to prepare, and tastes amazing! It is one of our favorite low-carb Mediterranean recipes that can be prepared in just 30 minutes. This lovely dish can be served as a lunch or dinner for the entire family, but it can also be an excellent recipe for your low-carb meal prep. You can add some more fresh or dried herbs and spices according to your taste. We added some crumbled feta over the prepared shrimp and veggies, but fresh goat cheese would also be fantastic. This recipe is an excellent way to add some traditional Mediterranean flavors to your regular diet. Drizzle everything with some more extra virgin olive oil or lemon juice before serving. Enjoy!
Is this recipe good for meal prep?
This recipe can be stored in the fridge for a few days. Keep in air-tight containers and pack the cheese and olives separately. When ready to serve, gently reheat the shrimp and veggies and serve with cheese and olives.
Can you customize this recipe?
Absolutely! You can add your favorite low-carb veggies, such as tomatoes, cauliflower, or Brussels sprouts. Use some fresh goat cheese instead of feta, or add some more herbs or spices. Just remember to log the ingredients separately.
Can I prepare this recipe in my air fryer?
This is an excellent recipe to prepare in your air fryer. The shrimp and veggies will be crispy and delicious! Depending on the size of your air fryer, you may need to cook the shrimp and veggies in batches. Air fry for about 15-20 minutes at 180°C (355°F).
Net Carbs

7.4 g

Fiber

4.4 g

Total Carbs

11.8 g

Protein

32.9 g

Fats

15 g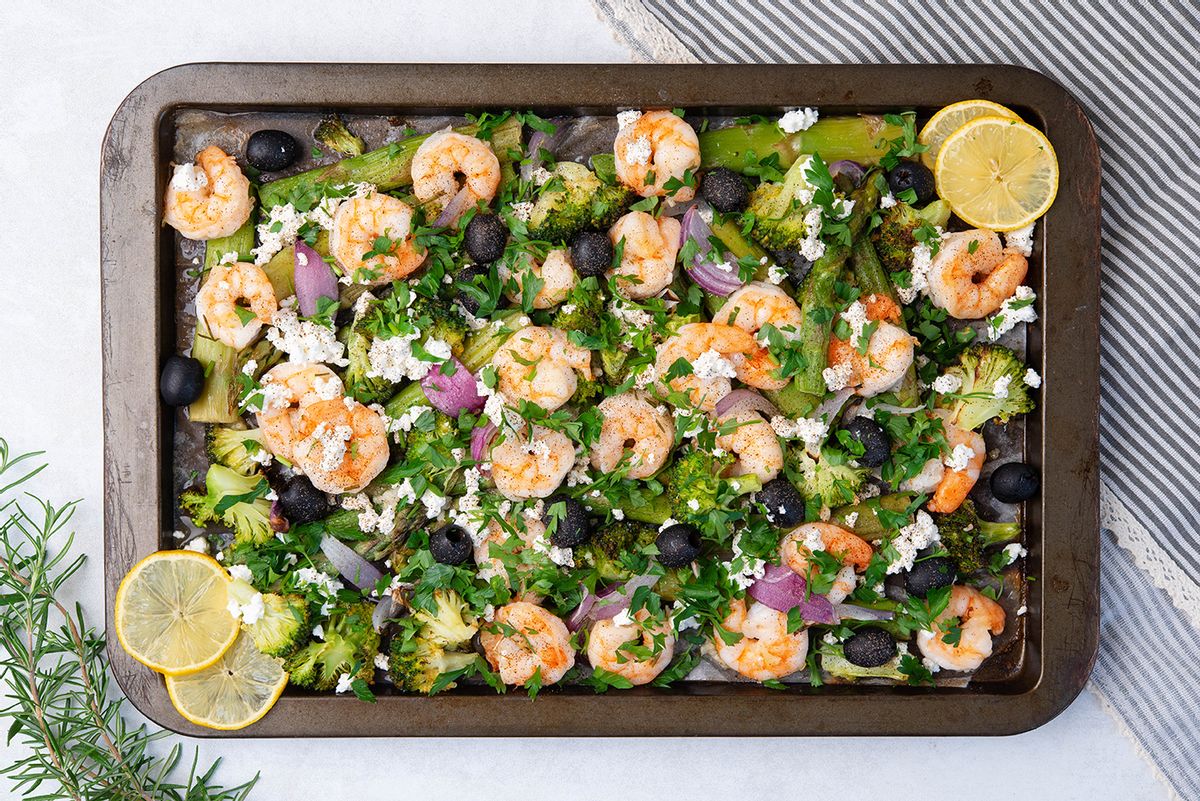 #1 Low Carb & Keto Diet App Since 2010
Track macros, calories, and access top Keto recipes.
Ingredients
Extra virgin olive oil

3 tbsp

Parsley

0.25 cup, chopped
Cut the broccoli into smaller florets. Cut the asparagus into smaller pieces. Add the broccoli and asparagus to a bowl. Drizzle two tablespoons of olive oil over the veggies and season with half of the salt. Toss to combine. Set it aside.

Add the shrimp to another bowl. Peel and finely chop the garlic. Finely chop the rosemary. Add the garlic, rosemary, one tablespoon of olive oil, and the remaining salt to a bowl with shrimp and toss to combine.

Preheat the oven to 200°C (400°F). Peel and slice the onion. Arrange the shrimp, broccoli, asparagus, and onions over a sheet pan lined with parchment paper. Bake for 15-20 minutes.

Crumble the cheese. Finely chop the parsley. Top everything with crumbled cheese, parsley, and olives. Garnish with some lemon slices, and serve immediately!