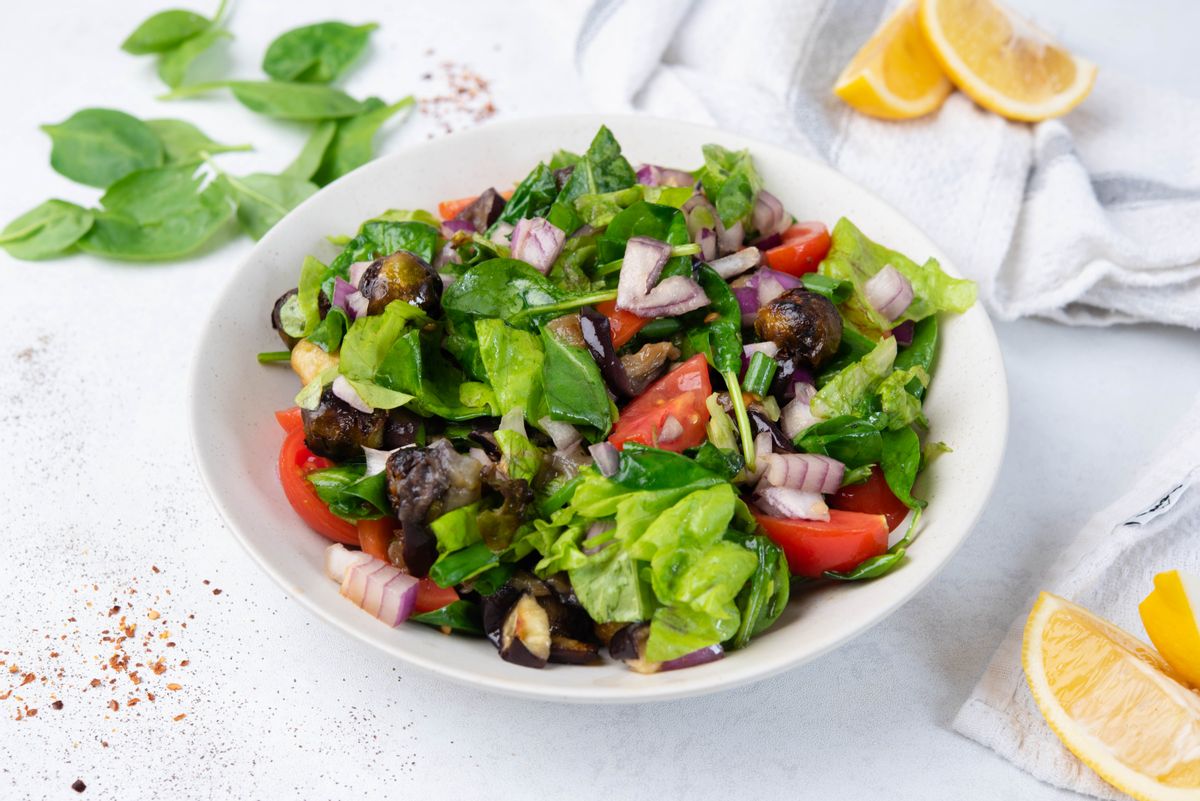 20 min

40 min

1 h 0 min
Keto High-Fiber Roasted Eggplant Side Salad
This beautiful salad is packed with healthy high-fiber Keto ingredients that will keep you full for hours. This amazing salad pairs perfectly with various meat and fish dishes but can also serve as a light dinner or an afternoon snack. Roasted eggplant and Brussels sprouts give this salad its unique touch while perfectly complementing the fresh vegetables. You can also add some of your favorite leafy greens or other low-carb veggies and create a unique salad every time. We added a small amount of garlic to the salad, but that's completely optional. Enjoy!
How to serve this salad?
This salad is best when served immediately while eggplant and sprouts are still fresh and crispy, but it will also work perfectly cold, so you can prepare it in advance. Optionally, serve with your favorite Keto-friendly salad dressing.
Is eggplant Keto-friendly?
Eggplant is a great choice if you're doing Keto. It's a low-carb and high-fiber Keto food you can occasionally incorporate into your diet.
Net Carbs

5.5 g

Fiber

2.7 g

Total Carbs

8.3 g

Protein

1.9 g

Fats

8.4 g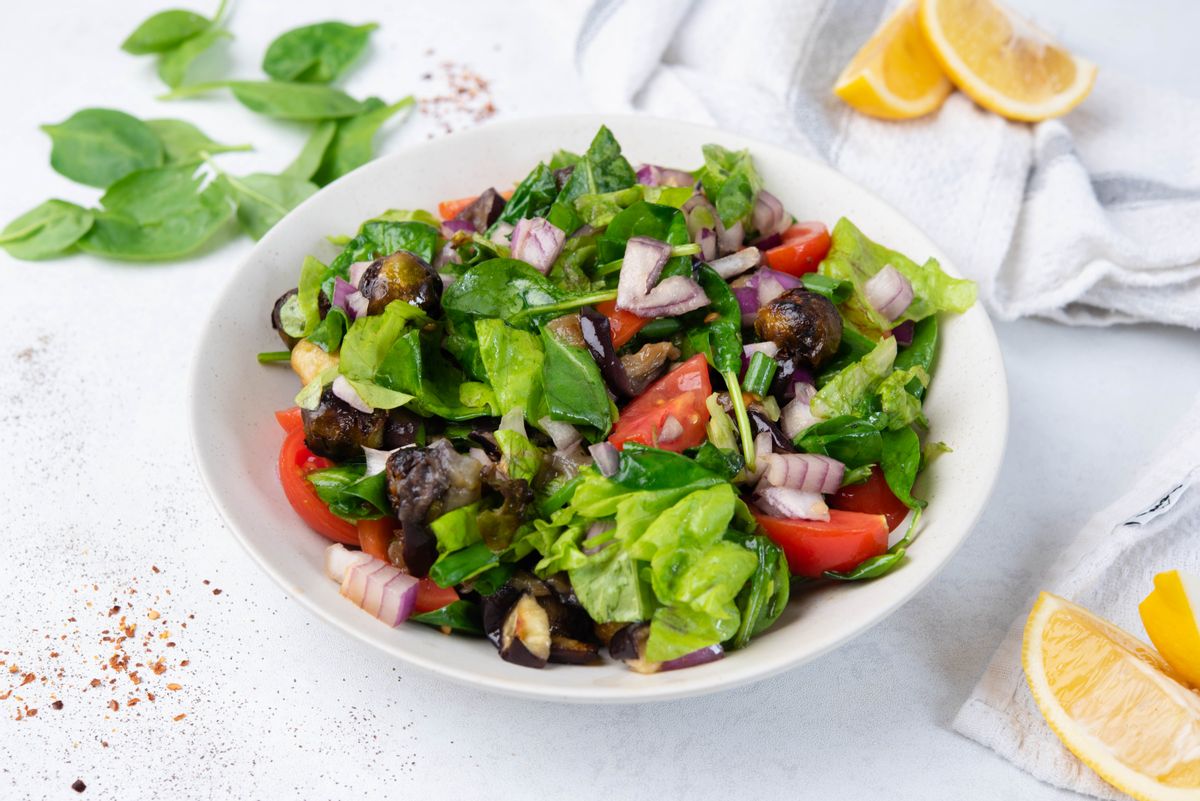 Ingredients
Extra virgin olive oil

3 tbsp

Onions Green Spring Or Scallions Raw

1 small (3" long)

Brussels sprouts, raw

150 g

Granulated Garlic

0.5 tsp
Preheat the oven to 200°C (400°F). Line a large baking tray with parchment paper. Slice the eggplant into approximately 1cm (0.4 inch) thick slices. Cut each piece into quarters and scatter over the prepared baking tray. Drizzle with one tablespoon of olive oil and season with ½ teaspoon of salt. Bake for 20-25 minutes.

Remove the eggplant from the oven and set it aside. Add the Brussels sprouts to the same baking tray and drizzle with one tablespoon of olive oil and the remaining sea salt. Bake for another 20 minutes. When done, remove from the oven and cool.

Roughly chop the lettuce and spinach. Finely chop the spring onion. Peel and finely chop the onion. Slice the cherry tomatoes. Add to a bowl and toss to combine.

Add the prepared eggplant and Brussels sprouts. Add the remaining olive oil, vinegar, and garlic. Mix well to combine.

Transfer to serving bowls. Optionally, add more salt or adjust the seasoning according to taste. Garnish with lemon and serve.