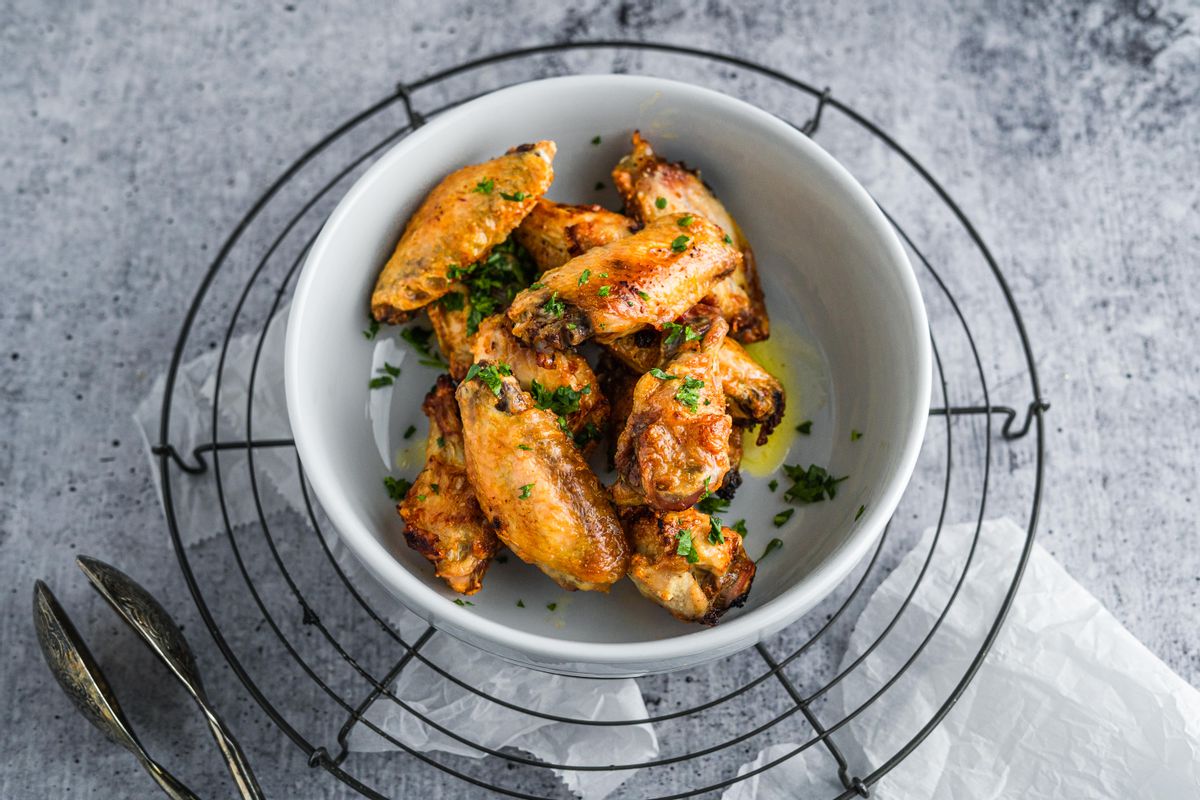 #1 Low Carb & Keto Diet App Since 2010
Track macros, calories, and access top Keto recipes.
10 min

30 min

40 min
Keto Garlic Butter Chicken Wings
Our Keto air fryer recipes are an excellent way to prepare healthy and delicious food every day! These crispy chicken wings are coated with butter and seasoned with garlic and onion powder for a wonderful flavor we guarantee you'll love. They are super simple to prepare and can be served for lunch or dinner. These mouthwatering chicken wings are excellent on their own or can be paired with your favorite Keto-friendly veggies, mashed cauliflower, or a dip or sauce of your choice. You can adjust the amount of garlic and onion powder according to taste or add a pinch of cayenne pepper. Enjoy!
Can I make this dish dairy-free?
Absolutely! You can replace butter with the same amount of olive oil for equally delicious results. Keep in mind that we used salted butter for this recipe, so you might need to adjust the amount of salt accordingly.
Can I bake these Keto air fryer chicken wings in the oven?
Yes! These crispy chicken wings can be prepared in the oven. You will need to increase the baking time to 40 minutes or until golden brown, crispy, and cooked through.
Net Carbs

0.2 g

Fiber

0 g

Total Carbs

0.3 g

Protein

40.6 g

Fats

40.1 g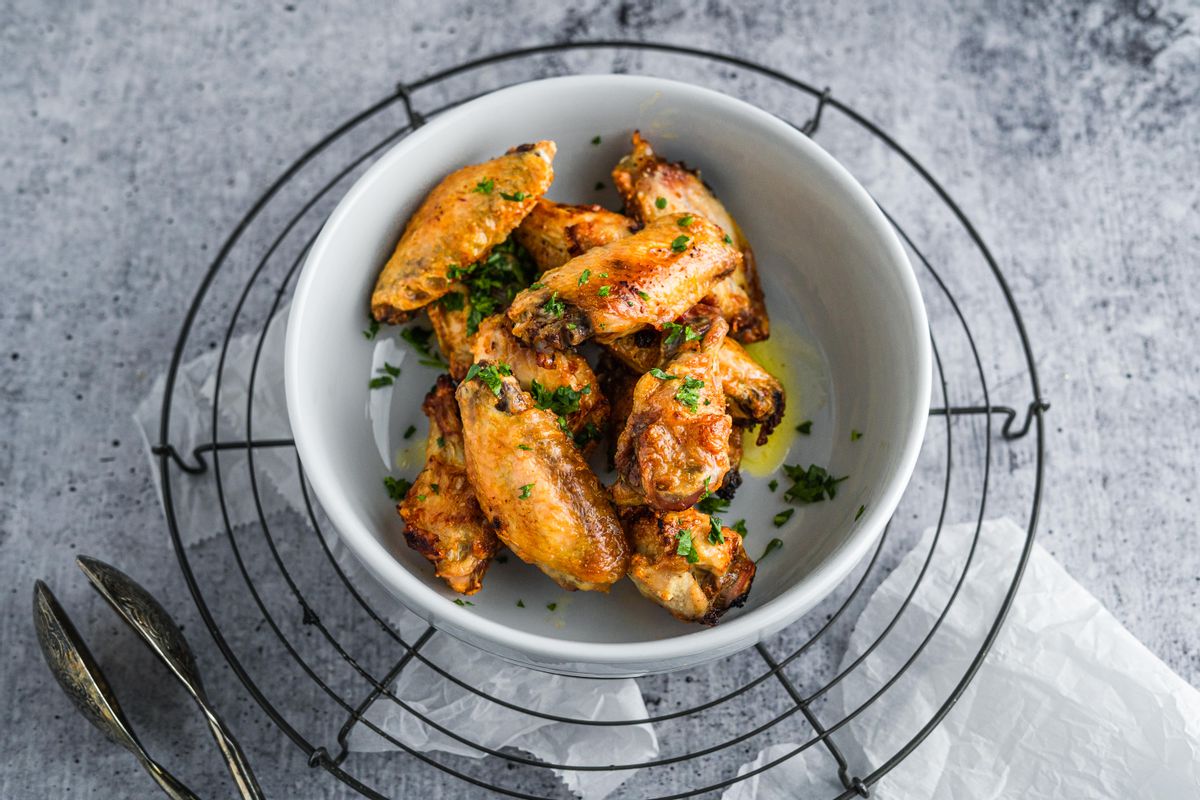 #1 Low Carb & Keto Diet App Since 2010
Track macros, calories, and access top Keto recipes.
Ingredients
Coarse Kosher Salt

1.25 tsp

Fresh Parsley (for flavoring only)

2 tsp
Prepare your chicken wings by separating the wings into 3 sections with a sharp knife; the drumette, wingette/flat, and the wing tip. The wing tips can be discarded (or reserved to make chicken stock!). Place the chicken in a medium-sized bowl. Melt the butter. Add ⅓ of the melted butter, the garlic and onion powders, and kosher salt. Toss the mixture well.

Place the chicken wings onto the racks of an air fryer, leaving some space between each one. If you have an air fryer with multiple racks, place all the wings into the air fryer. If not, you will likely need to cook the chicken wings in two batches. Set the temperature to 300°F (150°C) for 15 minutes. Cooking the wings at a lower temperature will allow them to get tender.

After the time has passed, increase the heat to 400°F (200°C) for 13-15 minutes to allow the wings to get golden and crispy. If using multiple racks at a time, you may need to rotate the racks halfway through, placing the more browned/crispy rack in a cooler part of the air fryer to allow the other rack to brown.

Add the cooked chicken wings to a clean medium-sized bowl and toss them in the remaining salted butter. Plate the chicken and sprinkle with freshly chopped parsley.

Enjoy hot! Reheat any leftover chicken wings in the air fryer at 400°F (200°C) for 5-6 minutes until hot.