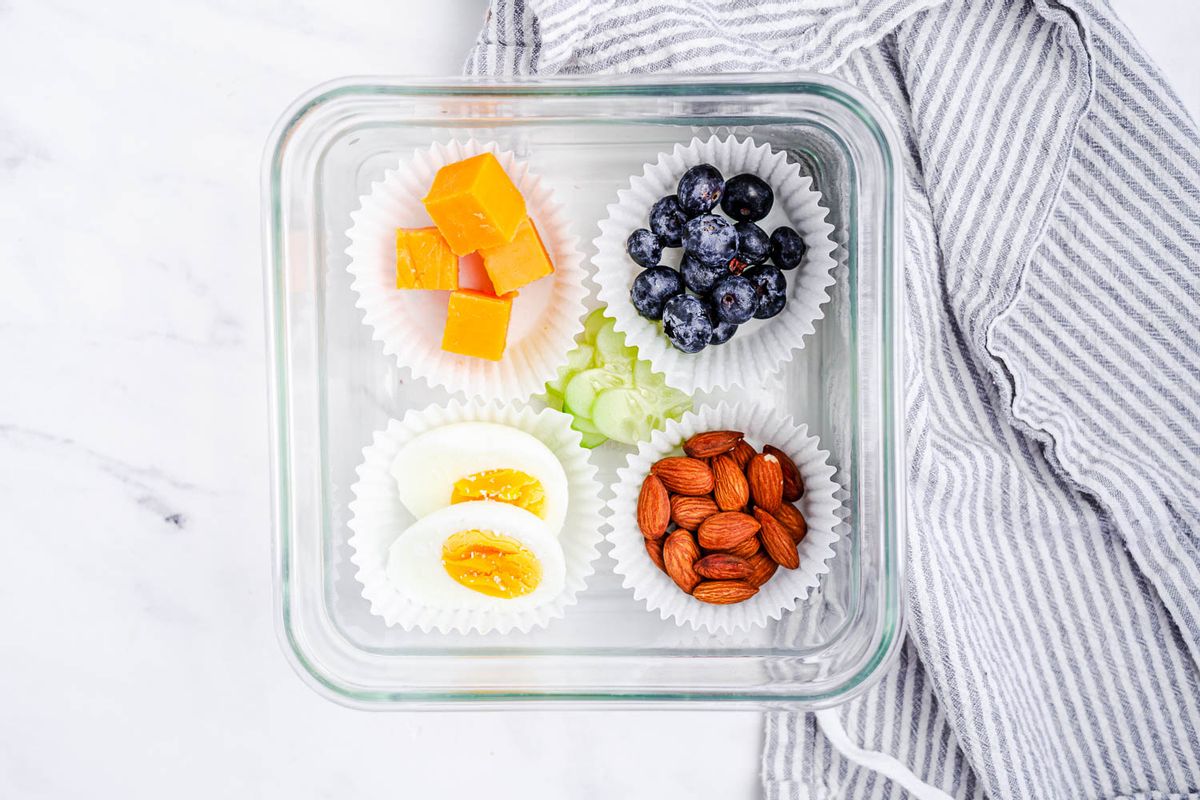 #1 Low Carb & Keto Diet App Since 2010
Track macros, calories, and access top Keto recipes.
5 min

15 min

20 min
Keto Easy Kid's Lunch
Keto is an excellent lifestyle for kids too. So this is a great Keto lunch recipe that kids can enjoy. Hard-boiled eggs full of healthy fats for kids' growing bodies are paired with toasted almonds, cheddar cheese cubes, fresh blueberries, and fresh cucumber slices cut into fun shapes. This lunch is an easy low-carb recipe that kids can help you prepare too.
What can I add to the lunch box if my child cannot have eggs?
If eggs are an issue for your child, please substitute the eggs with grilled chicken, pork, or small beef patties.
Can I use other types of cheese?
Yes! Most cheese is around the same macro count, so you can freely substitute the cheese for your child's favorite type.
What other kinds of fruit can I use?
Instead of fresh blueberries, you can do any low-carb fruit like raspberries or blackberries. Slightly higher carb (but low glycemic) fruit options are kiwis and pears.
Net Carbs

5 g

Fiber

2.2 g

Total Carbs

7.3 g

Protein

22.8 g

Fats

29.2 g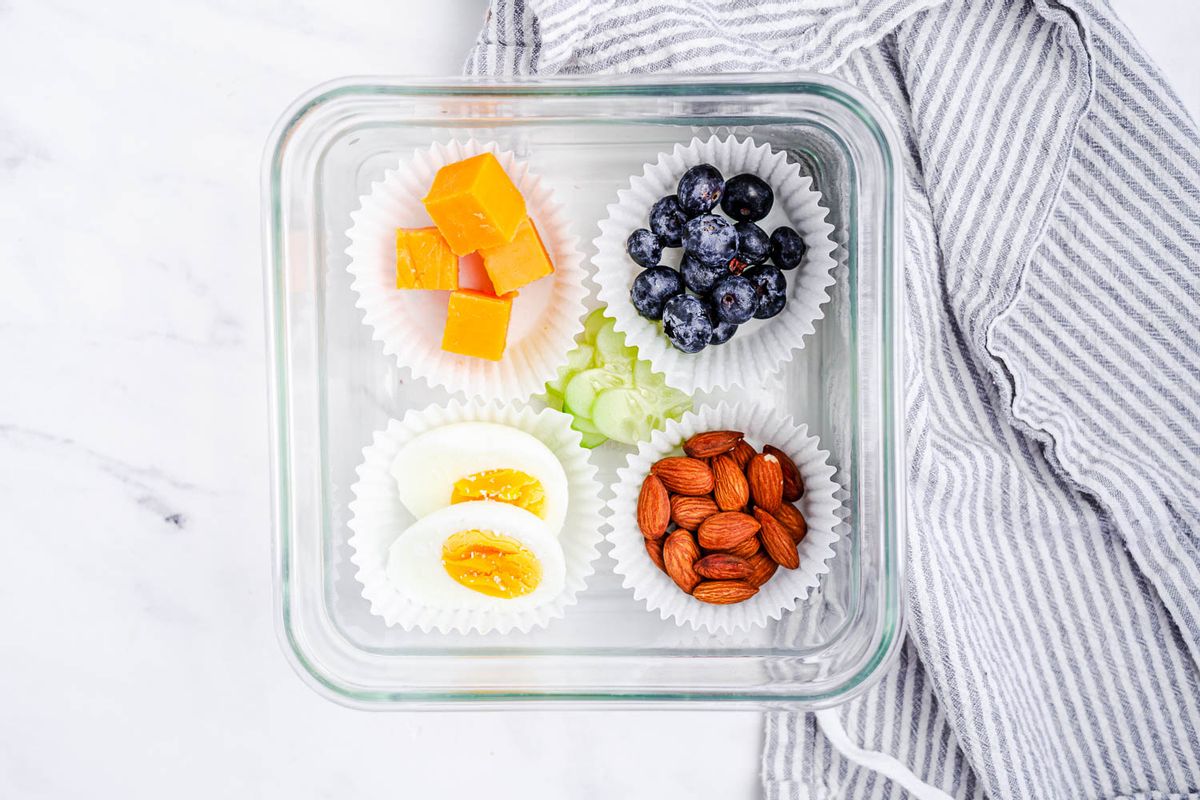 #1 Low Carb & Keto Diet App Since 2010
Track macros, calories, and access top Keto recipes.
Ingredients

Prepare a medium-sized pot full of boiling water. Drop the eggs carefully into the boiling water. Use a large slotted spoon to lower the eggs into the hot water without them slamming to the bottom of the pot and cracking. Set a timer for 8 minutes and allow them to boil in the water. Once the timer is up, drain the water and leave the eggs in the pan's bottom. Fill the pan to the top with ice and add cold water. Allow the eggs to sit until thoroughly chilled. Crack them and peel the shell off the eggs. Slice in half.

Toast the almonds in a preheated oven set to 325 F for 10 minutes or until toasted and fragrant. Allow to cool. Alternatively, you can use an air fryer set at 350 F for 3 minutes.

In the meantime, slice the cheddar cheese into ½" cubes. Slice the cucumbers into ¼" slices and use a cookie cutter to cut fun shapes out of them (optional). Line a glass container or bento box with cupcake liners. Fill each liner with one of the ingredients above. Keep a lid on the container and store it in the fridge until ready to serve. If transporting as a lunch box, be sure to use a cooler bag to keep ingredients chill until lunchtime.