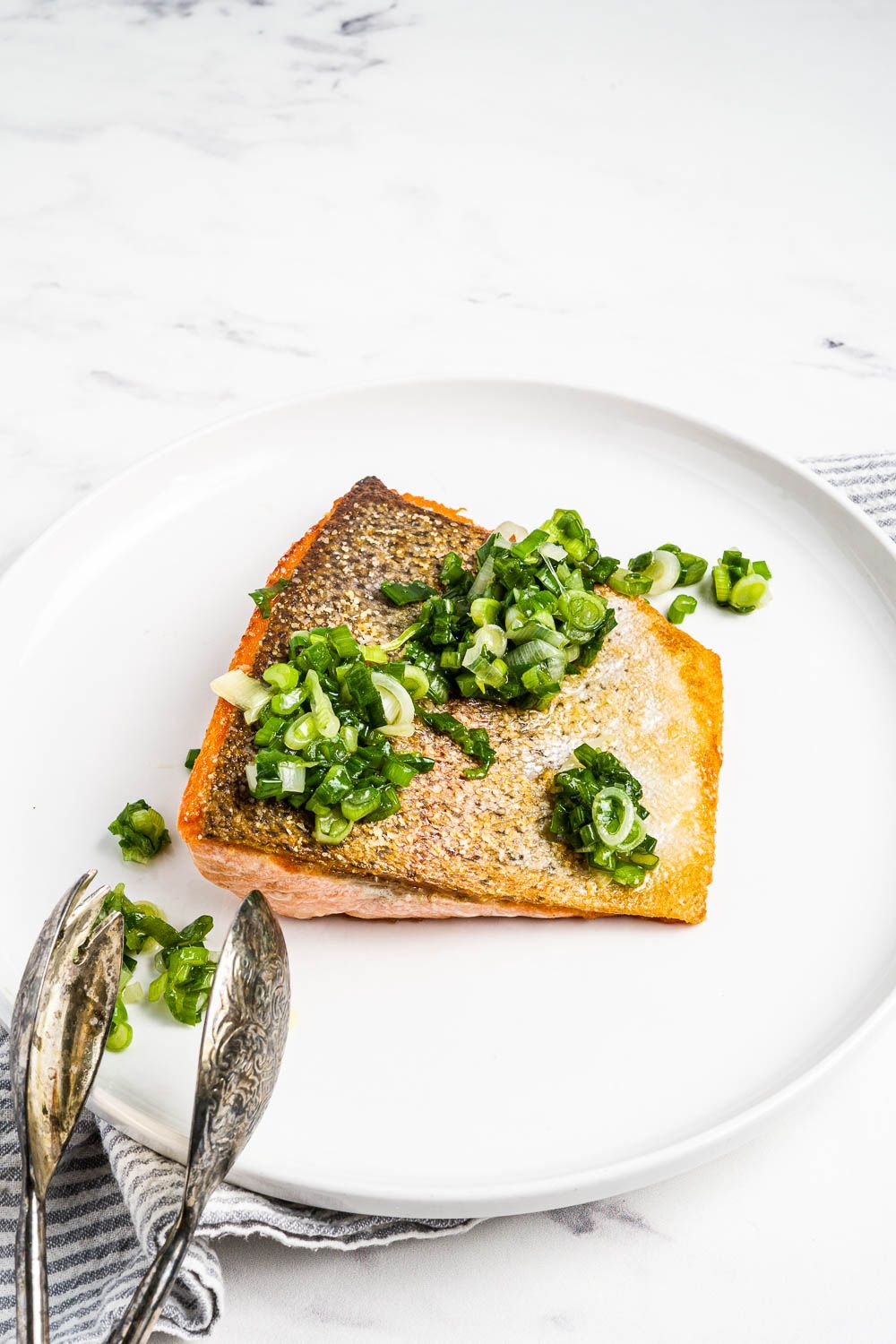 #1 Low Carb & Keto Diet App Since 2010
Track macros, calories, and access top Keto recipes.
15 min

13 min

28 min
Keto Seared Red Trout with Scallion Oil
If you have never had red trout, you will be pleasantly surprised that it is a lot like salmon in taste! The two fish are from the same fish species; however, the fish has a fattier and gamier taste delicious. The skin-on fish is seasoned with salt and then seared to perfection to create an ultra-crispy skin that gives way to a delicate, flaky interior. The seared fish is topped with scallion oil, which takes this simple dish over the top!
Can I use other types of fish?
Yes! Feel free to use any other fatty cut of fish like skin-on salmon.
What is scallion oil?
Scallion oil is made by flashing chopped scallions in hot oil until barely wilted. A small pinch of baking soda is added to retain the bright green color. The oil is seasoned with salt and can be used as a condiment on various foods (try it on avocados-it's delicious!).
Serving suggestions
Please serve this dish with a side of fresh avocado or egg topped with scallion oil or salt (this would make an excellent carnivore-friendly meal). Another great side dish would be a dark green vegetable or salad like this Keto Dandelion Spinach Blueberry Salad https://www.carbmanager.com/recipe/keto-dandelion-spinach-blueberry-salad.
Net Carbs

1.6 g

Fiber

0.9 g

Total Carbs

2.6 g

Protein

46.6 g

Fats

50.9 g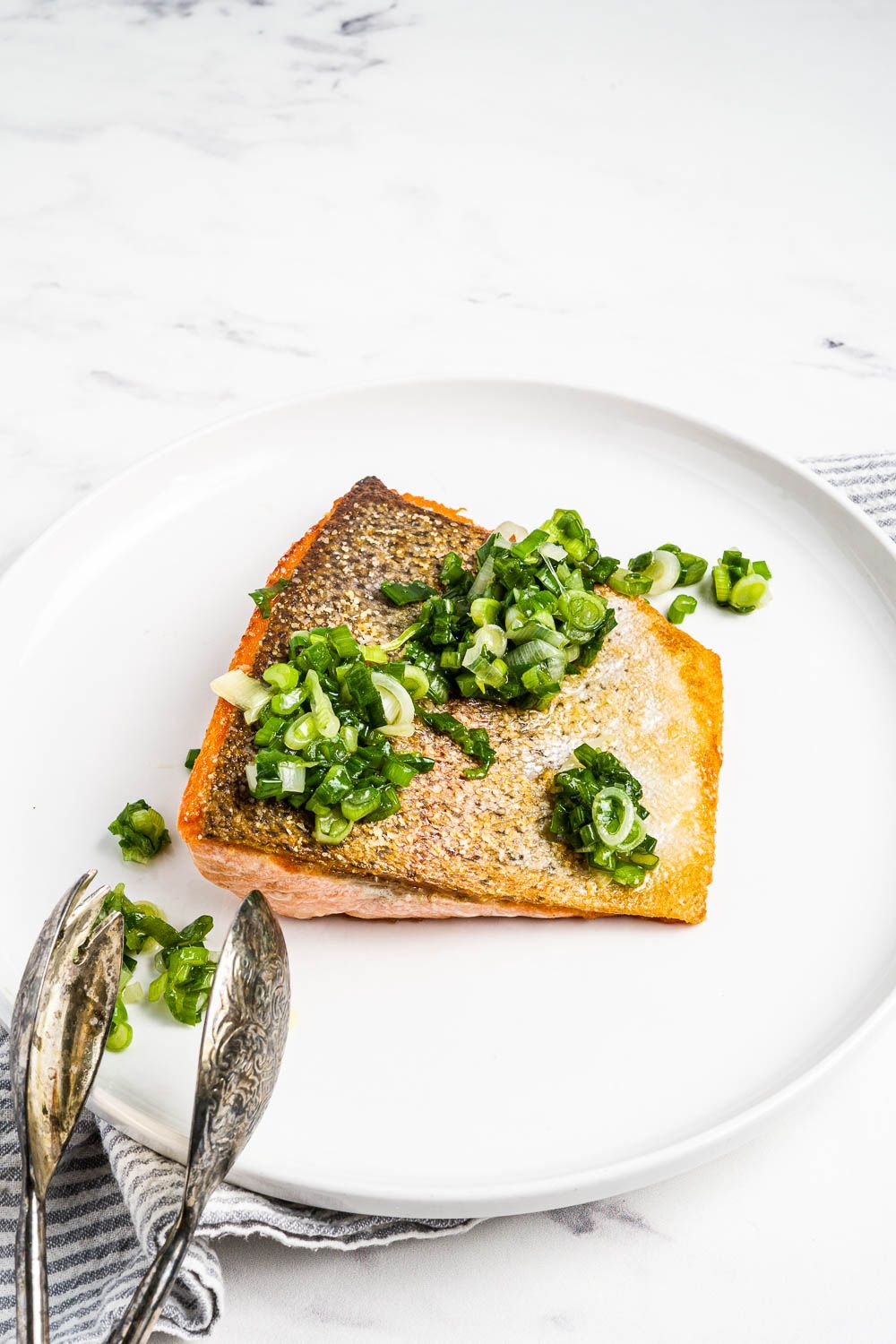 #1 Low Carb & Keto Diet App Since 2010
Track macros, calories, and access top Keto recipes.
Ingredients
Coarse Kosher Salt by Morton

½ tsp

Coarse Kosher Salt by Morton

½ tsp
Chop the scallions into thin slices and keep them on the cutting board. Place a small saucepan over medium-high heat and add 3 tbsp of avocado oil to the pan. Wait until the oil is very hot.

Then add in the scallions and immediately turn off the heat/remove the pan from the heat. Quickly but gently stir the scallions to toss them in the oil. Add a pinch of baking soda and ½ tsp of salt—taste, adding another pinch of salt if you would like.

Dry off the red trout with paper towels until dry on both sides. Set it aside on a dry plate and season the skin with ½ tsp kosher salt.

Preheat a medium-sized skillet over medium-high heat until hot. Add 2 tbsp of avocado oil and swirl the pan.

Add in the red trout skin side down, then turn the heat down to medium-low. Cook the fish on the skin side for 3-5 minutes until crispy and browned.

Then flip the fish and cook on the other side for 1-2 minutes until the fish is cooked through (internal temperature should be 145 F).

Place the fish on a serving platter and then top it with the scallion oil.