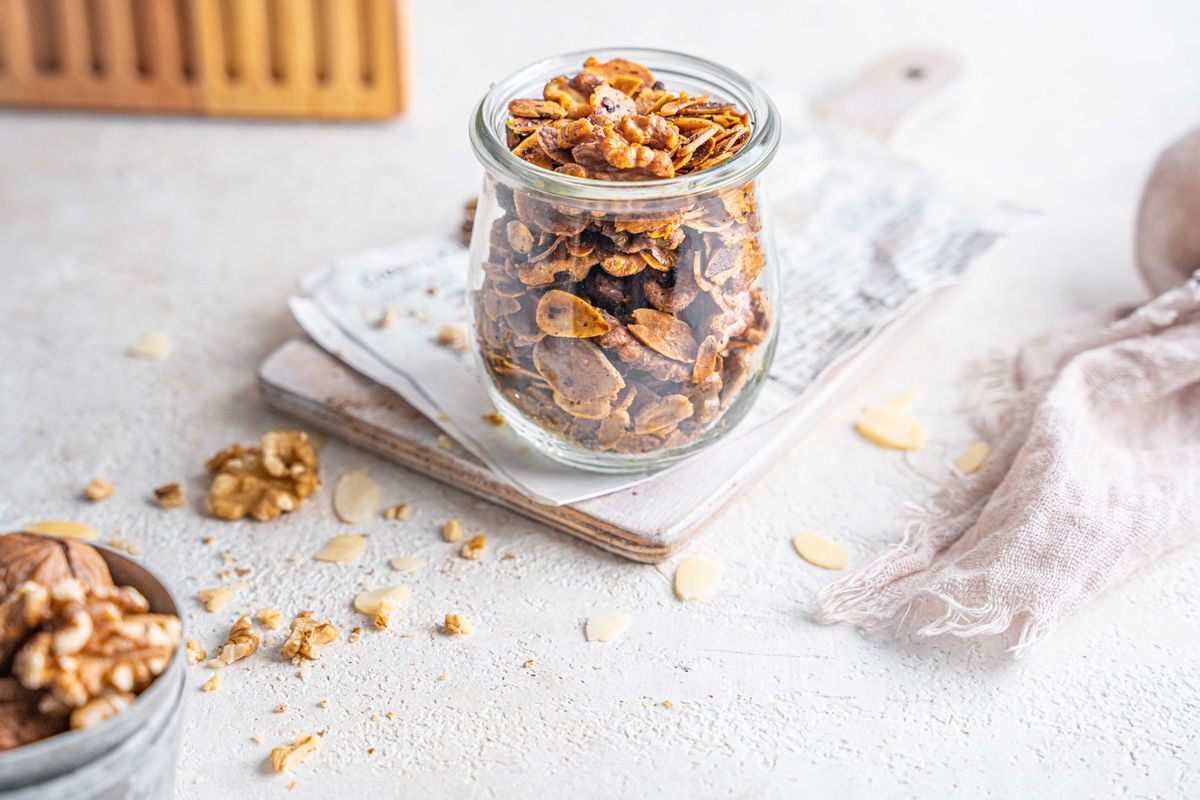 #1 Low Carb & Keto Diet App Since 2010
Track macros, calories, and access top Keto recipes.
5 min

20 min

25 min
Keto Crunchy Party Mix
When it comes to hosting a party, having delicious and easy-to-make crunchy Keto snacks on hand can be a real game changer. This Keto party snack mix is a crunchy, flavorful mix of nuts and seeds seasoned with garlic powder, paprika, and red chili powder. With only a handful of ingredients and minimal prep time, this snack mix is an excellent option for any party or gathering. Plus, the combination of nuts and seeds provides a satisfying crunch, while the seasoning adds a burst of flavor that will keep your guests coming back for more.
How to store this Keto party snack mix?
To ensure this Keto party snack mix stays fresh and crunchy, it's essential to store it properly. Place the mixture in an airtight container or a zip lock bag and keep it in a cool, dry place, away from direct sunlight. A pantry or cupboard is an ideal storage spot. When stored correctly, this snack mix lasts up to two weeks. However, nuts and seeds usually have a high-fat content, which can cause them to go rancid over time. Therefore, it's essential to keep an eye on the mix and check for any signs of spoilage, such as a stale smell, before serving.
How to customize this Keto snack mix?
To customize this snack mix, use a combination of nuts and seeds such as almonds, pecans, cashews, pumpkin seeds, or sunflower seeds. For the seasoning, the options are endless; use a pre-made Keto-friendly seasoning blend, or create your seasoning blend of choice. For a bit of sweetness, add a touch of maple-flavored syrup. Feel free to experiment with different textures by adding some coconut flakes, flax seeds, or chia seeds.
What other Low-Carb foods can you use to make this Keto party snack mix?
If you're looking to add some variety to your Keto party snack mix and incorporate some Low-Carb foods other than nuts and seeds, there are plenty of options available. Some options include adding cheese crisps, dried meats like jerky, or cooked pepperoni slices at the end. Low-Carb vegetables that can be added include kale chips or zucchini chips. For some added crunch, have some Keto-friendly pre-made pork rinds.
Net Carbs

4 g

Fiber

4.8 g

Total Carbs

8.8 g

Protein

8.8 g

Fats

31.2 g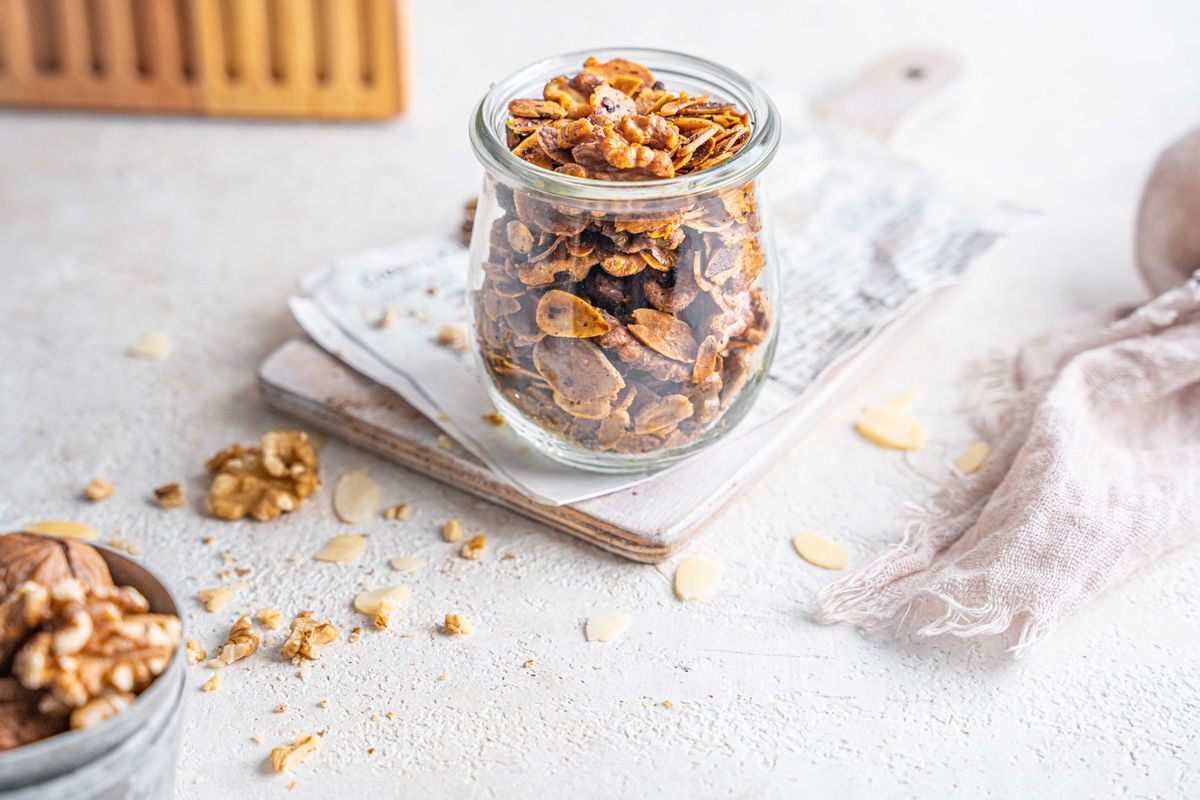 #1 Low Carb & Keto Diet App Since 2010
Track macros, calories, and access top Keto recipes.
Ingredients
Almonds, raw

1 cup, sliced

Extra virgin olive oil

1 tbsp

Crushed Red Pepper Flakes

0.5 tsp
Preheat the oven to 350F/180C and line a baking sheet with parchment paper. In a mixing bowl, add the almonds, walnuts, olive oil, garlic powder, salt, paprika, and red chili powder. Mix to combine and evenly coat the nuts in the seasoning.

Spread the mixture on the baking sheet in a single layer. Transfer the baking sheet to the oven and bake for 15-20 minutes, tossing halfway through until the nuts are slightly golden and crispy. Allow the snack mix to cool before serving.

Transfer the snack mix to a serving bowl. Store any leftover snack mix in an airtight container in the pantry for 1-2 weeks. Enjoy it as is, or add it to a charcuterie-style board for a fun snack treat.