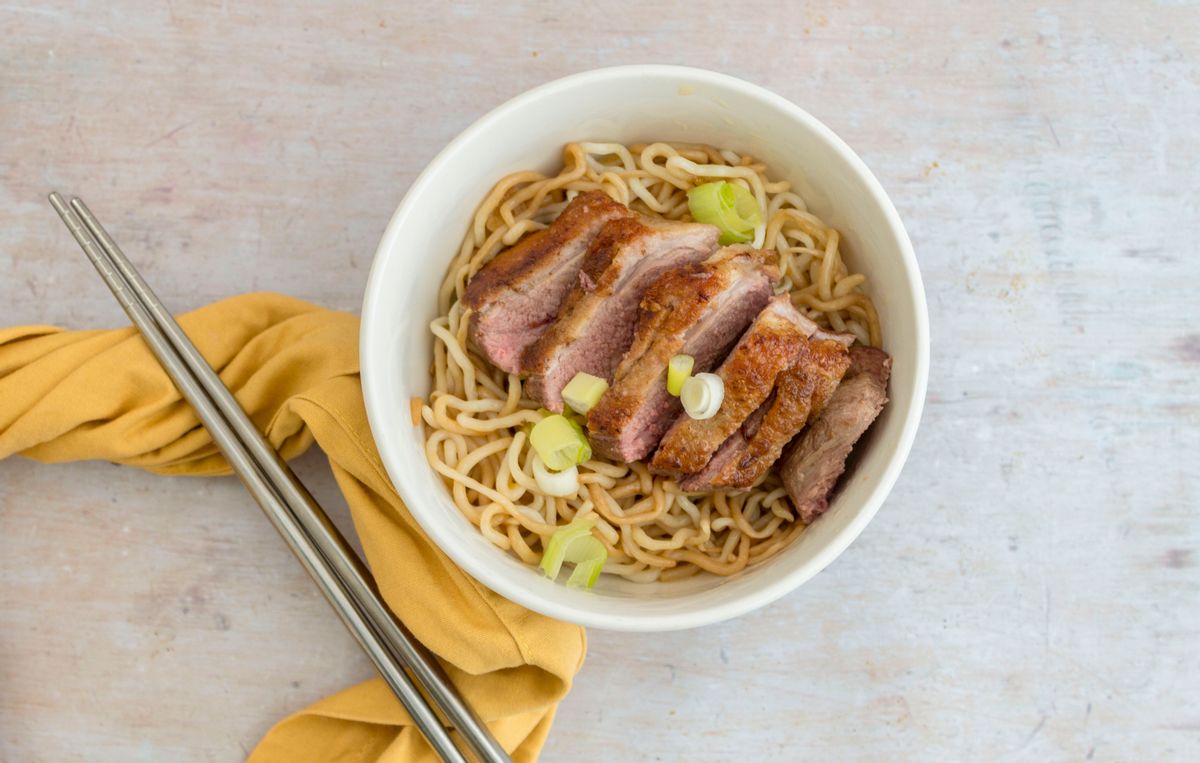 #1 Low Carb & Keto Diet App Since 2010
Track macros, calories, and access top Keto recipes.
15 min

30 min

45 min
Keto 5 Spice Duck Shirataki Noodles
This delicious Keto Shirataki noodle recipe is rich with tamari, sesame and orange sauce and topped with tender sliced 5 spice duck breast. Simple to make, the Shirataki noodles are quick and easy to prepare while the duck is cooking. Packed with fats, flavor, and protein, this is a great way to enjoy stir fry style noodles on a low carb diet.
What are Shirataki Noodles?
Shirataki noodles are often referred to as miracle noodles due to being similar in texture to traditional noodles but without the carbs. The noodles are made from the root of the Konjac plant and are packed with healthy fiber. They can be an excellent addition to your low carb meal rotation, perfect if you are looking to replicate your favorite pasta or noodle dishes with Keto-friendly substitutions.
What's a Good Alternative to Shirataki Noodles?
If you cannot access, or would rather not use Shirataki noodles, you can simply replace these with a low carb vegetable noodle instead. Finely shredded cabbage, zucchini ribbons, or spaghetti squash would all make excellent alternatives. Please be sure to factor any changes to the recipe into your macros.
Net Carbs

3 g

Fiber

3.7 g

Total Carbs

3.9 g

Protein

33 g

Fats

23.4 g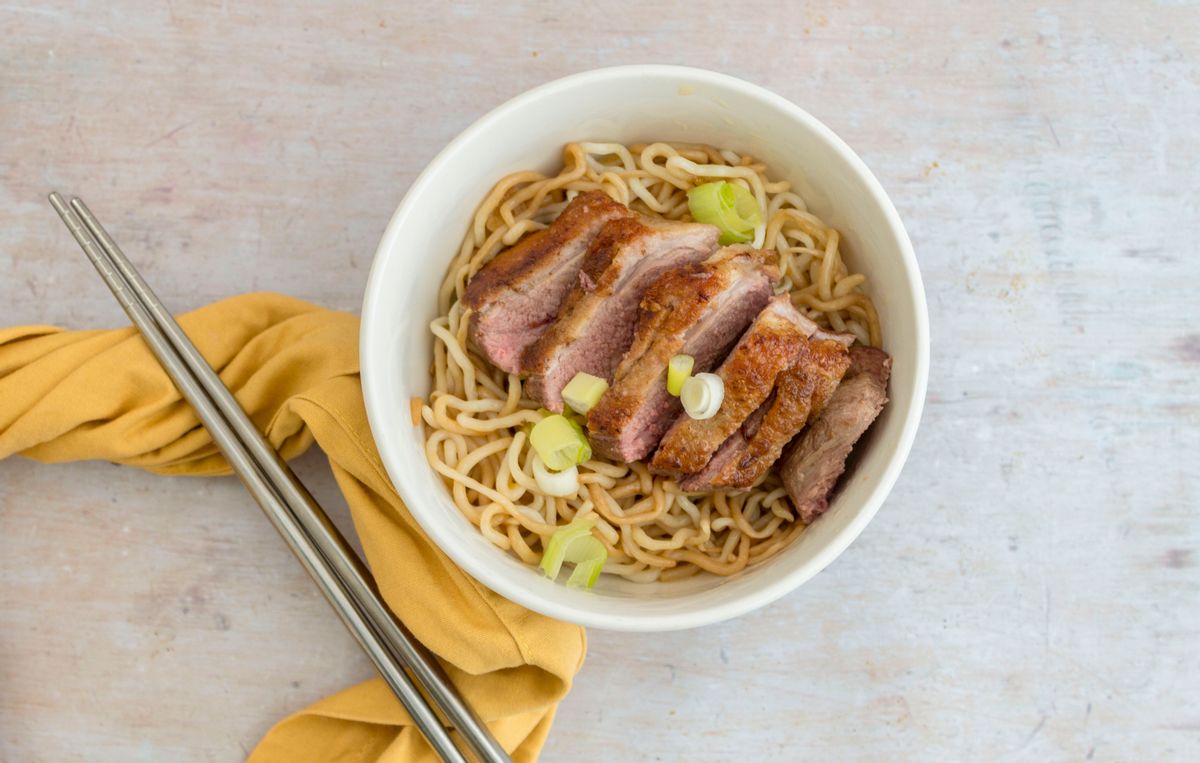 #1 Low Carb & Keto Diet App Since 2010
Track macros, calories, and access top Keto recipes.
Ingredients
Shirataki Noodle by House Foods

9 ounce

Duck Breast, Domestic, Skin Eaten

2 breast - split

Chinese Five Spice by The Spice Hunter

2 tsp

Ginger Root, Raw

1 teaspoon

Tamari Sauce

1 tablespoon

Orange Juice, Fresh

½ tablespoon

Salt, Sea Salt

¼ teaspoon
Preheat the oven to 400 degrees Fahrenheit. Score the skin of the duck breasts. Season the duck breasts on both sides with the 5 spice and a pinch of salt and pepper. Heat a skillet over a medium/high heat. Place the duck breast skin side down in the dry skillet. Cook for 5 minutes or until the skin is golden brown. Turn the duck over and cook the other side for just a minute to seal. Place the duck breasts on an oven tray, leaving any fat behind in the skillet. Bake for 10-12 minutes or until cooked through to preference. Once cooked, set aside to rest for 5 minutes.

While the duck is cooking, drain the noodles and rinse thoroughly under cold water. Heat a separate dry skillet over a medium heat. Add the noodles and cook for 6-7 minutes or until hot through and firm.

While the noodles are cooking, thinly slice the garlic and scallion and grate the ginger. Add the olive oil to the skillet used to cook the duck and set over a low/medium heat. Add half the scallion, garlic and ginger. Sweat gently for a minute or two until tender and fragrant.

Add the noodles to the skillet along with the orange juice, sesame oil, and tamari sauce. Stir well to combine, coating the noodles in the sauce. Heat through briefly.

Divide the noodles between two serving bowls. Slice the duck breasts and arrange over the top of the noodles. Scatter over the remaining scallions. Serve hot.