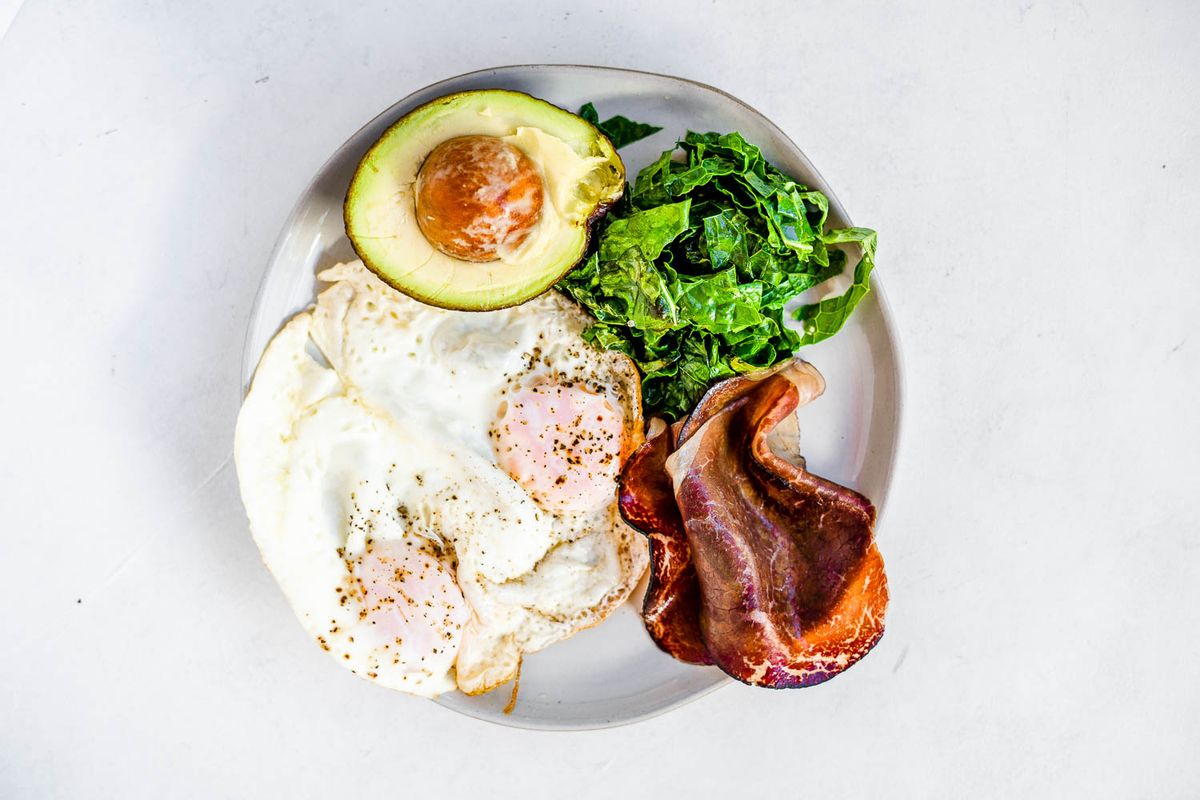 #1 Low Carb & Keto Diet App Since 2010
Track macros, calories, and access top Keto recipes.
15 min

5 min

20 min
Keto 5 Ingredient Breakfast
This five-ingredient Keto recipe will be your go-to easy Keto breakfast recipe. Since it has a minimal amount of ingredients, it is easy to make day in and day out. This Keto 5 ingredient meal contains soft scrambled eggs cooked in butter, kale, cured meat, and a side of creamy avocado. This meal can be easily adjusted to fit your macros (if you need more fats, add an avocado, or for more protein add more cured meat and eggs).
How can I keep avocados on hand, so they do not go bad very quickly?
You can keep very firm avocados in the fridge until ready to use. Remove the amount you need from the refrigerator about 2-3 days before you need them. If you have extra avocados that are ripened, they can return to the fridge until they are ready to be used. This way, you can keep ripe avocados on hand for your paleo, Keto, or low carb meals at any time.
Can I add anything to the eggs?
Yes! Please add plenty of salt and pepper to all the foods in this Keto breakfast recipe. If you want to break the five-ingredient plan, you can add shredded cheese to the eggs as soon as they come off the heat, leaving you with wonderfully cheesy eggs.
What kind of cured meat can I use?
There are so many delicious cured meats to choose from, so choose your favorite! I love an excellent Culatello, but prosciutto, capocollo, mortadella, soppressata, et cetera are all so delicious and fun to have for breakfast.
Net Carbs

2.5 g

Fiber

5.4 g

Total Carbs

8 g

Protein

24.2 g

Fats

33.7 g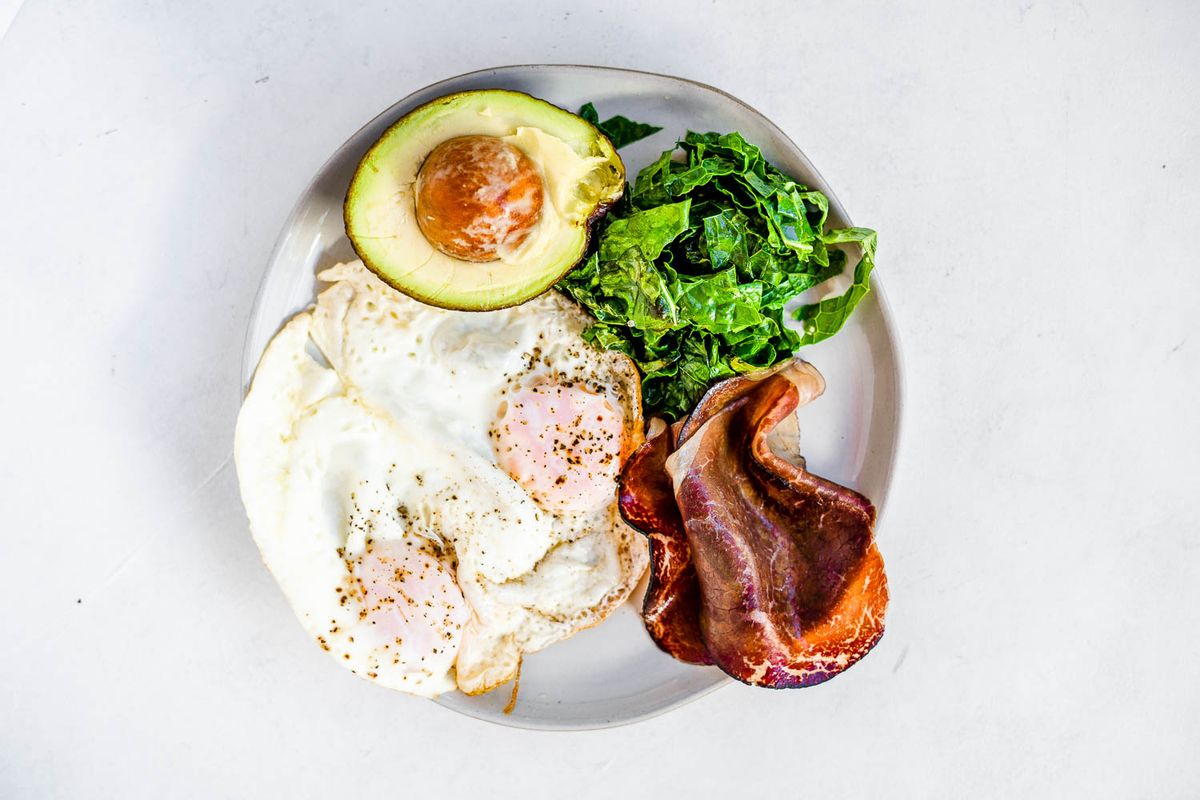 #1 Low Carb & Keto Diet App Since 2010
Track macros, calories, and access top Keto recipes.
Ingredients
Bresaola by Deluxe

1 ounce
Start by placing a small nonstick skillet on medium high heat. Heat until the pan is very hot. Then add the tablespoon of butter. Swirl the pan to ensure it melts and coats the pan. Crack two eggs into the skillet. Allow it to cook for a couple of minutes on the first side. From here you have a couple of options, if you like sunny side up eggs (like what is shown in the picture) place a lid on top and turn the heat down on the lowest setting. Allow it to cook for 1 minute or so until the whites are set but the yolk is still runny. If you like an over medium egg you can use this same process but cook it a minute longer. If you like fried eggs, do not cover it with a lid but allow it to cook on the first side for several minutes, break the yolks and then flip the eggs until they are browned on the edges and the yolk is cooked through.

Remove the eggs to a plate and add the rest of the butter and the kale. The kale should be destemmed and sliced thin. Cook briefly for about 30 seconds to 1 minute until the kale is wilted. Add a pinch of salt to them and stir. Plate the kale next to the scrambled eggs.

Arrange the cured meat and pitted avocado half on the plate. Serve immediately.