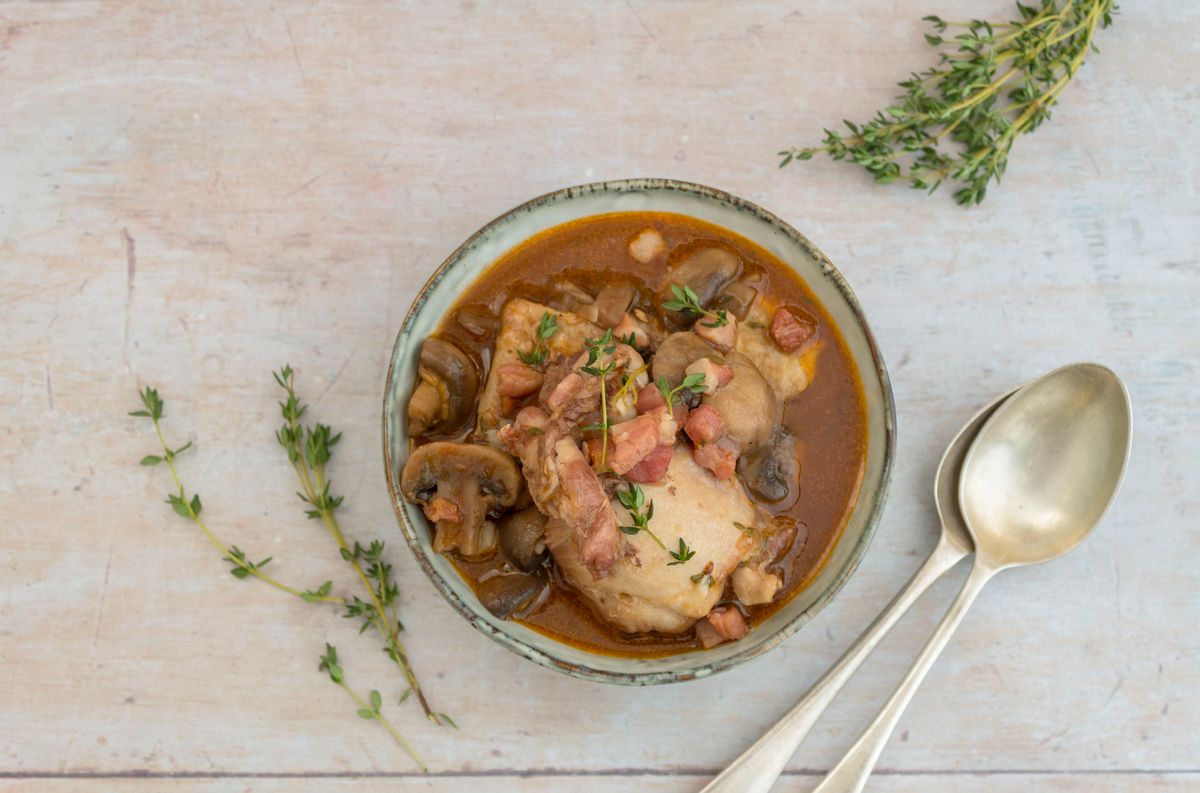 #1 Low Carb & Keto Diet App Since 2010
Track macros, calories, and access top Keto recipes.
8 min

40 min

48 min
Keto Instant Pot Coq Au Vin
Our Keto take on a classic coq au vin is pressure cooked in an instant pot until deliciously tender. This Keto dinner recipe uses skin on chicken thighs, cooked in a rich and flavorsome red wine sauce, with tender button mushrooms and aromatic onion and garlic. This is a great low carb alternative to this popular dish, perfect served over cauliflower rice or with a side of low carb vegetables.
Is Wine Keto?
You may be surprised to learn that the odd glass of wine can be enjoyed as part of a balanced and healthy Keto diet! As with everything, moderation is key, but wine is a good low carb choice as opposed to other alcoholic higher carb beverages - such as beer and sugary alcopops. This also makes wine a great option for adding extra flavor to Keto cooking sauces!
Are Mushrooms Keto?
Mushrooms are slightly higher in carbs than other low carb vegetables. However, when used sparingly, they can be incorporated into a healthy and balanced Keto diet. If you would like to reduce the carb count of the recipe, you may alter the quantity of mushrooms or wine as desired. Please be sure to adjust your macros to account for any changes made to the original recipe.
Net Carbs

5.1 g

Fiber

6.2 g

Total Carbs

11.2 g

Protein

35.4 g

Fats

73.5 g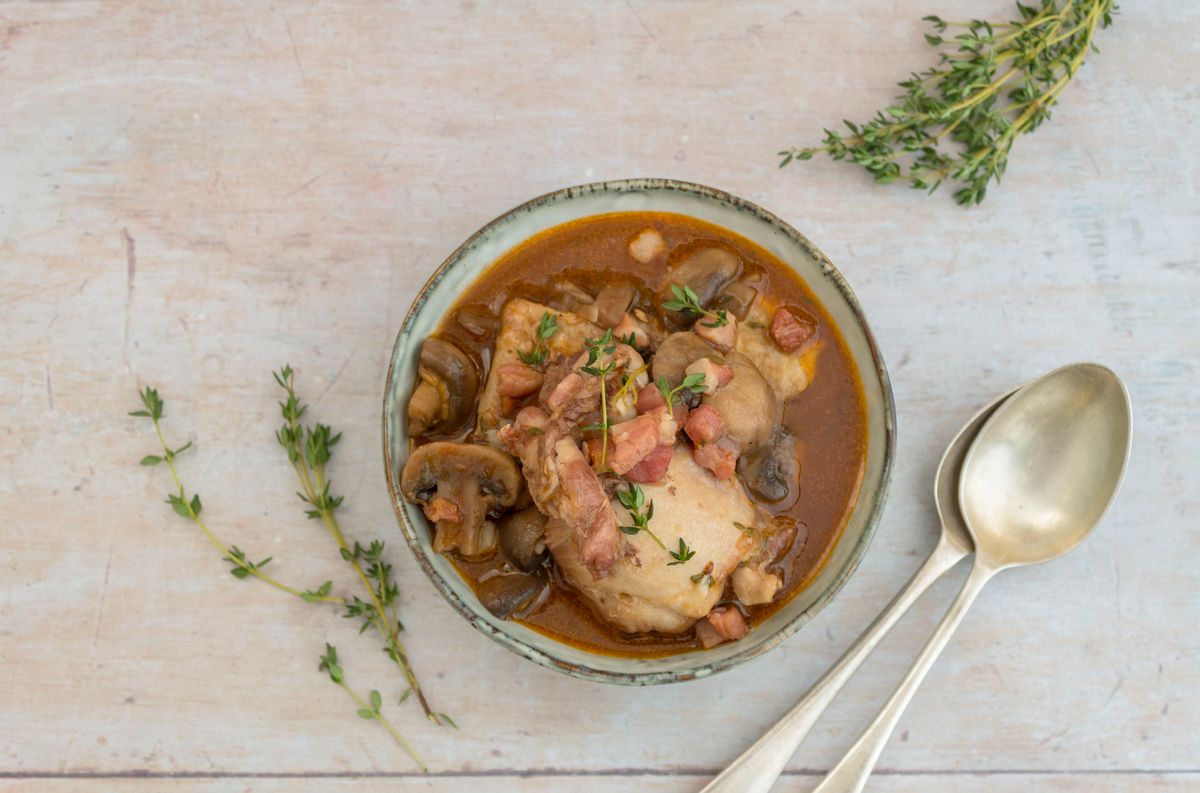 #1 Low Carb & Keto Diet App Since 2010
Track macros, calories, and access top Keto recipes.
Ingredients
Thyme, Fresh

2 teaspoon, chopped

Chicken Thigh, Skin Eaten

4 medium

Diced Pancetta by Waitrose

3 ounce

Chestnut Mushrooms by Asda

3 cup

Red Onion

1 medium - 2 1/2" diameter

Chicken Broth, Bouillon Or Consomme, Ready-to-serve Can

½ cup

Xantham Gum Gluten Free by Hodgson Mill

½ tsp

Salt, Sea Salt

½ teaspoon
Add the olive oil to the instant pot and set to sauté. Once the oil is hot, add the diced pancetta. Cook the pancetta through until crisp and golden. Carefully remove from the pot with a slotted spoon and set aside, leaving the pancetta fat in the pot.

Add the chicken thighs to the instant pot. Sauté the chicken pieces on both sides until golden brown all over. This should take about 7/8 minutes. Once browned, cancel the sauté function.

While the chicken browns, thinly slice the onion and garlic. Wipe clean the mushrooms and slice in half. Add the onion, garlic, mushrooms, thyme, salt and pepper to the instant pot with the browned chicken.

Add the chicken stock, wine, and tomato sauce to the instant pot. Give everything a stir to combine. You may use an alternative stock such as vegetable if preferred.

Place the lid securely on the instant pot and ensure that it is set to sealing. Set the timer for 15 minutes and cook on high pressure. Once cooked, let the steam release naturally for 10 minutes, then do a quick release to allow any further steam to escape. Once it is safe to do so, remove the lid from the instant pot. Switch to sauté and add the xanthan gum to the sauce. Stir well to combine, heating through for a minute or two to thicken. Serve the chicken hot with your preferred Keto sides.