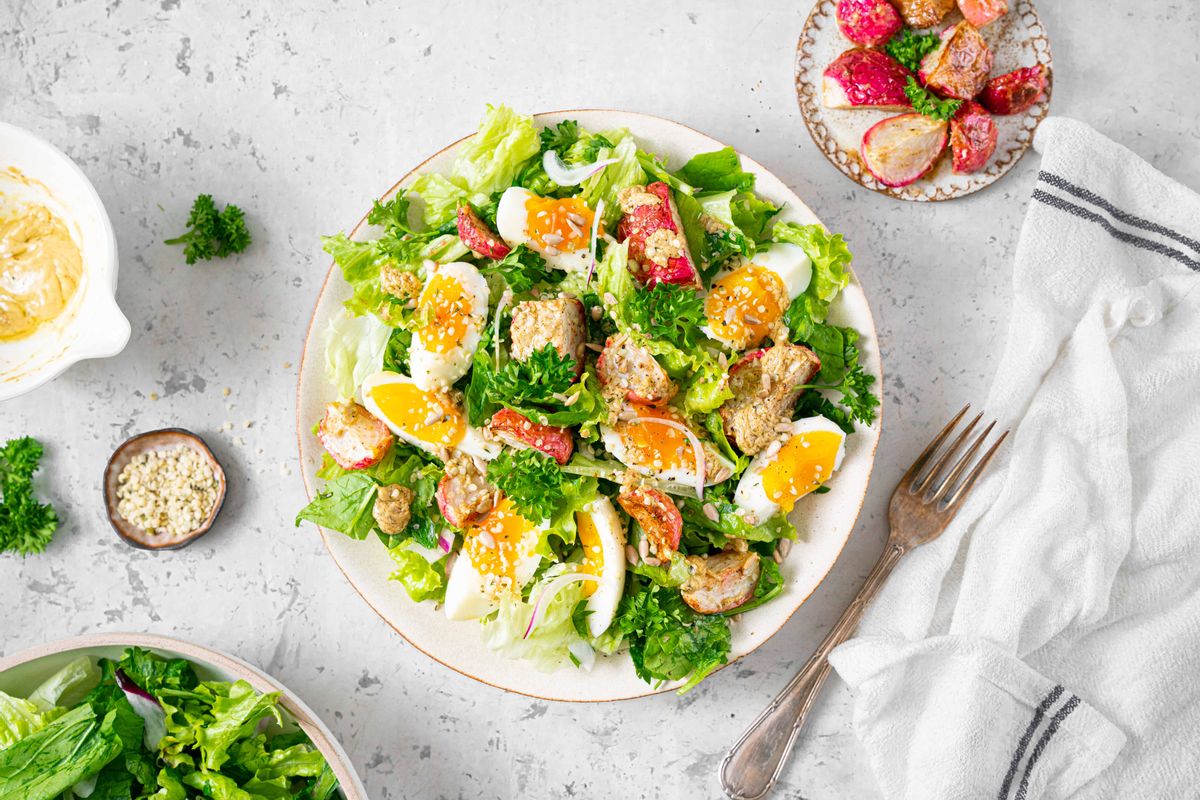 #1 Low Carb & Keto Diet App Since 2010
Track macros, calories, and access top Keto recipes.
15 min

30 min

45 min
Keto Egg and Roasted Radish Salad
Soft-boiled eggs served on a bed of greens with roasted radishes, crunchy seeds, and a tangy mustard dressing - this salad might become your next favorite meal. This Keto egg salad is prepared using healthy whole-food ingredients and can be customized to your preference. This salad is complex in flavor and texture; On top of that, it is gluten-free, dairy-free, and Paleo.
Is salad Keto?
Salads can be Keto if they're made with Keto-friendly ingredients. This Keto salad is prepared using Low-Carb vegetables and greens, eggs, olive oil, seeds, and seasoning. It is high in fiber, protein, and fats, making it a satiating meal suitable for lunch or dinner.
When can you eat this salad?
This healthy Keto egg salad recipe is unlike your typical side salad. It is hearty and satiating fit for lunch or dinner. It is packed with nutrients from leafy greens, high in fat and protein from the eggs, satiating fiber from the roasted radishes, and a refreshing tang from the dressing. You can enjoy a whole serving for dinner or half a serving for lunch.
Why use soft-boiled eggs for this recipe?
You don't have to use soft-boiled eggs for this recipe, but they add a unique texture to the salad. You can use hardboiled or sunny-side-up eggs if preferred.
Is this salad suitable for meal prep?
Absolutely! This healthy Keto salad is an excellent option for meal prep. Prepare the green mixture and divide it into containers. Prepare and cook the eggs and radishes and let them cool completely before adding them to the greens. Blend the dressing until smooth and divide it into sauce containers. Keep the dressing separate, and mix it in the salad right before eating. Store in the fridge for up to 4 days.
Net Carbs

5 g

Fiber

3.4 g

Total Carbs

8.4 g

Protein

17.8 g

Fats

38.1 g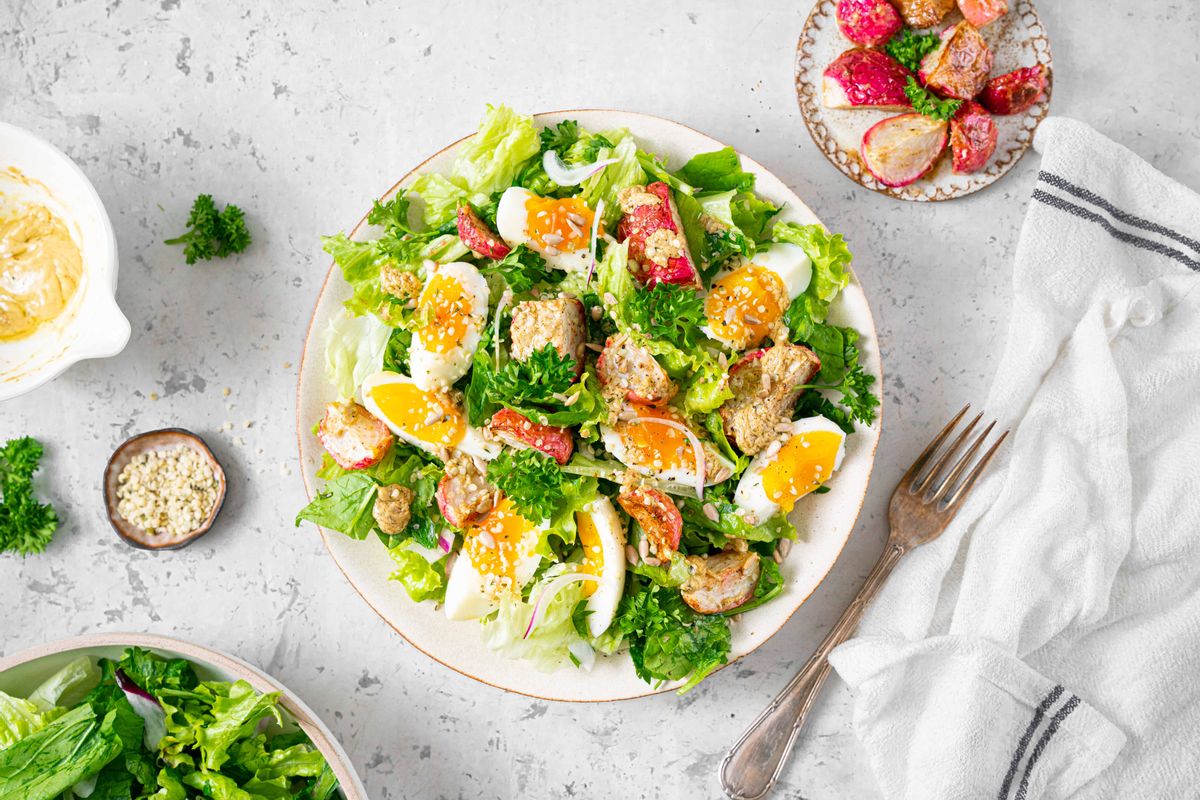 #1 Low Carb & Keto Diet App Since 2010
Track macros, calories, and access top Keto recipes.
Ingredients
Radish, raw

4 large - 1" to 1 1/4" diameter

Extra virgin olive oil

3 tbsp

Hemp Seeds Shelled Or Hulled

1 tbsp
Preheat your oven to 400F/200 C and line a baking sheet with parchment paper. Fill a pot with water and add the eggs. Bring it to a boil over medium-high heat, then drop the heat to low.

Let the eggs boil for 6 minutes, then take the pot off the heat. Let the eggs sit for 3 more minutes. Remove from the water and transfer to an ice bath. Peel the eggs and set them aside.

Thoroughly wash the radishes and scrub them until clean. Cut each piece into wedges and transfer to a bowl. Drizzle 1 tbsp of olive oil and sprinkle with ¼ tsp salt and ¼ tsp black pepper.

Toss the radishes until well-seasoned and transfer them to the prepared baking sheet. Bake in the oven for 20 minutes until soft and golden. Set aside while you prepare the remaining components.

Tear the lettuce and arugula into bite-sized pieces. Thinly slice the onion, and finely chop the parsley. To a bowl, add the mustard, 3 tbsp of olive oil, ¼ tsp salt, and ¼ tsp pepper. Whisk to combine.

Transfer half the vinaigrette to a small bowl. Lay the greens, onions, and parsley on the serving platter. Cut the eggs into 4 wedges and arrange them on the salad greens.

Add the baked radishes to the remaining vinaigrette in the large bowl, and toss. Add them to the salad. Drizzle the remaining vinaigrette over the salad and sprinkle with sunflower and hemp seeds. Serve immediately.