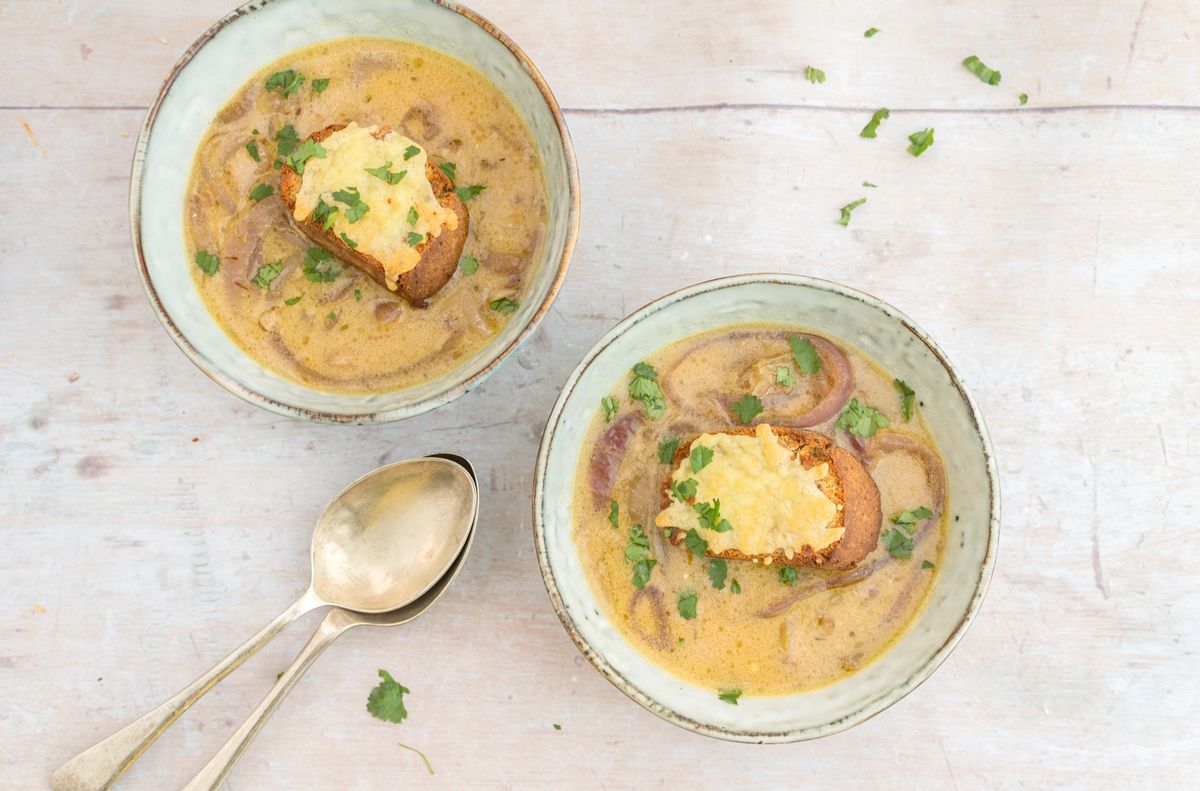 #1 Low Carb & Keto Diet App Since 2010
Track macros, calories, and access top Keto recipes.
10 min

38 min

48 min
Low Carb French Onion Soup
This Keto take on French onion soup is deliciously rich with sweet caramelized onions and topped with crunchy Keto bread and oozy melted cheese. We have used our Keto French bread recipe to finish this soup. This can be found in our sides section. This warming soup makes an excellent lunch or light dinner option. The perfect winter warmer!
Are Onions Keto?
Onions fall at the higher end of the scale when it comes to low carb vegetables. However, they may be enjoyed as part of a Keto diet in moderation. In order for you to enjoy your French onion soup without worrying about the carbs, we have used enough onion to give the soup flavor, but not as much as you would expect to use in a 'regular' French onion soup. We have complemented the soup with extra Keto-friendly fats for our own take on this French classic.
Can I Reduce the Carb Count Further?
We have used large onions in Keto soup. You may swap these for smaller onions to reduce the carb count further if desired. We have also topped our Keto French onion soup with toasted Keto French bread, for that traditional touch. If you wish to reduce the carb count further, you may simply omit the toast and enjoy the soup as is. Please be sure to adjust your macros to reflect any changes you make to the recipe.
Please note the prep time does not include the time taken to make the Keto French bread.
Net Carbs

9.4 g

Fiber

5.3 g

Total Carbs

15.3 g

Protein

9.5 g

Fats

22.9 g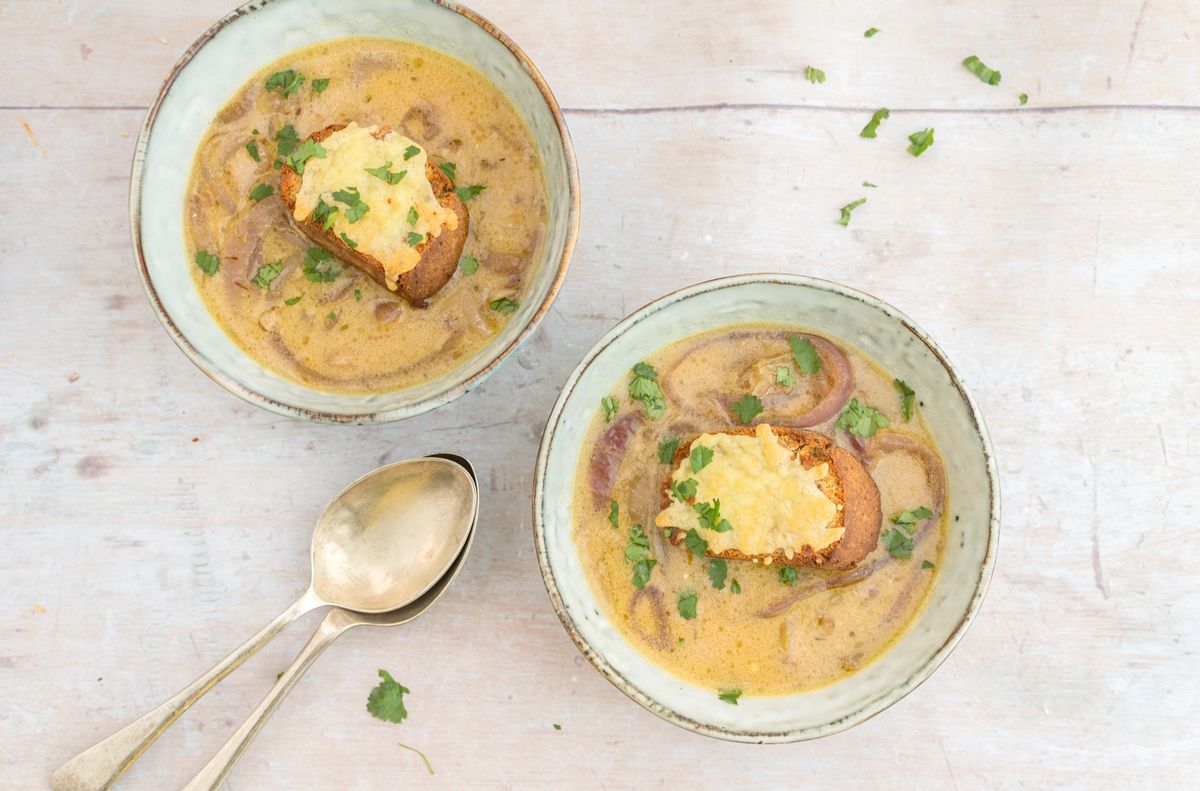 #1 Low Carb & Keto Diet App Since 2010
Track macros, calories, and access top Keto recipes.
Ingredients
Keto French Bread

4 slices

Beef Broth, Bouillon Or Consomme, Ready-to-serve Can

4 cup

Cheddar Cheese

2 tablespoon, grated

Balsamic Vinegar

1 tablespoon

Unsalted Butter

1 tablespoon

Cream Cheese Spread

1 tablespoon
Heat the olive oil in a large saucepan or Dutch oven. Thinly slice the onions. Add the sliced onions to the saucepan/Dutch oven. Set over a low/medium heat and cook gently for 10 minutes, stirring occasionally to ensure they do not stick. The onions should be soft and tender.

Finely crush the garlic. Add the butter and balsamic vinegar to the saucepan and stir well to combine. Add the crushed garlic and dried thyme and stir again. Continue to cook for a further 5 minutes until the onions are tender and caramelized and the garlic is soft and fragrant.

Add the beef stock to the saucepan and stir well to combine. Bring the soup up to a gentle boil then reduce to a simmer for 10 minutes. You may season with salt and pepper if desired. This will depend on the strength of seasoning in your stock. You may also use a chicken or vegetable stock if preferred. Be sure to adjust your macros to account for any changes made.

While the soup is simmering, preheat the oven to 400 degrees Fahrenheit. Arrange the French bread slices across a shallow oven tray. Transfer to the oven and toast for 5 minutes until crisp. Remove from the oven and scatter the grated cheddar cheese evenly over the tops of the toasted bread slices. Return to the oven and bake for a further 4-5 minutes until the cheese is melted, golden and bubbling.

Remove the soup from the heat and stir through the cream cheese. Stir until the cheese has completely melted and blended into the soup. Although this is not a traditional ingredient in French onion soup, we have added it for a Keto twist and extra boost of fats. If you would prefer to omit, please adjust your macros accordingly.

Arrange one slice of cheese topped toast on each bowl of soup. If you would prefer to serve the soup without the toast, please factor this into your macros. Serve the soup hot as a warming lunch or light dinner option.