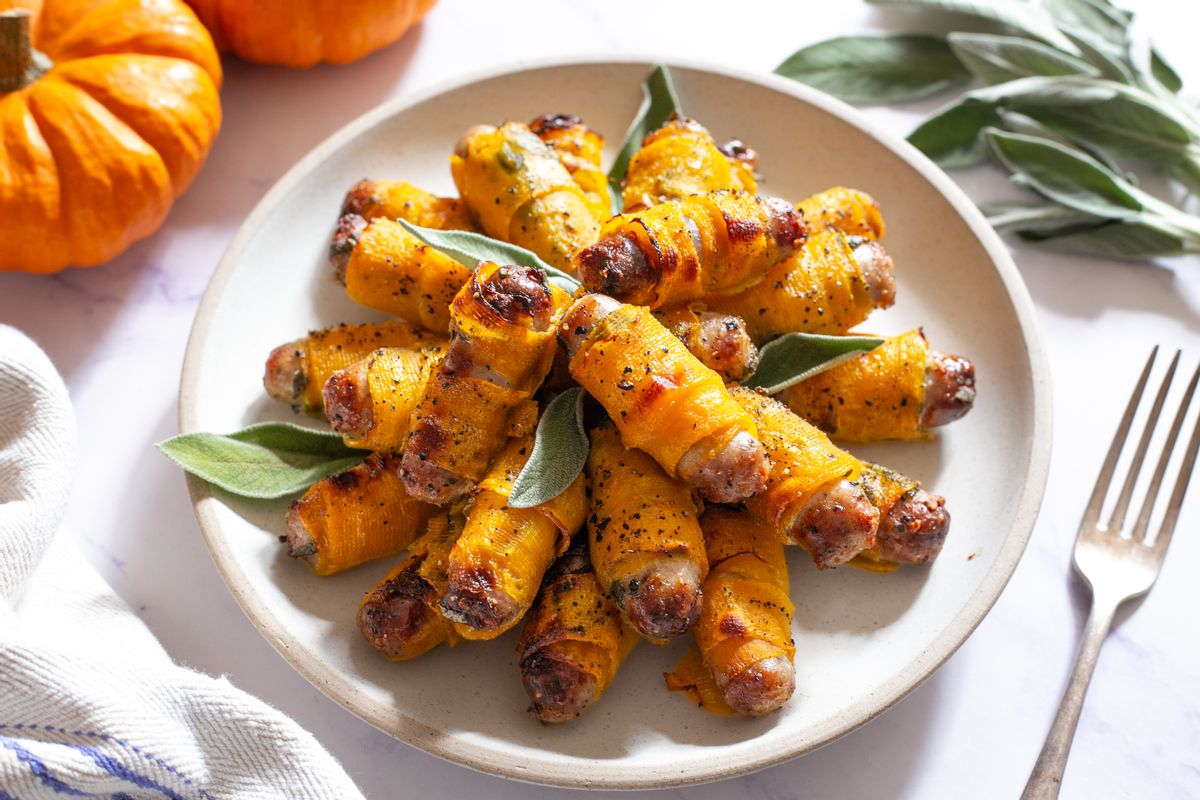 #1 Low Carb & Keto Diet App Since 2010
Track macros, calories, and access top Keto recipes.
20 min

25 min

45 min
Simple Keto Butternut Squash and Sage Sausage Appetizer
These Keto/Low-Carb Fall appetizers are the perfect bite-sized snack for a family or friend's gathering. Sausages are marinated in sage and garlic before being wrapped in butternut squash ribbons and roasted in the oven. You can use chipolata sausages and cut them in half or any other sausage of your choice.
Is Butternut Squash healthy?
Butternut squash is loaded with various nutrients, including fiber, vitamins, and minerals, and is particularly high in beta-carotene, a powerful antioxidant. Beta-carotene is the red-orange pigment that gives plants and fruits their color. The human body then converts this antioxidant into vitamin A, which helps with immunity, eye health, and healthy skin.
Can I adapt this dish to other diets? Ensure the sausages are gluten-free for those who are celiac or gluten intolerant. Also, check that the sausages are Low FODMAP by checking the ingredients for any added starches, and fillers, including garlic and onion, and omit the garlic if needed. To make this recipe vegetarian, substitute the sausages for a plant-based version.
What can I serve this dish with? Enjoy them on their own, or try with a spicy mayo dipping sauce. You can also wrap them in lettuce leaves.
How to store the butternut squash-wrapped sausages? Any leftover pieces must be allowed to cool to room temperature before transferring them to an airtight container. Store in the fridge and consume within 5 days. To reheat, transfer them to a microwave-safe dish and cook for 1-2 minutes until heated through.
Net Carbs

0.6 g

Fiber

0.2 g

Total Carbs

0.9 g

Protein

1.9 g

Fats

3.3 g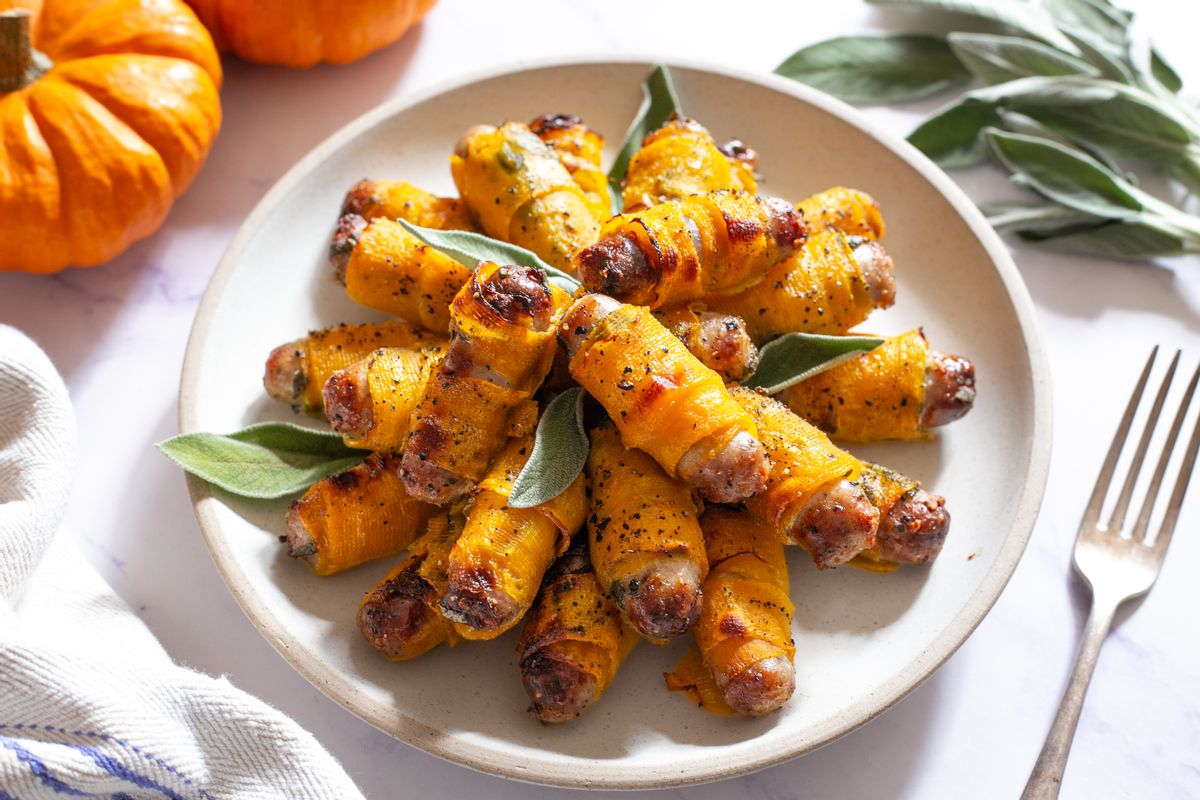 #1 Low Carb & Keto Diet App Since 2010
Track macros, calories, and access top Keto recipes.
Ingredients
Sausage

24 small link - cocktail or miniature size

Black pepper, ground

0.25 tsp
Carefully peel the skin from the butternut squash. You will need a strong peeler capable of the task. Peel the squash lengthways to make long ribbons. They must be thin; otherwise, they will tear and not roll easily. Optional: dice the remaining squash and roast it on the side, and use it for another dish. Reserve the seeds to make a crunchy snack. You can clean the flesh from the seeds, drizzle with olive oil and salt, spread evenly on a baking tray, and roast for 20-25 minutes at 180C/350F until crisp.

Preheat the oven to 180C/350F. Prepare a baking tray with baking paper. Set aside. Finely chop the sage, mince the garlic, and add it to a large bowl. If using long sausages, chop them in half. Add them to the bowl with 1 tablespoon olive oil, a pinch of salt, and a good grind of black pepper, and toss to coat.

Take 2 ribbons of the butternut squash and lay them flat on the chopping board, slightly overlapping. Place the sausage on top. Carefully roll the squash around the sausage, ensuring the end of the roll is on the bottom to seal it. You can use cocktail sticks to hold in place if you need them.

Repeat with all sausages and ribbons. Place on the prepared baking tray.

Roast in the center of the oven for 30-35 minutes until the sausages are cooked through and the squash is lightly golden.

Transfer to a serving platter. Garnish with fresh sage for presentation. This dish can be enjoyed hot or cold.