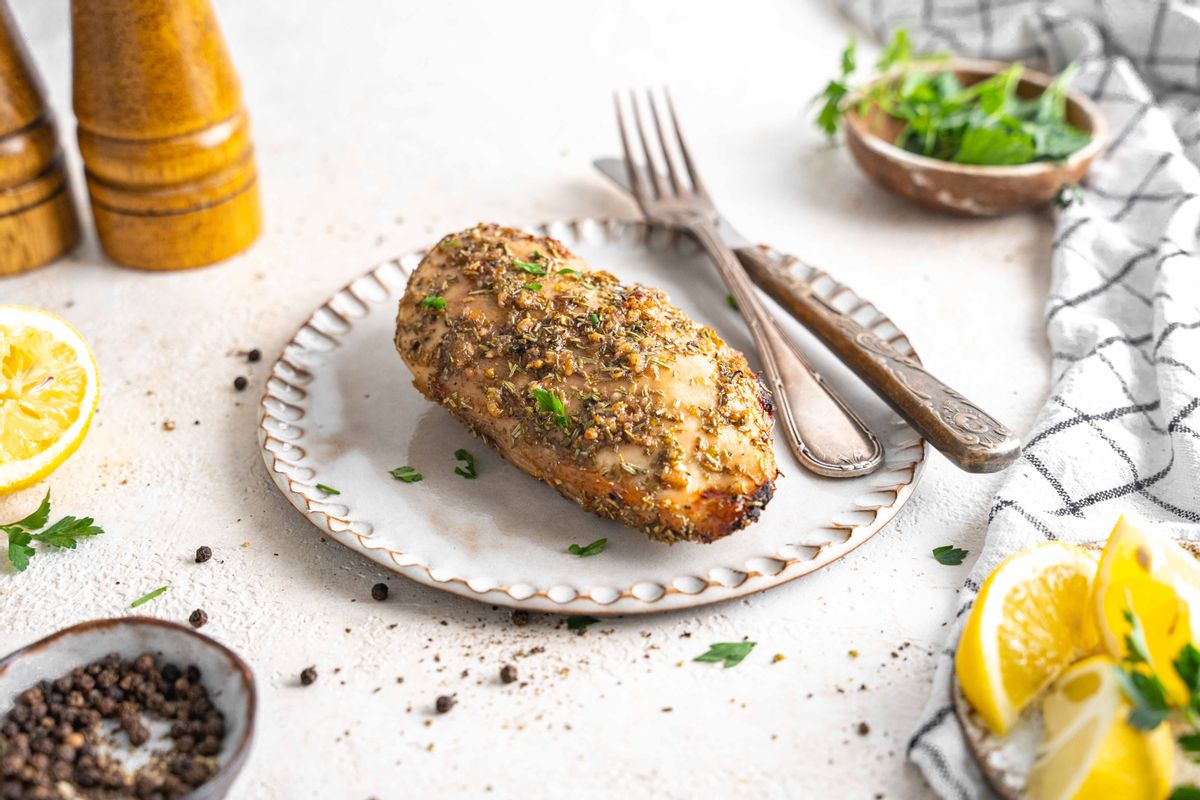 #1 Low Carb & Keto Diet App Since 2010
Track macros, calories, and access top Keto recipes.
25 min

25 min

50 min
Keto Memorial Day Balsamic Grilled Chicken
Whether you're looking for a hearty main dish or a flavorful addition to your Keto memorial day recipes, this Keto grilled chicken is sure to be a crowd-pleaser with its irresistible juiciness, texture, and great flavor. It is a perfect dish for summer gatherings, featuring tender and juicy chicken with a delicious smoky flavor. The chicken is marinated in a flavorful blend of herbs and spices, then grilled to perfection. It's also incredibly easy to prepare, making it a great choice for large groups or when you're short on time.
What to serve with this Keto memorial day grilled chicken
To make a complete meal, consider serving the chicken with Keto-friendly side dishes like a fresh green salad, grilled or roasted vegetables, or spiced cauliflower rice. You can also serve some Keto-friendly dips or sauces on the side, such as tzatziki, to add extra flavor and variety to the dish. For an extra festive touch, garnish the chicken with chopped herbs or serve it on a bed of colorful veggies.
How to store this Keto grilled chicken?
This Keto grilled chicken can be stored in an airtight container in the refrigerator for up to 4 days. To ensure the chicken stays fresh, make sure it has completely cooled down before storing it. It's important to note that reheating the chicken may cause it to dry out, so it's best to bring it to room temperature before serving or to reheat it in a low-temperature oven gently. To freeze the grilled chicken, place the chicken in an airtight container or freezer bag and freeze for up to three months. When you're ready to use the chicken, thaw it in the refrigerator overnight before reheating or serving it.
Is it necessary to marinate the chicken before cooking it?
While it is not necessary to marinate grilled chicken before cooking, it can significantly enhance the flavor and juiciness of the meat. Marinating chicken infuses it with flavor and helps tenderize it, making it more moist and more delicious. While marinating does require some planning ahead, it's a simple step that can make a big difference in the final result and can turn an ordinary grilled chicken into an extraordinary one.
Net Carbs

3.8 g

Fiber

0.3 g

Total Carbs

4.1 g

Protein

42 g

Fats

19.7 g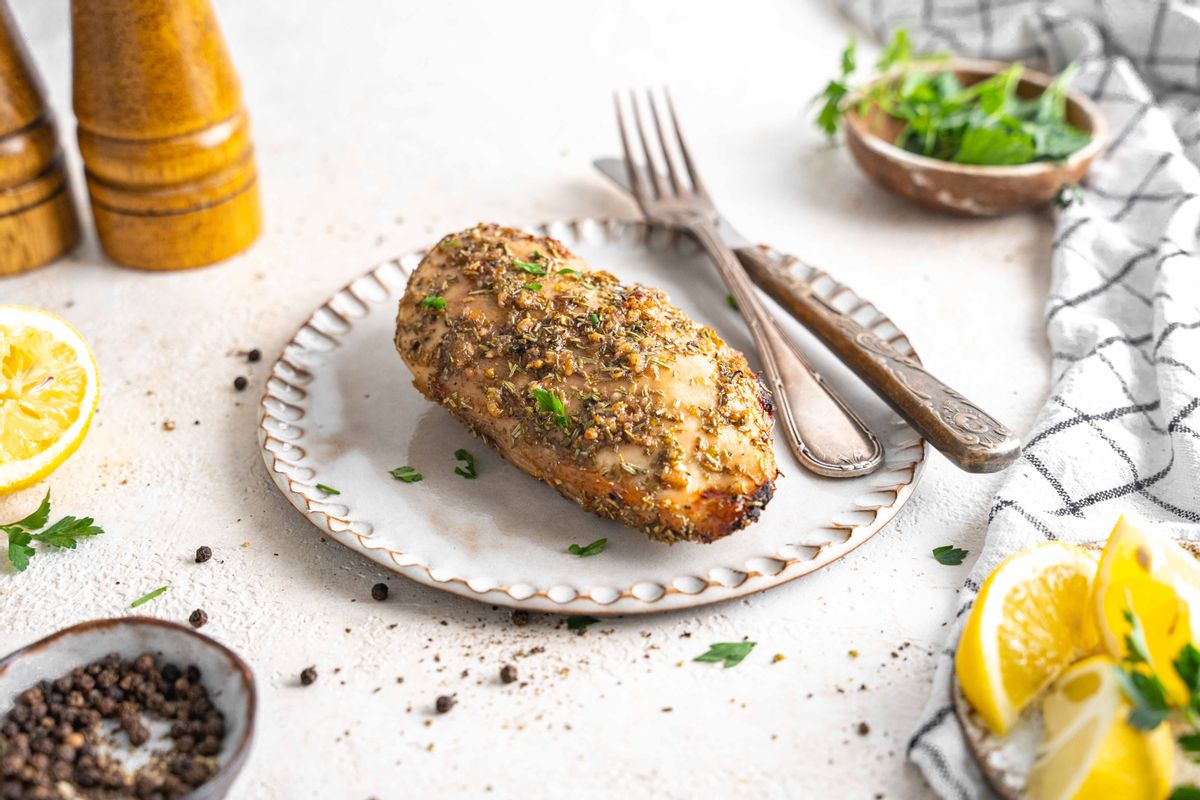 #1 Low Carb & Keto Diet App Since 2010
Track macros, calories, and access top Keto recipes.
Ingredients
Boneless chicken breast

2 large - split

Extra virgin olive oil

2 tbsp

Granulated Allulose

1 tbsp
Mince the garlic and chop the parsley and place them in a bowl with balsamic vinegar, olive oil, allulose, garlic, dried thyme, dried rosemary, salt, and black pepper. Whisk together to form a uniform mixture and reserve 1 tbsp of the marinade. Add the chicken breasts to the marinade, toss to coat evenly, and cover the bowl with plastic wrap. Allow the chicken to marinate for about 20 minutes or preferably overnight.

Preheat the oven to 350F/180C. Add the chicken to the oven wire rack and cook for 20 minutes. Remove the chicken from the oven and brush the leftover marinade, then return it to the oven. Bake for a further 5 minutes.

Allow the chicken to cool slightly after cooking. Garnish with parsley and serve. Serve with grilled low-carb vegetables or a fresh green salad. Store any leftover grilled chicken in an airtight container for 3 to 5 days.