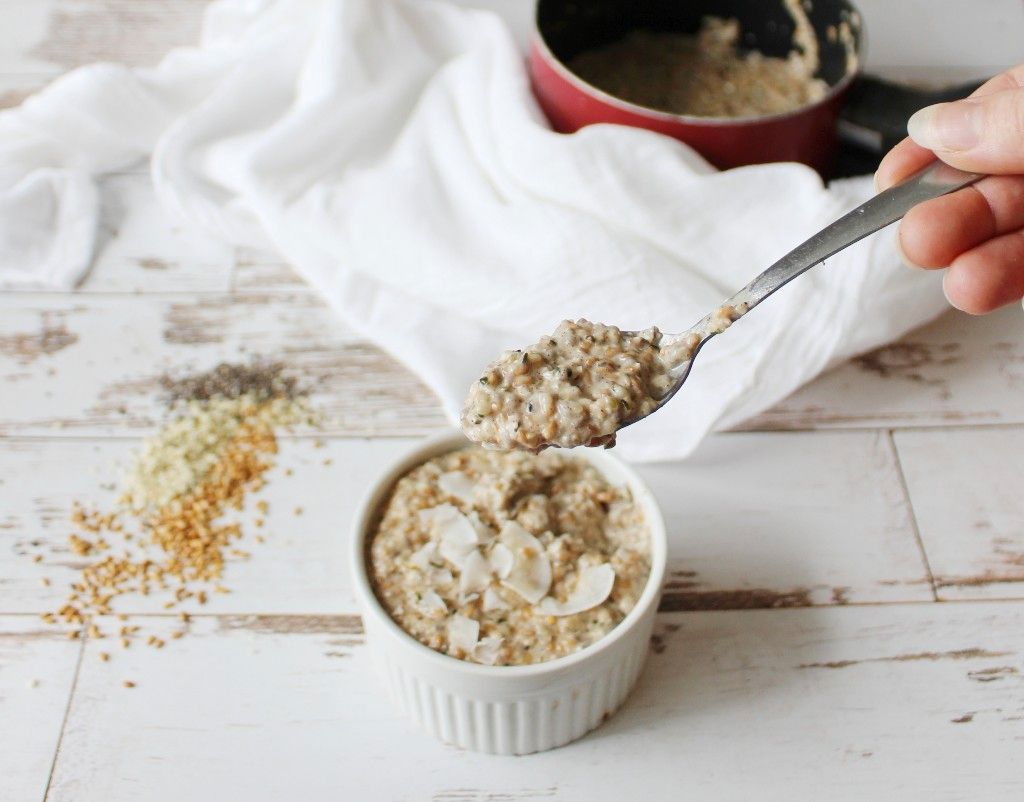 #1 Low Carb & Keto Diet App Since 2010
Track macros, calories, and access top Keto recipes.
5 min

10 min

15 min
Keto Hemp Hearts Oatmeal
This may be the easiest way to get a super-filling breakfast that's full of super-foods. Make this Keto hemp hearts recipe in bulk, keep it in your refrigerator for up to a whole week, and heat up a bowl at breakfast time on your busy mornings. A blend of nutritious hemp hearts, flax seeds, and chia seeds are cooked in basic vanilla and cinnamon flavored "oatmeal". Of course, there are no high-carb oats here, but the blend of seeds offers the same texture as oats with even better nutrition. Since this is a basic breakfast recipe, you can modify or include other flavorings and seasonings that you enjoy putting in your oatmeal. Some suggestions are made in the final step of the recipe. Fully cooled oatmeal can be kept fresh in an airtight container in your refrigerator.
Is It Safe For Me To Eat Seeds?
It was once believed that eating seeds could lead to diverticulitis, especially in men. There has yet to be legitimate evidence to prove that, and seeds have lots of nutritional benefits both men and women need. While hemp seeds can be digested raw, you may want to avoid eating raw flax or chia seeds. Everyone's bodies are different, but some people may have difficulty digesting these two types of seeds if they aren't softened in some way first.
Benefits Of Eating Seeds
Seeds are most notable for their healthy fats. They also happen to be nutrient-dense. They're perfect for the Keto diet as they are low in carbs and perfect for plant-based dieters. Enjoy a handful of sunflower seeds as a snack, or consume this hearty cooked seed oatmeal to reap the nutritional benefits of Keto-friendly seeds!
Net Carbs

3.6 g

Fiber

8.3 g

Total Carbs

13.3 g

Protein

17.4 g

Fats

33.1 g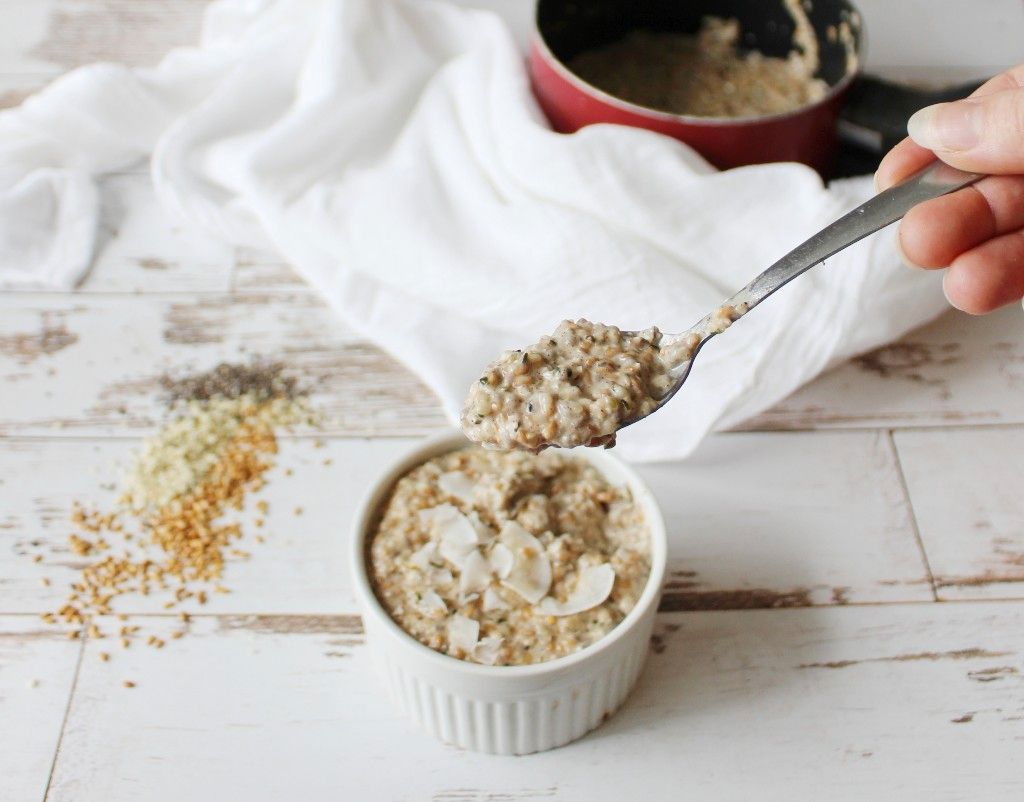 #1 Low Carb & Keto Diet App Since 2010
Track macros, calories, and access top Keto recipes.
Ingredients
Hemp Seeds Shelled Or Hulled

0.5 cup

Powdered Erythritol (Icing Sugar)

1 tsp
Combine hemp seeds, flax seeds, and chia seeds together in a small pot. For the flax seeds, use whole seeds, not ground. You can choose golden flax or another variety that you like. Pour almond milk into the pot, followed by tahini and coconut oil. If you don't have tahini, you can use peanut butter instead.

Cover the pot and bring the ingredients to a simmer. Stir until the tahini and coconut oil have melted and spread throughout the other ingredients. Stir powdered erythritol, vanilla extract, and cinnamon into the pot. Cook the mixture for up to 5 minutes to soften the flax and chia seeds, making sure the oatmeal doesn't splatter. You may add more warm water to the oatmeal in 1-teaspoon additions to bring it to your desired consistency.

Taste the oatmeal and adjust the flavors as necessary. If you want the oatmeal to be sweeter, add liquid stevia a few drops at a time. You may add other flavoring extracts, such as maple extract, or other seasonings to change the flavor. Besides cinnamon, try using nutmeg, ginger, clove, or pumpkin pie spice to flavor your oatmeal. Serve hot.