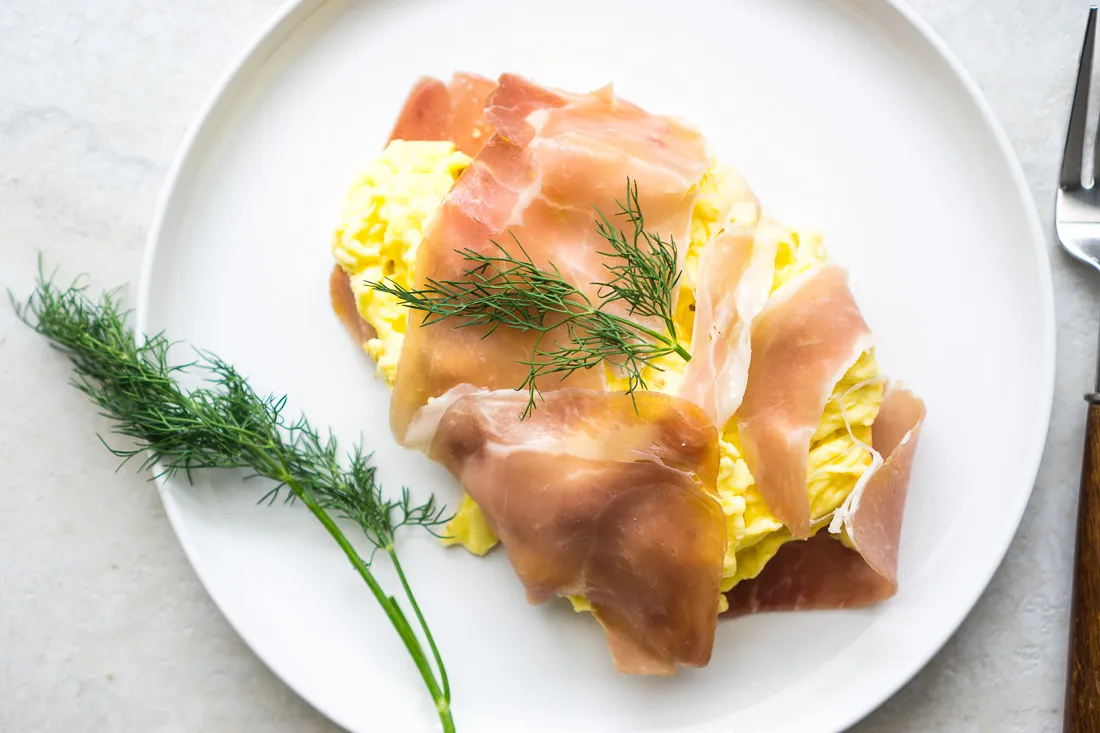 #1 Low Carb & Keto Diet App Since 2010
Track macros, calories, and access top Keto recipes.
5 min

5 min

10 min
Best Keto Prosciutto Scrambled Eggs
Quick breakfasts are essential on the Keto diet. If you want to start your day off right, make this easy Keto egg recipe with scrambled eggs and prosciutto. Simply mix together your egg ingredients, scramble them according to the special directions, and layer them with prosciutto on your plate. It's that simple! There's also room in this recipe for you to use your own discretion and add any additional ingredients you may like. If you want to make this recipe for meal prepping, you can make a batch of scrambled eggs and divide them amongst meal prep containers with the prosciutto. You'll just have to microwave your meal to eat it!
Tips for fluffy eggs
Ensuring fluffy eggs in this Keto recipe requires one thing: air. Air has to be incorporated at a fast pace in order for enough air to fill the scrambled eggs, which makes them fluffy. Make sure when you whisk the eggs that they are whisked thoroughly, and make sure you stir all the eggs evenly as they're scrambling.
Other seasonings for the eggs
You can add more seasonings than just salt and pepper to your eggs, but you don't want to overdo it. For this recipe, try replacing the salt with seasoned salt. You can also add pinches of onion powder, garlic powder, dried oregano, or paprika.
Do I have to use ghee?
Ghee is very similar to butter, but they're not interchangeable all of the time. In this recipe, you need to use ghee instead of butter because ghee has a higher smoke point. If you don't have ghee, try using avocado oil. However, the texture of your eggs may be a little different.
Net Carbs

2.5 g

Fiber

0 g

Total Carbs

2.5 g

Protein

24.9 g

Fats

37.2 g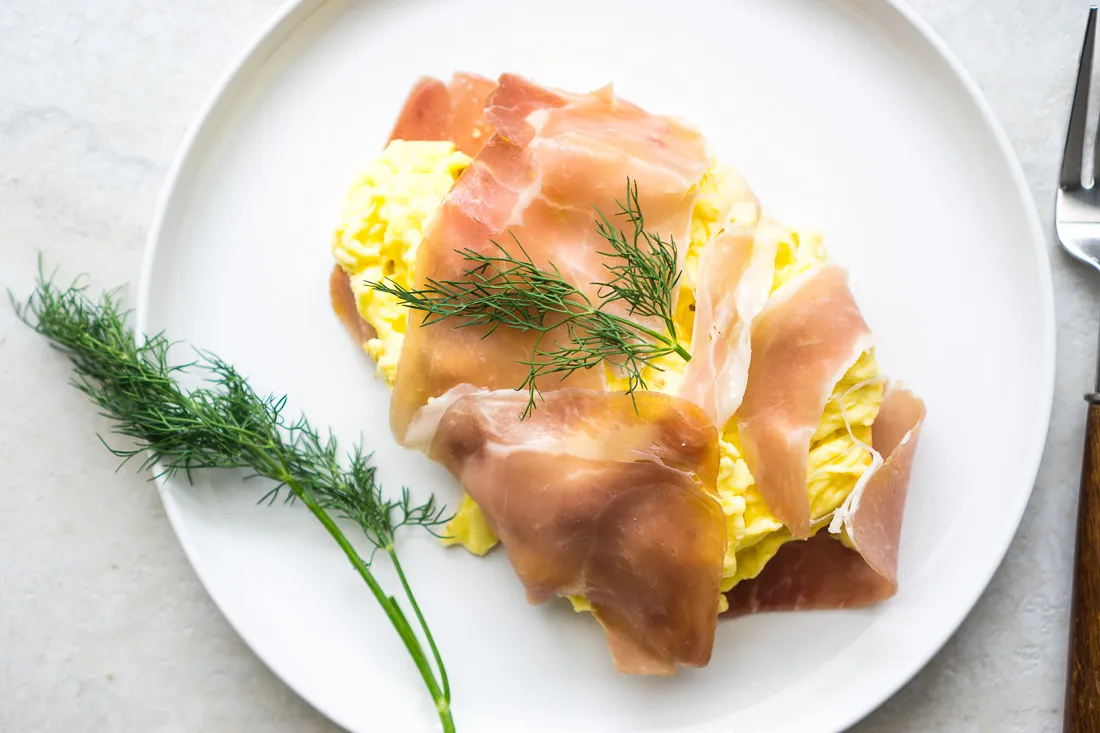 #1 Low Carb & Keto Diet App Since 2010
Track macros, calories, and access top Keto recipes.
Ingredients
Prosciutto Ham

2 thin slice
Combine eggs, cream, and salt together in a large bowl. Whisk the ingredients until the eggs are well scrambled. Next, begin heating a medium-sized non-stick pan over medium-high heat until it's hot.

Add ghee to the hot pan so it melts. Then, add your whisked eggs to the melted ghee. Don't disturb the eggs until they've cooked briefly on the bottom.

Using a heatproof rubber spatula, move the eggs all around the pan. The key is to move rapidly so all the eggs get scrambled. The faster you work and the hotter the pan the fluffier the eggs!

Place prosciutto slices on a plate and lay scrambled eggs on top. Gently fold prosciutto over the eggs. Garnish with some fresh herbs, such as dill.