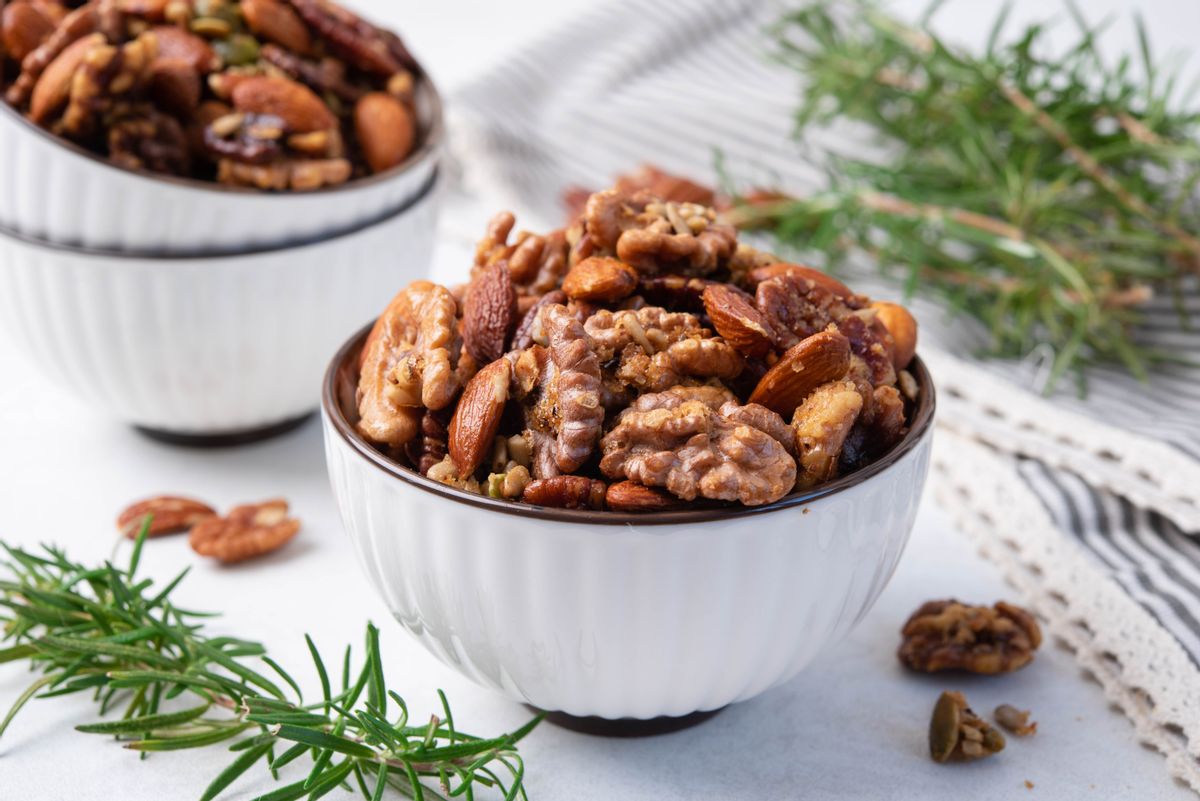 #1 Low Carb & Keto Diet App Since 2010
Track macros, calories, and access top Keto recipes.
5 min

20 min

25 min
Best Low Carb Air Fryer Roasted Nuts
This delicious snack is among the best fall low-carb recipes you can prepare in your air fryer. This fantastic recipe is super nutritious, and it's loaded with healthy fats, fibers, vitamins, and minerals. It only takes 5 minutes of your actual work to put everything together and let your air fryer do the rest. It is also an excellent and healthy snack for the kids and the rest of the family, whether on low-carb or not. Adding some fresh rosemary to the recipe is completely optional, but we highly recommend it (the flavor is absolutely mind-blowing). If you have a smaller air fryer, roast the nuts in several batches (depending on the size of your air fryer), and remember to shake the basket every 5-6 minutes. This way, you will get evenly roasted and perfectly crispy nuts!
Can I roast these nuts in the oven?
Although this recipe falls into our low-carb fall air fryer recipe collection, you can easily prepare it in your oven. Arrange the nuts in a single layer over a baking sheet lined with some parchment paper. Roast for 20 minutes at 170°C (340°F) or until the nuts are lightly browned and crispy (keep an eye on them after 15 minutes).
How do you customize this recipe?
You can easily customize this recipe by adding some other nuts, such as cashews, and adjusting the amounts according to your taste (just remember to log the ingredients separately). You can also use some other fresh herbs or omit the herbs entirely and add more cayenne.
Are nuts low-carb?
Nuts are low in carbs and loaded with healthy fats. They are rich in protein, vitamins, minerals, and fiber, making them an excellent addition to your low-carb and Keto diet. However, they should be eaten in moderation.
Net Carbs

8 g

Fiber

8.1 g

Total Carbs

20.3 g

Protein

17.2 g

Fats

58.5 g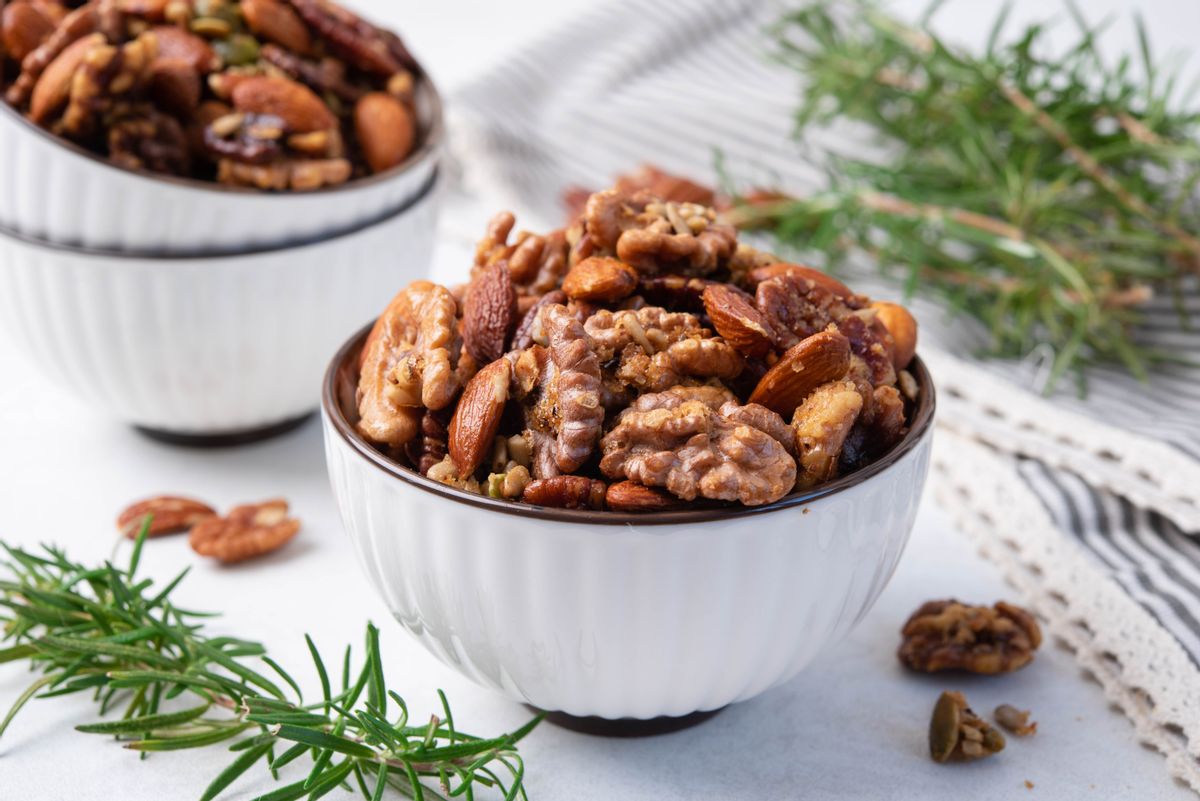 #1 Low Carb & Keto Diet App Since 2010
Track macros, calories, and access top Keto recipes.
Ingredients
Brown Sugar Replacement

2 tbsp
Add the walnuts, pecans, almonds, pumpkin, and sunflower seeds to a bowl. Mix to combine. Set it aside.

Melt the butter in your microwave or on a stovetop. Roughly chop the rosemary. Add the melted butter, rosemary, cayenne pepper, and sweetener to a separate bowl. Mix well to combine.

Pour the prepared butter mixture over the nuts. Mix well with a spoon or your hands. The nuts should be thoroughly coated with the butter mixture.

Line the basket of your air fryer with parchment paper. Add the prepared nuts in a single layer. If your air fryer is smaller, you can roast the nuts in batches. Roast for 20 minutes at 155°C (310°F).

When done, remove the nuts from your air fryer. Cool the nuts to room temperature and serve immediately or store them for later. Enjoy!