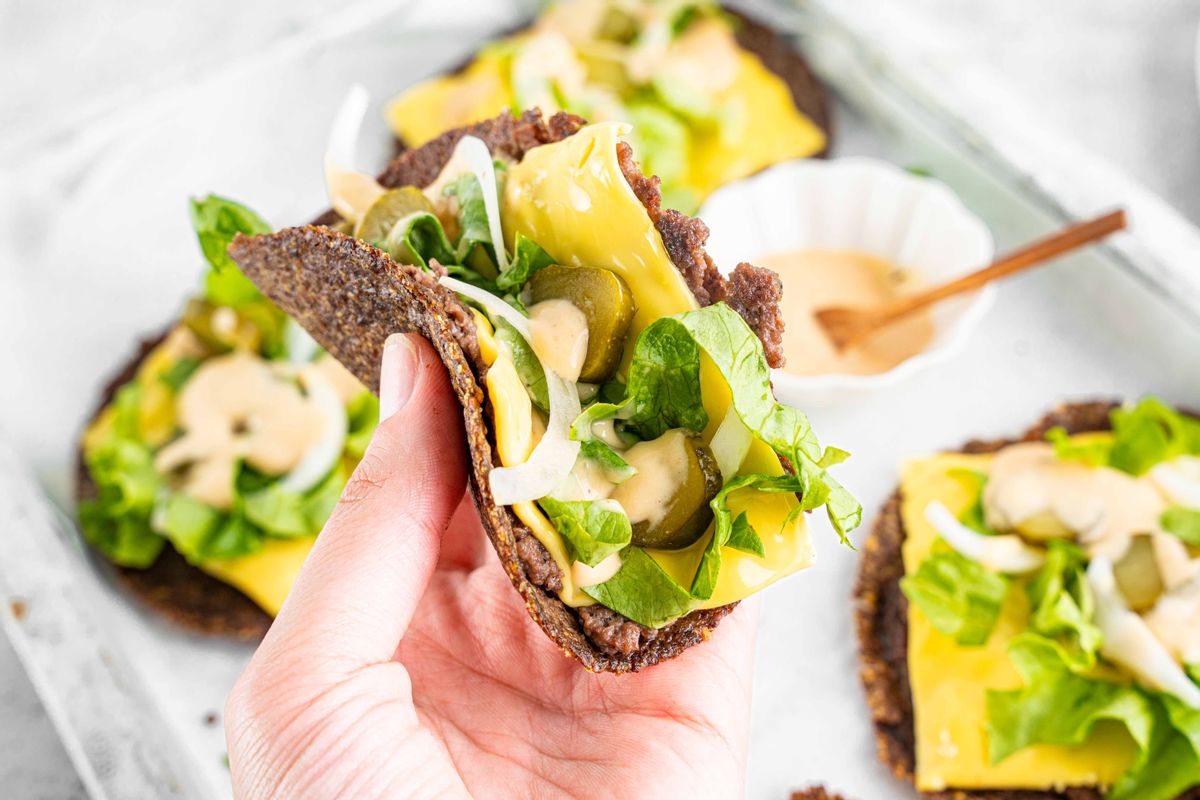 #1 Low Carb & Keto Diet App Since 2010
Track macros, calories, and access top Keto recipes.
10 min

15 min

25 min
Keto Smashed Burger Tacos
Enjoying fast-food while on Keto may appear challenging, but with the increasing popularity of Keto recipes, you can enjoy your favorite comfort foods without compromising the taste or your net carb intake. These Keto "Big Mac" inspired smashed tacos are made with Low-carb tortilla wraps, filled with ground beef, lettuce, onions, pickles, and a drizzle of a delicious sauce that will leave you craving more. This cross between the popular fast food meal and Mexican tacos combines the best of both worlds.
Are tacos Keto?
Traditionally, tacos are not considered Keto-friendly. Tacos are typically made using corn or flour tortillas, which are high in carbohydrates and not suited for a ketogenic diet. Furthermore, tacos frequently have carb-heavy contents such as beans, rice, and various sauces. However, with a few tweaks, you can still enjoy tacos on a Keto diet. For example, a lettuce wrap or a low-carb tortilla prepared from flax meal, almond flour, or coconut flour can be used in place of a conventional tortilla. Grilled meats, avocado, cheese, and low-carb veggies can be used as fillings, but avoid high-carb extras like beans or sweet sauces.
Are there any variations to this recipe?
Yes. You can customize this recipe to your liking. For the protein source, using either ground turkey or ground chicken works just as well. You can also add a variety of vegetables such as chopped tomatoes, sliced avocadoes, baby spinach, or arugula for a fresh flavor. To add crunchy zing, consider adding pickled onions in place of white onions. Add different varieties of cheese to make these tacos even more delicious. A few options include mozzarella cheese, provolone, or even stronger-tasting cheese such as aged gouda.
What can I serve with these Keto Smashed Burger tacos?
These tacos are delicious to enjoy as they are. However, you can serve them with a variety of accompaniments to make the whole meal even more exciting. Consider serving them with a variety of sauces and dips like guacamole, pico de gallo, or other salsa. Side dishes that pair well with these tacos include roasted low-carb vegetable salad, fresh green salad, coleslaw, and crispy Keto-friendly tortilla chips.
Net Carbs

2.1 g

Fiber

6.1 g

Total Carbs

8.2 g

Protein

19.8 g

Fats

27.7 g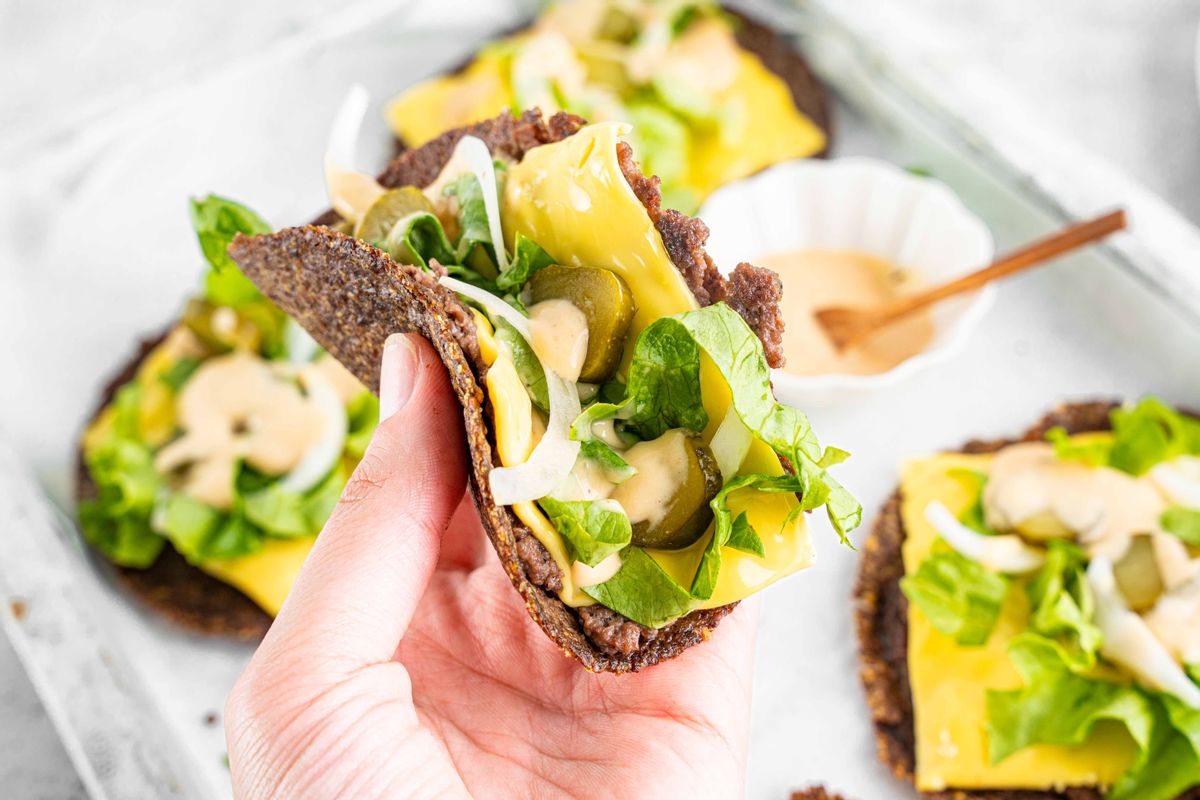 #1 Low Carb & Keto Diet App Since 2010
Track macros, calories, and access top Keto recipes.
Ingredients
Mayonnaise, store bought

2 tbsp

Sugar Free Ketchup

1 tbsp

Relish Sugar Free Sweet

1 tbsp

Romaine lettuce

6 inner (small) leaf

Gherkin Pickles

2 pickles

White onion

0.25 medium - 2 1/2" diameter

Hamburger or ground beef, 85% lean

250 g

Gluten-free Keto Flax Flatbread

6 Small Flatbread

Cheddar cheese

6 slice (from pre-sliced package) - each 3/4 ounce
To a small bowl, add the mayonnaise, ketchup, mustard, sweet relish, vinegar, black pepper, pickle brine, and ¼ tsp salt. Mix together using a whisk until well combined. Thinly shred the lettuce, slice the onion, and slice the pickles.

In a medium-sized bowl, add the ground beef, ½ tsp salt, ¼ tsp black pepper, and garlic powder. Mix to combine using a fork. Divide the ground beef into 6 equal balls.

Preheat a large skillet over medium-high heat. Meanwhile, lay the tortillas out on a tray or plate then press the beef balls into a thin layer onto each tortilla. Add the avocado oil to the pan.

Place the tortillas beef side down on the pan and cook for 1-2 minutes. The beef should be completely cooked through with no pink left. You may need to work in batches if your pan is small.

Flip the tortilla and add the cheddar cheese slice to each tortilla. Cover until the cheese melts onto the ground beef. Repeat with the remaining tacos.

Add the lettuce to the tacos followed by the onion and pickles. Then, drizzle the Big Mac sauce on the tacos.

Serve right away. Optionally, garnish with chopped cilantro. Store any leftover tacos in an airtight container for 2-3 days.