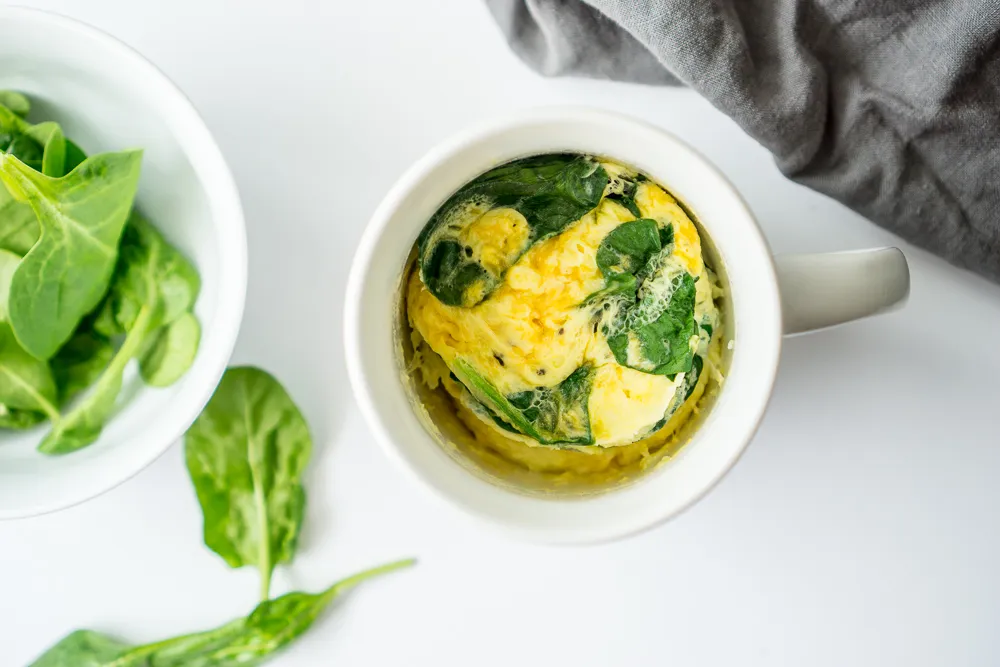 #1 Low Carb & Keto Diet App Since 2010
Track macros, calories, and access top Keto recipes.
5 min

3 min

8 min
Ultimate Keto Cheesy Egg and Spinach Cup
You'll love how quick and easy this ultimate Keto breakfast recipe is. Start with a basic egg mixture you cook in a mug in your microwave with just a little heavy cream and seasonings. You can use your own creativity to season the eggs or add other ingredients. This basic Keto recipe includes baby spinach because it is nutrient packed and easy to prepare. You can add vegetables, diced meats, or cheese to the egg in a cup. In the comment section, you can let other users know what you like to mix into your egg cups for breakfast. Do you like eating this meal for breakfast, as a Keto snack, or for lunch?
Special note for the ingredients
The ingredients can be used straight from the fridge; no need to allow them to warm to room temperature before using. Doing so makes this recipe very quick and easy to make on a busy morning. Feel free to multiply this recipe by several servings and cook it in a microwave-safe bowl to make a family-sized Low Carb breakfast (adjust the cooking time as necessary).
Other ingredients to add
Don't stop at spinach. You can add many other Keto vegetables to your egg cup, such as diced onion, bell peppers, or zucchini. If you're more carnivorous, you can also add cooked bacon bits or crumbled sausage to your egg cup. Think of this as a base Keto breakfast recipe that you can add on to.
An easy tip for more fat
If you need a high-fat meal in the morning, try adding a ½-tablespoon of melted butter to the raw egg mixture before you cook it. This will sneak more fat into your breakfast without altering the cooking process. Just expect your egg cup to taste a little buttery!
Disclaimer
Salt is a basic pantry staple and doesn't count as one of the 5 ingredients.
Net Carbs

2.1 g

Fiber

0.4 g

Total Carbs

2.5 g

Protein

17.2 g

Fats

25.7 g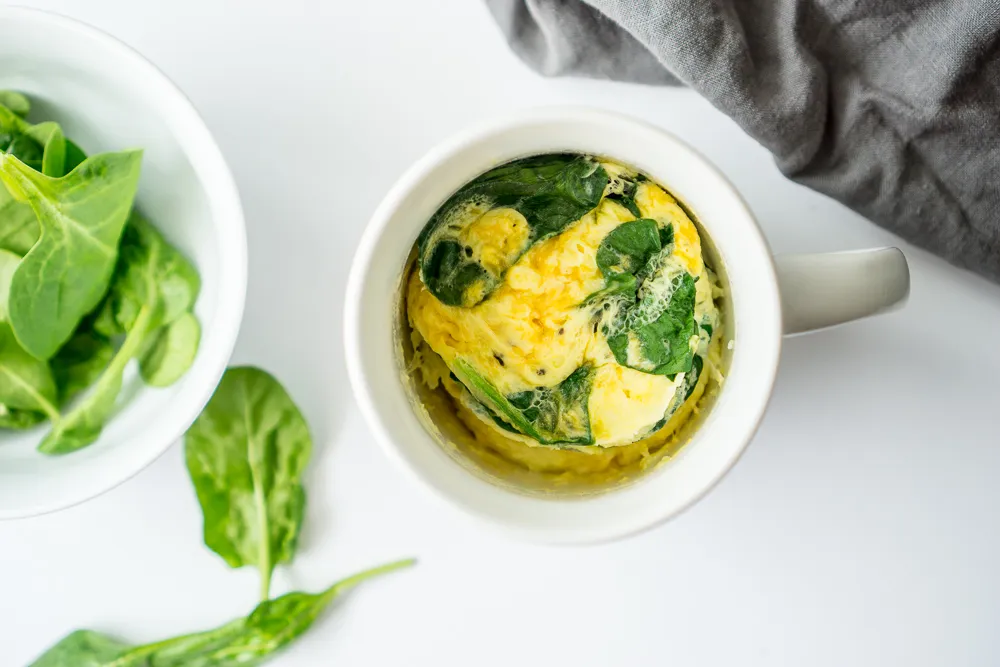 #1 Low Carb & Keto Diet App Since 2010
Track macros, calories, and access top Keto recipes.
Ingredients
Shredded Cheddar Cheese

2 tablespoon
Scramble your eggs in a small mixing bowl. Season the eggs with some salt and pepper. You can add additional seasonings at your discretion at this point.

Add in the heavy cream and the shredded cheese. Mix it well with a small whisk or a fork. Make sure the cream is well incorporated as this will add some air to the mixture to ensure it is light and fluffy.

Choose a ceramic or heat-safe mug that is at least 10-oz for one serving. Fill the bottom of the mug with whole or chopped spinach leaves of your choice. Pour the egg mixture over the spinach in the mug.

Microwave your mug on high heat for 30 seconds. Stir the ingredients inside the mug. Then microwave on high heat for another 1 ½ minutes, adding 15 more seconds at a time if necessary until the egg is cooked through.