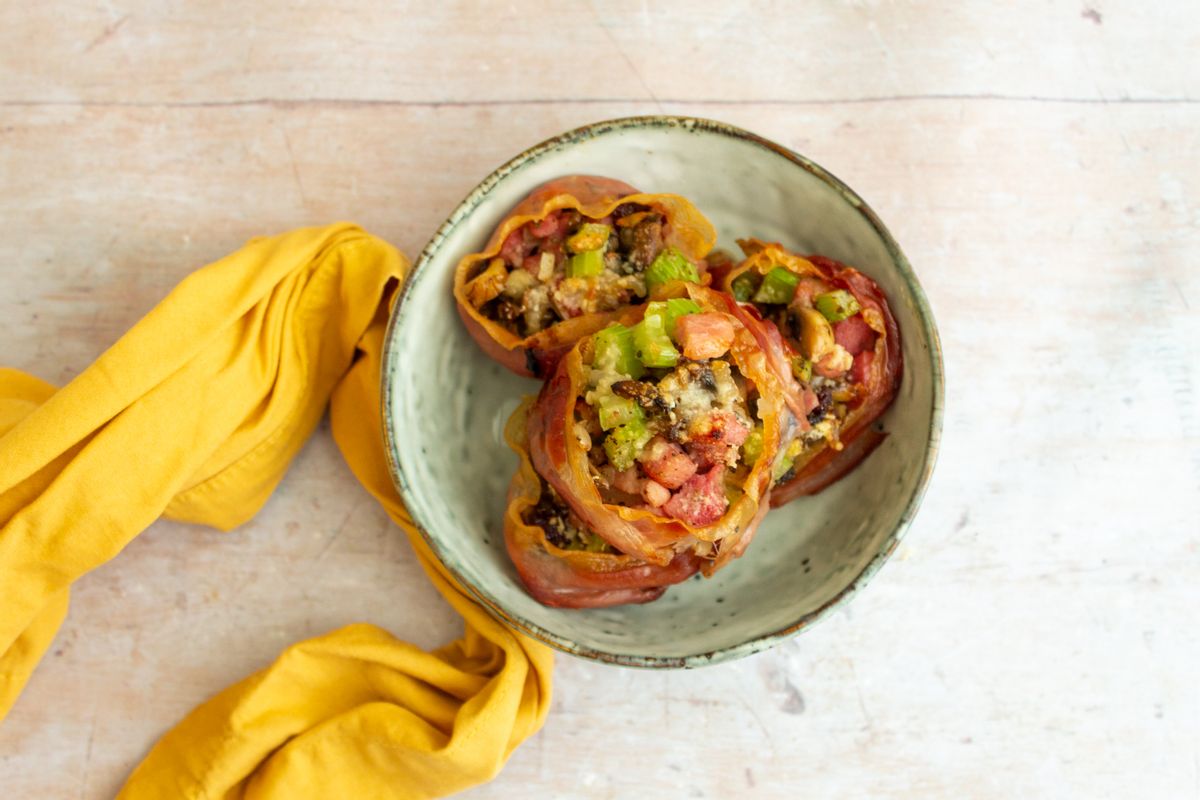 #1 Low Carb & Keto Diet App Since 2010
Track macros, calories, and access top Keto recipes.
7 min

15 min

22 min
Keto Christmas Stuffing Prosciutto Cups
These stuffed and baked prosciutto cups make for a quick and easy Keto Christmas recipe. Tender prosciutto strips are molded into muffin tray cups and filled with classic Christmas stuffing flavors. The stuffed cups are then finished with a sprinkling of parmesan cheese and oven-baked until the prosciutto is crisp and golden. Perfect served as a festive snack or holiday appetizer!
Can I Make These Dairy-Free?
We have cooked our Keto stuffing mixture in butter and topped our prosciutto cups with grated parmesan. You can easily make the recipe dairy-free with a few simple substitutions. The stuffing mixture can be pan-fried in coconut or olive oil in place of butter. You can then either omit the parmesan, or if you would still like to add a cheesy flavor, you can sprinkle with a little nutritional yeast. Please be sure to adjust your macros to account for any changes made to the recipe.
Serving Suggestions
This Christmas Keto recipe is a versatile option for the festive season. The prosciutto cups could be served as a snack or simple starter with a side salad. These would also make a great alternative side option in place of a traditional dressing and can even be made in bulk as party food.
Net Carbs

1.4 g

Fiber

0.8 g

Total Carbs

2.2 g

Protein

5.1 g

Fats

8.7 g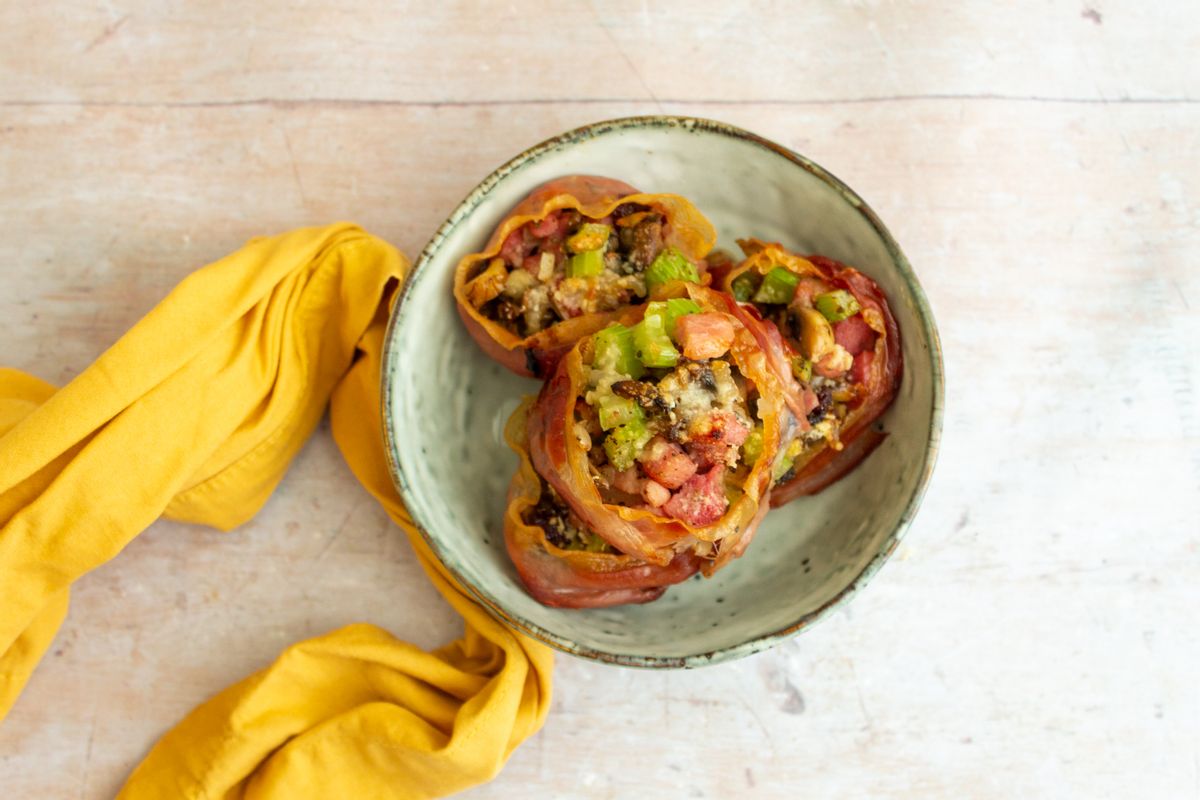 #1 Low Carb & Keto Diet App Since 2010
Track macros, calories, and access top Keto recipes.
Ingredients
Parmesan Cheese

2 teaspoon, grated

Diced Pancetta by Waitrose

1-½ ounce

Unsalted Butter

1 tablespoon

Walnuts

1 tablespoon, halves

Celery

1 medium - stalk - 7 1/2" to 8" long

Reduced Sugar Craisin Dried Cranberries by Ocean Spray

½ tablespoon
Preheat the oven to 375 degrees Fahrenheit. Take each piece of prosciutto one at a time and arrange in a muffin cup. Arrange each piece so that it covers the base and sides of the muffin cup.

Finely dice the onion, mushrooms and celery and roughly chop the walnuts and cranberries. Melt the butter in a skillet over a medium heat. Add the onion, mushrooms, celery, walnuts, cranberries, pancetta and sage. Stir well to combine. Pan-fry the mixture until the pancetta is cooked through and browned all over, and the vegetables are tender.

Divide the stuffing mixture evenly between the prosciutto cups. Each cup should be about 3/4 full. Sprinkle each stuffing cup with a half teaspoon of grated parmesan.

Transfer the tray to the oven. Bake for 12-15 minutes or until the prosciutto is crisp and golden, and the stuffing mix is hot through. Set aside to cool a little in the tin, then gently ease out of the muffin tray with a spatula to serve.