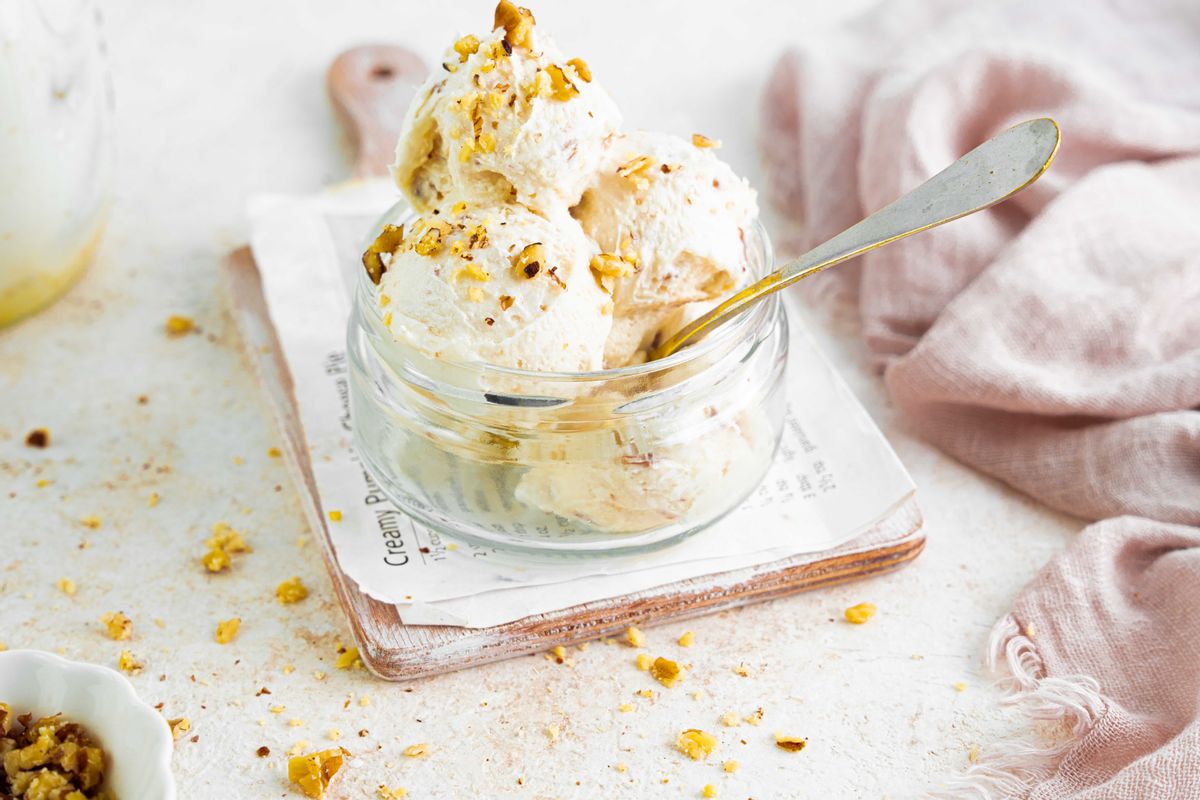 #1 Low Carb & Keto Diet App Since 2010
Track macros, calories, and access top Keto recipes.
4 h 20 min

10 min

4 h 30 min
Keto Butter Pecan Ice Cream
Keto ice cream recipes keep getting better, and this one might be just the perfect one! As a no-churn mason jar Keto ice cream, it doesn't get any easier! With its simplicity and minimal ingredient list, this Keto butter pecan ice cream is a testament to the notion that less is more. This Keto ice cream features a rich, creamy base enhanced by silky butter. The addition of perfectly toasted pecans provides a delightful crunch that elevates every bite.
How long does this ice cream last?
This ice cream recipe yields about 3-4 scoops of ice cream, which roughly make about 2 portions. To store any leftover ice cream, store the ice cream in an airtight container and store it in the freezer. Generally, homemade ice cream typically lasts for about 1-2 weeks when stored properly. Avoid leaving the ice cream out unnecessarily to avoid bacteria growth, which could lead to spoilage. Also, return the ice cream back to the freezer immediately after you finish serving.
What is the best sweetener for Keto ice cream recipes?
The best sweeteners to use for this recipe are xylitol and allulose. They are considered to be the best choice for almost any Keto ice cream recipe. This is because they help retain the creamy texture of the ice cream and yield a perfectly creamy ice cream without churning. This is especially helpful when making homemade ice cream, as it's easy and convenient. Some sweeteners like erythritol or stevia will likely yield a more solid ice cream when frozen.
*Are there any variations to this recipe?
While the classic combination of buttery richness and toasted pecans is already a winning combo, you can take it a step further by adding a touch of cinnamon or nutmeg to infuse a warm and comforting note into the creamy base. For a gourmet twist, drizzle sugar-free caramel or dark chocolate sauce to add a layer of decadence to each spoonful.
Net Carbs

1 g

Fiber

0.3 g

Total Carbs

9.2 g

Protein

1.2 g

Fats

17.3 g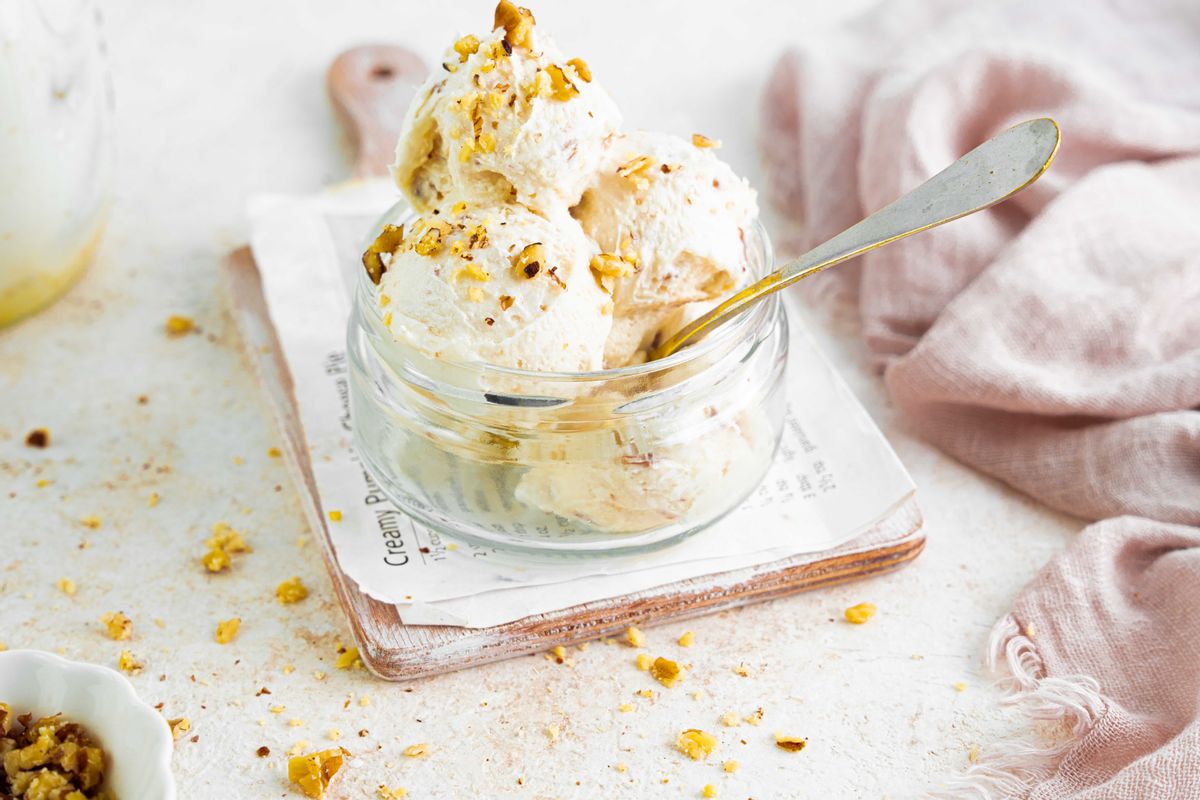 #1 Low Carb & Keto Diet App Since 2010
Track macros, calories, and access top Keto recipes.
Ingredients
Allulose, powdered

7 tbsp
Start by finely chopping the pecans and set aside. To a pan over medium-low heat, add the butter and swirl it around until it starts to melt, then add the crushed pecans and 5 tbsp powdered allulose. Mix using a spatula until the butter and sweetener begin to caramelize.

Add a pinch of salt and continue stirring until the mixture becomes darker in color. Turn off the heat, then remove the pan from the heat and allow it to cool until it's fully set. Once cooled, break the mixture into crumbly pieces.

Add the butter pecan pieces into a mason jar together with heavy cream, vanilla extract, and 2 tbsp allulose. Screw the mason jar lid on tight and shake well until the mixture doubles in size. This should take about 1-3 minutes.

Once the cream has thickened up, transfer the ice cream to the freezer and freeze for at least 6 hours or until solid. Allow the ice cream to thaw slightly before scooping. Enjoy with your favorite toppings.