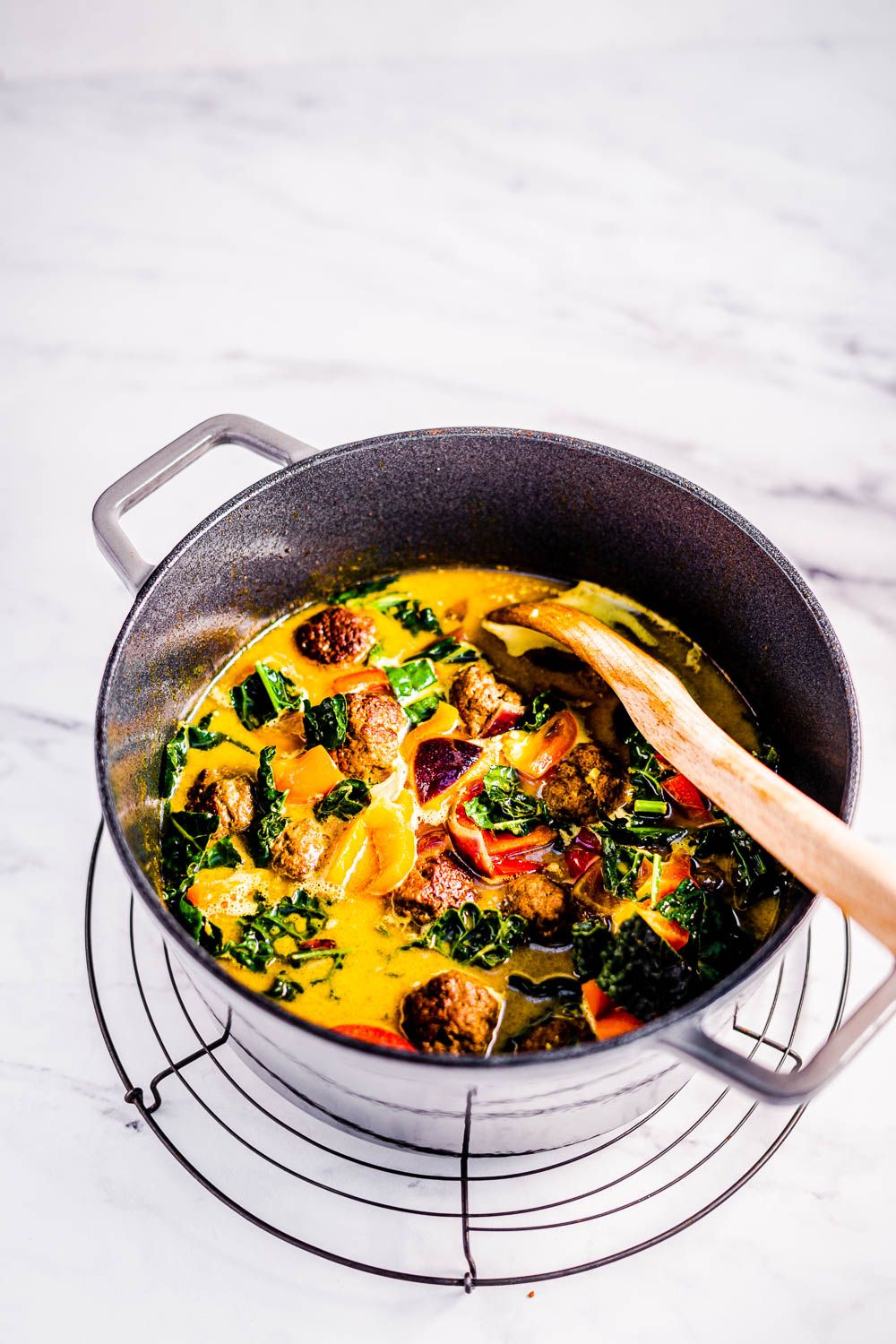 #1 Low Carb & Keto Diet App Since 2010
Track macros, calories, and access top Keto recipes.
20 min

25 min

45 min
Low Carb Thai Curry Meatballs
Low Carb Thai Curry Meatballs are made with fatty 85% ground beef seasoned only with salt and garlic powder. The meatballs are nicely browned in the bottom of a Dutch oven. They are then simmered in a mixture of garlic, ginger, coconut cream, and Madras curry powder. Diced red bell pepper, orange bell pepper, and lacinato kale join the mix to add wonderful texture and flavor. The entire dish is seasoned with fish sauce to add a punch of umami flavors.
Do I have to use fish sauce?
No, if fish sauce isn't your thing, use soy sauce instead. If you opt to use soy sauce, be sure to taste the broth mixture to make sure it is salted to your liking.
What kind of curry powder should I use?
There is a wide variety of curries out there and a multitude of blends. Feel free to use your favorite one. If you don't know much about curry and would like a general kind to try, look for Madras curry powder, which is very common, easy to find, and delicious. The recipe lists an amount that gives good flavor and mild spiciness. Add as much curry powder as you would like to amp up the heat!
Serving suggestion
Please serve this dish over Keto Cauliflower Rice https://www.carbmanager.com/recipe/cauliflower-rice.
Net Carbs

7.6 g

Fiber

4.3 g

Total Carbs

11.9 g

Protein

43.4 g

Fats

46.6 g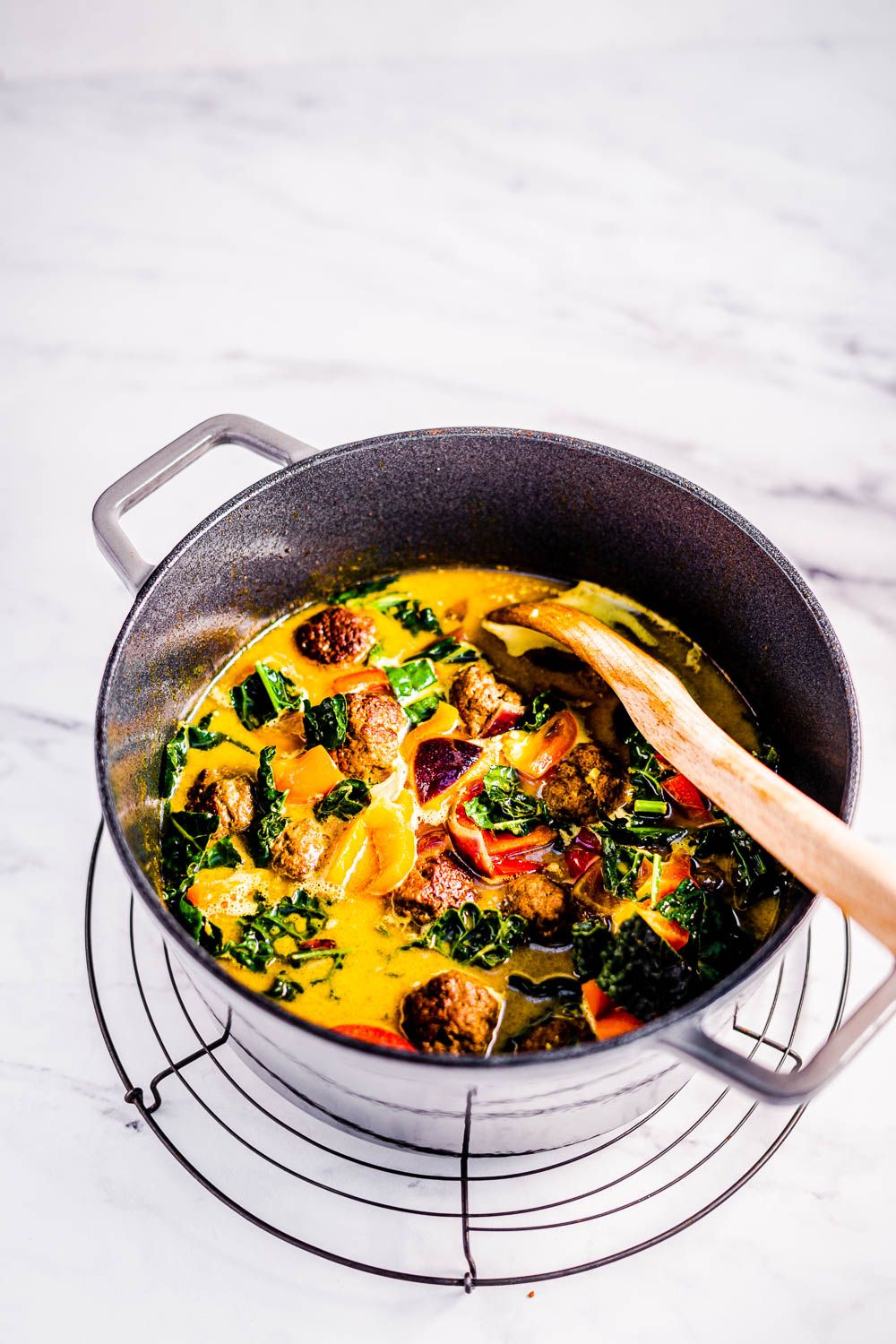 #1 Low Carb & Keto Diet App Since 2010
Track macros, calories, and access top Keto recipes.
Ingredients
Hamburger Or Ground Beef, 85% Lean

2 pound

Coarse Kosher Salt by Morton

2 tsp

Ginger

2 tablespoon, sliced

Coconut Cream (liquid From Grated Meat)

14 fl oz

Curry Powder

3 tablespoon

Red Bell Peppers, Raw

1 large - 3" diameter x 3 3/4"

Orange Bell Pepper

1 large - 3" diameter x 3 3/4"

Kale Lacinato, Organic

2-½ ounce

Fish Sauce (nam Pla Or Nuoc Mam)

1 tablespoon
In a medium-sized mixing bowl, combine the ground beef, 2 tsp kosher salt, and garlic powder. Mix well with a fork.

Using a 1 oz cookie scoop, portion the meatballs onto a sheet tray. Once they are all portioned, roll them into a neat ball using your hands.

Heat a Dutch oven over medium heat. Allow the Dutch oven to become very hot. Since the beef is high in fat, you do not need to add oil to the pan's bottom before browning the meatballs. Add the meatballs directly into the bottom of the pan. Cook on the first side of 3-4 minutes or until the bottom of the meatballs releases easily from the pan and is nicely browned.

Flip and repeat on the other side. Remove the meatballs back to the sheet tray (don't worry about them being back on a tray with raw meat, the meatballs will get fully cooked in the sauce).

In the residual fat at the pan's bottom, stir fry minced garlic and ginger until fragrant (about 30 seconds). Add the meatballs back into the pot.

Add in the coconut cream, water, and curry. Allow the mixture to come to a boil, and then bring the heat down to simmer. Allow the mixture to simmer for 10 minutes or so until the meatballs are cooked through.

Add in the diced bell peppers (deseed and cut into 1" pieces). Allow them to cook for 1-2 minutes until cooked but still crunchy. Add in the kale and cook until wilted, about 1-2 minutes.

Add in the fish sauce, taste, and adjust, adding more if desired. Serve hot over cauliflower rice.