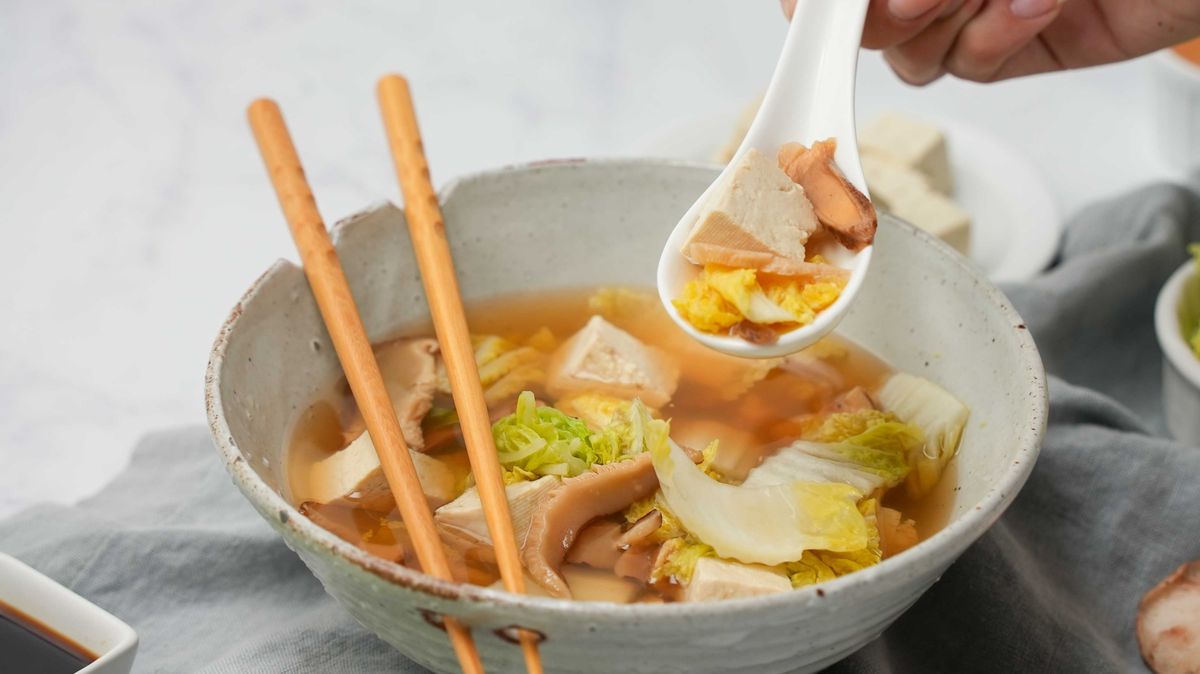 #1 Low Carb & Keto Diet App Since 2010
Track macros, calories, and access top Keto recipes.
25 min

20 min

45 min
Low Carb Vegan Tofu Napa Cabbage Shiitake Soup
Keto Vegan Tofu Napa Cabbage Shiitake Soup is that perfect combination of ingredients for the most comforting soup with an Asian twist. A vegetable broth base is seasoned with dried shiitake mushrooms (try to use dried because they are much more flavorful, but if not, fresh shiitakes will do) as they are slowly simmered into the broth. Then plenty of fresh napa cabbage is added to the pot, as well as super firm tofu. The super firm tofu holds up well in the soup, is higher in protein, and has zero net carbs.
What kind of tofu to use?
Please use super firm tofu, which is much higher in protein, zero net carbs, and holds up very well in the soup. Using tofu that has all these attributes leaves plenty of room for the net carbs that come from the vegetables.
Do I have to use the shiitakes?
No, you can remove the shiitake mushrooms if you would like to, resulting in an overall lower net carb count.
What else do I use to season the broth?
To season the broth, please use soy sauce and salt.
Suggested Pairings
Feel free to serve this soup alongside Vegan Keto desserts like Keto Vegan Tahini and Almond Cookies:
https://www.carbmanager.com/recipe-detail/ug:837a6576-0ebf-5ac0-bea0-afb2b8f3de99/keto-vegan-tahini-and-almond-cookies
Net Carbs

5.9 g

Fiber

2.5 g

Total Carbs

8.4 g

Protein

7.8 g

Fats

3.3 g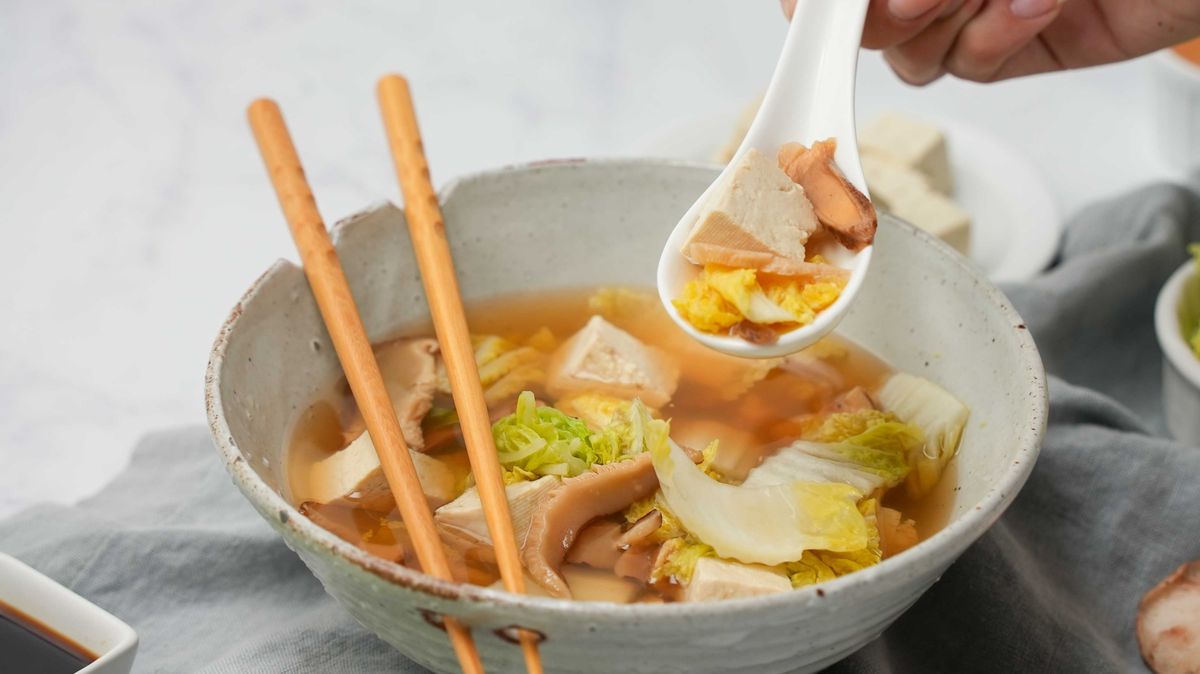 #1 Low Carb & Keto Diet App Since 2010
Track macros, calories, and access top Keto recipes.
Ingredients
Mushrooms Shiitake Dried

1 oz

Vitasoy Usa Organic Nasoya Super Firm Cubed Tofu

1 package

Vegetable broth, bouillon or consomme

1 qt
Prepare the dried shiitake mushrooms by placing them in a small saucepan full of boiling water. Allow them to cook in the water until hydrated, about 2-3 minutes. Drain them and then cut out the stems, then cut them in half.

Cut the napa cabbage in half and then into quarters. Take out the core and then cut each quarter into 1" pieces. Wash the pieces well under cold running water and drain them well. Add in the cut shiitake mushrooms.

In the meantime, add the vegetable stock to an extra-large pot as well as 1 quart of water. Add in the soy sauce.

Add in the washed napa cabbage and allow it to wilt; this will take only a few minutes.

Then add in the tofu and bring the soup to a slow boil to heat the tofu through. Taste the soup and add in the additional salt to your liking. Serve the soup hot with a bowl of soy sauce on the side to dip. Feel free to add sambal to the soy sauce.