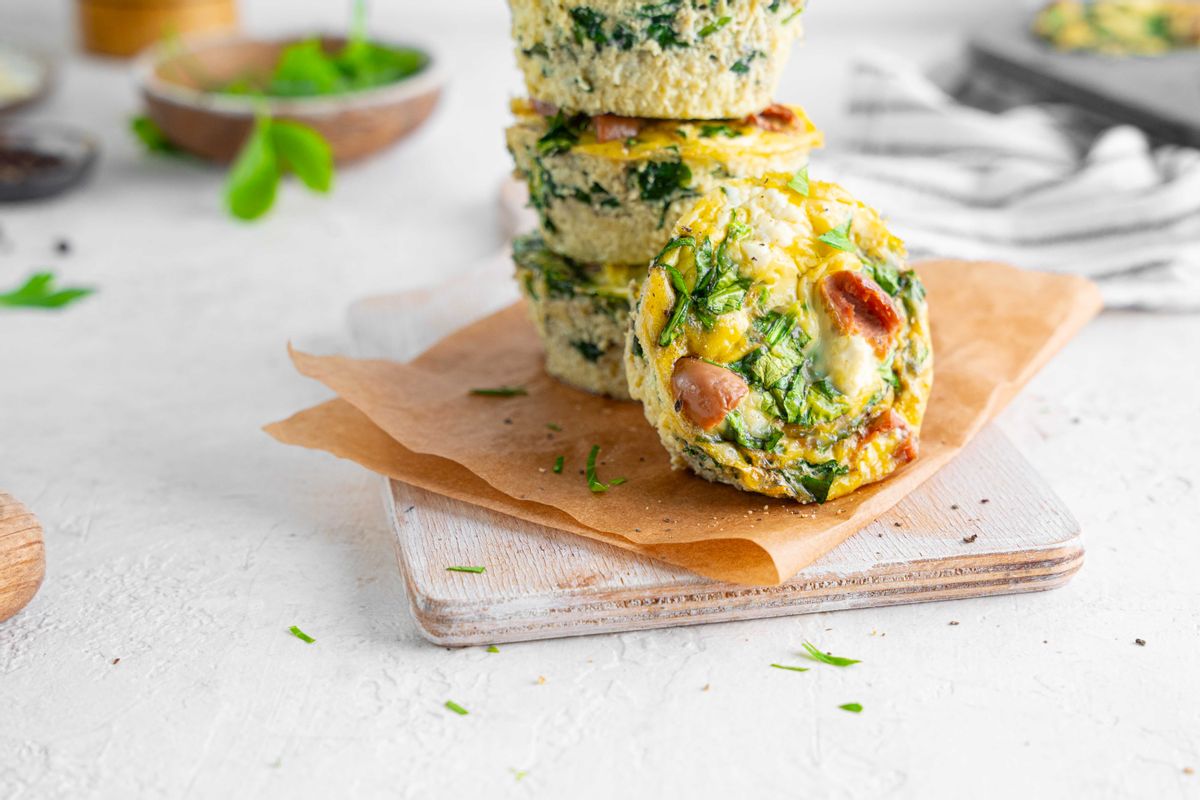 #1 Low Carb & Keto Diet App Since 2010
Track macros, calories, and access top Keto recipes.
10 min

15 min

25 min
Budget-Friendly Keto Mediterranean Egg Muffins
Looking for budget-friendly Keto egg recipes that are nutritious and satisfying? Look no further! Enjoy flavors of the Mediterranean while staying true to your Keto-on-a-budget lifestyle with these delightful Mediterranean egg muffins. Made with a generous cup of spinach, crumbled feta cheese, eggs, and an array of aromatic spices, these muffins offer a delightful combination of flavors. Adding olives and fresh parsley further enhances the Mediterranean flair, adding a briny and vibrant touch. Planning your meals in advance is a smart strategy for maintaining a budget Keto lifestyle, and these Keto muffins are perfect for meal prep and ideal for a quick on-the-go snack or breakfast.
What makes these muffins Mediterranean?
These muffins have a combination of key ingredients commonly found in Mediterranean cuisine. The crumbled feta cheese adds a tangy and salty profile reminiscent of traditional Mediterranean cheeses. The use of black pepper, ground cumin, and fresh parsley infuses the muffins with aromatic and savory notes commonly found in Mediterranean dishes. Olives, a staple ingredient in Mediterranean cooking, add a briny and distinct taste. The spinach provides a nutritious and vibrant green element commonly found in this particular cuisine.
How to store these Keto Mediterranean egg muffins?
Allow the muffins to cool completely before transferring them to an airtight container. Store the muffins in the refrigerator for up to 3-4 days. If you plan to store them for a longer period, consider freezing them individually. Wrap each muffin tightly in plastic wrap or place them in individual freezer bags. Frozen, they can remain fresh for up to 1 month. When ready to enjoy, thaw the frozen muffins in the refrigerator overnight. To reheat, simply pop them in the microwave for a quick and convenient meal.
How to customize this recipe?
Customizing these Keto egg muffins allows you to add your own personal touch and experiment with different flavors. Consider incorporating additional vegetables like diced bell peppers, sun-dried tomatoes, or caramelized onions for extra flavor and texture. If you enjoy a bit of heat, sprinkle in some red pepper flakes or add a dash of Keto-friendly hot sauce. For a protein boost, you can include cooked and crumbled bacon or diced ham. If you prefer a different type of cheese, such as cheddar or goat cheese, feel free to swap out the feta cheese. Don't be afraid to get creative and experiment with different herbs and spices, like oregano or thyme, to give the muffins your own unique twist.
Net Carbs

2.7 g

Fiber

1.1 g

Total Carbs

3.8 g

Protein

19.2 g

Fats

20 g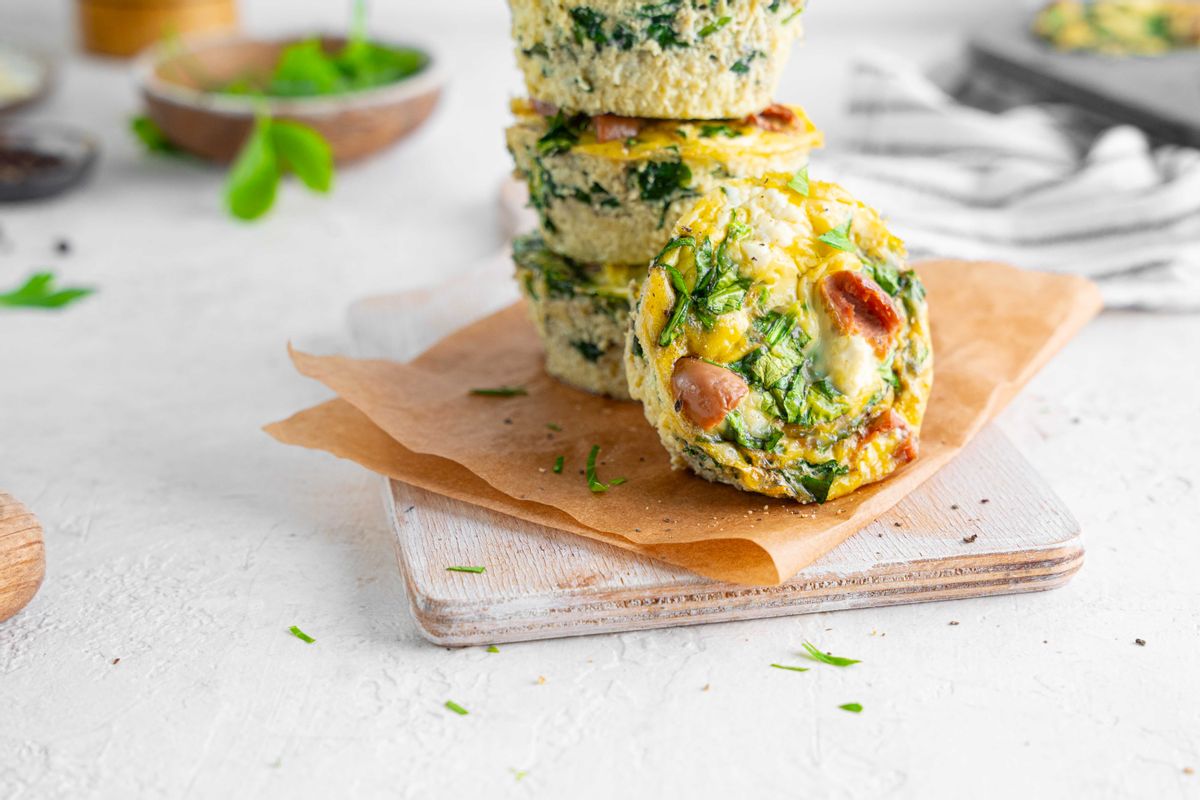 #1 Low Carb & Keto Diet App Since 2010
Track macros, calories, and access top Keto recipes.
Ingredients
Feta cheese

0.25 cup, crumbled

Green olives

0.25 cup, sliced
Preheat the oven to 350F/180C. Generously spray a muffin tray with olive oil and roughly chop the spinach. To a bowl, add the chopped spinach, feta cheese, eggs, salt, pepper, and ground cumin. Mix to combine all the ingredients with the eggs.

Using an ice cream scoop, portion out the mixture into the muffin holes. Be careful not to overfill because the eggs will rise when cooking. Top with olives and bake for 15-17 minutes until the eggs are fully set. A skewer inserted in the middle will come out clean when the muffins are fully cooked.

Once baked, allow the muffins to cool completely in the tray. Then, gently remove each muffin from the tray. Feel free to use a knife or fork to release the muffins from the edges gently.

Garnish with fresh parsley and serve right away. Store any leftover muffins in an airtight container for 3-4 days. Reheat in the microwave or oven before eating.