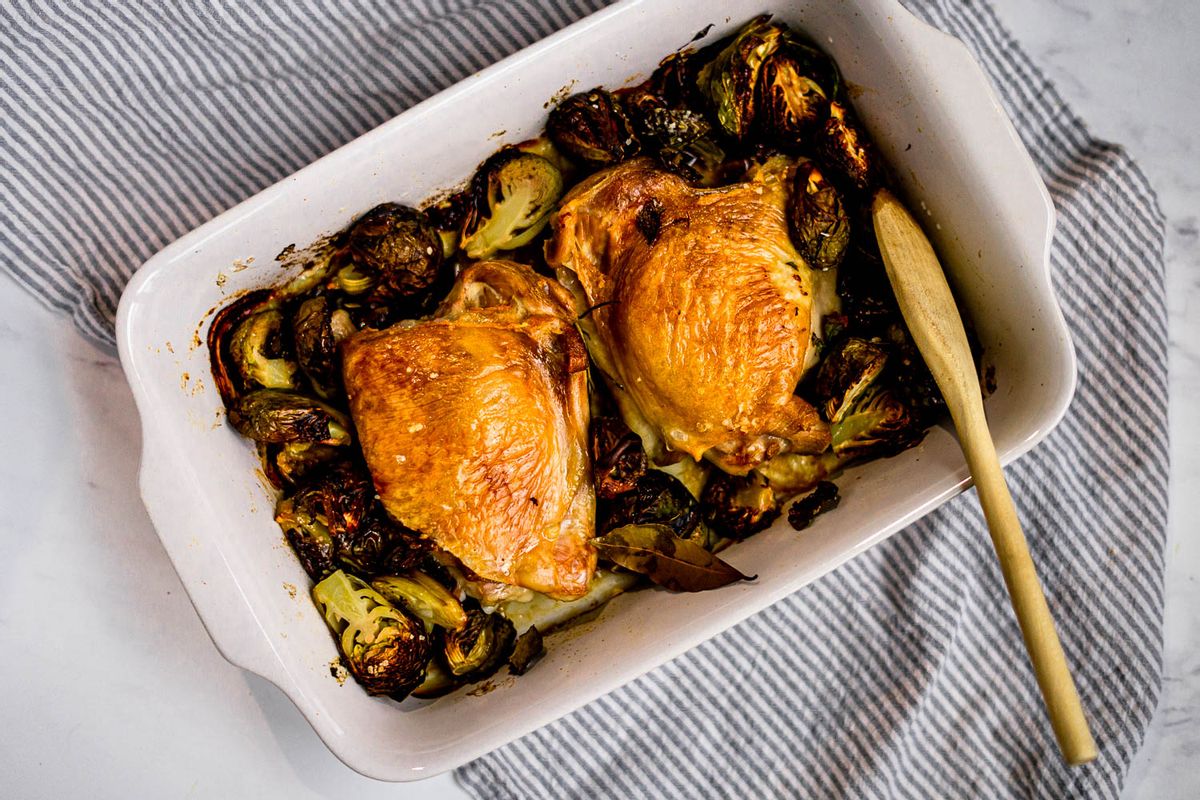 #1 Low Carb & Keto Diet App Since 2010
Track macros, calories, and access top Keto recipes.
15 min

1 h 5 min

1 h 20 min
Low Carb Turkey Roast for Two
The secret to moist, flavorful turkey meat is to brine it! It only takes little planning ahead. The night before, make the brine solution made up of water, salt, and spices. Place the turkey into the brine and allow it to sit overnight to absorb the salt and flavorings. The next day remove the turkey from the brine and roast it. The result is a flavorful, succulent turkey roast you will want outside of the Thanksgiving holiday! It is that good. Brussels sprouts are used around the thighs to soak up the delicious fat and withstand the long cooking time. This recipe is Paleo as well.
How does the brine help flavor the turkey?
A brine is useful because the extra salt will want to diffuse into the turkey meat since there is no salt. This results in a very flavorful turkey roast that is not dry at all.
What other seasonings can I add to the brine?
Many seasonings can be added from fresh herbs, citrus slices, and warm spices like clove. Get creative!
When are the thighs finished roasting?
Thighs are finished roasting when the internal temperature reaches 165 F.
Serving suggestions
Serve this turkey roast with other Thanksgiving sides like this delicious Keto Cornbread Thanksgiving Dressing https://www.carbmanager.com/recipe/keto-cornbread-thanksgiving-dressing.
Net Carbs

9 g

Fiber

6.3 g

Total Carbs

15.4 g

Protein

111.6 g

Fats

58 g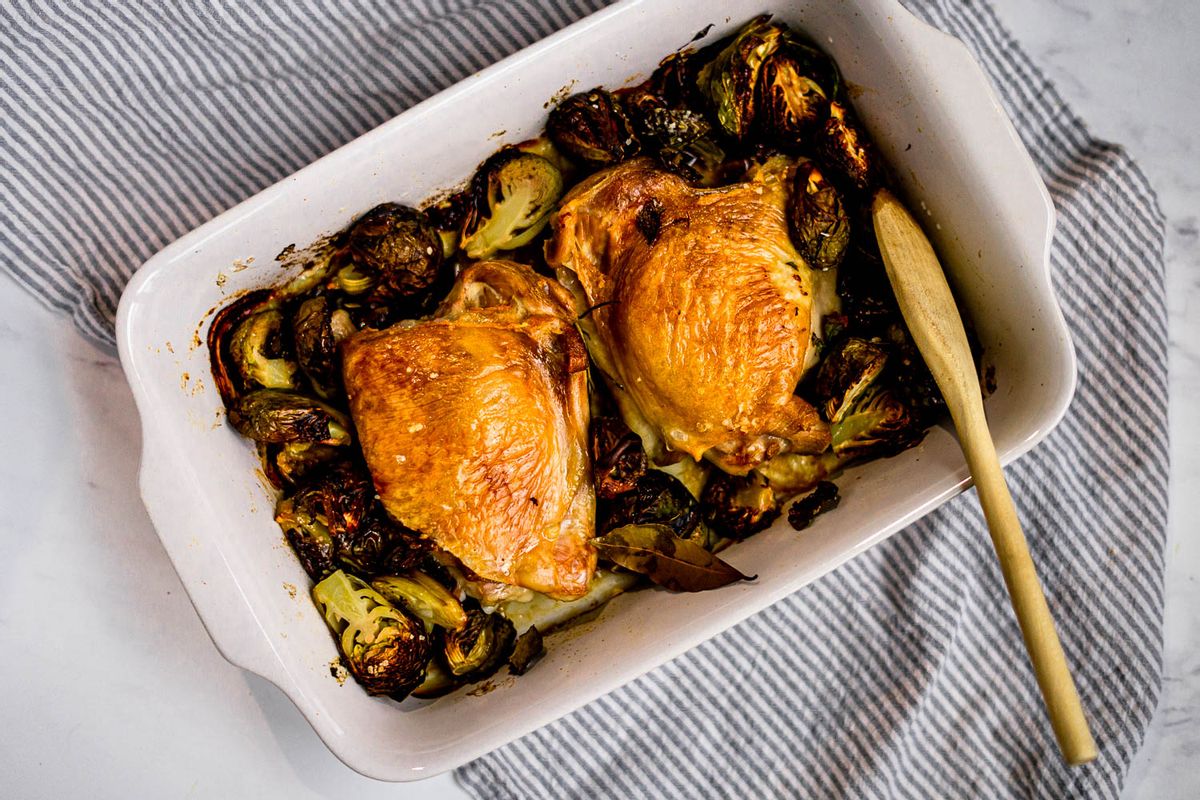 #1 Low Carb & Keto Diet App Since 2010
Track macros, calories, and access top Keto recipes.
Ingredients
Fresh Turkey Thighs

2.5 lb

Coarse Kosher Salt by Morton

2-½ tablespoon

Rosemary, Fresh

2 tablespoon

Thyme, Fresh

2 tablespoon

Brussels Sprouts, Raw

15 sprout

Extra Virgin Olive Oil

1 tablespoon

Coarse Kosher Salt by Morton

2-½ tablespoon
The day before combine water, 2 ½ tablespoons of kosher salt, rosemary sprigs and thyme sprigs into a ziploc bag.

Add the turkey thighs and shake around to dissolve the salt and distribute the herbs. Sit overnight in the refrigerator or up to 24 hours.

The next day place the turkey thighs in a large heavy casserole dish. Dry the skin with paper towels to promote browning in the oven. Trim the bottoms from the Brussels sprouts and cut them in half. Arrange them around the thighs. Drizzle the sprouts with 1 tbsp olive oil and sprinkle with ½ tsp kosher salt.

Bake at 400 F for an hour. Check the thighs with a temperature probe to see how close they are to 165 F. Add additional time as needed to reach temperature. The skin should be nicely golden as well. Allow it to bake longer if the skin is not browned even if it is to temperature.