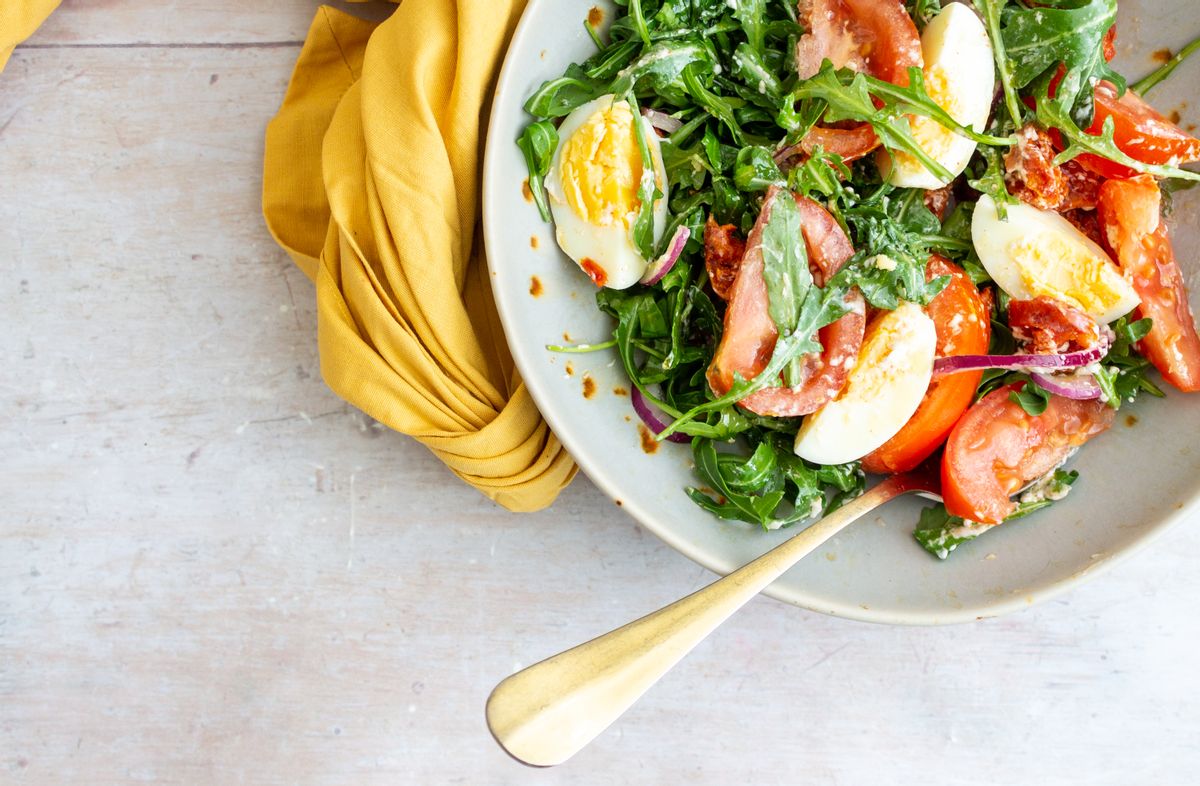 #1 Low Carb & Keto Diet App Since 2010
Track macros, calories, and access top Keto recipes.
10 min

0 min

10 min
Keto Chorizo and Egg Salad
This delicious salad is loaded with Keto-friendly fats, a smoky mayo dressing, and low carb veggies. The salad is prepared with a base of peppery arugula, tender red onion, and Spanish chorizo. It is then layered with juicy fresh tomato, hard-boiled eggs and drizzled with a lemony, paprika mayonnaise dressing.
What is the Difference Between Spanish and Mexican Chorizo?
Spanish chorizo is a cured, spicy sausage that gets its vibrant red color from paprika. Spanish chorizo is cured so it can be eaten as it is or cooked. Mexican chorizo is a seasoned, spicy raw pork that requires cooking. We have used Spanish chorizo in our low carb salad as this is a quick and tasty protein option that requires no cooking.
What Kind of Mayonnaise Should I Use?
We have used a store-bought sugar-free mayonnaise for our low carb salad recipe. You can use any kind of Keto-friendly mayonnaise you prefer, either store-bought or, better still, homemade. If purchasing store-bought mayo, look for sugar-free varieties. If you would like to make your own mayo, we have a simple to follow recipe in our sides section. Please be sure to adjust your macros to account for any changes made to the original recipe.
Net Carbs

4.3 g

Fiber

1.2 g

Total Carbs

5.6 g

Protein

11.4 g

Fats

28.9 g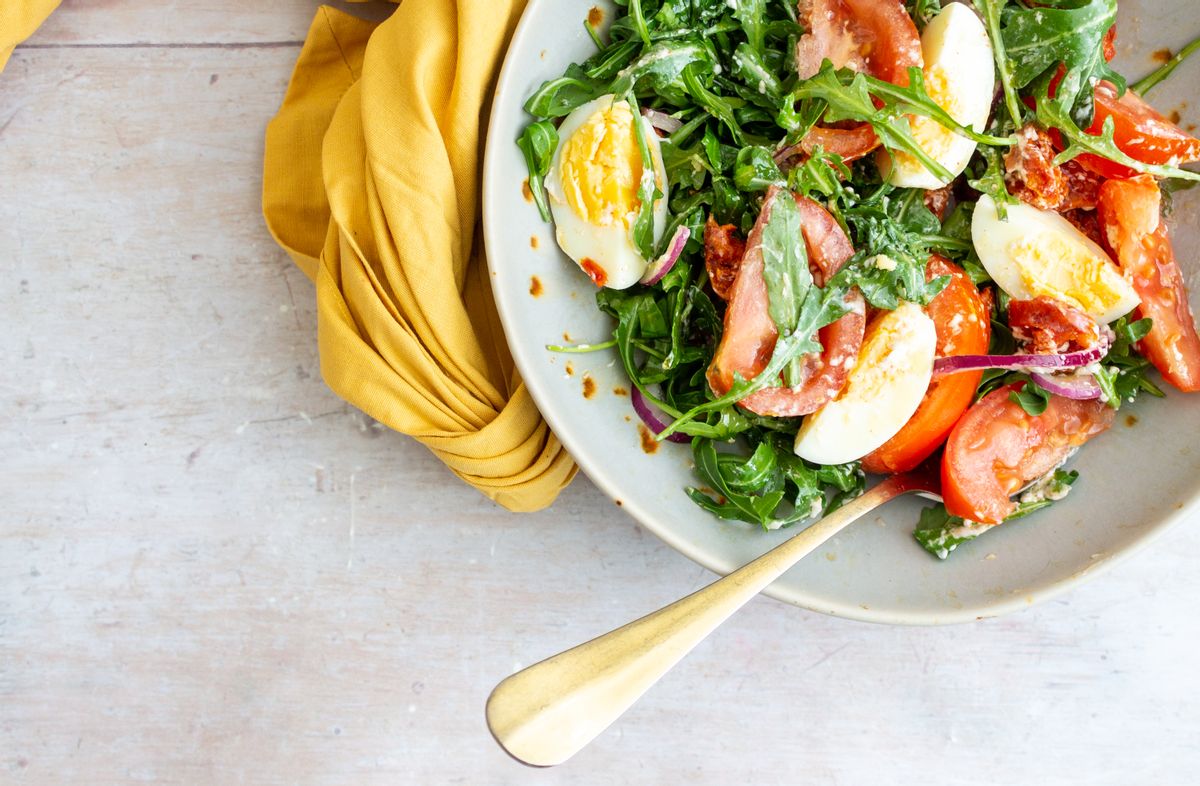 #1 Low Carb & Keto Diet App Since 2010
Track macros, calories, and access top Keto recipes.
Ingredients
Extra virgin olive oil

2 tablespoon

Fresh Food Spanish Chorizo

1.5 oz

Gourmet Collection Smoked Paprika

1 tsp

Tomato

0.5 large - 3" diameter

Salt, sea salt

0.5 teaspoon

Black pepper

0.13 teaspoon
Thinly slice the onion and roughly dice the chorizo. Add 2 packed cups of arugula, the diced chorizo and onion to a salad/serving bowl. Season with a little salt and pepper and toss to combine.

Lightly tap the eggs to crack the shells. Peel away the shells. Quarter the eggs and add to the salad bowl, in amongst the other ingredients. Slice the tomato into wedges and add to the bowl.

Add the mayonnaise, 1/2 tablespoon of the olive oil, lemon juice, paprika, and a pinch of salt and pepper to a small bowl. Whisk to combine until smooth. Slowly drizzle in the remaining oil a bit at a time, incorporating until smooth. Taste and adjust seasonings as desired.

Drizzle the dressing over the salad. Gently mix to combine. Serve the salad immediately.